You spent dry January avoiding alcohol, and maybe even tacked on a Whole 30 without dairy, bread, or happiness. Now it's time to jump off the wagon with an indulgent DC bottomless brunch that's worth every cent, calorie, and shred of dignity. These restaurants dish up all-you-can-eat or -drink options that rise above the rest.
8226 Georgia Ave., Silver Spring
Indulge all your boozy, meaty cravings at Raynold Mendizabal's new "carnivore brunch" ($45 per person; $25 kids under $12). The unlimited feast starts with baskets of grilled bread, citrus butter, house-made charcuterie, and empanadas, followed by roasted meats and sausages. Free-flowing mimosas and lavender margaritas accompany all. Sunday
1346 T St., NW
If you love everything about mimosas except for the orange juice, Compass Rose's $20 bottomless prosecco deal is up your alley. (Guests have the option of mixing in fresh juices or pomegranate liqueur for a $1). The restaurant's regular eclectic menu is served, which spans global cuisines from Hawaiian poke to Georgian cheesy bread, plus brunch specials such as shakshuka (eggs baked in spicy tomato sauce). Sunday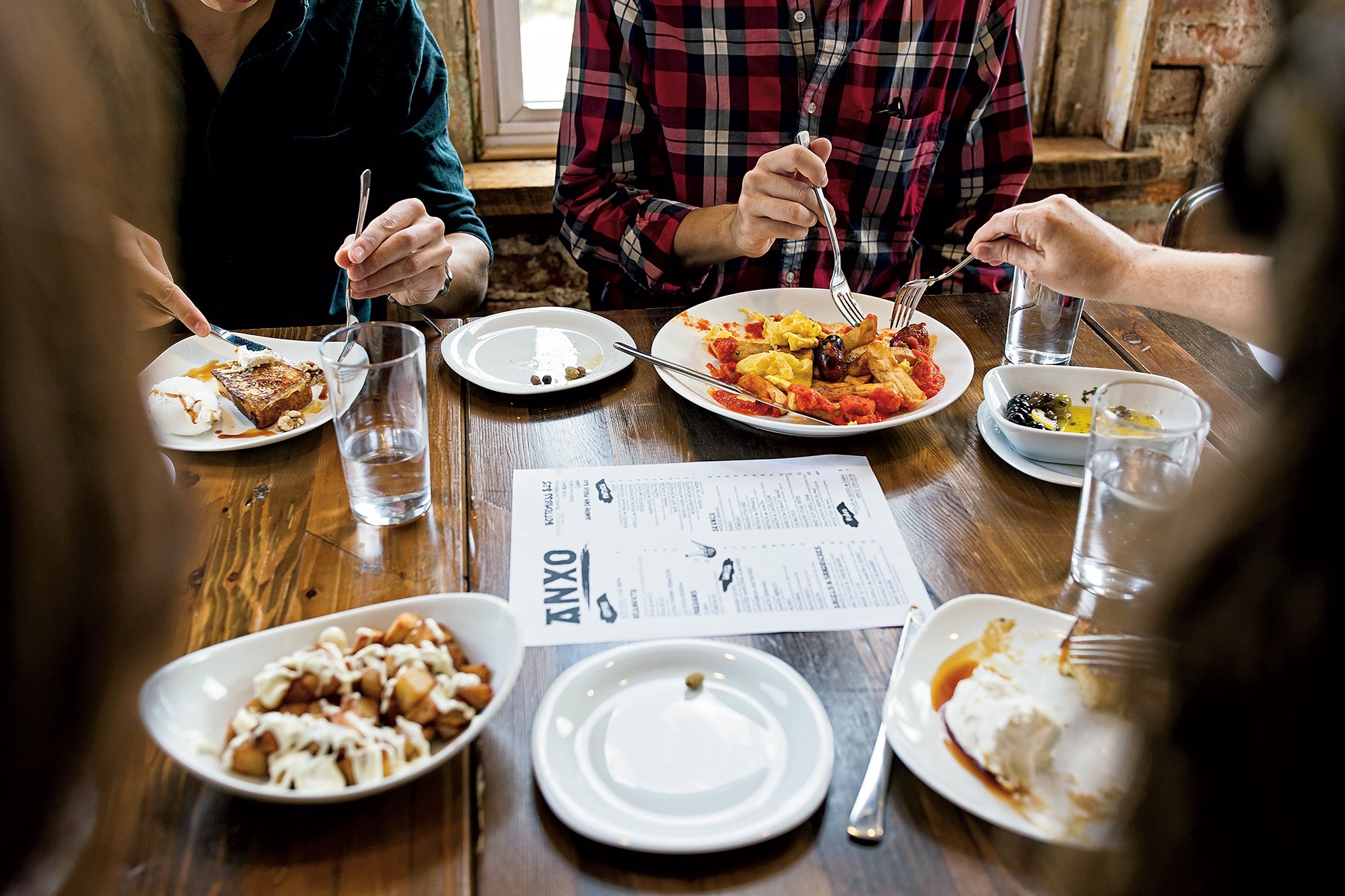 300 Florida Ave., NW;  711 Kennedy St., NW
Bottomless bar brunches can be rowdy affairs, but the scenes at Anxo's Spanish-influenced Shaw cider house and Brightwood Park* cidery are fairly serene—even when the sidra flows like agua. Pick between four bottomless options for $25, including the house cidre blanc and EZ Orchards semi-dry. We like to snack on a variety of pintxos such as salt-cod fritters or toasts capped with sour cream, beets, and pine nuts, then share heartier plates such as Basque French toast—or even a killer bone-in rib eye for two. Saturday and Sunday
523 8th St., SE; 2901 Wilson Blvd., Arlington 
Both the Capitol Hill and Clarendon locations of Ivan Iricanin's atmospheric Balkan restaurants serve all-you-can-eat menus for brunch ($39 and $34, respectively). Bottomless drinks flow in DC, while brunch cocktails like bellinis and wine punch are .25 cents apiece in Arlington due to local laws. The eclectic menu includes crowd-pleasers like smoked salmon Benedicts and waffles alongside more unusual finds such as grilled pork neck sliders and savory Balkan bread pudding. Saturday and Sunday
1324 H St., NE
DC's only Swiss restaurant serves all-you-can-eat raclette during brunch and dinner ($35 per person, reservations required; four to twelve people per table). The traditional Alpine dish includes raclette cheese that guests melt on tabletop grills, and spread over potatoes, gherkins, and pickled onions (salad is also included). White wine is the go-to accompaniment, though you can opt for a hot cocktail or DIY mimosas that include a bottle of Alsatian bubbly, orange juice, and elderflower syrup. Starting this weekend, Stable will also sell fresh breads baked by chef David Fritsche between 9 and 10:30 AM. Saturday and Sunday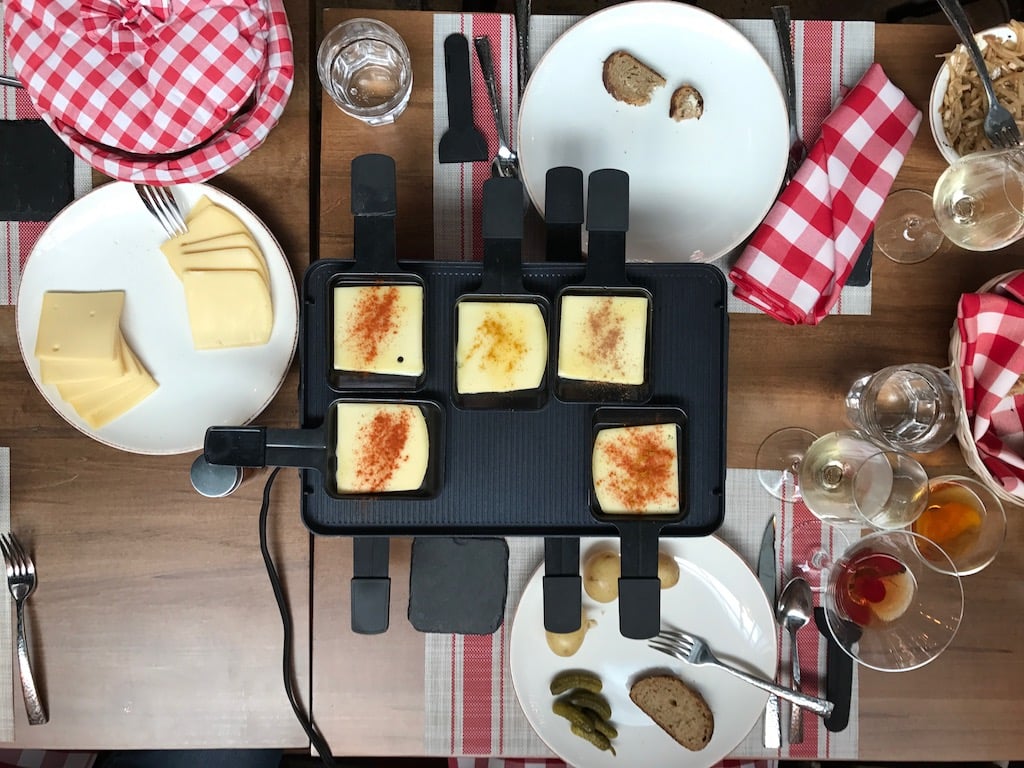 1250 Ninth St., NW
Shaw's mezcal spot pours great drinks, and you can pick any of the brunch bebidas with its $16 bottomless deal (we're partial to the Misa Del Gallo with tequila, grapefruit, honey and sparkling rose). Dishes like tacos and huevos rancheros can be ordered a la carte, or opt for a $22 set menu that includes two appetizers, an entree, and dessert.
1612 14th St., NW
Bottomless fresh orange or grapefruit juice mimosas are on offer at Jeff Black's Southern oyster bar ($20 per person; the whole table must participate). Cobble together an equally indulgent feast with all manner of bivalves (raw, grilled, fried, bacon-wrapped), giant cinnamon rolls, and a green chili-smothered dive burger. If you want to keep the party going, all-day Sunday happy hour starts at the upstairs Black Jack bar at 3 PM.
*This article has been updated from an earlier version that incorrectly placed Anxo in Brookland, not Brightwood Park.