Our Washingtonian Recommends lists bring you the best places to eat, drink, and be entertained—all selected by Washingtonian editors.
Is there anything better than a spicy, satisfying Mexican breakfast or brunch? We can't think of anything.
Taqueria Habanero
3710 14th St., NW
Whether you're hungover or not, chilaquiles—a classic morning-after dish—hits the spot. A stack of freshly fried and chopped house-made corn tortillas is smothered in smoky red or green salsa, crema, and runny eggs.
El Sol and Mezcalero
1227 11th St., NW; 3714 14th St., NW
Chef Alfredo Solis and sister Jessica channel the flavors of their native Mexico City at their pair of taquerias in Logan Circle and Columbia Heights. Don't miss "basket tacos" soaked in guajillo salsa and stuffed with black beans, chorizo, and chicharrones. The brunch lineup includes satisfying dishes like huevos rancheros, breakfast burritos, and chorizo-egg torta sandwiches.
Taqueria el Mexicano 
7811 Riggs Rd., Hyattsville
No other restaurant in Washington serves Mexican soul food like this unassuming place. The mole poblano from owners Bernardo and Clara Vargas's native Puebla is reason alone to go, but you'll also find breakfast specials like chilaquiles. Pay attention to the handwritten specials board for treats such as baleadas, a Honduran dish of thick flour tortillas stuffed with beans, cheese, and avocado.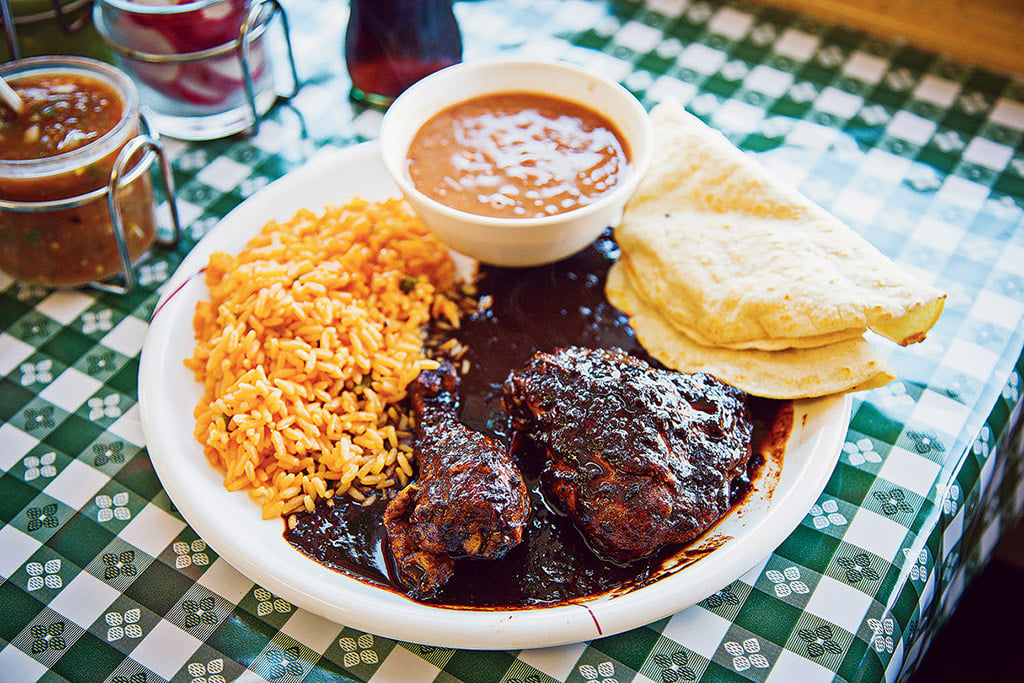 Pica Taco
1406 Florida Ave., NW; 1629 Columbia Rd., NW; 6480 Landsdowne Ctr., Alexandria
Huevos rancheros gets a homey preparation at Maria Villalta's cafes. Soft-cooked eggs are cocooned in a zesty tomato-pepper sauce and warm tortillas, then served with black beans, rice, and fat slices of avocado are as satisfying for a weekday breakfast as they are on weekends.
La Mexicana Bakery & Taqueria 
2907 Arlington Dr., Alexandria
You'll have to get your tequila fix elsewhere; This brightly lit bakery is all about the food. Warm bread makes a delicious vehicle for torta sandwiches. More home-style dishes include tacos, tamales, and superior sopes (thick masa cakes), plus cauldron-like bowls of menudo (tripe soup). Glass cases are filled with cookies, cakes, and tres leches pudding—needless to say, save room.
Taco Bamba
Locations in Falls Church, Vienna, Springfield, and Chinatown DC
Get your breakfast taco fix at all of chef Victor Albisu's mod taquerias, which open at 8:30 AM (the new Chinatown branch opens at 10 AM on weekends). Menus differ by location, but expect satisfying dishes like chorizo and egg tacos, breakfast sopes, and fried egg enchiladas.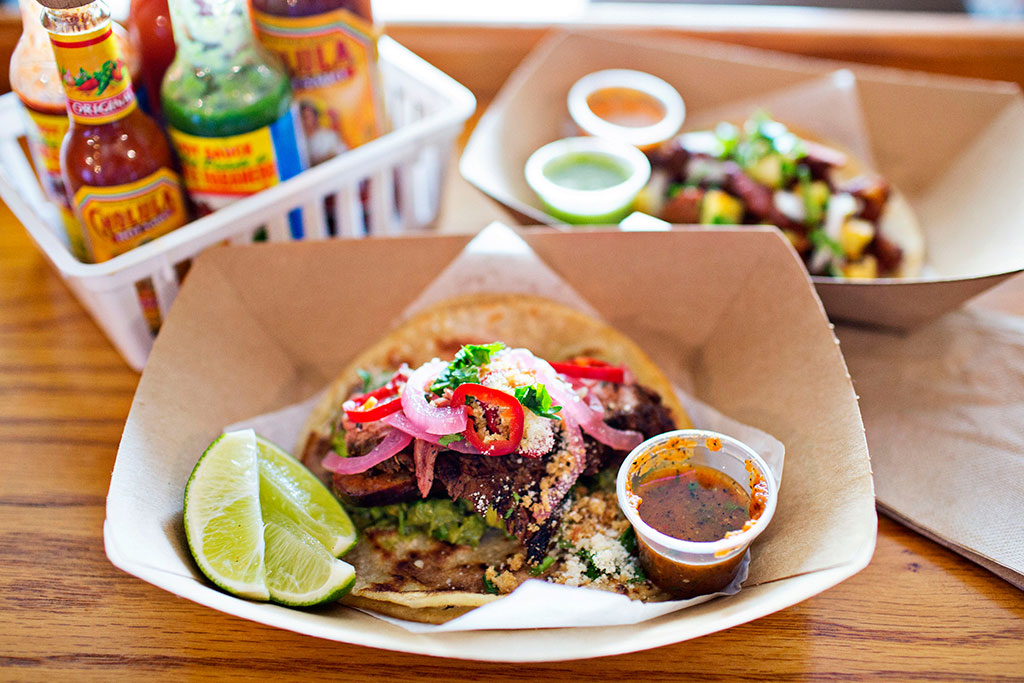 Oyamel 
401 7th St., NW
Looking for an upbeat, slightly upscale brunch spot? José Andrés' buzzy modern Mexican restaurant is your place. In addition to a lengthy lineup of tacos and small plates, look for brunch specialties like hangover-curing pork pozole or menudo, fried plantains filled with sweet cream, and eggs with Oaxacan-style beans. Don't forget a classic "salt air" margarita.
Taqueria La Placita
5020 Edmonston Rd., Hyattsville
We love the pork-heavy tacos at this no-frills taqueria, but morning calls for something milder. Try the tamales stuffed with chicken and salsa verde, accompanied by a glass of atole (sweet corn juice).
Chaia
3207 Grace St., NW
This airy vegetarian taqueria works well for both grab-and-go and sit-down meals. Homemade corn tortillas are stuffed with winning local/seasonal combinations such as mushrooms, salsa roja, and feta. On weekends, you can add fried or scrambled Maryland eggs.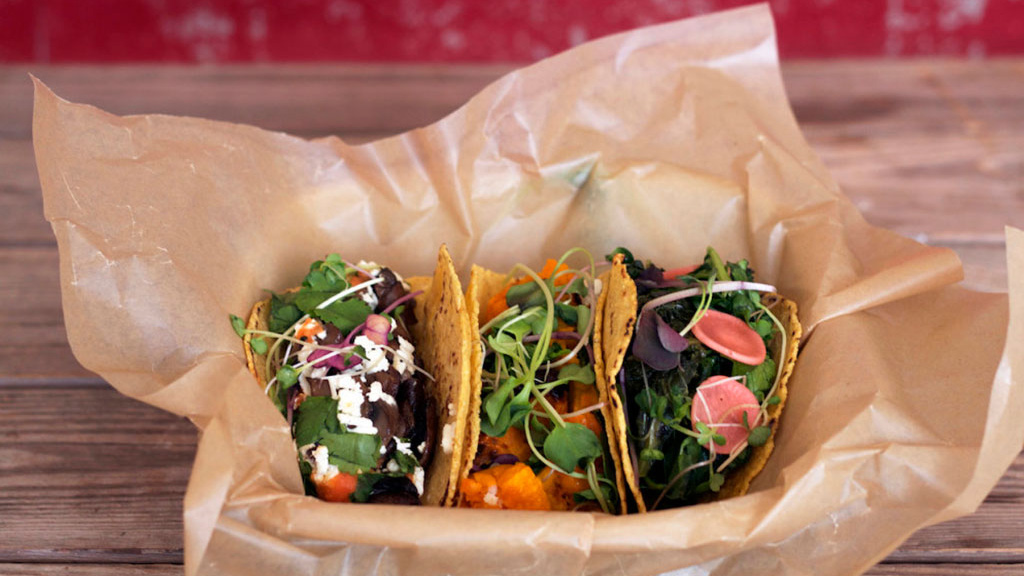 Espita Mezcaleria 
1250 9th St., NW
This trendy Oaxacan-style spot in Shaw serves both a la carte and prix-fixe brunch menus. The latter is a good deal for $22 with your choice of an appetizer like an avocado tostada, entrees such as tacos or huevos rancheros, and dessert. Make it a bottomless boozy brunch for an extra $16 with your choice of five different kinds of cocteles.
La Puerta Verde
2001 Fenwick St., NE
Ghibellina owner Ari Gejdenson's Ivy City Mexican spot specializes in regional fare from chef Raymundo Oliva, including coastal dishes such as tasty tuna tostadas, a superior elote, and brunch items such as fried egg and corn tamales with poblano peppers creamy chili sauce. Wash it down with a micheleda or agua fresca. 
Mi Vida
98 District Sq., SW
Two outdoor dining areas and ample margaritas make this colorful Mexican spot at the Wharf an attractive brunch option on warm days. In addition to the wide-ranging menu of tacos, Mexican-style seafood towers, and enchiladas, find weekend brunch specials like chilaquiles and huevos rancheros. Try a mezcal Mary for something different.