A guide to the newest places to eat and drink.
DC has been trying to shake off its identity of "a steakhouse town" for decades, only to have it forced back on us like a borrowed dinner jacket at the Prime Rib. New York steakhouses are cool, storied: the gruff, bowtie-wearing waiters at Peter Luger, the legendary mutton chops and smoking pipes at Keens. Meanwhile, DC's steak-scape is dominated by chains, or afterthoughts from celebrity restaurateurs (J&G by Jean-Georges and Jose Garces' Rural Society, both closed).
But the DC chophouse cliché is exactly why restaurateurs Stephen Starr and Joe Carroll say they're opening St. Anselm, a steakhouse coming to the Union Market area this summer.
You've likely heard of Starr, the Philadelphia-based restaurateur whose portfolio of 30-plus restaurants includes DC's Le Diplomate and similarly splashy places like New York's Le Coucou. Carroll is the brains behind lauded Brooklyn barbecue joint Fette Sau, which Starr helped him open in Philly six years ago. So why, given their combined skill and creative talents, have the pair decided to open yet another steakhouse in DC? 
"Stephen and I had other ideas, but we were both like, 'This is so made for DC,'" Carroll says. "It's come full circle, from being cliché to 'we have to do it because it's so cliché.' The point is to prove that we can do something so much cooler, and more fun, and more interesting, and bring something radically different in the steakhouse mold."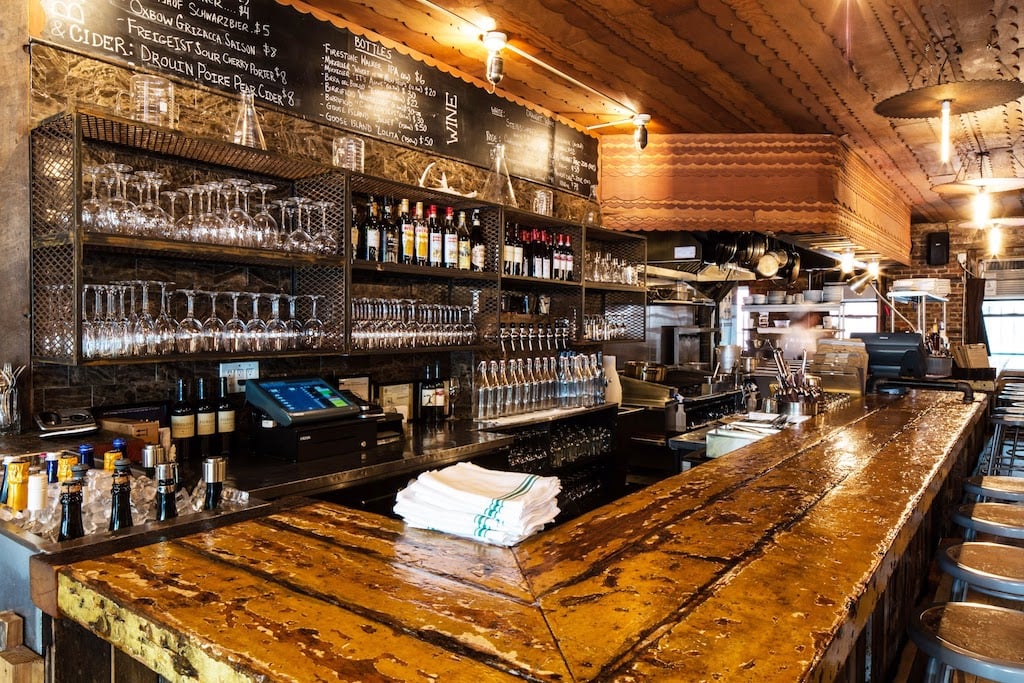 Carroll says he never wanted to open a steakhouse, and doesn't even like New York strip—"It kinda bores me"—though he warmly professes a love of ribeye and Keens. Like Starr, he's a New Jersey native who came to restaurants from the music industry. He left his job at a trade magazine to open Spuyten Duyvil in 2003, a craft beer bar in Williamsburg that debuted just before craft beer and Williamsburg took off. Riding a wave of success and hipster migration, he and wife Kim opened Fette Sau, a beer-and-barbecue garden, in 2007.
"That was the turning point. That's when we realized we were good at this," says Carroll, who had no prior experience in the restaurant industry besides his four months bartending at Spuyten Duyvil.
New York's St. Anselm looks more like its sister beer hall than any carnivore's notion of a steakhouse. The cozy space is full of warm wood and brick, with knightly looking banners hanging from the walls (though the place bears Anselm of Canterbury's monicker, the name nods to Carroll's grandfather, whose middle name was Anselm—already trademarked in New York). There's nary a power booth nor, on most nights, a suit jacket in sight. 
"Honestly, the food press started calling us a steakhouse so we were a steakhouse. It wasn't deeper than that," says Carroll. "I wanted a place that's way more approachable, and that could function as a neighborhood tavern. The kind of place you could go on a weeknight and not feel like it was a complicated meal that you had to think about. People are getting away from super serious food."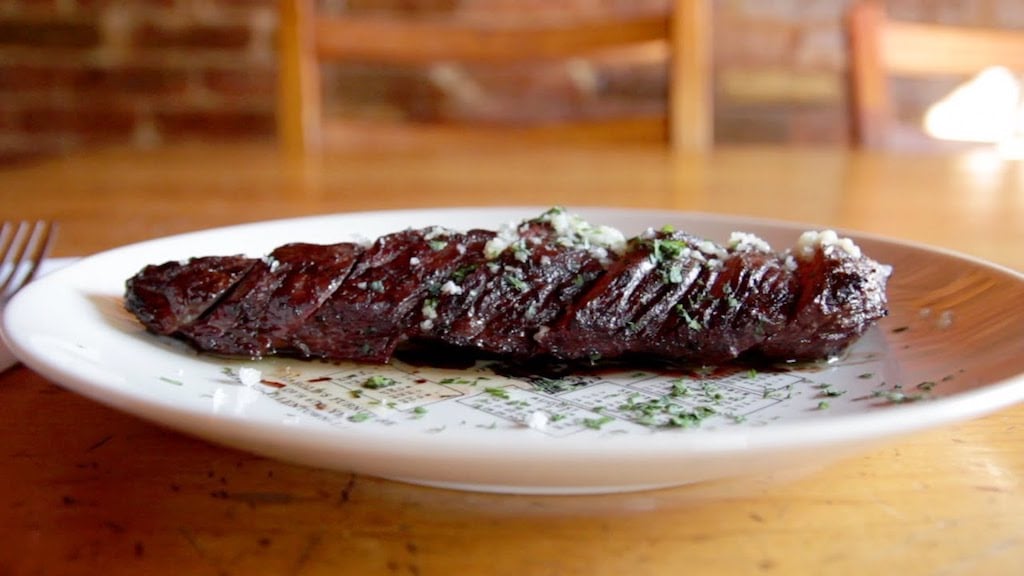 Carroll doesn't want diners to think too hard about their experience, but on the flip side, there's a lot of thought on his part to make that happen. The menu in DC, like at the flagship, will be filled with grilled beef, pork, and lamb from naturally raised, heritage-breed, local-when-available animals from "the smallest farms possible"—though you won't find those accolades listed.
To keep prices down, there'll be more off-cuts like veal flank, lamb blade steaks, and Denver steaks, off-set by a few splurges like the Flintstone-esque "axe-handle ribeye" (similar to a normal ribeye, but with more heft and a full rib bone). The same is true with the seafood section, where mackerel, whole trout, and wine-braised octopus subvert the typical swordfish steaks and crab cakes. Simple sauces or a pat of garlic butter accompany most, and diners can add sides.
The menu is still in development for DC and Carroll says it'll look similar to New York's, albeit larger to fit the size of the new place. Prices are also meant to be comparably moderate for steakhouses (in Brooklyn, an $11 blue cheese and bacon wedge, $24 bourbon-brined pork porterhouse).
St. Anselm's original $15 hanger steak (now $24) is what landed it on the carnivore's map. It was named "best steak" in New York by New York Magazine, even with Peter Luger looming eight blocks away. In DC, Carroll says their house cut will be a flatiron. The British term for it, "butler's cut," is telling of the shoulder steak's humble status, though Carroll favors its tender, richly-flavored meat over a filet. Another factor keeping prices comparably modest is that all the meat served will be fresh—no dry-aging, which costs more due to the time, labor, and storage it takes to properly age meat. Carroll also sees it as a boon for approachability given the "bright, mineral-y" flavor vs. the muskiness of aged meat.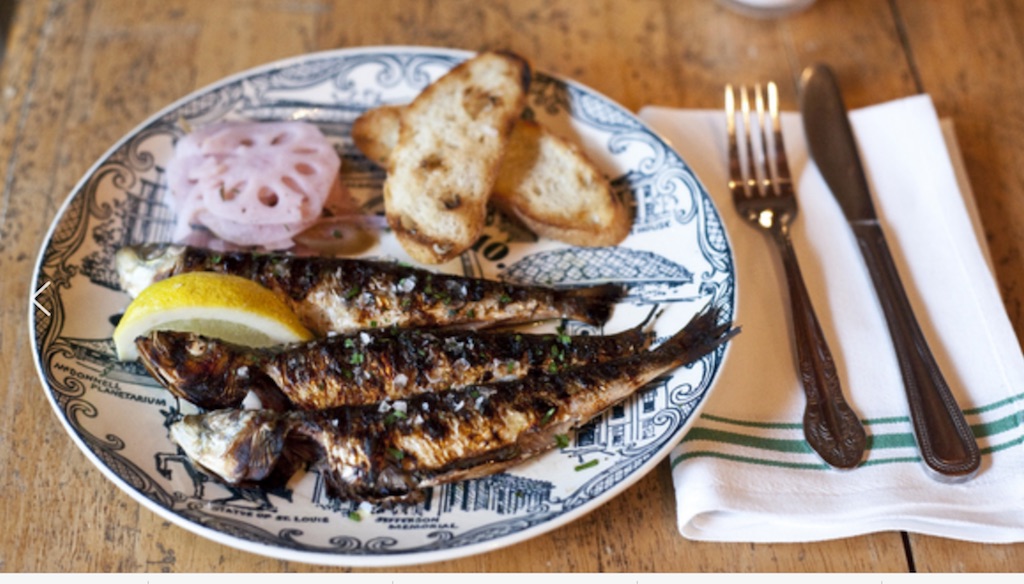 Right now the team is building out the restaurant—formerly four market stalls in the warehouse district—which is massive compared to the convivial shoebox that is St. Anselm, Brooklyn. The space will be broken down into more intimate sections and dining nooks to recreate the feel of the original. True to his roots, Carroll's already working on a playlist of '60s and '70s classic rock.
"Mostly not the hits, it's deeper cuts and more interesting stuff," says Carroll, firing off names: Yes, Genesis, Mike Bloomfield, Ten Years After. "I feel like it either needs to be that or jazz, and jazz is too obvious."