Del Ray Artisans 24th Annual Fine Arts and Fine Crafts Holiday Market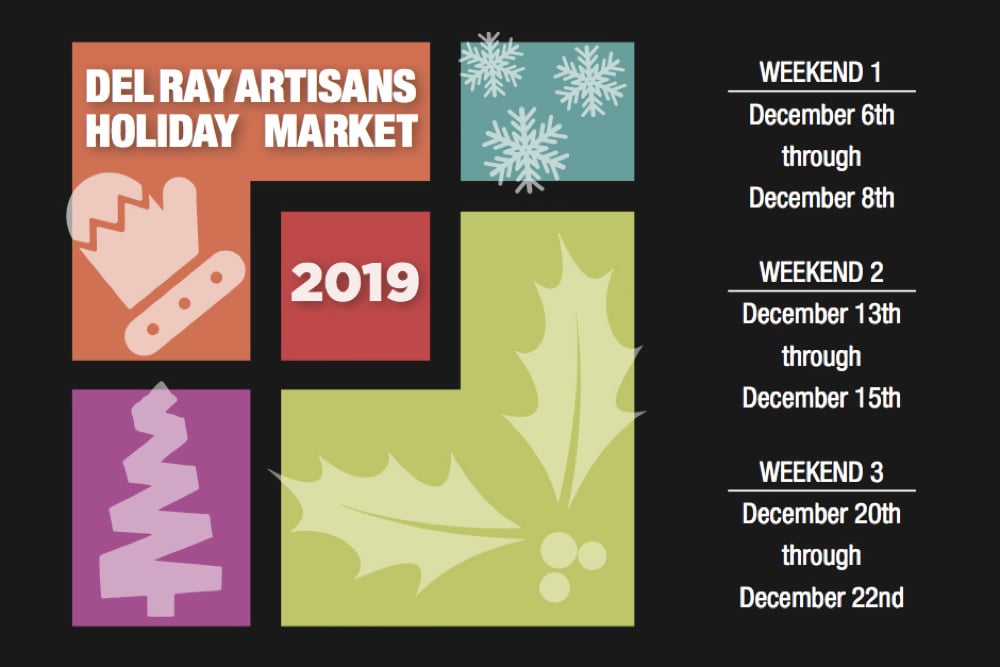 December 15, 2019 at 12:00 pm

-

6:00 pm
Del Ray Artisans 24th Annual Holiday Market offers unique handcrafted fine arts and crafts from local artists. As always, the artists are presenting a variety of media, including botanical drawings, fiber/textiles, glass, jewelry, mixed media, mosaics, painting, paper crafting, photography, pottery/ceramics, sculpture, watercolor, wood turning, and more! Different artists are featured each weekend!
This year's Holiday Market artists are: There's Something About Purl (Sandra Alami), Kasse Andrews-Weller, Paula Clegett, Marcel Artes Deolazo, Cornelia Atchley (Hand 2 Eye Inc.), A Term of Art (Rebcca Barnes), Bolon Pottery (Christine Bolon), Phimjai (Anola Boutah), Carrhoots (Lucy Carr), Lynn Chadwick Design, MacroFine Photography (Chris Fedderson), American Roadtrip Pennant Pillows (Marcelle Fozard), Maria's Windows (Maria Frescas), LicidArts (Kate Gibney), Steph Greenwald Illustration, Abstract Couture (Janice Horoschak), Julie N. Jakopic, Blooms of Paradise (BWS Johnson), Maria Kaneer, Nancy Kline, Stephen Lally Pottery, Bead Therapy (Chris Lederman), Nan Lopata, Diana Manchak, Liz Martinez, Map Maven Arts (Lisa McBride), Megan Elaine Designs (Megan Levanduski), Stephosaurus Design (Stephanie Morse), All Fired Up! (Patti North), Papazian Design (Diana Papazian), Nirvana (Bindu & Bharat Parikh), PK Phillips Photography, Unique Stained Glass (Madeline Ramsey), Ken and Sue Reed, Donna Reinsel, Suds & Such (Travis Rosamond), Cynthia Schoeppel Art, Kevin Sherlock Woodturning Arts, Paperifils (Silvia Souza), Jewelry by Elsa (Elsa Spezio), Lone Pine Dry Goods (Kathy Stoner), Marcia L. Toepfer, Stitches 'n' Quilts (Christine Vinh), Pamela Viola Handmade, Reinvented Elegance (Joyce Wagner), Blue Hippo Pottery (Viki Walchak), Recycled Works (Tracy Wilkerson), WiRealm by Tamara (Tamara Wilkerson), Eli Wilson, and Angst and Attitude (Nancy Yonehiro). Visit Del Ray Artisans website to see which weekend each artist is present.
Artists are donating a percentage of their sales to Del Ray Artisans to help support future programs. In addition, we have available for purchase: (1) Del Ray Artisans' 2020 wall calendars, featuring the art of local artists and pre-printed community events; (2) cookbooks with Del Ray Artisans artists' favorites; and (3) upcycled tote bags and zippered pouches crafted from past art exhibit banners—the ultimate recycle/reuse transformation! Proceeds support our 501(c)(3) nonprofit.
The Holiday Market is at Del Ray Artisans gallery in the Colasanto Center, 2704 Mount Vernon Avenue, Alexandria, Virginia 22301. Market hours are: Fridays 6-9pm and Saturdays & Sundays 11am-6pm. The market is free to browse, open to the public, and accessible. For more information, please visit DelRayArtisans.org/event/holiday-market-2019