You could hardly do more to confuse your target audience of
vegans than to call your restaurant Ovo Simply Veggie.
Ovo, owner Derrick Chang says, stands for organic, vegan, and
Oogavé (the name of the agave sodas the restaurant serves). Fortunately
for Chang, the name isn't the only thing here that confounds
expectations.
Diners order at the counter, and prices are in line with those
at most gourmet burger joints, but the comparisons with fast food end
there. Meals are served on white ceramic plates in a bright, airy space
accented by a fountain and stylish padded chairs. The more than two dozen
green and herbal teas are delivered in delicate glass pots.
The biggest surprise is the food—this is vegan cooking even an
omnivore can appreciate.
The heart of the menu is the stir-fry section, and the dishes
are prepared with a choice of four proteins: seaweed yuba (a combination
of seaweed and the filmy skin that comes from the tofu-making process,
called yuba), tofu, mushroom protein, and soy protein. Unless you're a
vegan, that list of options isn't likely to call you to dinner. But these
are unusually sophisticated meat substitutes.
The dish I keep coming back to—I've been seven times—is the
mushroom protein with crunchy lotus root and sweet baby corn in a warm
green curry ($7.10); the domino-size protein has some of the chew of
pulled pork, and the curry, though there could be more of it, is
wonderfully lush. A cut below, but still good and the same price, is the
mushroom protein tossed simply with sautéed scallions and
onions.
The soy protein, which calls to mind a cross between pork and
chicken, is treated to either a punchy Kung Pao-style sauce with peanuts
and red pepper or what Chang calls Sarcha BBQ; the latter is reminiscent
of a dry fry, with the same salty, tingly surface. Peppercorn tofu
suggests the spicy comforts of mapo tofu—minus the ground pork.
All entrées come with well-steamed white or brown rice. All of these are
$7.10.
Of the seven appetizers, I'm partial to the lettuce wraps
($4)—you spoon a filling of diced five-spice tofu, red peppers, and onions
in a light-brown gravy onto crisp leaves of iceberg—and the enoki-mushroom
fries (a tasty, if occasionally overfried, variation on Outback
Steakhouse's Bloomin' Onion); the steamed dumplings are pasty inside, and
the wrappers harden quickly.
Chang was previously an area manager for Panda Express, but
he's been a vegetarian for 23 years. He says he was motivated to create a
restaurant that would split the difference between his professional
experience and his personal preferences.
Not only has he succeeded; he may have hit upon a model for a
vegan movement that has become chic in the wake of recent declarations
from Bill Gates and Bill Clinton. If the diet is to become mainstream, it
will take more than celebrity endorsements. It will take endeavors like
Ovo, which make veganism accessible, affordable, and
appealing.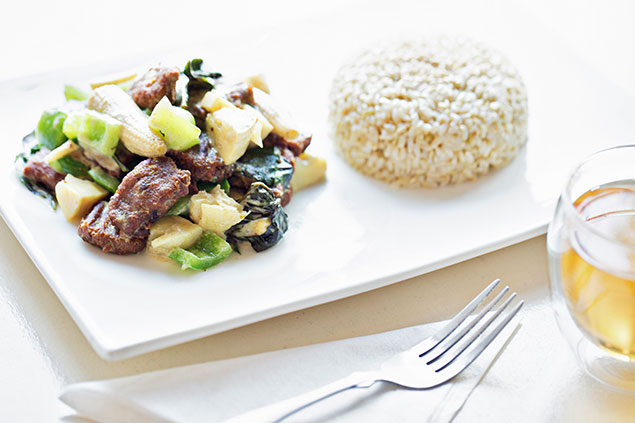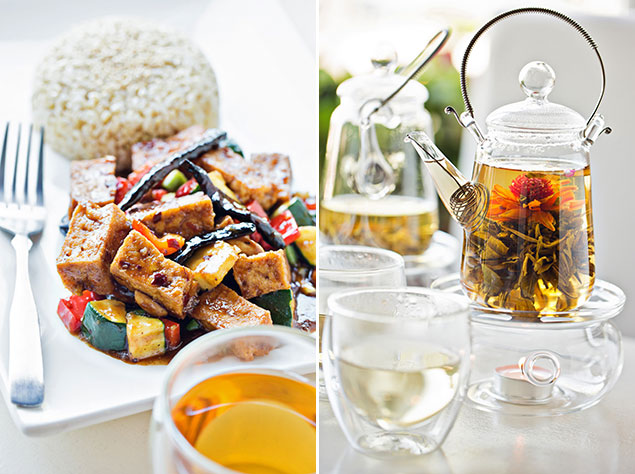 This article appears in the June 2013 issue of The Washingtonian.