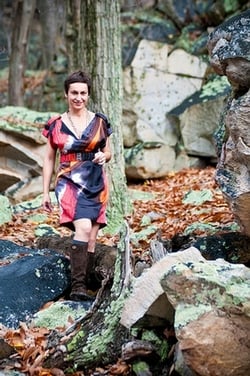 Prior to his success on Top Chef, Bryan Voltaggio was a relatively anonymous force in the kitchen at Charlie Palmer Steak, the lobbyist den on Capitol Hill. Yet even back then, he recalls getting cold calls from a stranger who would ultimately change his life.
"I had this woman calling me on the kitchen phone asking to meet with me," says Voltaggio of Hilda Staples, who's now his business partner. "She was very persistent. I thought she was a little crazy."
Three years later, Staples has not only helped Voltaggio open his dream restaurant, the highly touted Volt in Frederick, she's now the financier and business mind behind Mike Isabella (the former Zaytinya chef and Top Chef contestant who's prepping to open Graffiato in DC's Chinatown) and R.J. Cooper (the former Vidalia chef who's scheduled to open Rogue 24 in DC's Shaw this spring).
Staples, who says she's "somewhere between 35 and 41," grew up in Alexandria and went to T.C. Williams High School. After working in corporate public relations for Constellation Energy and Ogilvy PR in DC, she followed her husband, Jonathan, to Frederick when he relocated his business there.
See Also:
When Staples first called Voltaggio three years ago, the five-foot-nothing spitfire had just given birth to twins, as if they weren't enough to keep her busy. "My intention had been to open a little bar in Frederick to meet new people," Staples says. That "little bar" was slated for the Houck Mansion, the historic 8,000-square-foot residence she had purchased at 228 North Market Street. "Who the hell decides to open a bar just so they can get out of the house for an hour away from crying babies?" Staples asks.
The answer, of course, is Hilda Staples. This is the same woman, after all, who began hounding Voltaggio despite the fact that she'd never actually eaten his food. She says she had merely heard he was from Frederick and wanted to bounce some ideas off him: "I [wanted to] get his thoughts on what I could do with the building."
Eventually, Voltaggio invited her to dine at Charlie Palmer Steak. "It really was one of the most extraordinary dinners ever," says Staples. "I had no idea he was really that great. Had I known, I wouldn't have called him for help. I would have expected a 'You're kidding me, right?' response."
Since then, Voltaggio has been a runner-up on Top Chef, Volt is a booming business, and the wait for reservations is months. And Staples, who didn't have a lick of restaurant experience before Volt, has taken an experience that could easily be chalked up to serendipity and turned it into a mini-empire.
"Bryan told [Mike Isabella] how much I had helped him out with all the back-office stuff: permitting, financing, and paperwork. 'I hear you're really good at running all the s— we don't want to deal with,' [Isabella] told me when he asked for help. He really knows how to charm a girl," she says.
With Cooper, Staples says she coaxed the restaurant idea out of him. "I popped in Vidalia one night with a friend for a bite to eat, and he surprised us with a 24-course tasting," she says. "It was my husband's birthday the following week, and I called R.J. and said, 'Hey, can you do that again?' After those dinners, we just started texting randomly about the weather, food, spirits, etc. And I just kept pushing him to do Rogue 24: Down and dirty. No frills. Back-alley place. An undiscovered part of town. Somewhere totally raw."
She then managed to hook up Cooper and Isabella with their restaurant spaces within days of each other, all thanks to yet another seemingly fated connection, this time with Norman Jemal of Douglas Development. "I was totally talking smack one night out, talking about an empty warehouse owned by Douglas Development down the street from Volt," she says. "And the next day I get a phone call: 'Hey Hilda. It's Norman. Heard you were talking about me.' Instant love at first call. Of course, he and his family own more than the average amount of real estate in DC. And the second I started describing what the guys were looking for, three days later he had the perfect spots."
Staples has also been instrumental in helping chefs secure funding. Initially, her husband helped her. "The big cash comes from my husband, who believes that if anyone is going to show a return on his investment, it's me, so he supports my restaurant habit," she says. "But now that Volt is successful, I'm also able to roll my returns into new restaurant investments."
With Graffiato and Rogue 24 nearly ready to open, what's coming down the pike? "Bryan has this brilliant new concept for our second restaurant in Frederick, and we're in the beginning stages of planning," she says. "I keep saying no more, but it's too much fun."
Subscribe to Washingtonian
Follow Washingtonian on Twitter
Follow the Best Bites Bloggers on Twitter at twitter.com/bestbitesblog
More>> Best Bites Blog | Food & Dining | Restaurant Finder