No one can accuse restaurateur Michael Babin and his team of being lazy. Just on the heels of opening Bluejacket and the Arsenal, the Neighborhood Restaurant Group's ambitious brewery/bar/restaurant on the Capitol Riverfront, they're set to debut Iron Gate Restaurant on Tuesday, November 19, and are taking reservations now. The highly anticipated Dupont Circle venture continues the restaurant's legacy in Washington, with the Iron Gate having served guests under multiple owners since 1923. Now that the space at 1734 N Street is reopening after a three-year closure and renovation, here's what to expect.
Italian, Greek, local
If there's a motto for the new Iron Gate, this might be it. Chef Tony Chittum built two menus—one à-la-carte, another tasting—with an emphasis on Italian and Greek dishes prepared with local (when possible) ingredients. The Chesapeake native left the kitchen at sister operation Vermilion about nine months ago, and spent the sojourn traveling in Greece and Sardinia, visiting farms, and learning techniques for Mediterranean breads and cheeses. You'll find the research and philosophy put to use in dishes such as grilled bread with whipped ricotta—both house-made—or baked Chincoteague oysters, spinach, and kefalotyri cheese with freshly baked phyllo. (Fun fact: Chittum picked up his phyllo technique from an elderly Greek friend of his wife, whose family still lives on the island of Syros.) The Mediterranean/mid-Atlantic theme also extends to the bar, with a large selection of Greek and southern Italian wines and beers, as well as contributions from Virginia, Maryland, and the Bluejacket brewery.
Romantic interiors and an ever-green patio
"Romantic" is a descriptor often used for Iron Gate: Its structure dates back more than a century, when horse-drawn carriages pulled in through the main gate. Now you'll find that arched entrance converted into the 26-seat "carriageway," a front bar and dining space set aglow by wooden chandeliers. Even more atmospheric is the spacious garden patio, covered with century-old wisteria vines and a lofty retractable awning. Though the space isn't designed to host guests through deep winter, you'll find outdoor heaters, cozy blankets, and plenty of ouzo to keep al fresco dining an option through cooler months (note: the outdoor space will open later). The main indoor dining room returns to an equine theme, with a cozy, 48-seat spot set up in the former stables. There you'll find plenty of warm wood and a fireplace.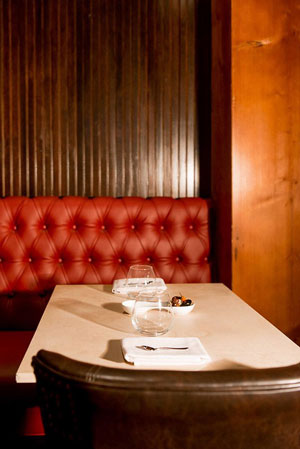 Two menus in three spaces
As at sister duo restaurant Birch & Barley/ChurchKey, you can opt for more formal or casual dining depending on where you sit. The carriageway and patio will serve an à-la-carte menu*, which boasts a large number of appetizers for the sharing-inclined, as well as full- or half-portion pastas and platters of wood-roasted meats and seafood. The platters arrive with fresh bread, seasonal vegetables, and sauces such as house-made yogurt tzatziki. In the dining room you'll find a tasting menu that changes nightly, divided by categories like "garden" and "water," from which you'll pick four or six courses ($50 and $75, respectively). Regardless of your path, the meal begins with five to eight small mezze such as Nantucket Bay scallop crudo or seasonal dips with fresh bread.
Unusual (and inexpensive) pairings
The Neighborhood Restaurant Group is known for its beers (and its beermaster, Greg Engert), but at Iron Gate there's also an emphasis on Mediterranean wines and spirits from sommelier Brent Kroll. Since the average guest—or even the aspiring wine buff—could have a difficult time picking a bottle of Greek or Southern Italian wine to their taste, not to mention Slovenian or Croatian, Kroll sent the staff through vino boot camp with 40-page information packets, 20-hour lectures, and flashcards they can view from their iPhones. At the table you'll find 20 wines by the glass for sampling—divided into helpful categories such as "earthy, spiced, complex" and "light, tart, elegant"—as well as grappa, ouzo, and marsala. Many of the cocktails center on mastika liquor. (Another fun fact: Mastika is flavored with sap from the mastic evergreen.) While you may have to be more adventurous, another perk is the price: Without all the California Cabs and French Burgundies, optional pairings for the tasting menu are $25 and $40 for four and six courses, respectively.
Day-to-night service
Once the team gets dinner service running smoothly, the restaurant will roll out breakfast, lunch, and brunch. The most important meal of the day will also be the most casual, with Ceremony coffee drinks and pastries that can be taken to go. Brunch will be divided into sweet and savory dishes—think house-made yogurt, baked eggs, sourdough pancakes, and Greek pastries such as bougatsa, honeyed phyllo filled with semolina custard. Aspirations for lunch include what Chittum calls a "real gyro": fresh pita stuffed with spit-roasted pork, more of that house yogurt, and fries.
"This is the first place I have an immersion circulator, but I like fire and I like food," says Chittum. "That's what we're about."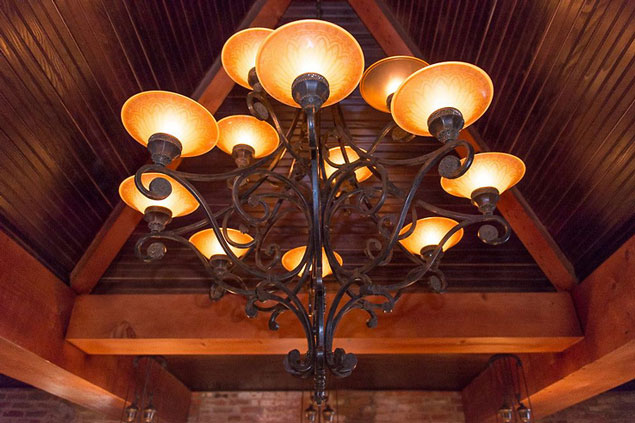 Iron Gate. 1734 N St., NW; 202-524-5202. Open Tuesday through Sunday. Closed Monday. Call for opening hours.
*These are sample menus, which are subject to multiple changes.