Going from summer to fall tends to be tricky. The weather goes back and forth between sweltering hot days and chilly mornings, and your office still feels like a walk-in freezer. Add in the fact that fashion rules are increasingly being broken, and you're left standing in front of your closet perplexed as how to put together an outfit that "works."
Julien Garman from It's Julien breaks it down for us. She goes over how to mix summer and fall color palettes, how to rock new fall trends, and how to make your pretty summer staples last through the season.
Yes, you can wear a chunky fall sweater when it's 80-degrees outside.
Just style it differently. Instead of layering it over a shirt or dress, go a little old-school and tie it around your waist. "This simple styling trick goes a long way," Garman says. "It adds a bit of interest and texture to any outfit, while giving you a convenient way to keep warmer during these cooler evenings we've been having lately."
Skeptical on whether or not you can rock the look? Buzzfeed has ideas on how to tie, twist, and tuck sweaters, and still look cute.
Know how to mix pastels and darker fall colors.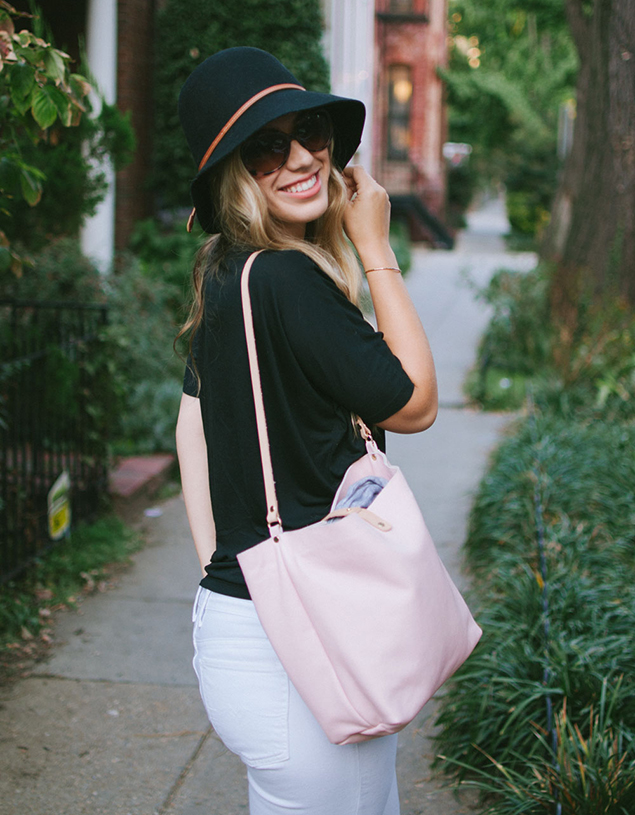 Think about using similar tones when mixing pastels and darker colors: light blues with navy, creams with orange or brown. "One of my favorite combos are burgundy and blush. I have three blush-colored bags (only one black handbag, mind you), so I'm thrilled to see this color combo come to life this fall," Garman says. "Camels and creams are also going to be a big hit—think a camel suede skirt with a creamy white, fuzzy sweater or victorian lace blouse."
Get an extra wear out of your favorite summer clothes.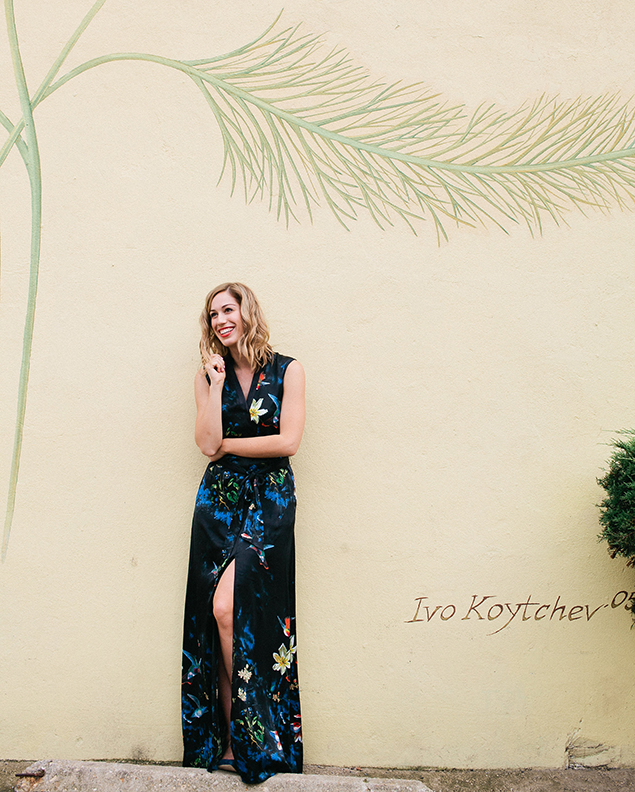 Don't pack up your favorite summer clothes, just yet! A military jacket (Garman loves this one) can turn a delicate, lightweight, or floral dress into a fall must-have. As it gets colder, you can also add tights (these are great for winter) and a nice pair of boots.
Also keep your silk blouses, dresses, and scarves hanging around. "The key to making [silk clothes] work into fall and winter is gravitating towards darker shades," Garman says. Use jackets, scarves, and boots to add more texture (and warmth!) to your look.
Go bolder with your jewelry.
Delicate jewelry looks nice all-year long, but with heavier textures and more layers, simple chains and studs can be a little too subtle. Garman suggests pairing statement necklaces with bulky sweaters and jackets so your jewelry has the chance to stand out.
Her current statement jewelry obsession? Sophie Blake. "She's a local designer and I seem to pick up something new every time I visit her shop in Mosaic District," Garman says.
Sport bolder lip colors.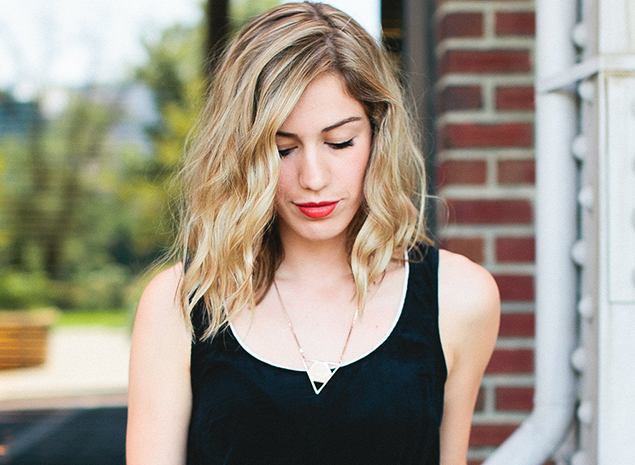 "Lipsticks are a game changer," Garman says. "I'm totally in love with the new collaboration line between local beauty vlogger, Claire Ashley and Makeup Meltdown. The three shades basically cover the perfect lip colors for fall."
Fringe is here to stay.
At first, Garman was skeptical of fringe's lifespan, but the summer festival trend gets a more put-together look this fall. "People usually associate fringe with festivals, but there are so many sophisticated takes on the trend," Garman says.
For example, Garman would mix a chunky knit peplum fringed sweater with skinny jeans for a date night look, or pair a fringed, tan suede pencil skirt with a light, silky blouse for spending the day in DC. The perfect way to bring a little summer flair into fall.
Always style your hair before topping off your look with a hat.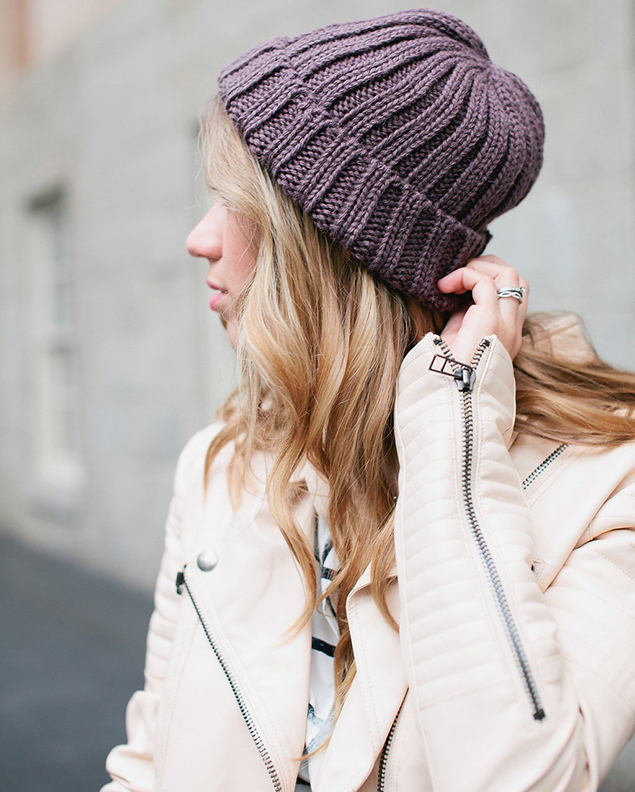 "But I thought hats were to cover up a bad hair day? Yes, yes they are," Garman says. "However, if you really want to avoid hat hair, styling before sporting is key."
Garman says to make sure your hair is well-conditioned (she swears by It's a 10 and Drybar products), and use a heat-protectant and frizz-fighter when the air starts getting colder and dryer. She also uses a little Moroccan oil to keep the ends of her hair from breaking and recommends using hat-filler so floppy hats don't blow away on windy DC days.
Invest in some statement pieces for your wardrobe.
It's great to have a closet full of basics and staples to carry you from season to season, but why not stand out a little? Garman's noticing more and more statement pieces this fall—jeweled jackets, fun skirts, bags with some character—and says the best thing to do is look at the CPW (cost-per-wear) of a statement piece. "Finding a great statement piece you'll wear over and over again is worth investing in," Garman says.
Definitely try culottes.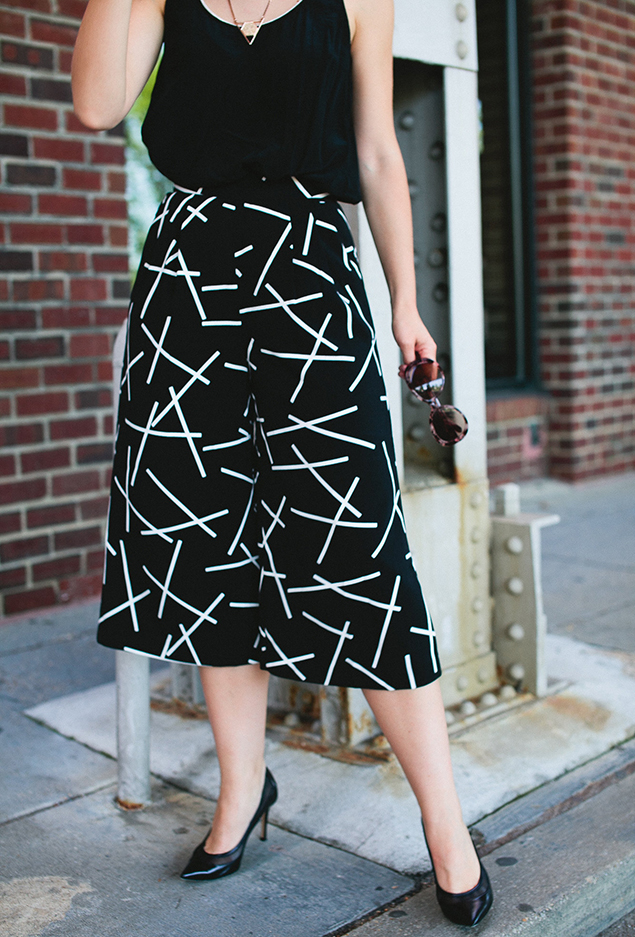 "Look, I was hesitant at first too, but now I wear mine once a week," Garman says. "They're airy enough to keep you cool when it's hot, and make the transition from day-to-night look effortless."
Want to hear more fashion and shopping news in Washington? Sign up for our Shop Around newsletter and receive the latest on trends, store openings, and more.