"Three. Two. One. MUSEUM!" Tours of the National Gallery of Art don't usually begin with a loud group cheer, but the guides behind Museum Hack—a new tour service that hopes to change how visitors approach museums—wouldn't start things off in any other way.
The startup is the brainchild of Nick Gray, a 33-year-old entrepreneur based in New York who sees museums as a resource for both education and entertainment. While the typical museum tour can be dull and unsurprising, these tours break all the traditional rules of etiquette. Gone are the days of tiptoeing through galleries. Gray and his team build museum experiences with yoga breaks, goofy games, and lots of selfies.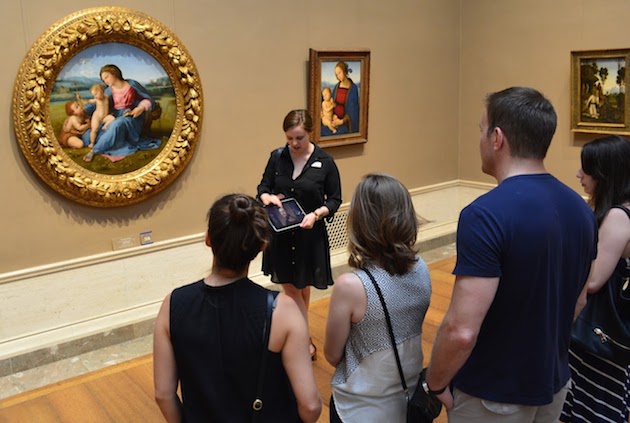 Tours are available at DC's National Gallery; they also pop up at New York's Metropolitan Museum of Art and the American Museum of Natural History, as well as San Francisco's de Young museum. Molly Clements, one of the tour guides who can be found skipping—yes, literally skipping—around the National Gallery, has curated a tour experience that highlights exquisite artworks in an unforgettable way. "I always ask my tour groups and friends, 'Which item in the museum would we take home with us if we could?'" she says.
Her tour begins with a portrait of a frowning girl named Ginevra de' Benci. At first glance, the painting might seem unremarkable, but a closer look at the information plaque reveals it's the only permanent Leonardo da Vinci painting in North America. After explaining how the National Gallery came to own such a coveted piece–a complicated tale involving the Prince of Liechtenstein–Clements asks her group to play cupid. The mission, she says, is to find Ginevra a suitable lover in another piece of art. Armed with iPhone cameras, the group sets out to find a nice bachelor for the young Ginevra.
While Clements starts her tour with the da Vinci painting, other tour guides prioritize their own favorite works. One might start off with a game like the 'Battle of the Impressionists,' pitting the artworks of Manet versus Monet. "The goal is always having variety. We're always innovating," Clements says.
The strategy seems to be working. Museum Hack's head of partnerships Ethan Angelica expects the tours to expand to more cities soon. Angelica got his start as a tour guide, so he understands the importance of the company's mantra. "'Museums are effing awesome.' That's the tagline," he says.
Want to give it a shot? Museum Hack tours the National Gallery of Art on weekends; tickets ($49) can be purchased here. Yoga mats not required.