The drive from Washington to the Greenbrier is largely via interstate—an easy four-hour shot through the sweet gums and sumacs of the Alleghenies. Pull off exit 181 and you're reminded why the West Virginia resort seduces denizens of the Beltway. There's the aesthetic splendor—five golf courses the color of limes, bursts of red and blush and yellow hydrangeas. And, up the hill, the white Georgian estate itself.
Then there's the history. "America's resort since 1778," the Greenbrier was the getaway for 26 Presidents, for the Kennedys and the Vanderbilts and Princess Grace of Monaco. Had the capital suffered a nuclear attack during the Cold War, all of Congress would have gathered in a fallout shelter built beneath the hotel. Today you can tour it.
The one thing you don't see, gliding up the hill from I-64, is the small town below the hotel—a collection of old storefronts and houses swallowed by garbage and kudzu. The town is called White Sulphur Springs. About 2,500 people live there, and the average family income of $30,000 would cover just one night in the Greenbrier's presidential suite. Most residents—about three-quarters—work at the property. They're greeters, bellmen, food runners, waiters, many just as their parents and grandparents were before them—generations of townspeople whose lives have been inextricably tethered to the resort.
"We don't have much history because it all goes to the Greenbrier," says former mayor Barbara Wooding, who worked at the hotel for 51 years. "For a lot of us, the Greenbrier and White Sulphur are the only things our families have ever known. So what if something happens?"
It's an anxiety that suffuses any company town: What if the factory—or the shipyard or the mine or the base or (in this case) the luxe resort that employs 1,800 people and is older than the town itself—were to close? Even a mere change in hotel policy could make life more difficult.
For years, these were the preoccupations of White Sulphur Springs. Then something much bigger happened, something that went beyond the old town-versus-resort divide, something that in fact brought townspeople and the company into an intimate embrace that surprised just about everyone involved. On June 23, 2016, it started raining.
***
That morning, Becky Phillips and Jim Justice both drove in to work early. On paper, they're good representatives of White Sulphur's social chasm. Phillips makes $13.86 an hour cleaning rooms at the Greenbrier. Justice, the state's only billionaire, owns the place.
Phillips had woken up with aching feet. Plantar fasciitis, the doctor said. She felt it flare as soon as her heels touched the floor. It was 6:30 am, plenty of time to untangle her copper-colored bangs and pull on her black-and-gray housekeeper uniform.
Becky is her family's breadwinner. Her husband, James, can't work. Four years ago, he fell and broke his back. The couple and their three kids have been in White Sulphur since then. The Greenbrier pays far better than what Becky made at the Purple Cow drive-through in their home state of Tennessee.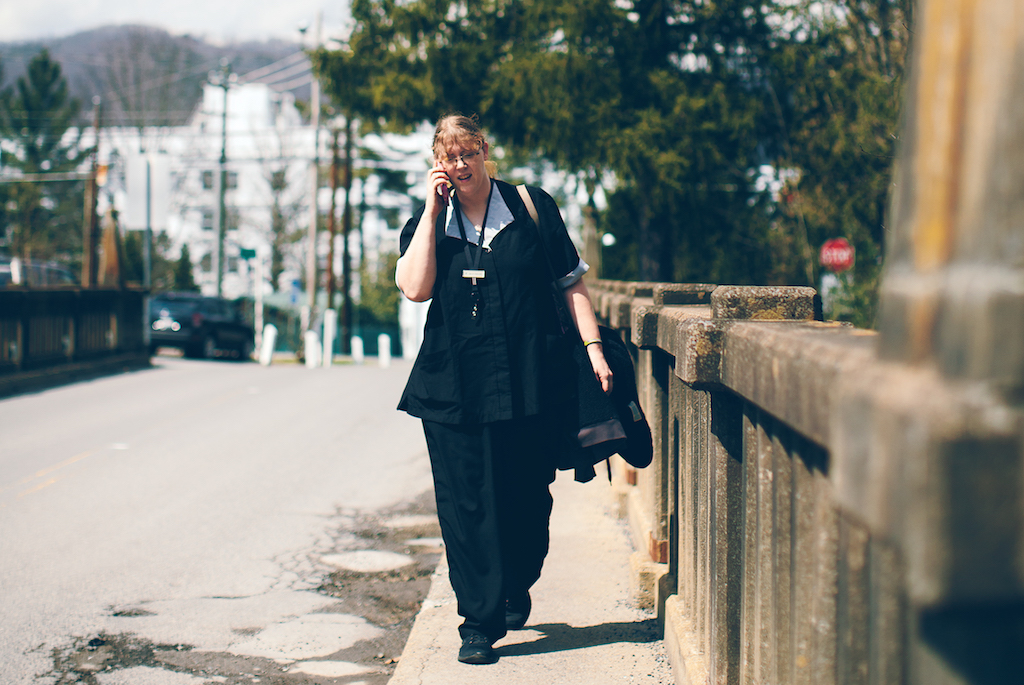 As she did every morning except Tuesdays and Wednesdays, Becky climbed into her Chevy Astro and left Mill Hill Drive, her neighborhood at the intersection of Howard's Creek and Wades Creek. She turned onto Main Street and drove past the abandoned white-plaster structure called "Diner." Past what used to be the video store, the real-estate brokerage, the novelty store. Then, as town turned to resort, placelessness gave way to color, like a kaleidoscope turning, lime and blush and yellow, all the way up the hill.
Becky parked in the resort's employee lot and stayed put. She listened to country music crackle through the radio. I know you've got mountains to climb but always stay humble and kind. These were her few moments of quiet, before the day became a blur of sheets and throw pillows and bars of sweetgrass soap.
June 23 promised to be busy for Justice, too. In less than two weeks, the resort would host the Greenbrier Classic, its prized spot on the PGA Tour. And there was campaign business to take care of. That was Justice's other job. He was running for West Virginia governor. A political outsider, he had won the Democratic primary easily with the message emblazoned on his yard signs: JOBS, JOBS, JOBS!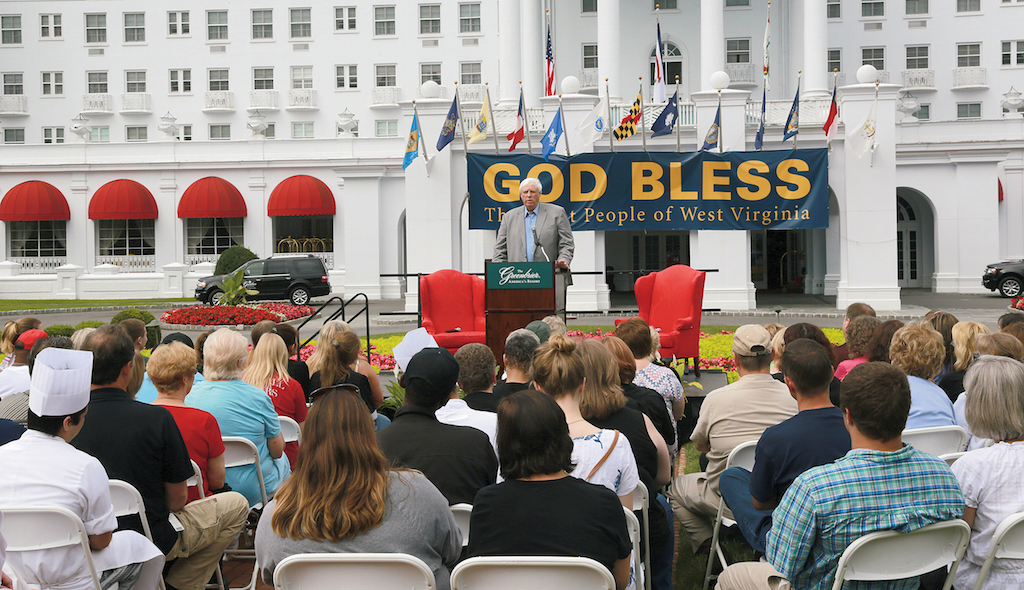 Justice planned to wrap things up at the hotel by late afternoon, then talk politics with his campaign staff in Charleston. As he worked, he could hear the rain picking up. There had been warnings of "high water" on the news that morning. But how many times had rain pummeled this mountain town? It wasn't unusual to turn off of the interstate and steer through standing water. And anyway, for the Greenbrier, one of the few structures above the floodplain, "high water" was never terribly alarming. The rain would come, and it would run down the hill, and it would settle somewhere other than here.
By noon, the drops had begun falling harder, faster, but from the confines of the hotel, the thrum sounded nice.
***
Jim Justice did not grow up on top of the hill. His family, who lived in nearby Beckley, couldn't afford to stay at the Greenbrier. He called it "the Emerald City."
Justice's path there ran through a coal-mining and farm business that he expanded across Appalachia and 100-plus entities—Christmas-tree farms, cornfields, cotton gins. In 2009, when the Greenbrier filed for bankruptcy, the homegrown billionaire swooped in and bought the place for $20.1 million, finagling a deal out from under Bethesda's Marriott International. "You could just see the community drying up," he told the Washington Post afterward. "People's anxiety levels were off the chart."
Once upon a time, the resort had ensured a stable economy. Older residents remember a pleasant and bustling Main Street. "You could buy a spool of thread, and you could buy a white shirt. You could rent a tuxedo," says Wooding, the former mayor. "Everything you needed was here."
That began to change over time. In 1995, Lewisburg, eight miles away, got a Walmart.
New restaurants and stores trickled in behind it, and when the resort dropped its all-inclusive dining plan in 2006, more guests began taking its shuttles to Lewisburg.
Then, in the teeth of the 2008 recession, CSX Railway, the resort's longtime owner, reported a loss of $166 million.
Enter Justice, a straight-shooting guy whom many simply know as Coach. (He has coached local high-school basketball teams for more than 30 years.) He and his wife, Cathy, live in Lewisburg in an unassuming ranch house. He's one of the wealthiest men in the country, but locals know that Jim Justice prefers to eat at Wendy's.
The deal made him a hero. Employees remember jumping to their feet and cheering when Justice entered his first all-staff meeting. He put hundreds of people who had been sidelined because of hotel vacancies back to work and announced plans for the Greenbrier's facelift. A casino! New restaurants and shops! "Nothing would make me happier than to make White Sulphur Springs . . . almost like towns like Aspen or Jackson Hole," Justice says. "This area could be a major tourism destination. That's basically what I'm trying to do."
He was an immediate presence in the hotel, his six-foot-seven, 375-pound frame unmistakable. "You couldn't walk by him and not get into a conversation if you tried," says Elaine Hollandsworth, the Greenbrier's assistant retail director.
Even people outside West Virginia felt the energy. Ryan Ellis and his wife, who had been living overseas, purchased a gun outfit on Main Street in 2015. "We'd read all about Jim Justice buying the Greenbrier, and it just seemed like things were going to start happening in this town," Ellis says. "We saw that the store was for sale and we thought: Why not?"
Inevitably, over time, that elation ebbed. Most troubling were changes that some residents felt threatened their livelihood. Justice converted several formerly full-time positions to seasonal status, with fewer benefits; a program that brought international students to intern at the hotel drew complaints that it was costing jobs for locals; and in general, there seemed to be little movement toward the resort-town grandeur that Justice had envisioned.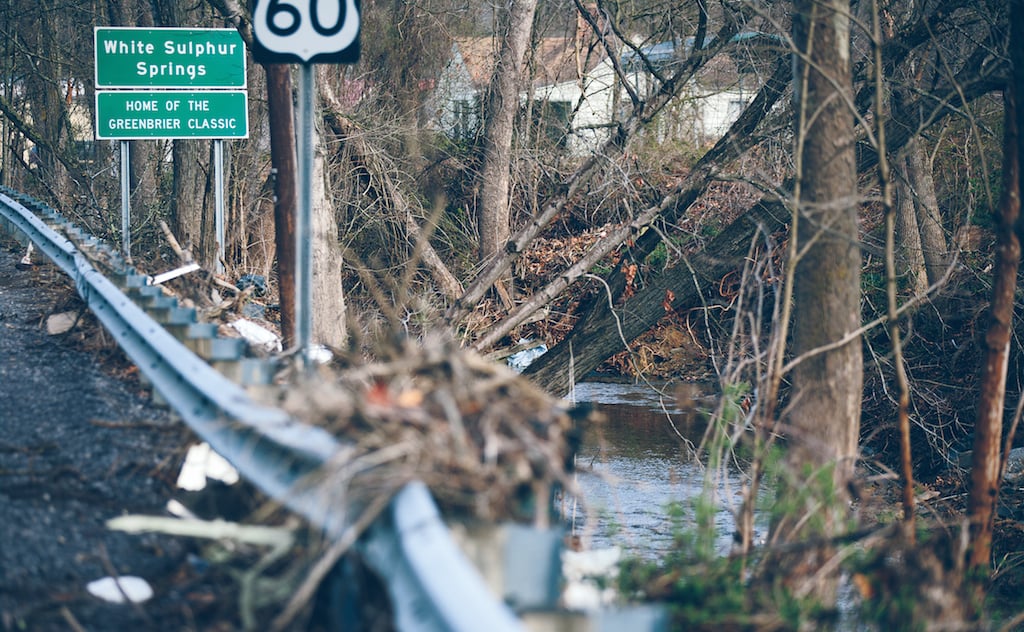 Not everyone was bothered. "Jim Justice doesn't have a responsibility to fix White Sulphur," Tom Dudley, a resident who coached basketball with him said before he passed away this spring. "He gives us jobs. You couldn't hope for much more than that."
But skeptics began talking about lawsuits that had dogged Justice's other companies, which got renewed attention during the governor's race. JIM JUSTICE COMPANIES DELINQUENT ON $3.9 MILLION IN 2015 PROPERTY TAXES, announced the Charleston Gazette-Mail in April 2016. WEST VIRGINIA GOVERNOR HOPEFUL HAS LEFT A TRAIL OF UNPAID FINES AND BILLS, the Post revealed the following month.
Justice, of course, pushed back against the doubters. "You saw every coal company in the land take bankruptcy. Not me. I didn't," he says. "Now, are we late paying a bill or whatever? Yeah. But we'd rather have somebody that was late paying a bill than somebody who took bankruptcy, stiffed the bank, stiffed the vendors, stiffed the stockholders."
Nevertheless, the mood in town had shifted by the time the rain started. "People got leery," says Bo Belshee, a zoning officer in White Sulphur. "We wondered, 'Is he gonna do us the same way? Build us up and just leave us hanging?' "
***
By early afternoon, the rain hadn't let up. In Mill Hill Drive, Becky Phillips's neighborhood, people began to doubt that this was some ordinary storm.
Mill Hill is at ground zero of White Sulphur's floodplain. It's bordered by two creeks, with no access road at the time save for an old wood-planked bridge. It had been more than 40 years since water rose above it, when the neighborhood quite literally became an island. Yet the creek had now swallowed the bridge whole.
Mykala Phillips, Becky's 14-year-old middle child, was on summer break between eighth and ninth grades, an outspoken redhead who was fiercely attached to her mother. She had already called Becky's cell phone about 50 times, begging her to come home. Now her elder brother, Jayson, who was 15, watched as a neighbor's lawn mower began to drift. Jayson grabbed his backpack and began placing keepsakes inside. A childhood dinosaur toy called Rexy. His little brother Carter's favorite stuffed giraffe.
Up at the hotel, the golf courses were turning into lakes. Water seeped into the casino. Managers began corralling employees, directing them to vacuum up the water pooling near the spa.
At 2:30 pm, Mykala called again. "This time I could hear it in her voice," Becky would later remember. "She was terrified."
Greenbrier managers encouraged staff to stay put—it wasn't safe to leave, they said. The water was rising too fast in the roads below. But Becky resolved to go home. "I've got to get to my kids," she said to no one in particular.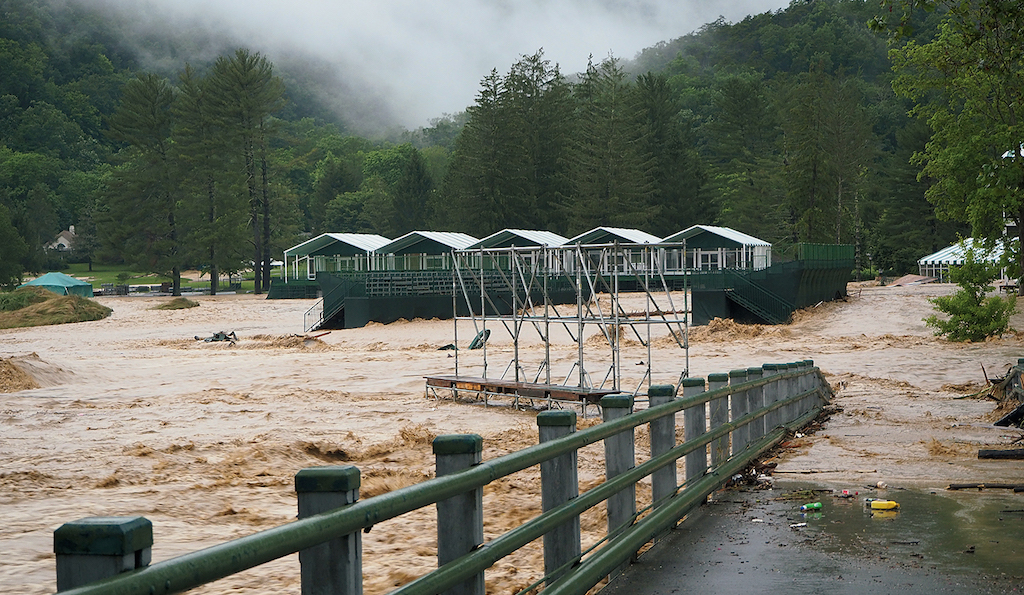 She began trekking downhill and kept her phone pressed to her ear, talking to her mother and her husband. By the time she reached Main Street, the water had climbed to her waist. Her family's phones began clicking to voicemail.
In Mill Hill, neighbors were assembling outside. Ronnie Scott, 61, a White Sulphur lifer, knew of a cave chiseled into the mountainside about three streets down. It would take some slogging and climbing and praying to get there, but at this point, with the bridge crested and waves beginning to roil the water, it was their only hope of getting to higher land. And when Ronnie told you the plan, you listened.
So he and the others were flummoxed when Jayson—wading out to them, his family on the porch behind him—suddenly stopped and turned around.
"Hey! What're y'all doing?" Ronnie yelled.
"They're saying we should stay here!" Jayson shouted, referring to the 911 operators he said Mykala had just spoken to.
Ronnie's group moved on. The Phillipses took shelter in their living room.
After another hour, and more calls for help, it was 4:30. Jayson called his cousin Dylan. "You need to get somebody with a boat down here," Jayson said as water continued to rise inside. "You need to get us out."
Suddenly, the floor shifted. The family could feel cinder blocks beneath the house giving way.
Jayson and his father, James, yanked extension cords from behind the television and began untangling them. Jayson tied square knots around their waists to keep them connected to each other. As they tried to push their way to the front door, they heard the crack of thunder.
A wave punched through the doors and windows, a 60-mile-per-hour brown water rush that launched them through a window. "Like the hand of God pushing down on you," Jayson would later say.
James crashed face first into a bank and lost four teeth. He tried to shield his children from the bank. Then they were adrift.
The current battled the undertow for control of their bodies, pitching them into rocks and trees. Left and right and up and down. The world was like a scratchy vinyl record. Quiet one second—when the water jerked them under—to ear-splitting the next, when it pushed them back up, into the rain and Mykala's screams and James's shouting at them to stay afloat.
Jayson realized that the backpack was too heavy. It was causing him to lose hold of Carter. He cut it with a switchblade and sent it off with the stuffed giraffe.
The undertow sucked them down again. Mykala screamed as the water fought her under. "Jayson, it won't stop pulling!" Jayson heard his sister yell. He gripped her waist tighter, his other arm clutching Carter. They spun and kicked and clawed at the sky, and then the cord snapped.
When James and Jayson and Carter muscled their way back up, they realized Mykala was gone.
***
Across town, Jim Justice had a flat tire. En route to his campaign meeting in Charleston, he had made it 25 miles on I-64 before pulling over and calling his wife to fetch him. "We've got to get back to the hotel," he told her. "This thing's bad."
Panicked staffers in charge of the Greenbrier Classic lit up Justice's phone. "Everyone's scared," Habibi Mamone, the tournament's director, told him. "Every course is a river. What do you want us to do?" She watched from outside the clubhouse as upturned cars rushed down the greens. "It doesn't matter right now," Justice said. "It doesn't matter."
Instead, he coached his employee Elaine Hollandsworth on survival tips over the phone. She was stranded on the second floor of her sister's house near Mill Hill, watching homes ripped from their foundations rush past their window. He told Hollandsworth and her sister to crouch on a mattress as a flotation device and to tie themselves together with a sheet.
The rescue effort at the mouth of Mill Hill, meanwhile, was chaos, as police could use little more than screams to guide them. Residents tried to launch their own missions. Ryan Ellis, the gun-store owner, hot-wired a bulldozer and tried to push his way into Mill Hill.
Becky Phillips finally made it to the scene about 5 pm. With no pathway to her home and police blocking the area, she waded over to her in-laws', across Main Street on Mountain Avenue.
Around 6, Joe Byers and Nate Tucker, firefighters in Lewisburg's swift-water unit, realized that their boats were useless. They had been tossed by the currents, their jets continually clogged by trash. "We train for rain like this, for water like this, but it's unimaginable until you actually see it," Byers says.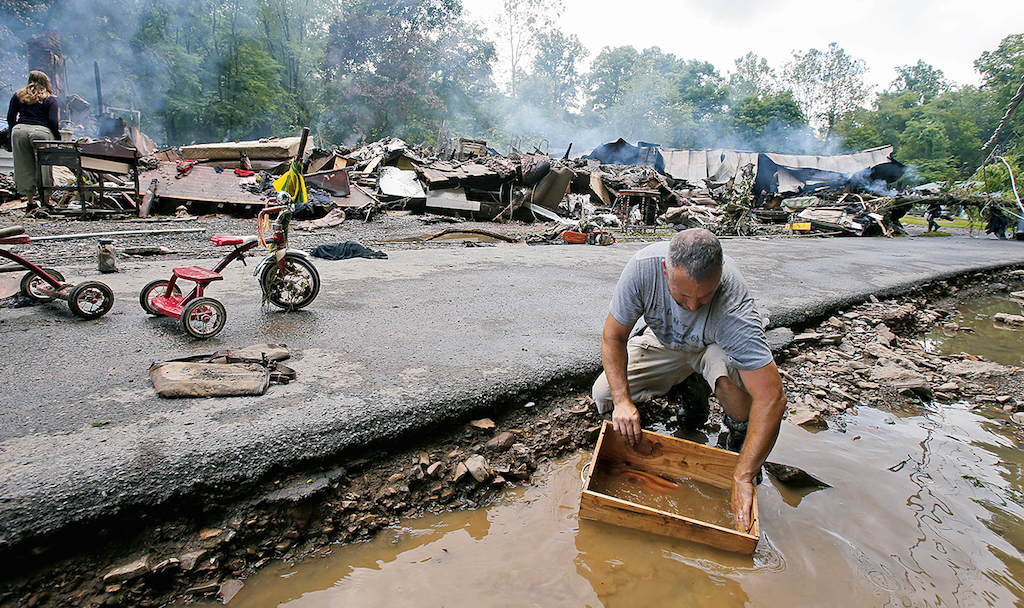 They broke from Mill Hill to respond to another call for help, a man clinging to a tree, downstream near the fish hatchery. That's when they spotted a front-loader engulfed in four feet of water, its keys inside. They started the machine, began plowing through the current, and notched their first rescue: the man in the tree.
Across the bridge, James, Jayson, and seven-year-old Carter were still in the water, jerking toward floating cars and debris. When the current washed them onto what remained of a porch down the street—semisolid ground, finally—James was able to clutch the railing and sling his children toward the landing. He broke open a window, and they climbed inside.
By now, Byers and Tucker had inched the front-loader into Mill Hill, guiding it by the feel of the curb. They saw that the neighborhood was devastated. Fifty-four-year-old Belinda Scott, who had gotten separated from her husband, Ronnie, was clinging to a tree, her house flaming beneath her. A family with two young children huddled in the attic next door to the Phillipses, the front of the house split and exposed.
Byers and Tucker reached the Phillips family an hour after James got them into the house. Tucker swam to them with life jackets. They formed a chain, made their way to the loader, and climbed one at a time into the bucket that Byers had waiting. "My daughter got loose," James said. "She was with us. She got loose."
The loader deposited James, Jayson, and Carter into an ambulance waiting at the mouth of Mill Hill, where the water was now receding. It was 8 pm.
At last, Becky's phone rang. She ran outside, slow motion in the water. When she reached the ambulance, she saw her eldest child sitting empty-eyed in the back.
He said, "We can't find Mykala."
***
At daybreak the next morning, the rain was still falling, but more softly. National Guard pilots in helicopters took in the wreckage. Trees cradled cars and cats. The landscape, once marked by brambly hills and banks, seemed flattened. Homes were crushed and folded like paper dollhouses.
West Virginia officials began tabulating the devastation. More than ten inches of rain had fallen across Greenbrier County. Fourteen people were dead. An unknown number were still missing, including Mykala Phillips.
In Mill Hill, the hardest-hit area of White Sulphur Springs, only three of ten homes remained standing. Family photographs were scattered across the streets, the images of grandparents, vacations, and weddings available to any looter or rubbernecker stalking the town.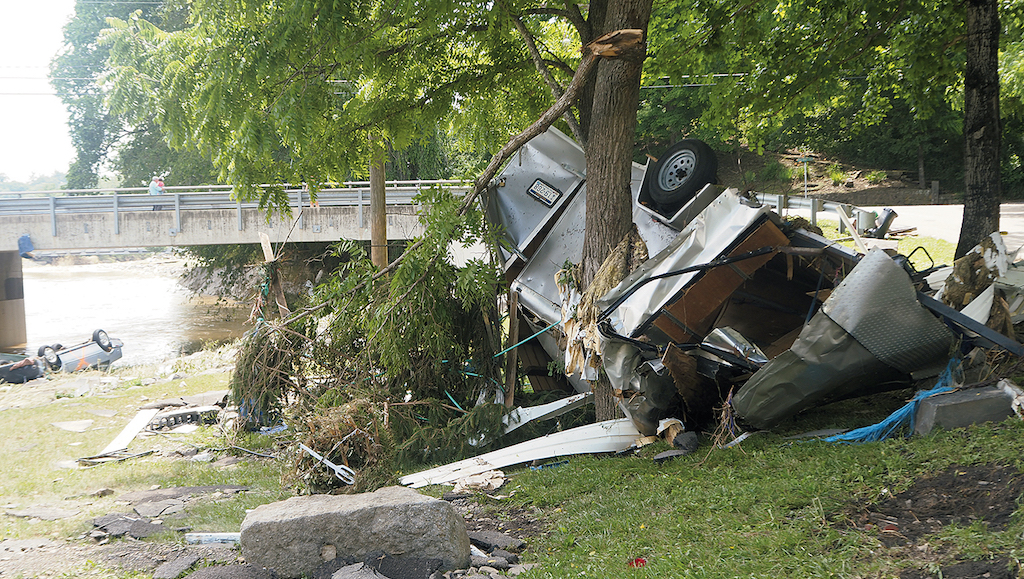 Up the curved hill, the resort saw the bulk of its damage on the golf courses. The main wing remained largely untouched. Nevertheless, managers ferried guests to the airport. Justice suspended his campaign and transformed the hotel into a shelter, free of charge, to flood victims.
He says there was no grand strategy behind that decision, no deliberating with staffers for hours: "I woke up that morning and knew we had to do it." He called his staff. "I told them, 'Let's get this going.' "
Becky remembers sitting in a local shelter with her family when her supervisor, Elizabeth McDowell, found her. "They're opening up the hotel for free," McDowell said. "I just wanted to let y'all know, there's a room ready the minute you want to come up."
***
Two weeks after their home was crushed, the Phillipses entered the Greenbrier as guests and made their way to room 6611. It had been cleaned by Becky's colleagues—the ones not displaced by the flood.
Becky had never thought much about what it would be like to stay the night at work—like most people at the end of their shifts, she was just ready to go home, opulence be damned.
She kept the do not disturb sign up the entire three weeks. There was no reason for anyone but her to clean the room, she thought. Each day, she scrubbed the bathroom floors and every two days changed the sheets. "It was better for me to just stay busy," she says. "I knew how to do it all anyway."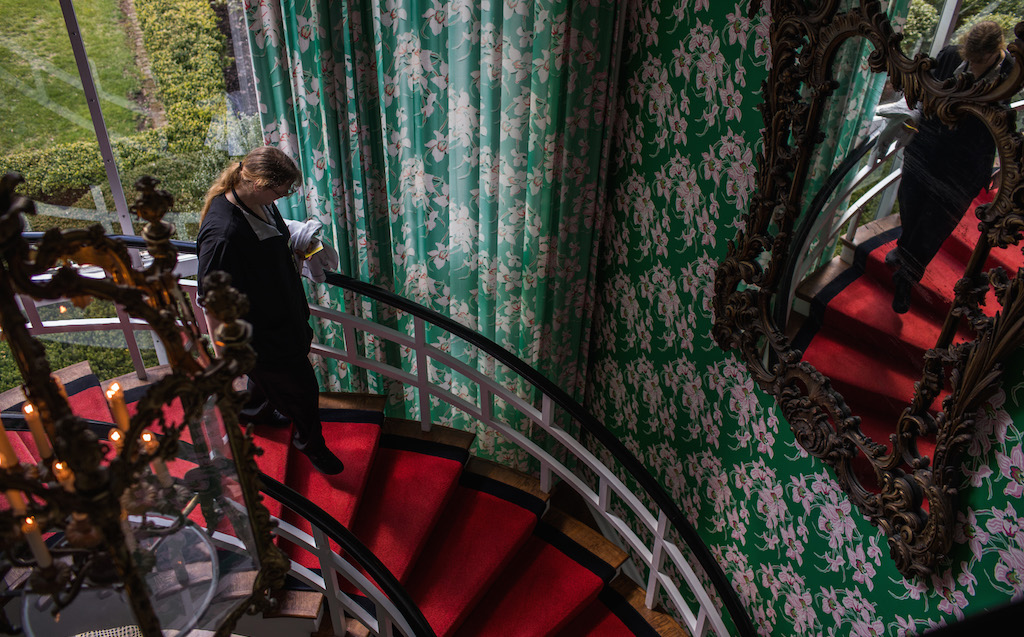 She waited for information from the police. Multiple search parties had failed to find Mykala. Yet rumors ran like circuitry through the county—on Facebook, her body continually moved from lost to found to alive and back again, an emotional vortex that "made me angry—so angry," Becky says.
The Phillipses shared the resort with more than 700 fellow flood victims and rescue workers. One day, a body, underneath piles of debris, turned up on one of the golf courses. The discovery made the Greenbrier a first stop in subsequent rescue missions, with officials hoping the rest of the missing might turn up there, too. Staffers-turned-employees helped where they could and took comfort from one another in the employee cafeteria. "People would walk there even if they weren't hungry, just to see how others were holding up," Tom Dudley recalled. "It was better than being alone all the time."
While many of his employees were living in the hotel, Justice was out and about, riding around in his golf cart, the larger-than-life billionaire interacting with residents and volunteers. Bob Johnson, a game warden from Greenbrier County, remembers helping package supplies at a shelter. He suddenly heard a deep voice ask, "Y'all want some KFC?" It was Justice, who'd arrived with his Suburban full of fried chicken.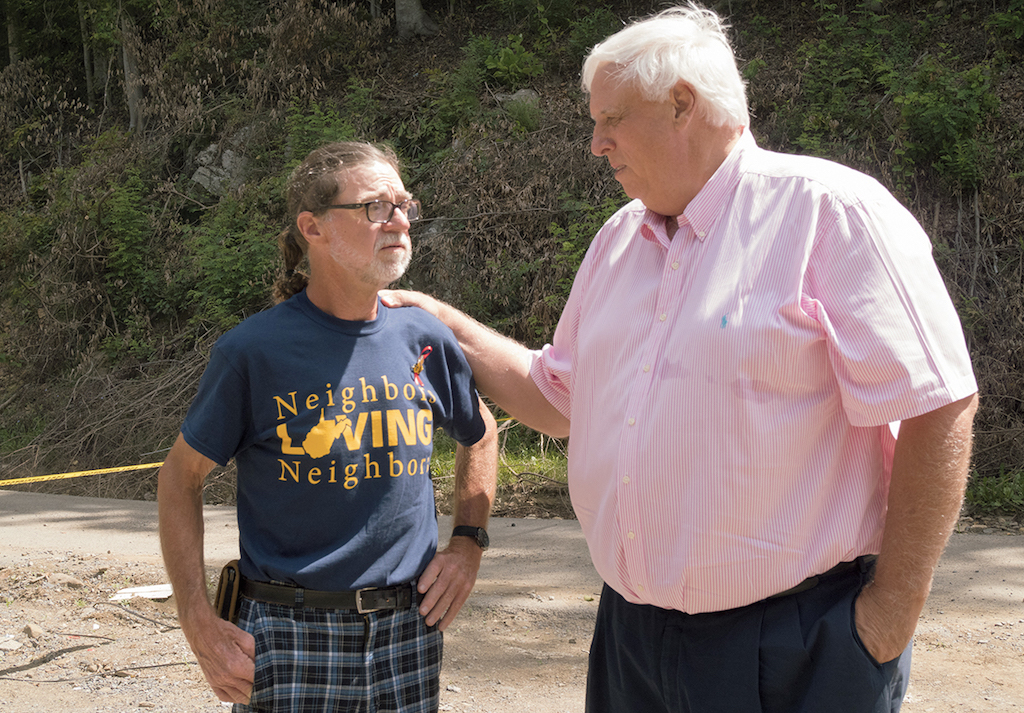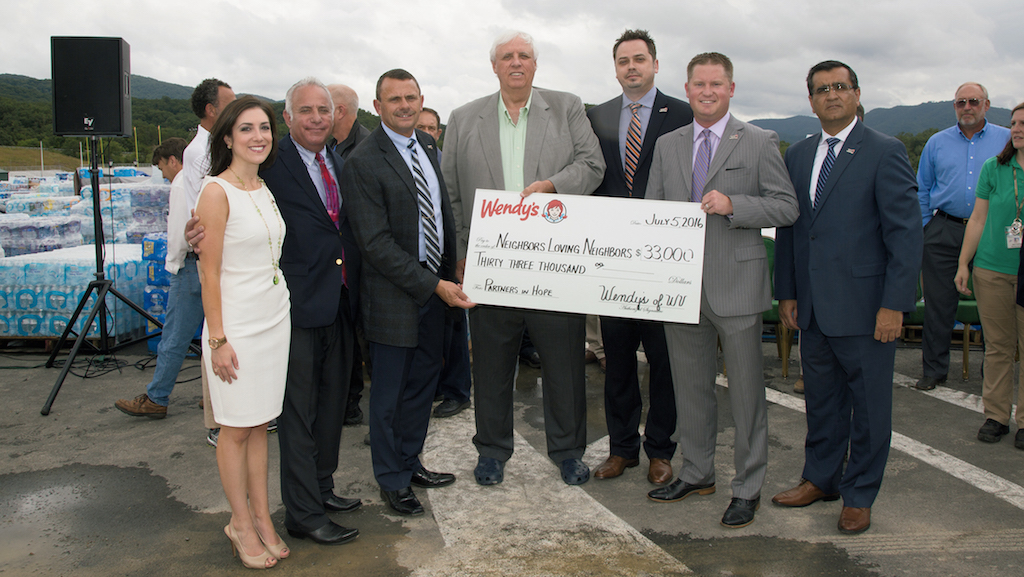 "No cameras, no nothin'," Johnson recalls. "You could just see people going, wow, you know, that's a good man right there."
Between the opening of the hotel and Justice's ground-level attention, what some viewed as a calcified divide between the Greenbrier and White Sulphur seemed to thaw. When a town is washed out and one person steps forward, concerns that he might only be out for himself become a terrific luxury.
"I'll admit I was a bit surprised he did that," mayor Lloyd Haynes says. "The city and the hotel have often been at odds, but when Mr. Justice opened the doors—and he didn't have to do that—I thought, 'Maybe this could be a turning point.' "
***
They found Mykala on a Tuesday. It was August 9, 47 days after the flood. Bob Johnson, the game warden, had helped organize the final search party. "Our last-ditch effort," he called it.
They were scavenging near Caldwell, nearly seven miles from Mill Hill, in an area marked by an abandoned, overgrown home. It was midafternoon and the search crew was pushing through trees near the house when, on the other side of the creek, their bloodhound started crying. The dog stared over a pile of debris that was pushed up against the bank, lodged beneath a propane tank.
She was wearing what her mother said she would be. A gold mother/daughter necklace, the one that matched Becky's. A Mickey Mouse shirt.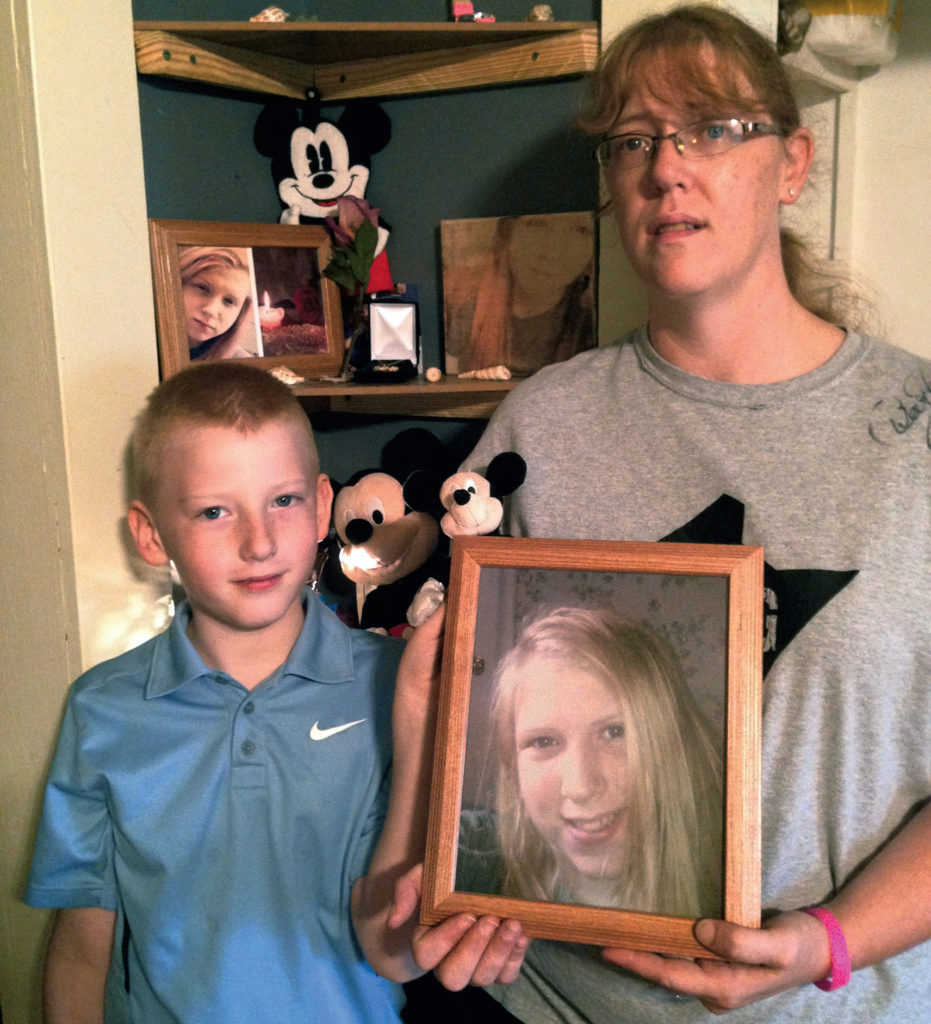 Much of August is a blur, but Becky remembers that night, when White Sulphur's police chief showed up at the house where they'd been staying since leaving the Greenbrier. She remembers the three words: "We found her." The feeling of "relief—just total and complete relief." She had the chief call her husband. He and the boys were in Tennessee, and she couldn't bring herself to do it. Then she cried.
Mykala Phillips was the last victim to account for, bringing the final death toll of West Virginia's third-worst flood to 23.
By then, eight weeks had passed and you could count the number of reporters who'd stuck around White Sulphur on one hand. Other signs that the world had moved on: The Greenbrier had reopened. Employees, given $500 Walmart gift cards by the hotel, had moved out of their rooms. Jim Justice had returned to his campaign.
Initially, the flood wasn't a major talking point in the race. Justice resumed his job-creation message and attacked his challenger's record in the state senate. Yet it was also true that Justice's nonprofit, Neighbors Loving Neighbors, raised money for flood relief, and that effort became one of the most defining elements of his campaign. The organization collected almost $4 million in donations after the flood, some of them highly publicized. They came from people like former NBA star Jerry West, who has a restaurant at the Greenbrier, and golf legends Bubba Watson—who donated $500,000—Phil Mickelson, and Bo Jackson. TNT analyst Charles Barkley, too.
Justice used the Neighbors Loving Neighbors money to pay for the repairs of some 50 homes, according to Habibi Mamone, the Greenbrier employee who helped lead the efforts. "It's given all of us a new sense of duty," she says.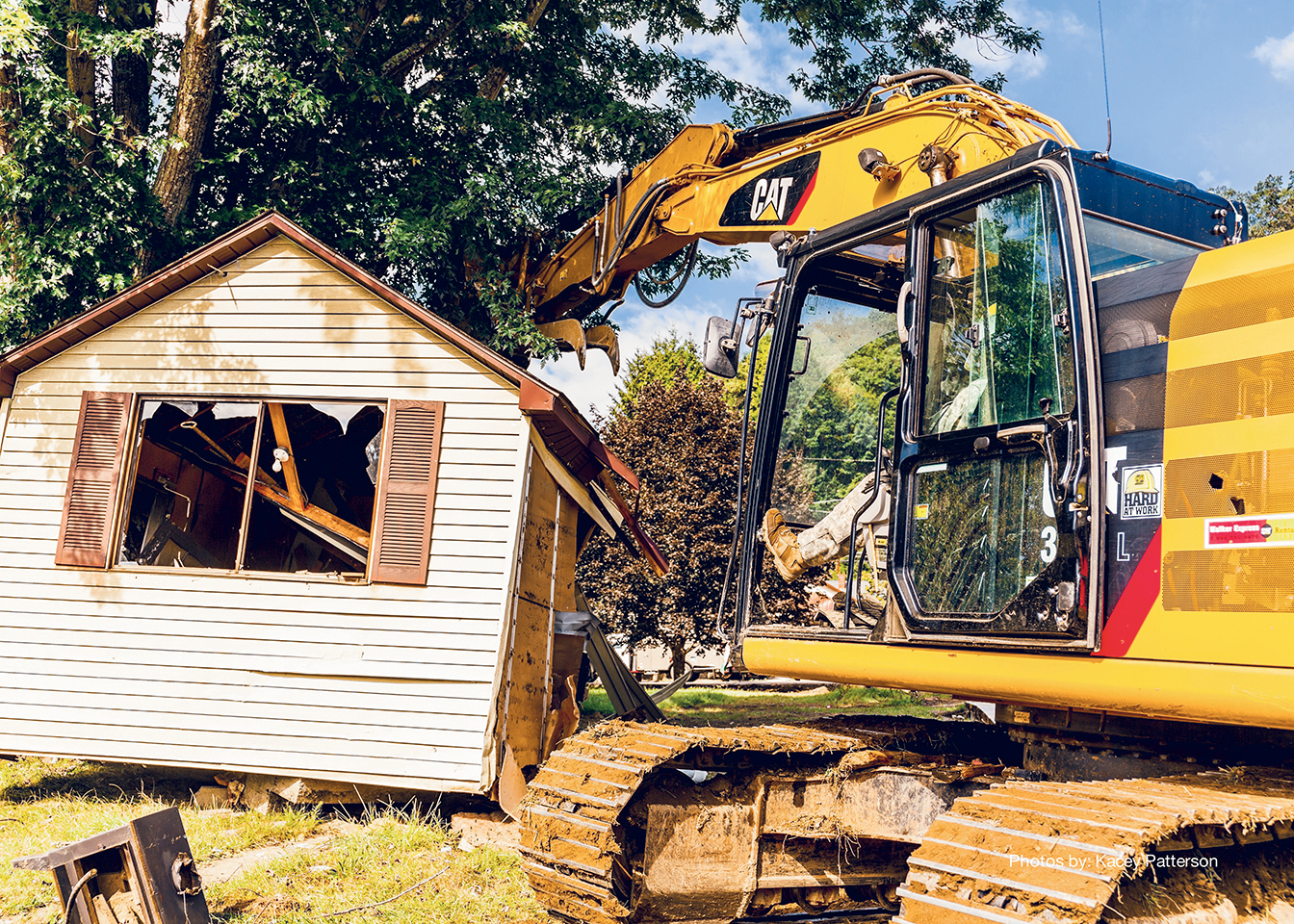 Justice's Republican challenger, Bill Cole, who did extensive relief work after the flood himself, questioned the attention Justice's efforts got. "If I'm out there looking for the TV cameras to get interviewed, then am I really helping or am I just looking for earned media?" he asked the press in August.
In the final days before the election, Justice's team leveraged the flood explicitly, releasing an ad that portrayed him as a savior amid the wreckage. It showed fire swallowing a house in White Sulphur—an orange apparition—and dragging it toward a bridge. The scene cuts to an overturned 18-wheeler, then to a dystopic image of houses ripped from their foundations. After a tribute to Justice's help, flood victim Toni Cooley appears. "Thank you, Mr. Justice, for everything you've done," she says. "I'm gonna get my house back."
Justice is now the 36th governor of West Virginia. He won the state with nearly half the vote. In Greenbrier County, which in the previous gubernatorial race just barely went blue, he won more than 60 percent. "I didn't think I'd vote for him," one White Sulphur city official says, "but after seeing the way he helped us get going again, you couldn't vote for anyone else. We saw his heart."
Giddy employees packed Colonial Hall at the Greenbrier for his victory party, the place they had all stood when he'd introduced himself to them seven years before. Justice was still their boss. But now the town was more dependent on the man—their angel financier, their incoming governor—than ever.
And, for now, they were okay with it.
On November 28, 2016, Becky Phillips drove to First Citizens Bank with a check in hand. She was about to make the down payment on her family's new house on Mountain Avenue, the first they'd ever owned.
Three months earlier, Becky had brought Carter to a backpack giveaway that Justice had organized. She had bumped into Habibi Mamone, the Neighbors Loving Neighbors director. Mamone asked her whether she'd found a new place to live. Becky confided her fears that she wouldn't have enough for a down payment, at least one that would make the mortgage manageable. "Give me a few days," Mamone told her. "I'll talk to Mr. Justice and see what we can do."
Before long, Mamone invited Becky to her office and presented her with a check. They won't disclose its amount, but Becky says she saw the number and started crying when she realized what it meant: "I was gonna have a house."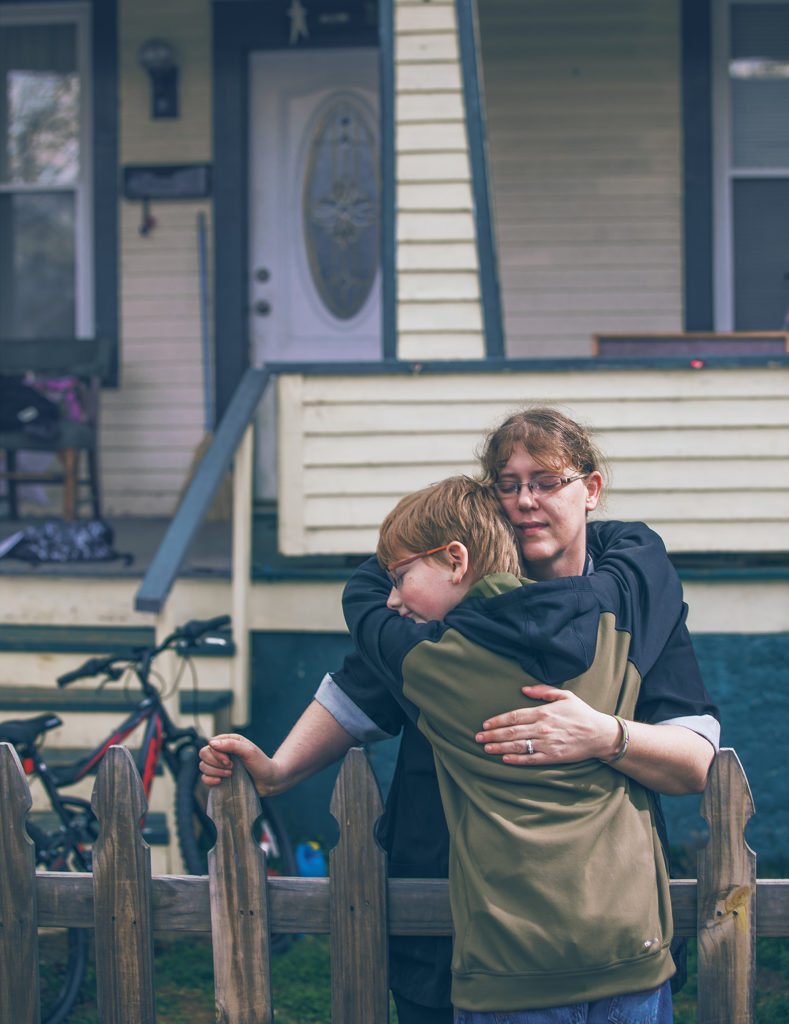 She said she'd like to thank Justice, so Mamone got him on the phone. Becky barely said thank you before the tears started flowing again. "I told him that this meant we could stay here, in White Sulphur, and that that was all I wanted. We didn't want to leave," she says.
Who knows if old fault lines will reemerge, Becky says, or whether people in town will forget everything that happened last summer. "I just know that I left the bank that day," she says, "and for the first time in a long time, I felt something like happy."
It's been five months since that day. The wreckage of the flood is still there in some corners. It probably will be for a while. Trucks continue to arrive, dropping off new building supplies so the nonprofit can refurbish the next home on the list.
Justice, meanwhile, splits his time between the governor's mansion in Charleston and his house in Lewisburg. He's been touting consumption taxes to reduce the state's deficit and has proposed a road-revitalization program that could create thousands of jobs. He's working to put his companies into a blind trust.
Back in White Sulphur, people don't talk as much about June 23 anymore, Carolyn Ware, the city clerk, says: "No one likes to dwell."
The Mill Hill bridge has been rebuilt. It's sturdier, stronger now, recently sanded over. Becky Phillips could once see it from her old house. But she prefers her new front porch, where she likes to sit alone at night. "It's quiet," she says. "It's peaceful."
Staff writer Elaina Plott (@elainaplott on Twitter) can be reached at eplott@washingtonian.com.
Questions or comments? You can reach us
on Twitter
,
via e-mail
, or by contacting the author directly: