Enhanced Listing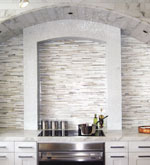 Design Tile Inc.
Design Tile Inc., independently owned and established in 1980, is located in the heart of Tysons. The vast designer showroom is arranged by color and composition, and the product selection is unparalleled in originality, sophistication and scope. Exclusive collections of tile, stone, glass, metal, custom mosaics and more await. Staffed by degreed interior designers and dedicated to personal service, we will help you create a unique aesthetic to enjoy for years to come.
Contact: 8455 B Tyco Rd. Tysons/Vienna, VA 22182 | 703-734-8211
Architectural Ceramics Rockville, 301-251-3555; Alexandria, 703-299-6200; Falls Church, 703-714-0161; Chevy Chase, 301-718-8343; architecturalceramics.com.
Best Tile 11601 Boiling Brook Pkwy., Rockville, 301-984-3399; 8196 Terminal Rd., Lorton, 703-550-2352; besttile.com.
Carlisle Wide Plank Floors 1666 33rd St., NW; 202-339-9799; wideplankflooring.com.
Charles Luck Stone Center 1111 34th St., NW, 202-944-2345; 1700 S. Sterling Blvd., Sterling, 703-674-2240; 12202 Clarksville Pike, Clarksville, 443-535-0543; charlesluck.com.
Classic Floor Designs 2120 L St., NW; 202-872-9860; classicfloordesigns.info.
Cochran's Lumber 523 Jack Enders Blvd., Berryville, Va.; 540-955-4142; cochranslumber.com.
Concrete Jungle 4510-J Metropolitan Ct., Frederick; 301-874-1001; concretejungleonline.com.
Design Tile 8455-B Tyco Rd., Vienna; 703-734-8211; design-tile.com.
Design Within Reach 3306 M St., NW, 202-339-9480; 4828 St. Elmo Ave., Bethesda, 301-215-7200; dwr.com.
Fernando's Marble Shop 15910 Indianola Dr., Rockville; 301-670-2794; fernandosmarbleshop.com.
Floor Gallery 12108 Wilkins Ave., Rockville; 301-468-1550; thefloorgallery.com.
Franco's Marble Shop 328-G N. Stonestreet Ave., Rockville; 301-424-2322; francosmarbleshop.com.
Marblex 2926 Prosperity Ave., Fairfax; 703-698-5595; marblexinc.com.
Marva Marble and Granite 12225 Distribution Way, Beltsville; 301-595-1882; marvamarble.com.
Mosaic Tile Company Rockville, 301-881-2520; Fairfax, 703-280-4300; Chantilly, 703-631-4848; Lorton, 703-495-8453; mosaictileco.com.
Porcelanosa 11500 Rockville Pike, North Bethesda, 301-294-8193; 701-B Dover Rd., Rockville, 301-294-8193; porcelanosa-usa.com.
R. Bratti Associates 401 E. Glebe Rd., Alexandria; 703-549-1135; rbratti.com.
Renaissance Tile & Bath 816 N. Fairfax St., Alexandria; 703-549-7806; renaissancetileandbath.com.
Stone Source 1129 20th St., NW, Suite 501; 202-265-5900; stonesource.com.
Thos. Somerville Co. Multiple area locations; somervilleshowroom.com.
The Tile Shop Multiple Maryland and Virginia locations; tileshop.com.
Union Hardware 7800 Wisconsin Ave., Bethesda; 301-654-7810; unionhardware.com.
Universal Floors 4625 41st St., NW; 202-537-8900; universalfloors.com.
Waterworks 3314 M St., NW; 202-333-7180; waterworks.com.
W.T. Weaver & Sons 1208 Wisconsin Ave., NW; 202-333-4200; weaverhardware.com.