The line at Poké Papa stretches all the way around the room, but Justin Schuble doesn't have to wait. He cuts to the front and asks for the owner of the new spot devoted to Hawaiian-style raw fish, the city's latest food craze. Kerry Chao hops right over. DC's most influential food Instagrammer has arrived.
A visit from Schuble, better known to his 142,000 Instagram followers as @DCFoodPorn, means restaurants can get their most photogenic dishes splashed across the social-media feeds of Washington. "Go crazy," Chao says when Schuble asks what'll look good under the lens. "Whatever you like."
Within minutes, Chao has personally prepared three bowls of poke (much prettier than the ones I'd bought myself a couple of days earlier), and Schuble and his assistant for the day cart the food out to the sidewalk. There, in the natural light, Schuble can get to work. He pulls out his Sony Alpha (iPhones are for amateurs), arranges his subjects on the red-brick sidewalk (nice contrast with green seaweed salad and pink watermelon radish), and click-click-clicks. By the time he finishes angling and hoisting and rearranging the bowls 11 minutes later, he has 102 photographs of fish atop rice.
Later at a coffee shop, he scans his analytics for the best time to post (3 pm, snack time). Instagram filters? Psh. He edits several contenders in one photo app, then fine-tunes the winner in another. He uses a third to make sure the shot will look good in the context of his feed, lest it clash.
He writes a caption ("DC poké game on the rise thanks to @pokepapadc // TAG YOUR FRIENDS"), then starts tagging accounts he hopes might want to reshare his masterpiece—major food-media outlets, other big-name Instagrammers. And Kylie Jenner. Always Kylie Jenner.
Finally, he hits "share" and gets his thumbs in position for the last step for viral success: ginning up the likes and "omg yums" that will juice the photo's ranking higher in Instagram's mysterious algorithm. He starts by adding 29 hashtags: #forkyeah, #viral, #feedyoursoul. Like. Like. Like. He switches to his personal account and tags his brother and sister in the comments. From an account shared by extended family, he tags three cousins. From a second food account he recently started, he comments: "This looks amazing! Love poke." He always comments on his own photos.

"Posting is always a big deal—I'm always like, 'Give me five minutes, don't talk to me, just let me do my thing,' " he says. The likes are up to 66, then 113. He checks his analytics. "A thousand people have seen it already. Three people have already saved it because they want to go there," he says, matter-of-fact. It's been five minutes.
Welcome to Food Instagram, the corner of the internet where "yolk porn" is an entire genre and burgers topped with mac and cheese are so common they're cliché. It's the whole reason why sushi doughnuts and unicorn lattes even exist. It's also an industry—for now, anyway—where a 22-year-old Georgetown student from Potomac can pull in more than $40,000 a year and still go to class.
---
On any given day this spring, Justin Schuble's in-box wasn't populated with e-mails just about coursework. It was also gummed up with invitations from local restaurants hoping to host him for a free meal. Restaurants that have just opened or launched a new menu are always bringing in reporters, bloggers, and, more recently, Instagrammers for a comped dinner, orchestrating behind-the-scenes charm campaigns that the average diner never sees. Schuble, though, is frequently an audience of one for restaurateurs hoping to generate some buzz.
He'll be asked in to shoot a restaurant's most showstopping dish—the three-tiered, caviar-topped seafood tower shrouded in dry-ice smoke at Mastro's Steakhouse, for instance—or he'll reach out for a comped meal in exchange for a photo. Although he also eats out on his own dime, places that frequently show up in his feed—Bethesda Bagels, Astro Doughnuts & Fried Chicken—hook him up anytime he needs new content. Some, like Richard Sandoval Restaurants (El Centro D.F., Masa 14), pay him a monthly retainer for coverage.
Ask restaurateurs to translate Instagram likes into sales and they can't—but that doesn't mean they don't believe in the gospel of social media. After Schuble's post on Poké Papa, the business's Instagram account more than doubled its modest following. Courting Schuble seems like a no-brainer for the relatively small cost of ingredients and the time to gussy them up.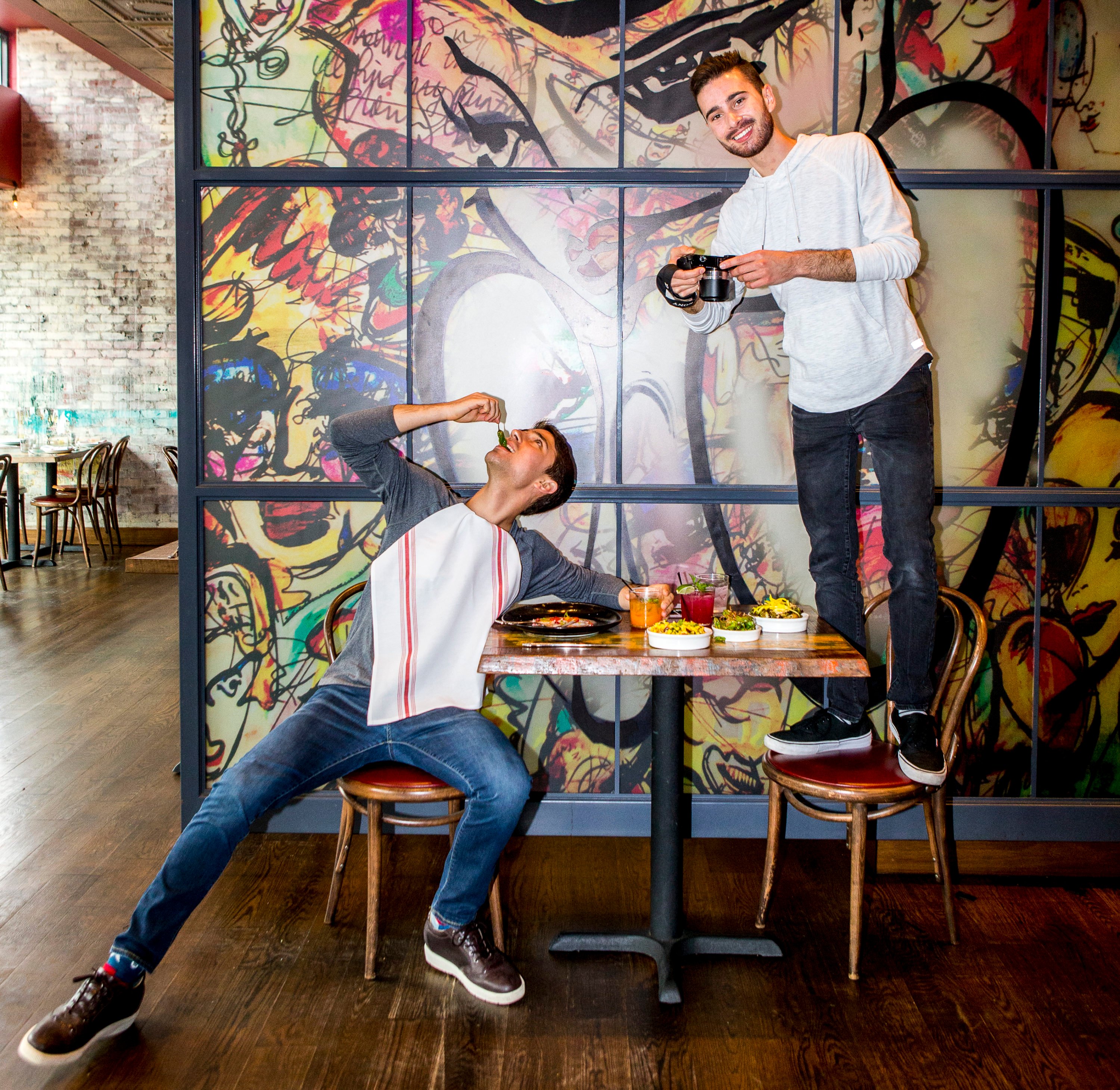 "We usually have to doctor up the dishes and slightly change them to make them look a bit more outrageous or extravagant," says Erika Kauder, a publicist who has represented Le Diplomate, Osteria Morini, and BLT Steak. For example, four extra layers of marshmallows on a s'mores dessert for Schuble (at now-closed Bonfire) or bonus scoops of ice cream and sprinkles on a bubble waffle (at Tiger Fork).
Like the freebies—typically a journalism no-no—these visual upgrades go beyond what a newspaper or magazine would normally do. But the way Kauder and others in the business see it, the artistry isn't really a misrepresentation because Instagram isn't photojournalism. It's fantasy.
Schuble honed his screen-licking style under Kelly Carr, an art-department professor at Georgetown University. (Yes, he convinced the school to give him credits for turning his pastime into an independent study.) These days, he would never just show a cupcake on a plate. Like a model with a trademark pose, he has his signature angles. In one, he lifts the foodstuff in the air as if proposing a toast, arching his spine backward, and snaps with the other hand. In another, he holds the dish at waist height, then shoots from above, careful to capture the tips of his white Vans in the background.
He knows his followers fetishize anything gooey and dripping. So he mastered the art of the Stack (doughnuts teetering on top of one another), the Drizzle (preferably chocolate, preferably gratuitous), and the Cheese Pull (imagine two halves of a grilled cheese separated in slow motion, still tethered together by stringy cheddar).
In one quintessentially @DCFoodPorn shot, Schuble clutches a chocolate-chip-cookie sandwich while vanilla ice cream drips down his wrist and a shiny drizzle of dark chocolate coats his fingers. "Worth the clean up," he captioned it.
Not that he ate the sweets. Schuble usually refrains from gluten, and he doesn't eat dairy. When he discovered in his early Instagram days that butter and cream were to blame for his gastrointestinal problems, he considered creating a healthy-eating account, but, but, but . . . those ice-cream sandwiches. That's what sells.
---
Before long, Schuble's Instagram feed became an all-consuming job, which actually suited his college life. He wasn't the kind of kid who filled his weekends with late nights at the Tombs. He has plenty of friends, sure, but was more likely to meet someone one-on-one for dinner than to hit a kegger with his squad. (Plus, he's not a big beer drinker. Again, gluten.)
Schuble graduated from Georgetown in May, but even before he arrived at college, he profiled as the old soul who didn't like to break rules, the student who chose art over PE. At Bullis School in Potomac, he was president of the National Honor Society and valedictorian—a self-described "good kid" eager to impress.
Schuble's dad, J.R., a former bank chairman, now works in real-estate development, investment lending, and venture capital. His mom, Jaymi, took care of the family full-time. When Schuble was a college sophomore, Jaymi was diagnosed with breast cancer, and he sat with her after class while she was being treated at Georgetown University Hospital. After that, he preferred to spend more time at home than on campus, hanging out with his family and a softball team's worth of cousins.
When I visited the rowhouse he shared with five girls during senior year, the only way I could identify his room was by the engraved wooden @dcfoodporn sign on the door. The floor was littered with piles and piles of clothes—none his. He had been there so rarely that two of his roommates had overtaken his $1,450-a-month room as storage for their college-apparel company. (Those entrepreneurial millennials.)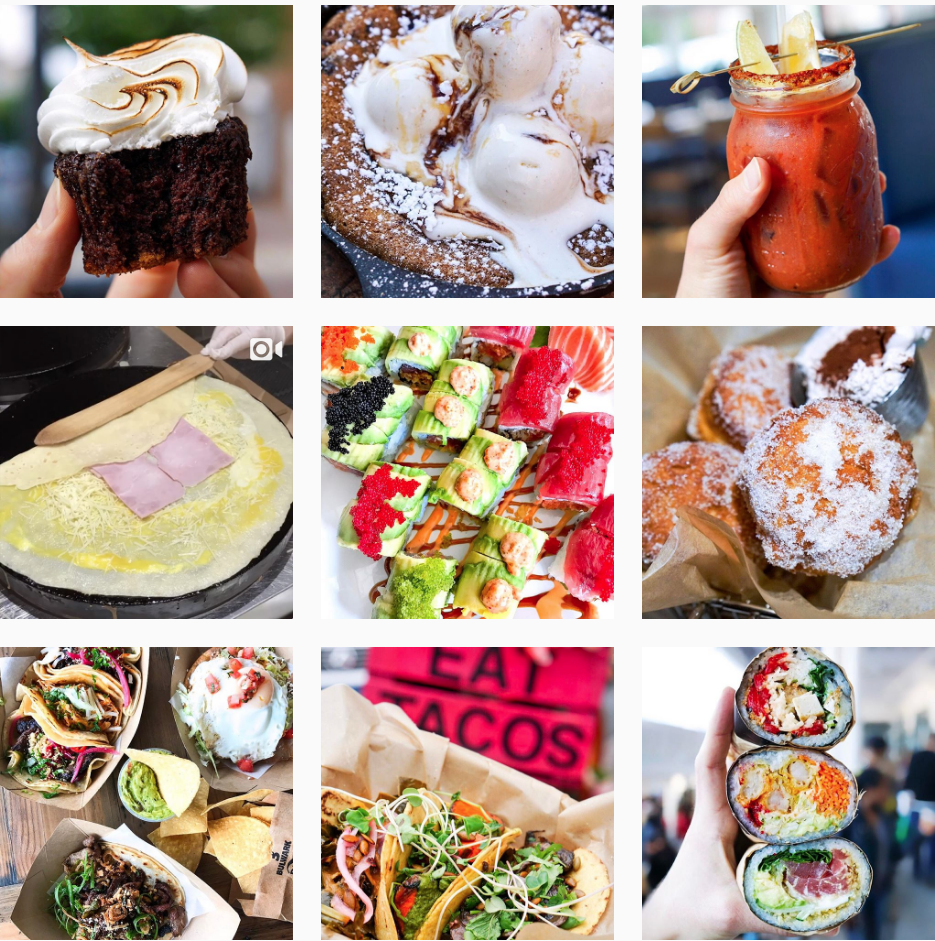 It was Georgetown Day, an end-of-year festival in which students party from morning till night. Schuble's friends had begun drinking at 8 am. But he had spent another night at his parents' and didn't arrive till after 1 pm. In the back yard, you could see the debris from his roommates' pregame festivities—a sagging plastic foldout table scattered with emptied bottles of J. Roget and Solo cups.
"I'm ready to be in the real world," he says.
Schuble was a double major in marketing and finance, and entrepreneurial from the moment he started college. As a freshman, he sold his pastels and paintings to family and friends on commission. But the art was time-consuming, and he started drifting toward photography. He began sharing pictures of food on Instagram as @Freshman_Foodie, which isn't so cool when you become a sophomore. So—@DCFoodPorn.
Food was an obvious subject. Schuble's parents didn't really enjoy cooking, so the family typically ate out or ordered in at least five nights a week. They also dragged him and his siblings to the fancier restaurants they liked—the Palm, Vidalia, Citronelle, the latest Asian-fusion hot spot. The five of them always shared plates. "No one wanted to order something and just eat it," says J.R. "You wanted to make sure no one had something better."
Still, Schuble's parents were a little baffled by his hobby. Who would want to look at pictures of food? "I'll be honest, at the beginning I was a little embarrassed," says Jaymi. First was the matter of "porn" in the name. Then there was the whole production of going out with their son. The family always had to wait to eat while holding up the lights on their phones to illuminate the dishes for his photos. "People would look at us like we were kind of crazy," she says.
Meanwhile, J.R. was starting to question the credit-card bills. Justin was on a meal plan—why was he spending so much money at restaurants? At one point, J.R. noticed two identical charges at the Georgetown bakery Baked & Wired. Schuble told his dad he'd gone in to get a cupcake but dropped it as he was taking a photo, so he had to get another. "Wait, wait," J.R. replied. "You're posting a picture for them and you paid for it twice? This is ridiculous."
But Schuble was hooked. All those likes and emojis and virtual applause . . . being an Instagram star is validating—not unlike being a straight-A student.
---
One Thursday night this spring, Schuble checks into the Hilton McLean Tysons Corner. Marina Brady, the bubbly 26-year-old marketing manager, gushes as soon as he arrives: "I love your Instagram. I literally follow so many of these food accounts, and I was like, 'Oh, my God—you guys, DCFoodPorn is coming here!' " The Hilton is paying Schuble $500 to stay in its $2,000-a-night presidential suite and to eat at its restaurant and bar. All in exchange for two photos.
Arrangements like this have stuffed Schuble's savings account ever since he began monetizing his Instagram by working with big brands. The first company to pay him was Bai, which sells five-calorie "antioxidant infusion drinks." For $250 a month, he posted two photos on @DCFoodPorn that featured the beverage in his own recipes. Smoothies worked okay, but Schuble's attempt at Bai-infused banana bread was, well, not great. Who wants to put a five-calorie drink in his food anyway?
He has since shot for Chobani Greek yogurt, OpenTable, Voss water, Hellmann's mayo, Good Humor, and so on, commanding as much as $1,500 for a single photo and $2,000 for a video. McDonald's once paid Schuble $2,000 to fly to its headquarters outside Chicago, where it has an "Instagram studio" with a kitchen and props. In the past year, he's made between $40,000 and $50,000—already more than a Hill staff assistant's salary.
The Kardashians of the world can reel in six figures for a single photo. In the realm of (noncelebrity) food Instagram, the highest I heard a photo had fetched was $8,000—not quite as lucrative as fashion but definitely sufficient to quit your day job if you do it often enough. Rebecca West and Greg Remmey, the New York couple behind @DevourPower—one of the big-league accounts, with 421,000 followers—have been paid to Instagram meals in the Cayman Islands, Barcelona, and beyond. West says they earn six figures doing it—more than Remmey made as a neurophysiologist in Manhattan.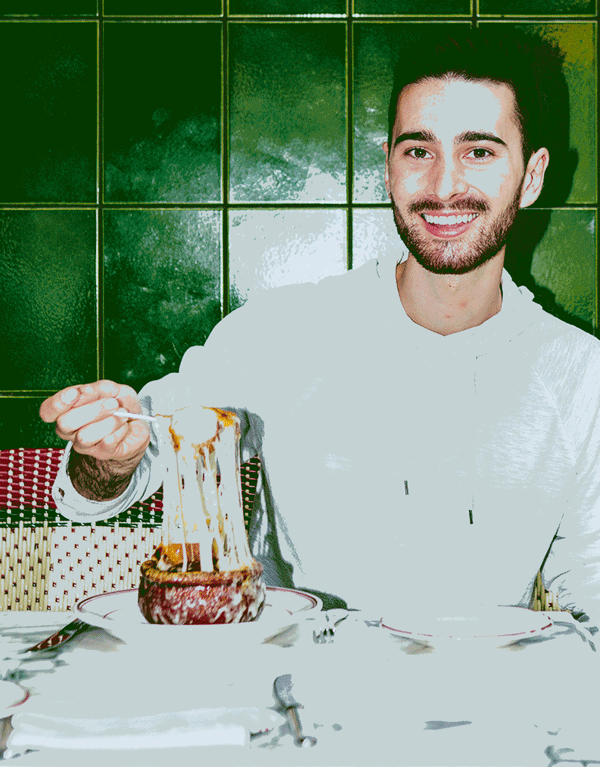 In his quest to reach that level, Schuble, naturally, already has two employees. Okay, fine, one is his brother, Jordan, who works for food as "director of business development," which mostly translates to occasional juggler of pokebowls. The other is a former George Washington University student who became his "marketing director" (read: unpaid intern), helping arrange shoots and redesign the DCFoodPorn website. She recently used the experience to land a job as a client-services coordinator for BuzzFeed. (Just to reiterate: Being an intern for someone else's Instagram account is now a résumé-booster.)
Recently, Schuble "rebranded." By that he means he's started posting more selfies. After all, the bigtime Instagram celebrities don't hide offscreen. Fortunately, he has the look for it—with his hazel eyes, straight teeth, and skinny jeans, he's a ringer for a younger version of Maroon Five crooner Adam Levine. But as someone whose natural habitat is behind the scenes, Schuble is still a little uneasy about turning the camera on himself. He gets stressed about whether people will like a photo of a taco, never mind his face.

Since he's started putting himself out there more, though, he's gotten three inquiries from TV producers, plus a lot of girls sending him flirty messages. Maybe the limelight isn't so bad after all? "Bella Hadid follows me, which I think is the coolest thing ever," he says of the supermodel. "She's never commented, but she does 'like' occasionally."
The second part of Schuble's rebranding was adding "travel" and "lifestyle" to his bio, opening the door to deals with resorts, airlines, and fashion brands. (Notice the Daniel Wellington watch on his wrist when he holds up that rainbow-swirled bagel?) Recently, the Virginia Tourism Corporation offered him $3,000 for a five-day, all-expenses-paid trip to explore the state's wines and spirits. The only problem: The jaunt fell on the same day as one of his final exams. Schuble was torn. On the one hand, his academics. On the other, what if this was the start to a future life of jet-setting? He asked his professor if he could reschedule the exam. Soon he was packing his bags.
---
What happens when your livelihood is at the mercy of an algorithm no one quite understands? And how, for that matter, do you build a business around a platform that could very well be irrelevant in five years? It's hard not to wonder what will happen to all these so-called influencer empires when the photos become so similar and the sponsorships so rampant that scrolling no longer feels particularly interesting. Anyone seen the stars of Myspace lately?
Schuble doesn't lose sleep over these questions, but he isn't banking on Instagram, either. Maybe someday he could open a restaurant. Maybe he could go into PR. He's also interested in real estate, the family business. "Obviously, I'm young. Right now, it's like now or never, so I'm going to do this," he says. "But when I'm 40, I don't think I'm going to be taking pictures and posting them on Instagram."
For now, Schuble is all in—and his parents have come around to embrace his avocation as a real job. Going full-time, he guesses he can make an annual salary of anywhere from $50,000 to $300,000, depending on how much he hustles. "There's a lot of possibilities," as he puts it.
He'll have some competition, but he's already friendly with much of it. Many of the pro food Instagrammers talk online every day, and those with similar-size accounts often give one another's content a boost in an effort to game the app's algorithm. The Mafia extends to real life, too. If one happens to be traveling on another's turf, they meet up. As gatekeeper for those passing through DC, Schuble will arrange an entire eating itinerary for them or hook them up with local publicists if he's not around.
He gets the same treatment when he travels. During a spring-break trip with his dad to Los Angeles this year, Schuble set up a string of free meals and arranged to meet several fellow Instagrammers along the way. J.R. chuckles remembering how they all crowded around one dish, and when one of them came up with a cool angle, everyone else followed suit. "It's like if you're watching a daycare center and one kid finds a way to play with a toy that no one else has," he says. "All of a sudden, everyone wants in on the action."
This article appears in the July 2017 issue of Washingtonian.