In an op-ed piece last month, CNN deemed 2018 "the year of the woman," commenting on the transformative era in which we are living, with women "more engaged, energized, and resolute than ever." The status quo is shifting as more and more women rise through the ranks of almost every industry out there — and the culinary scene in DC (and nationwide) is no exception.
In DC and in 48 other states, women-owned restaurants grew three times faster than the state's overall restaurant industry between 2007 and 2012, and the total number of female-owned establishments jumped 40 percent, according to the National Restaurant Association. Furthermore, there are more future female chefs enrolled in the Culinary Institute of America than ever, as 2016 was the first class to consist of more women than men.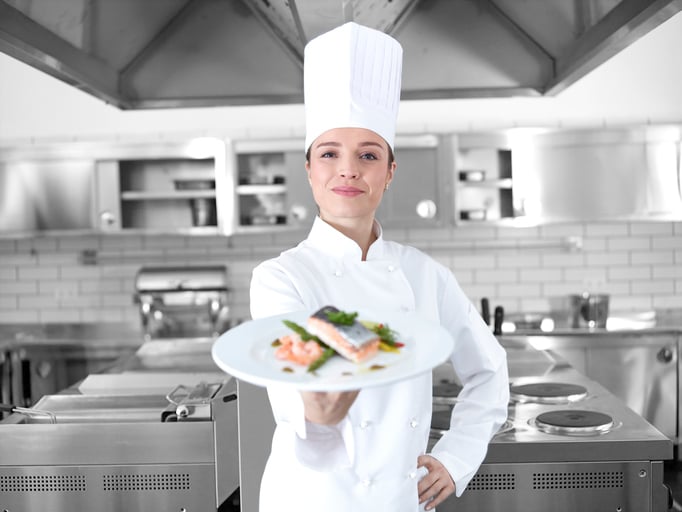 Many women have paved the way for the movement we are seeing today, including Julia Child, Alice Waters, and Clare Smyth, though another woman – Laura Freeman, the founder of Laura's Lean Beef, is also a shining example of a female pioneer in the food industry. In 1985, Laura took the reigns at her family farm at a time when the cattle industry was struggling, and succeeded in turning the company into a thriving, health-conscious empire.
Today, these female trailblazers are all around us, especially in Washington, where there are more than 65 restaurants owned or operated by women. Here are five who are making their mark on the DC dining scene.
Krystal Cripe

Chef de Cuisine,
Red Hen
Krystal Cripe develops new, seasonal dishes for this Italian Bloomingdale haunt, one of the DC restaurants on the Bib Gourmand list and a Washingtonian best restaurant four years running. She also continues to work on the establishment's pastry menu, which features delicacies like a chocolate ganache tart and an autumn-spiced carrot cake.
Krystal was chosen as one of three up-and-coming contestants in the Washington Post's "Battle of the Sous Chef" in 2015, and was called out as one of the rising chefs at Washington's best restaurants by Washingtonian in 2016. Prior to moving to DC to open Red Hen in 2013, Krystal studied at the Culinary Institute of America and staged at local eateries BlackSalt and Zaytinya and worked her way up to chef de cuisine at Elcona Country Club in her native Indiana.
When asked about her success as a female in the culinary industry by On Tap Magazine, Cripe emphasized the power of teamwork: "I lean on building relationships with our staff and actively supporting them in being successful. Instilling a sense of ownership and pride in your employees can go a long way," she said. "I've also learned that being endlessly positive and giving constructive feedback is a great recipe for building those relationships."
Marjorie Meek-Bradley

Chef and owner,
Smoked & Stacked
A James Beard nominated chef at a Top Chef season 13 finalist, the owner and chef of Smoked & Stacked in Shaw has been working in kitchen since she was 18, including in many top-rated restaurants around the country like Per Se in New York City and Bouchon in Yountville, CA. Locally, she's served as sous chef at Zaytinya and chef de cuisine at Graffiato, as well as executive chef at both Ripple and Roofer's Union. After finding inspiration for Smoked & Stacked while competing on Top Chef, Meek-Bradley opened the fast-casual sandwich shop in the fall of 2016. It was quickly declared the maker of "the best pastrami in DC" by the Washington Post just four days after opening.
A staple on Washingtonian's Cheap Eats list, the 20-seat establishment serves house cured and smoked pastrami on freshly baked milk bread. A role model to aspiring chefs nationwide, Meek-Bradley was featured as one of Amy Poehler's Smart Girls and advised aspiring young females to always pay attention to what they're learning. "I think if you put learning first, you'll get ahead in the long run," she said.
Jill Tyler

Co-owner and service director,
Tail Up Goat
Jill Tyler is a co-owner of Michelin-starred Tail Up Goat in Adams Morgan, named after the Carribean saying, "Tail up goat, tail down sheep." A native of the U.S. Virgin Islands, the restaurant's a-la-carte menu encompasses an island theme, with Mediterranean flavors present throughout, and a relaxed, leisurely setting where time slows down and patrons can unwind. Prior to the opening of the Adams Morgan eatery in 2016, Tyler and her co-owners, Jon Sybert and Bill Jensen, worked together at Little Serow, where Jill was the service director for four years.
On opening the restaurant, she told EaterDC, "It's always a hope and dream for so any people who work in this industry to be able to go out on your own and take lessons learned, but then really make your mark. That's at least how it felt for me in getting to open; it's like building a place that's so intensely us."
Ris Lacoste

Chef and owner,
RIS
This list would be incomplete without a nod to Ris Lacoste, a longtime member of the DC dining scene and the owner of upscale West End bistro RIS. One of the most respected chefs in DC, Ris Lacoste is a James Beard nominated chef and a champion for females in the industry; all of the top staff positions in her restaurant are occupied by women except for one, and she is an active member of female-centric organizations such as Women Chefs and Restaurateurs and the Women's Forum of Washington. Prior to opening her own restaurant, which was included in the DC 2016 Michelin Guide, she honed her skills at The Harvest in Cambridge, MA; 21 Federal in Nantucket, MA; Twenty-One Federal in DC; Kinkhead's American Brasserie and finally Georgetown staple 1789. A veteran in the industry, she's a talented educator who is committed to helping the next generation of passionate chefs develop their craft.
Amy Brandwein

Chef and owner,
Centrolina
Also a seasoned member of DC's culinary scene, Amy Brandwein in the chef and owner of CityCenter's Centrolina, a seasonal Italian restaurant and market that has been featured on Washingtonian's best restaurants list every year since it opened its doors in the Spring of 2015. Throughout her career, Brandwein has been recognized as a 2017 James Beard finalist for Best Chef: Mid Atlantic and has received RAMMY Award nominations from the Restaurant Association Metropolitan Washington for Chef of the Year in 2016 and 2017, among others. Last year, she was accepted to the James Beard Foundation's prestigious Women's Entrepreneurial Leadership Program, a fellowship designed to level the playing field and provide growth opportunities to women in the culinary industry.
She advances this agenda in her own restaurant too; under her leadership, Centrolina's top positions are all occupied by women, from the executive pastry chef to the general manager. In a video promoted by the National Restaurant Association, Brandwein spoke about being female in the culinary industry. "It's one of the only industries where it doesn't matter who you are, what you look like, what color you are, what race or creed you are, as long as you can put out a plate of food or do the job that is expected and do it as well or better than anybody else, that the field is wide open for everybody."
About Laura's Lean Beef:
 Laura's Lean Beef is North America's leading lean, natural beef company. Quality is at the heart of everything they do – there are no added hormones or antibiotics in their beef, and their beef is sourced from cattle that live in pastures and graze on natural grasses and grains. Click here to find out where you can purchase Laura's Lean Beef near you, and here to check out some of the mouth-watering recipes you can make.