On day two of the 2017 National Model United Nations conference, Dominic Tierno threatens to "call up my homie, Kim Jong-un."
All morning, Dom has been sitting in a ballroom at the Marriott Wardman Park as a hundred or so college students move through the minutiae of make-believe geopolitics. And Dom's patience is running short. Libya just gave a speech championing world peace, "the ultimate purpose of the United Nations." Another UN member state broke into a song-and-dance routine. But Dom is interested in actual work, and so far only one resolution is really gaining traction in his committee: a measure that would demand QR codes to deter illicit traffic in small arms. Unfortunately, Dom—or rather the government that Dom's team of fake diplomats pseudo-represents—disapproves of it. Categorically. "I've done so many arms-related issues, I know that it's not even metallurgically possible to make that happen," he says.
Twenty-six, short, and balding, Dom is one of the elder statesmen in the room. On his LinkedIn page, he lists his profession as president of the college MUN club at Stockton University in New Jersey. Dom talks about his first conference the same way New Age hippies talk about their virgin trip to Burning Man: "After that, life began to feel different." His path through college has been delayed by illness and money woes—MUN, he says, is what kept him from dropping out. This, his seventh conference, represents a career peak of sorts. After years of laboring in the trenches, representing the run-of-the-mill likes of Finland and Ethiopia, he's playing North Korea. It's a role guaranteeing that the 900 other delegates, many of them fellow aspiring foreign-policy careerists, will be paying attention.
For months, he's been scouring YouTube for videos of Kim Jong-un's diplomats doing their thing. "I keep asking myself, 'What would the supreme commander do?' "
One answer: The supreme commander would deliver a fiery anti-imperialist speech. "I want to know how many times I can criticize the West in 90 seconds," Dom says. "I'm going for the record."
It's not a purely kitschy quest. About 400,000 students, some half his age, participate in MUN across the globe every year. While the big goal is to teach them about the world, the more immediate goal is to win. It's a task that involves an awkward mishmash of verisimilitude and idealism: Contestants are supposed to simultaneously stay within the bounds of a country assignment and find common ground.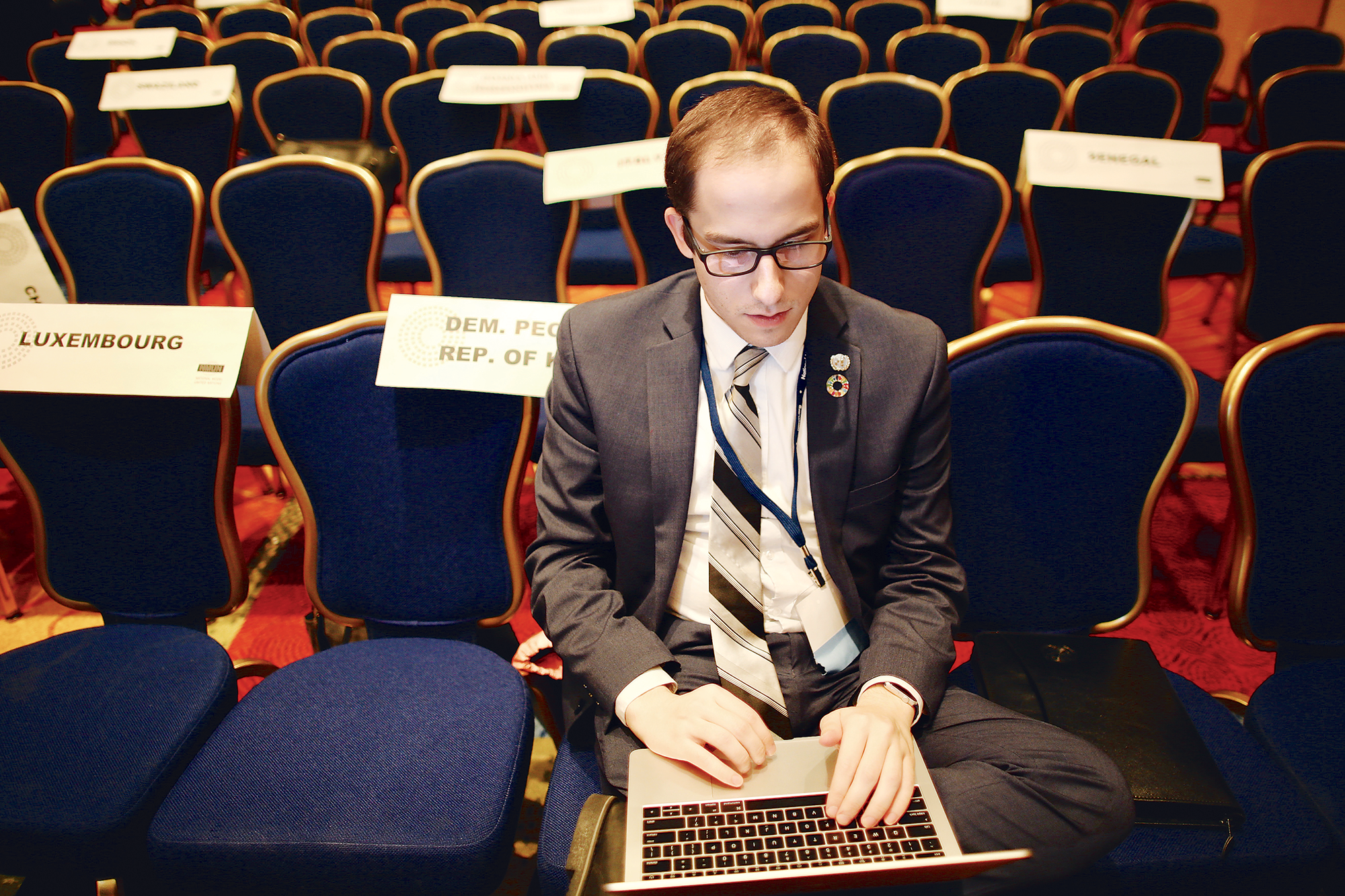 While those dual goals are manageable if you're assigned one of the prestige roles, such as Germany or Japan, they're in tension when you're North Korea. "They will blame South Korea and the United States for all their woes and shout them out in committee," Dom tells me, speaking about North Korea's real diplomats. "That's basically what we have to do. We're not going to be able to cooperate with anybody too often."
These days, though, the students portraying the North Korean delegation aren't the only ones who have to grapple with the tension around those ideals. The annual convention is thick with people like Dom, students who hope to land in DC for good—at jobs that involve plodding through the sorts of international-relations procedures that dominate MUN, and idealistically working for global understanding while they're at it. In ordinary times, there'd be nothing particularly notable about retired four-star general John R. Allen's speech at the closing ceremony, in which he told the delegates, "You, truly, in this room represent hope for the future."
But in the here and now, the roles the delegates are play-acting belong to real-life people who feel like an endangered species in the capital. Those State Department pros whose number Dom would like to join someday have resigned in droves. The good-cause NGOs worry about their funding. In Trump-era politics, talking about multilateral frameworks is not cool. Talking about shitholes is. It leaves you wondering whether MUN is moving from a practical-education sort of hobby to something more like a Renaissance fair—dated and charming and altogether irrelevant but still drawing its share of intense devotees.
Over the course of three days in a series of hotel meeting rooms, I witnessed delegates hashing out imaginary conflicts with a simulated realism as impressive as it was soporific. Arguments broke out over everything from "nuclear isotope hydrology" to the difference between preambulatory and operative clauses in a resolution. But there was also a sense of wistfulness undergirding the conference, a notion that these wannabe bureaucrats are orphans in Washington these days.
"This year has been a bit of a buzzkill," Dom says of the first year of the Trump administration. "There have been days where I just wanted to give up on international relations."
But first he has a simulation to win.
---
It's 6:15 am on the day the Stockton team is departing for DC. TJ Urbanik, another delegate for the Democratic People's Republic of Korea, discovers an empty orange can in his kitchen sink—the remains of his last Kickstart energy drink. Over the last month, I've been with TJ a dozen times and, more often than not, he's been nursing one of these beverages. He's in particular need right now: TJ and his fellow North Korean stand-ins have a briefing at the State Department in less than five hours. A few midlevel officials familiar with the peninsula's political dilemma have agreed to give the squad a private pep talk.
Lanky and handsome, TJ is a sophomore with dreams of getting into government. Last summer, he interned in the mayor's office of his hometown. This year he hopes to be in Trenton, the state capital. Before falling asleep last night, TJ was taking notes on the then just-released version of the Republican tax legislation. Now, in lieu of caffeine to power his team's trip down the highway to Washington, he slips out the door just before dawn, blasting a song called "Ghostface Killers," in which the rapper 21 Savage channels his inner supreme leader: Yeah Kim Jong, yeah big bombs.
First stop: picking up Kate, a laid-back sorority sister studying to become a neuropsychologist. Hopping into the car, she mumbles something about "making moves." It's a running joke among the team, which they utter indiscriminately in response to any mundane accomplishment. (Getting up at 6 in the morning apparently qualifies as "making moves.") Then it's off to scoop up Emma, who's also business-jacketed and also living in a condo, before a quick stop at campus to pick up Dario, a history buff training with the New Jersey Army National Guard while doubling as a Stockton student.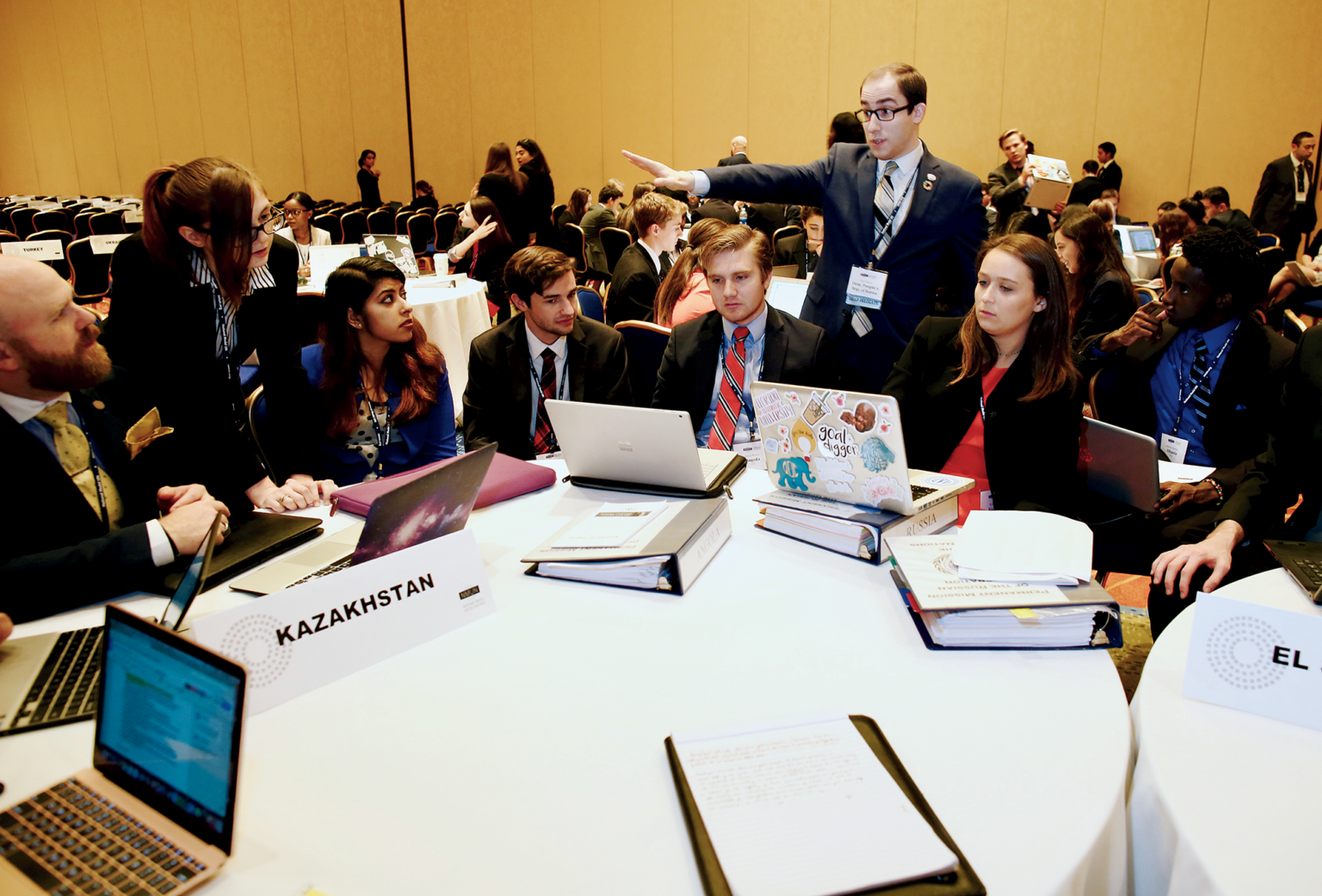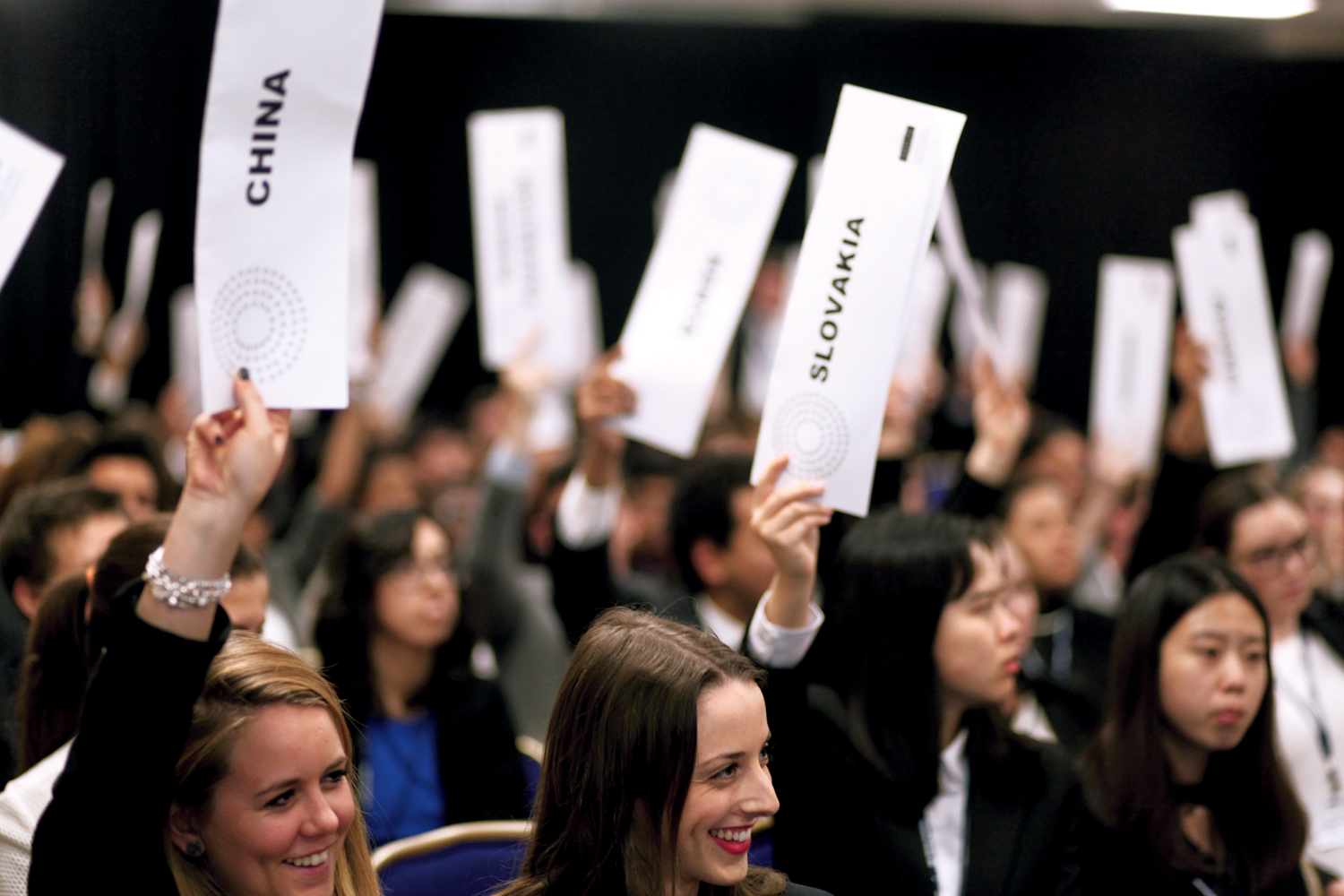 A public school in Galloway, in the southern part of the state, Stockton has a sufficiently robust MUN club that the team is actually split into two. No one is quite sure how Kate, Emma, and others got stuck with Luxembourg. But there's no ambiguity about who's responsible for playing the DPRK.
"This has been a longtime obsession," Dom tells me. After watching other students tackle the creative challenge of the assignment in previous conferences, he wanted his own shot. "They're very outlandish. The delegations that do DPRK—it's how much you can do with very little political capital in your committee."
The team has spent the better part of two months building up to this trip by completing intensive research on the idiosyncrasies of their nations' foreign-policy perspectives. Now they're on the way, barreling down I-295 as TJ scans between political-chatter channels on SiriusXM. Somewhere along the interstate are two vans carrying the rest of the team, which includes the likes of Colby, an Eagle Scout with a big red beard who will be Dario's partner in the UN Conference on Trade and Development; Ali, a business-studies major with a concentration in accounting who has accepted a job at Vanguard with a semester of school still to go; and Ali's committee partner, Nadira, a big-haired freshman running for student senate.
Stockton is not a fancy school. Most of the team works a job (or two) to pay tuition. They sold Yankee Candle products to fundraise to get here. This diverse bunch is the sons and daughters of firefighters, general contractors, and immigrants. They look like the American dream. It's just that half of them are about to spend the next three days mock-railing against Uncle Sam.
---
About an hour before the conference is officially gaveled open, Colby is already schmoozing. As the delegates trickle in and sit down in tidy rows of plush blue chairs, he floats over to the delegation from Vietnam by way of Florida Atlantic University, shaking hands and passing out business cards featuring the red-white-and-blue flag of the DPRK. "These [cards] might have consequences when I try to get my security clearance," he jokes.
The schmoozing has a purpose. Before long, the room becomes a bottleneck of dapperly dressed students crashing into one another to ask and answer an odd but crucial question. "Are you 1-2 or 2-1?" Colby queries Vietnam. This numeric mumbo-jumbo is the first phase of the simulation, known as "setting the agenda." Every committee arrives having researched two topics. Then members choose which one to spend the weekend discussing. Because some topics are more suited to some countries' interests, this very first debate can shape who has the spotlight—and gets a head start on jockeying for awards.
The real key to victory, though, is to use that spotlight not just to sway fellow delegates but also to wow the Secretariat, the alums who run the conference. They ultimately make the call on which delegates are distinguished in each committee. In turn, the delegations with the most nods of approval from the various committees are most likely to win the coveted "outstanding delegation" award. A couple members of the Secretariat are present in every committee. They watch the action from a dais in the front of each room. Every so often, Secretariat members summon delegates to the dais by speaking through tabletop mikes, calling them up to give feedback on drafts of resolutions or to offer warnings of decorum. The effect is that delegates are permanently performing.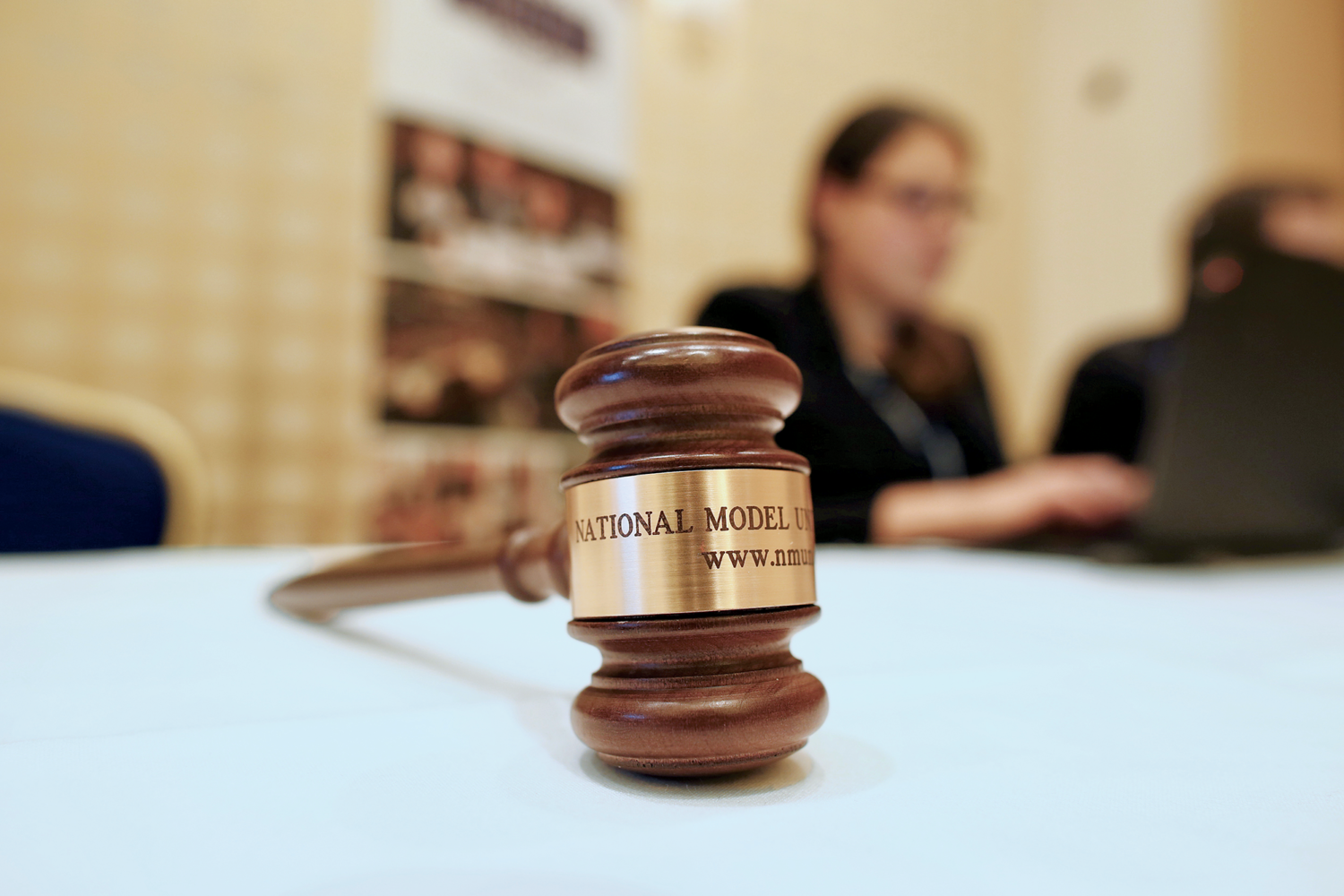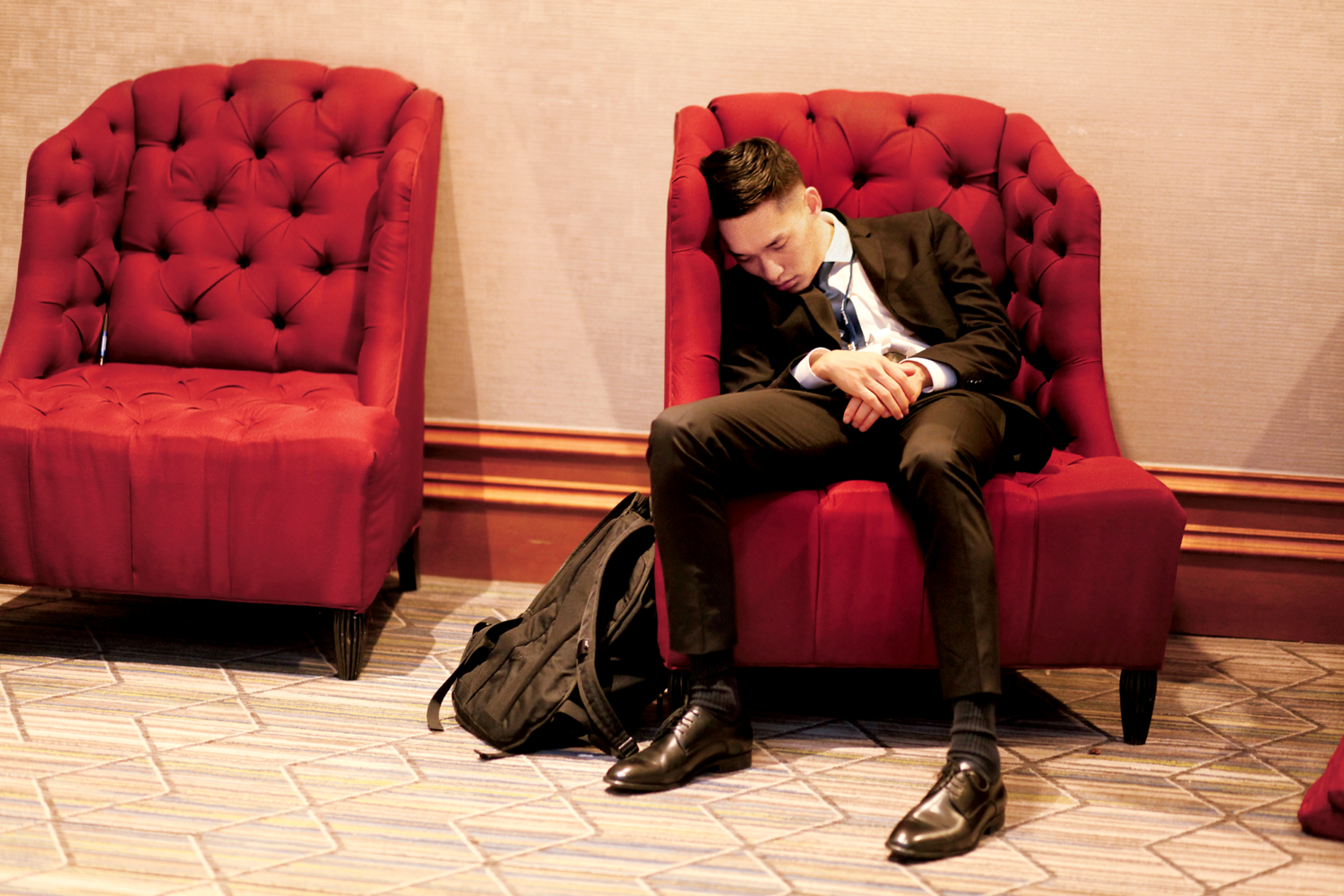 A good number of the delegates are earning grades based on their performances, which ratchets up the role-playing, especially in the crucial General Assembly committee. That's where Dom and his partner, Allison, a bespectacled redhead, are working to set the agenda in their favor. One of the Russian delegates, a stoic young woman in a power suit, suggests to Allison that they take a "divide-and-conquer strategy" to get the room to break for their preferred topic, "addressing the illicit trade of small arms and light weapons." Kazakhstan agrees. As does Cuba. But Dom balks: "The West is always trying to take away weapons from us. I'm going to be voicing my concerns about the need to protect state sovereignty."
There is no singular stratagem for impressing the Secretariat. Some delegates try to gain attention by approaching the dais with archaic questions. There are other, possibly apocryphal, approaches. One discussed in MUN online threads is the "golden gavel" tactic, which involves having sex with a chairperson to tip the scales. The bottom line is that, figuratively if not literally, there's a lot of posturing and sucking up going on throughout the conference.
While groups of delegates coalesce on the outskirts of the ballroom, Dom occupies a highly visible chair near the middle of the room. Somalia—a bow-tied Texas A&M student resembling a young Rick Moranis—approaches like a moth to a flame. He wants to talk about the decidedly pro-Western turn this committee has taken. That excites Dom. He takes a scan of the room. There are clusters of cross-legged kids on the carpet and blocs of delegates arranged around laptops at conference tables. Then he steps closer to Somalia, proposing a new resolution they could work on together. "Somalia could be down for something like that," says mini-Moranis, emerging from their huddle with a mischievous smirk. "Let me talk it over with my partner."
During a tense argument with Mexico, Iraq storms out of the room, yelling, "It's complete bullshit!"
The majority of the conference is spent doing exactly this: caucusing. During the sessions, delegates interact as if speed-dating, sizing up one another's stances on issues before forging alliances, breaking into groups and collaborating on resolutions in Google Docs. It's also open season for veteran delegates to bully the newbies.
Hence the behavior of Mexico, a barrel-chested delegate from Boston's Suffolk University, regarding an issue that generally doesn't occupy the attention of actual Mexican diplomatic bigwigs: that resolution mandating QR codes on weapons, which was his creation. Holding forth in one corner of the basketball-court-size room, he pitches the idea to a half dozen dewy-eyed delegates. Colombia, Russia, and Georgia are onboard. But Kazakhstan sounds skeptical: "Why QR codes and not bar codes?"
Mexico cuts him off, then launches into a lecture concerning the two-dimensionality of QR codes and the one-dimensionality of the other. It's a dazzling display of MUN acumen—gavel-mongering, in MUN lingo—regardless of its factual accuracy, because it serves to bludgeon Kazakhstan into intellectual submission and leaves him unable to rebut, aggravated to the point that he breaks character.
"Dude, I know how [QR codes] work," Kazakhstan says. "I work in retail."
All the while, the Secretariat is watching. So, of course, is Dom, who is unimpressed.
---
The first Model United Nations conference took place at Swarthmore College in 1947, two years after the actual UN was established. It involved students from 42 colleges on the East Coast. But MUN quickly expanded. By 1970, it was in high schools across the US and universities around the world.
In retrospect, it's easy to see why MUN was so popular in those postwar decades. It was a nuclear-tinged age in which the threat of worldwide devastation was very real. As a result—at least compared with today—diplomacy was in vogue. Even the most chest-thumping proponent of American power understood that said power involved the wooing of foreign functionaries to support us against the evil Communists. The lingo and rituals of multilateralism may have seemed silly, but the mandarins who operated the machinery of geopolitical intrigue were, for a moment, vaguely cool. MUN could let any college kid play Henry Kissinger.
After the Berlin Wall fell, the pragmatic purpose of MUN faded into the background. But the conferences didn't vanish. Rather, they got zanier. Some student-run conferences scrapped simulations in favor of fictional problems pulled from the worlds of Harry Potter and Star Wars. Traditionalists sniffed when the trend first appeared—"A troubling reality gap is emerging between the Model UN and its real-world counterpart," declared Simulation & Gaming—but MUN remained a global enterprise. Today there's an MUN consulting firm called Best Delegate. You can buy MUN tutorials and MUN summer camp for your preteen. There are top-25 rankings of universities, in the same vein of college basketball.
"I'm going to cross my fingers and hope that we don't have any more issues with undiplomatic behavior,"a Secretariat member scolds.
The competition remains in high-enough esteem that George Papadopoulos, who became one of Donald Trump's foreign-policy advisers, listed his participation in a 2012 conference on his CV. (Papadopoulos, who pleaded guilty as part of Robert Mueller's Russia probe, was later found to have lied about that credential.)
The truest believers, though, are the alums who graduate into the Secretariat. The résumés of this year's group are a mix of graduate students, congressional aides, and think-tank fellows who have aged but keep coming back as volunteers. Besides determining winners, the more idealistic part of their role is to keep egos in check and play referee when tensions boil over among delegates.
"I'm going to cross my fingers and hope that we don't have any more issues with undiplomatic behavior," says the Secretariat member chairing the General Assembly on day two. "I know the stress is high. But make sure you're not telling people that they can't help your group. That's really heartbreaking."
---
Outside of caucusing—and voting, which happens on the final day—one additional activity occupies a significant part of the committee: speechmaking. At intervals throughout the day, the chairperson calls for decorum and announces the name that's atop a scrolling "speaker's list" projected on a screen. Delegations deliver 90-second speeches to the full committee, easily the most theatrical part of MUN and also the most straightforward way to turn a room.
On day two, during a speech in front of the General Assembly, Iraq, who has a Southern accent, begs his fellow delegates to vote no in the great QR-code debate. Up to this point, there's been little to no vocal opposition to the idea. But suddenly, with just a few caucuses left before voting, Iraq is throwing some serious shade. After the round of speakers wraps up, Mexico hustles over to Iraq, grabs his forearm, and pulls him aside.
Mexico: "Major gun manufacturers are already doing it to stop illicit sales. It's a current industry best practice."
Iraq: "Good luck getting stricter gun regulations ratified by the [US] Senate."
Mexico: "It's not taking anybody's ability to buy a gun away. It is just putting another—not changing—a monitor on guns, which they are currently doing."
Iraq: "So you think the NRA, which just got blasted over bump-fire stocks, would even remotely entertain the idea of changing the way we label and track firearms? There's no way!"
This goes on for three minutes. I'm not entirely sure if Iraq is feigning anger as a bargaining chip or if he's actually pooh-poohing Mexico's resolution. Then Iraq storms out of the room through a set of double doors, yelling, "It's complete bullshit, all bullshit!"
Mexico waves him farewell: "You can call it bullshit, but it's fact. Enjoy!" Mexico then floats into the crowd to solidify support for his draft resolution.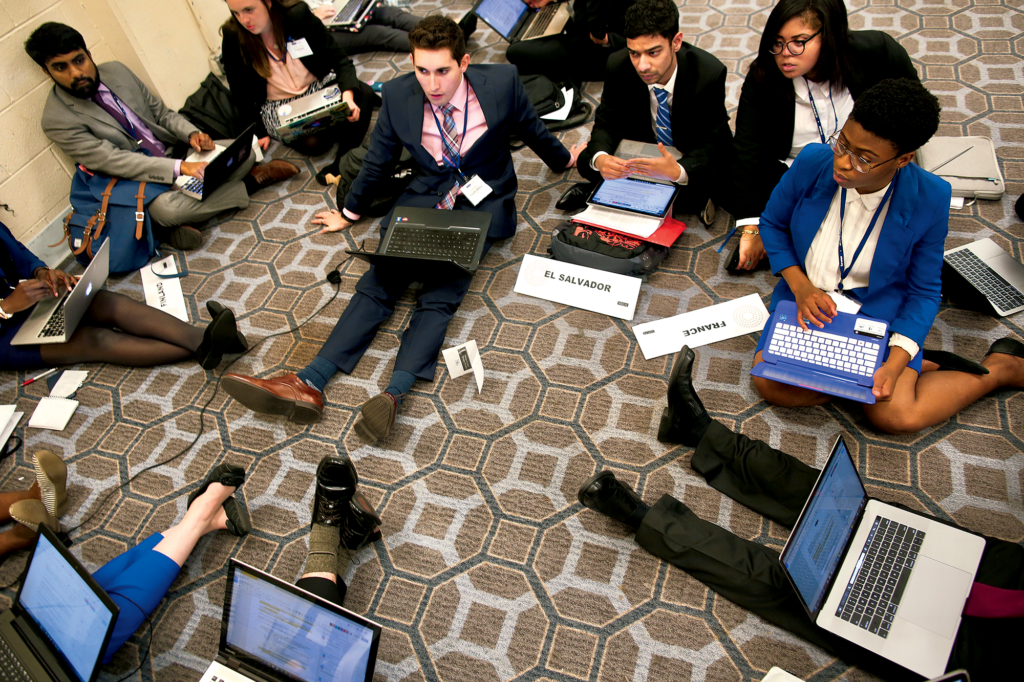 This is exactly the kind of global dysfunction that the DPRK might normally relish, but Dom finds the entire conversation surrounding QR codes to be a little bit junior-varsity: "I mean, Iraq is right. Yeah, you can track [arms] with QR codes, but what are you going to do to enforce it?"
Instead, Dom is focused on amassing cosponsors for a resolution that calls out the developed world for contributing to regime change across the globe. "It's better than f—ing QR codes," he says. "As far as I'm concerned, I have the only legitimate resolution in there." Playing North Korea in a simulation aimed at stopping the illicit trafficking of weapons, Dom says, is like wearing a straitjacket in MUN. "We have to figure out how to be North Korea and curb illicit arms trade that we're partially responsible for. Tiptoeing through that labyrinth is hard."
Meanwhile, downstairs, Kate and Emma, as Luxembourg, are trying to rid the world's waterways of radioactive waste in the International Atomic Energy Agency committee. They're seated in a semicircle in the basement of the Marriott, patiently working with Hungary—a shaggy-haired kid with glasses and a bow tie (a popular look at the conference)—and Austria, who looks like a prepubescent John Hodgman, the guy who played the PC on those old Apple commercials.
"We're making power moves," Kate tells me.
"It hasn't gotten too stressful yet," Emma interjects.
But Hungary warns them that the peace is unlikely to hold: "Last year, somebody spilled coffee on someone else's laptop at this conference. They said it wasn't on purpose, but . . . ."
---
Calls for decorum don't deter the Stockton squad from ribbing one another during breaks with vaguely foreign-policy-infused jokes. When TJ shows up on the last day wearing a tan suit, Colby pounces, apparently thinking of Muammar al-Qaddafi, the former dictatorial leader of Libya. "What are you, TJ, a North African war general?"
TJ doesn't laugh. He had a rough night. After midnight, he made a late-night trek to see some monuments. It started to rain. He ended up in an Uber that took him to the wrong Marriott. Then his phone died. By the time he got back, it was almost sunrise. Now he's sipping a Kickstart and looking ready to go home.
It's been a long few days. Yesterday, Colby and Dario put on a pretty good show for the judges, showing off tranquility and moderation during a debate about an effort to minimize the negative effects of globalization. The other delegates turned to them for advice. Unfortunately, the advice was soon discarded, as the delegates sought to attach a smorgasbord of do-gooder ideas (rights for the elderly, indigenous-language protections) to the measure. Colby, red in the cheeks, objected—on grounds of bureaucratic order, if not North Korean politics. "We're not the human-rights council—this is economics!" Colby declared. "Add Slovakia's ideas in a separate preambulatory clause, but I'm not sure about the rest."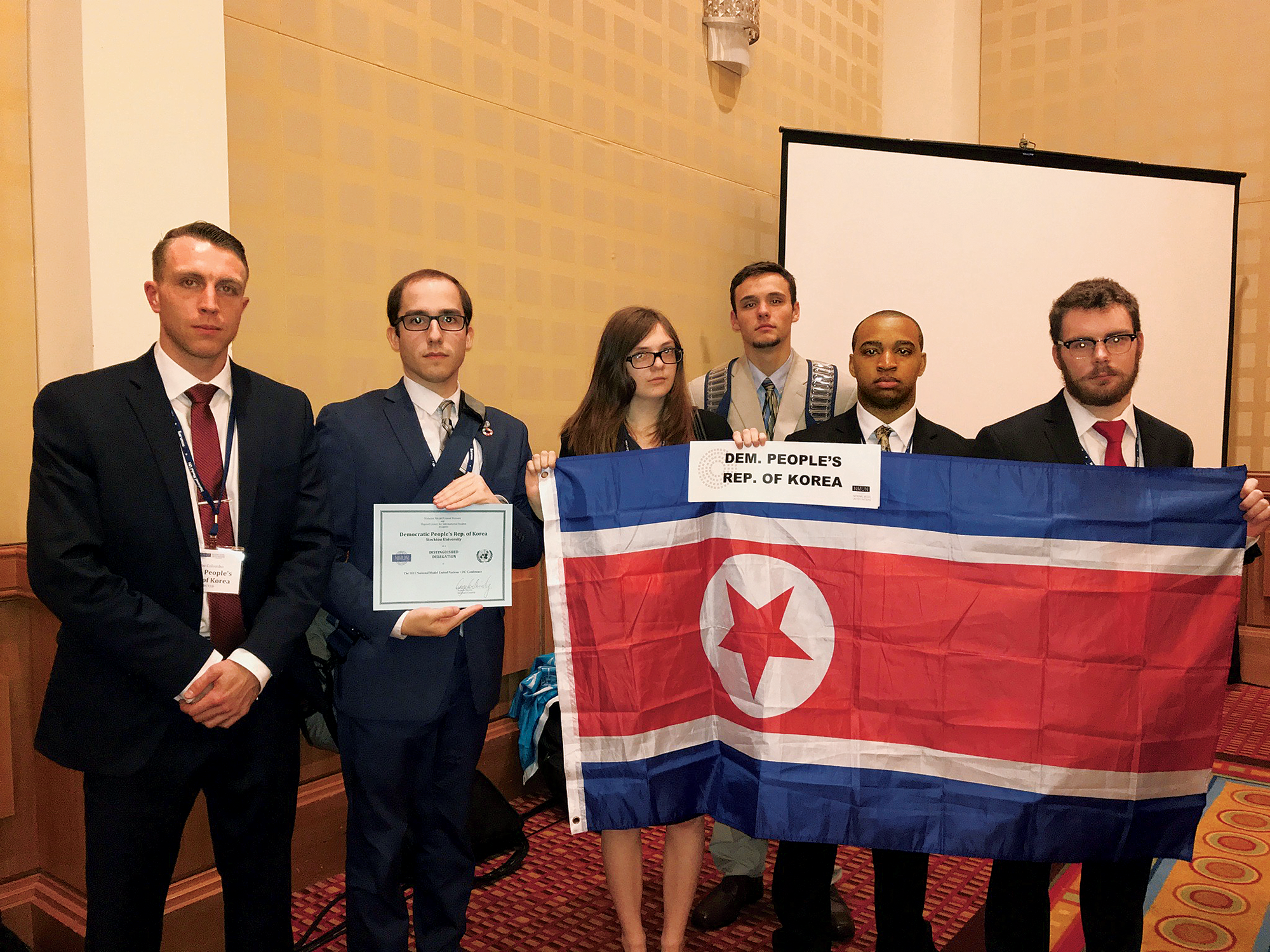 Now, on the final day, the delegates scurry off to vote on their resolutions. In the General Assembly, the politicking is frantic. "The Russian Federation has started to implement this in our own guns and feel we are able to model the way for less developed members," one of the Russian delegates tells the committee. "The Russian Federation looks forward to your favorable vote."
A nervous energy has occupied the room all morning, concerning votes that have been either lost or gained. In the end, all seven of the final resolutions pass by a simple majority in the General Assembly. All fail to reach a consensus, as the real UN strives to do, largely because of Dom and Allison, who oppose every single idea. The lack of dissent in the committee aggravates Dom, who is dejected by what he deems to be a lack of realistic role-play from some of his developing-nation brethren. And he wasn't able to stop the QR code resolution. "I've realized my dream was overhyped," he says.
---
With the voting safely past, it's time for the awards. As they're announced, in reverse order of esteem, Dom and the other North Koreans sit in the front row, faces haggard. The honorable mentions are handed out without a nod to North Korea. Team Stockton seems resigned to going home empty-handed.
But then, in an upset, they're announced for a "distinguished delegation" award. It's basically a silver medal. The team erupts, except for Dom, who hardly flinches. After all, what would Kim Jong-un do?
I catch up with Dom a month later on Stockton's campus, at the end of his semester. The big change in his life is he's now dating Allison, his conference partner. It's a match made in Model UN heaven.
He got the girl but might not get the gig he wants when he graduates this year. "My goal before was to work for the State Department. That's not happening now," he says. "This hiring freeze is definitely a major obstacle for me getting into the Foreign Service. When I see the image of the United States suffering under the current administration, I feel almost a sense of duty to try to improve our image abroad and repair any damage that has been caused. I still feel a strong sense of desire to serve my country. I want to be on the frontlines of negotiations, or even in the background working on solving issues."
And if he can't do that by going to work for the United States, he can at least do so in the one way he knows best: Dom is planning to apply to be a member of the Secretariat for next year.
This article appeared in the March 2018 issue of Washingtonian.