Wendell France had been operating jails in Maryland for more than a decade, but he'd never seen anything like this. Shortly after he took charge of the Baltimore City Detention Center in 2010, he watched bags full of drugs and other contraband sail over the walls of the jail, thwump into the courtyard, and disappear before his staff could intervene. Routine searches were turning up piles of cell phones and caches of marijuana, and inmates were regularly setting late-night fires in order to be sprung from their cells and distribute the drugs.
France grew so worried, he couldn't sleep at night; this was clearly too big to tackle on his own. But when he first approached the brass at the state corrections agency, he says, they were reluctant to act, unconvinced that the problem was bad enough to warrant a large-scale investigation. France figured his only hope was Uncle Sam, and eventually he convinced state officials to contact federal law enforcement. That's how he found himself, one day late that year, walking into a federal building in downtown Baltimore with the corrections department's director to appeal for assistance from the US Attorney, Rod Rosenstein.
France was prepared for rejection. The detention center was a long-troubled jail in a famously troubled city. A large-scale investigation would be tedious, expensive, and politically messy. And it didn't feature the kind of high-profile target—a public official, say, or a CEO—that advanced careers. What federal prosecutor would take on a shit pile like this? "I thought that it was just too complicated," France says.
Rosenstein, however, dug right in. He created a multi-agency task force to conduct a secret probe of the jail. Two years later, investigators announced details of the bombshell case, showing how a gang called the Black Guerrilla Family had corrupted employees and assumed control of the jail's most basic functions. One inmate, the task force would discover, had managed to impregnate four different corrections officers. "In this case," FBI special agent in charge Stephen Vogt said at the time, "the inmates literally took over the asylum."
The story of an epic prison-corruption case in Maryland might seem distant from Russia, the White House, and the extraordinary geopolitical drama now revolving around Rod Rosenstein. But there are more parallels than you'd expect between how Rosenstein handled that local debacle and the challenges he's facing as he navigates what has to be the worst job in Washington.
On Thursday, the deputy attorney general will meet with President Trump to discuss his future in the administration. The meeting comes after the New York Times reported that Rosenstein had once discussed the possibility of secretly recording Trump and using the 25th Amendment to remove him from office. Rosenstein has denied the allegations. Now all of Washington is wondering if the President will fire Rosenstein—as many have speculated he has long wanted to do—or if Rosenstein will tender his resignation.
The deputy attorney general isn't typically the subject of such worldwide fascination. When Rosenstein landed the job in early 2017, he told one of his daughters not to expect to see his name in the newspaper. But after attorney general Jeff Sessions recused himself from any federal investigation into possible collusion between the Trump campaign and Russia, it fell to Rosenstein to appoint Robert Mueller and to oversee the special counsel's investigation. Not only does Rosenstein have broad authority over Mueller's probe, but once the special counsel's investigation has concluded, it will be largely up to Rosenstein—if he's still on the job—to decide whether the report is made public or stuffed in a drawer. The decision will determine not just the fate of Mueller's inquiry and the future of the Trump presidency but the very independence of America's most powerful law-enforcement agency.
The job puts Rosenstein at the center of the biggest political controversy of a generation—he's the firewall between the special-counsel probe and President Trump's increasingly aggressive campaign to discredit it. Over the past year and a half, Rosenstein has faced brutal partisan attacks from lawmakers, and Trump himself has reportedly referred to Rosenstein as "Mr. Peepers," a sneering reference to a 1950s sitcom about a nerdy science teacher. The past week's developments have only underscored how precarious a position Rosenstein is in. (Rosenstein declined to answer questions about his work with Mueller.)
For the deputy attorney general, none of the Thursday meeting's possible outcomes are appealing: Accept a humiliating firing by the President. Resign before completing his task in the Mueller probe. Or stay put and carry on, as the attacks on his integrity grow increasingly vicious.
On the eve of the meeting, there may be no better prism for understanding the man charged with shielding Mueller from Trump than the most spectacular case from his prior job: the Black Guerrilla Family prosecution. While it ultimately resulted in success, with 40 convictions, it was also complicated by politics and bureaucratic interference. In fact, the investigation was nearly derailed until Rosenstein stepped in. According to those involved, he protected law enforcement and provided his team with the backing they needed to get to the truth. "Rod pretty much insulated us from the politics," France says. "He was a guy who was focused on doing what was right."
---
Justice Department political appointees drift in and out of Washington, but Rod Rosenstein is the rare top official whose career's work has largely been concerned with the local region, not the company town—focusing on crime in Maryland as much as on statecraft in DC. He lives in Bethesda with his wife, attorney Lisa Barsoomian, and their two children. With his dark suits, rimless glasses, and perfectly parted hair, Rosenstein's appearance is as cautious as his reputation as a "prosecutor's prosecutor," a buttoned-up lawman who has always followed the facts without regard for political blowback. "He's an extraordinarily straight arrow," says Philip Heymann, a former deputy AG and Rosenstein's onetime law-school professor.
And yet, for a Washington figure under such public scrutiny, Rosenstein isn't above making light of his current mess. In a speech last year, he quipped, "I want to read to you a quote from a newspaper article. It says, 'Some say that Rod Rosenstein's job is one of the most precarious positions in public service.' That was written in 2007." After laughs from the audience, he continued: "I was US Attorney for Maryland at the time, so some things do not change. I'm the 37th deputy attorney general of the United States. The position has existed for 67 years"—he paused—"You do the math."
In person, Rosenstein is just as easygoing. A half hour into our conversation, the agency's communications director excused herself from the room. "We'll wrap in like five minutes," she instructed.
Rosenstein put his hand to the side of his mouth as if to tell me a secret. "Maybe ten," he whispered.
"I have ears," his flack said in mock frustration as she left the room.
"She doesn't let me talk that much," Rosenstein joked.
"Before a motherf—er stab somebody, they gotta run it through me."
If you want to know the full story of the Black Guerrilla Family takedown, Rosenstein explains, you've got to start with Carl Lackl. Back in 2006, Lackl was a 38-year-old employee of a fencing company who worked six-and-seven-day weeks to support his longtime girlfriend and the three children they were raising, according to the Baltimore Sun; he also struggled with addiction. One day that March, Lackl was in a car driving through the faded rowhouses of East Baltimore, looking to buy drugs. The car pulled over, and Lackl stepped into an alley to urinate. He heard gunshots and saw a man sprinting toward him. Lackl watched the man toss a pistol onto the roof of a nearby garage, and according to court records, the two briefly locked eyes as the man hustled off. Up the street, Lackl spotted a second figure lying on the ground bleeding.
Lackl reported what he'd witnessed to the police, and a detective showed him a photo array. He pointed to the headshot of a young drug dealer and prior murder suspect, Patrick Albert Byers, as the man he'd seen tossing the gun. Police arrested Byers for first-degree murder, and they sent him to the city's detention center.
The five-building, 27-acre complex was the oldest jail in the state; its original facilities had been constructed in 1803. Each year, some 40,000 inmates came in and out of the Gothic Revival–style structure, most awaiting court proceedings for alleged crimes. By the time Byers arrived, the jail had collapsed into disrepair and dysfunction. Meanwhile, porous security at the facility allowed for drugs and other contraband to flow into the buildings.
Just a few days before Byers's trial was to begin, he used a contraband cell phone to arrange the $2,500 contract murder of Lackl—the state's star witness against him. At Byers's direction, a member of the Bloods gang shot Lackl to death in front of his house as two of the couple's children played nearby.
The killing had a profound impact on Rosenstein. "One of the remarkable things about the story is that [Lackl's] mother was very worried about him because she'd heard all the stories about how dangerous Baltimore was. So she actually discouraged him from cooperating," he says. "But he felt like he had a responsibility." For Rosenstein, this was more than the assassination of a decent citizen—it was a fundamental assault on the rule of law. He pursued the death penalty against Byers.
But just as Rosenstein's prosecutors were about to begin the trial, jailhouse contraband threatened to derail the matter once more. Byers, though still incarcerated, somehow obtained another cell phone and used it to intimidate a witness into recanting his testimony linking him to Lackl's murder. Although Byers was eventually convicted and sentenced to four life sentences, the experience served as an important lesson for Rosenstein. "I, like most people, thought, 'Well, gee. If you've got criminals and you send them to jail, you solve your problem,' " Rosenstein says. "But it isn't like that."
---
Rosenstein grew up in Lower Moreland Township, Pennsylvania, an upper-middle-class Philadelphia suburb where his father worked as an accountant and his mother was a bookkeeper. His politically conservative parents made clear, he says, that "laws are there for a reason and we have an obligation to follow them." His small community taught him old-fashioned values: "Work hard. Play by the rules," he said in written testimony for his confirmation hearing. "And try to leave things better than you found them."
The Rosensteins were active in local GOP politics—his mother served as school-board president—and as a teenager he considered Ronald Reagan a role model. During the fall of his senior year at the University of Pennsylvania's Wharton School, where he graduated summa cum laude, Rosenstein ran to become chief voting monitor for his neighborhood. On Election Day 1985, he returned home from college to campaign with his father. "I had somewhat of an advantage," he recalls. "The incumbent was actually inside running the election, and I was outside politicking for votes." At just 20 years old, he was elected to a four-year term.
Though this turned out to be his final race for office, Rosenstein would once again feel the tug of public service. While at Harvard Law School, he landed an internship at the US Attorney's office in Massachusetts and was inspired by the experience. "You approach the cases not thinking that you have some obligation to win," he says, "but that you actually have to evaluate the facts and make sure that you're doing the right thing." After graduation, he clerked for a federal judge, then headed straight for Justice's Greek Revival headquarters in Washington. He joined the department through its prestigious honors program—the only way to get in without professional legal experience.
As a rookie public-corruption prosecutor, Rosenstein worked under the criminal division's then chief, Robert Mueller, though never closely enough, Rosenstein says, to form a personal relationship. For his first trial, he traveled to California to prosecute a deputy US marshal on charges of gratuity—or giving a gift to a public official as a "thank-you" for government actions. As he stood to make his opening arguments, he felt the powerful burden of his chosen career. "You're standing there on behalf of the people of the United States," he says. "And that gives you special responsibility not just to win the case but to make sure that you're following all the rules and achieving justice."
Inside the agency, Rosenstein gained notice as a rare attorney who could impress a jury and also write thoughtfully about issues of policy. He became a protégé of the late David Margolis, a legendary Justice Department official upon whom leadership relied for advice about difficult ethical matters, and like Margolis, he developed a reputation as apolitical. "I had no sense of his politics whatsoever," says Robert Litt, a former colleague from the criminal division. "I was surprised to learn he was a Republican."
In 1995, Rosenstein would get sucked into political controversy when he joined Kenneth Starr's Office of the Independent Counsel. (One of his colleagues was another rising star: Brett Kavanaugh. "Brett was an extraordinarily impressive lawyer," Rosenstein said in an interview that took place before the sexual-assault allegations against Kavanaugh surfaced. "I don't think it's any surprise that people like that wind up on the shortlist for the Supreme Court.") Rosenstein didn't handle the Monica Lewinsky investigation; rather, he was part of the team investigating Bill and Hillary Clinton's investment in the Whitewater land deal. Although the Independent Counsel's office was distinct from DOJ, Starr's team came to lean on Rosenstein's by-the-book instincts, according to Ray Jahn, a former prosecutor. Jahn says Starr regularly turned to Rosenstein and asked, "Well, what would the Department of Justice do?"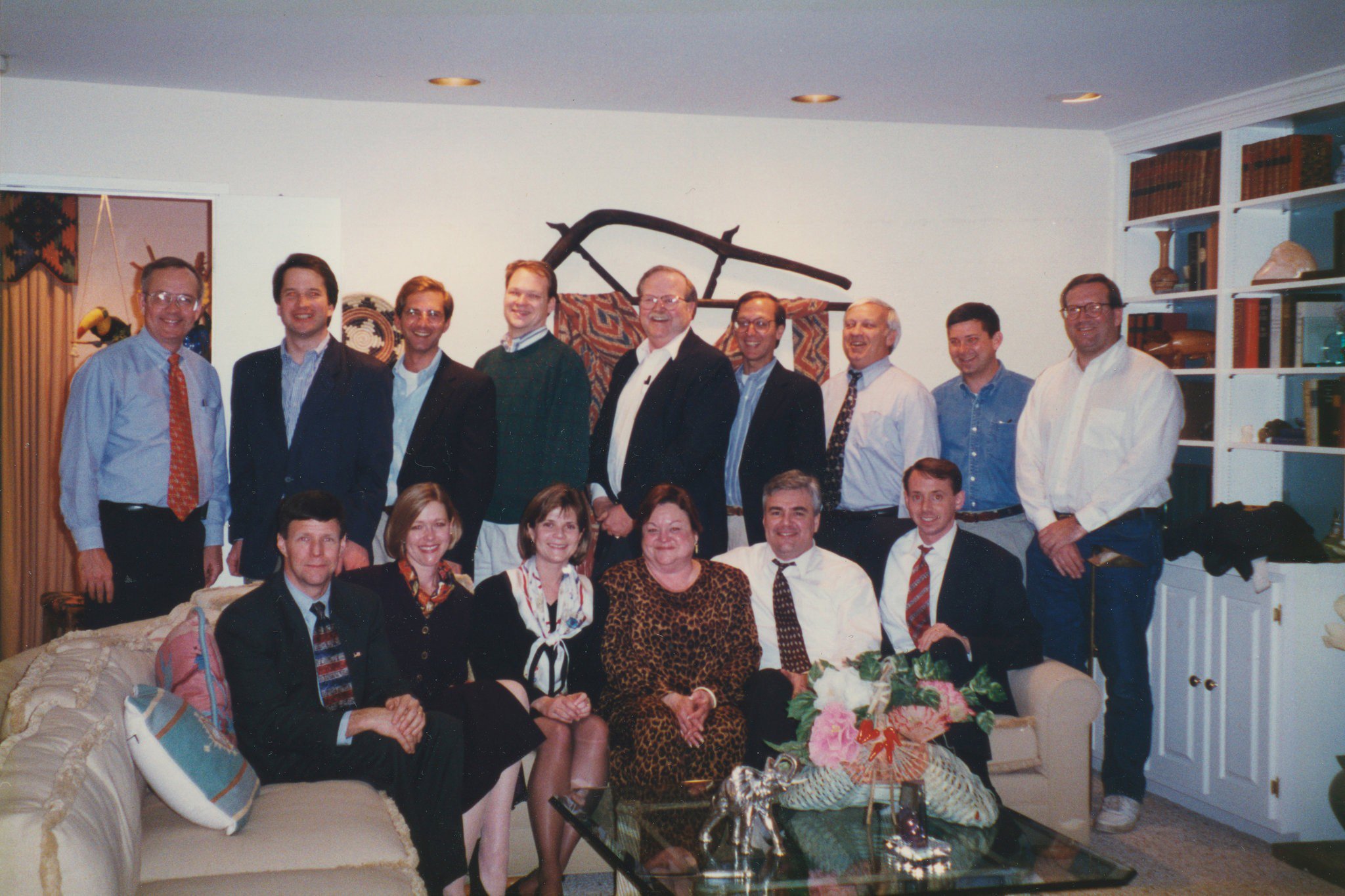 During the trial, the flu swept through the office and flattened several prosecutors. Shortly before Rosenstein was scheduled to examine an important witness in court, he went down, too. "There were no backups available," recalls former colleague Jackie Bennett, who also worked the Whitewater case. " I remember him coming in [to court], deathly ill, a high fever, face red. He stood up and probably was on his feet for six, six and a half hours that day and examined this guy when he felt horribly."
Following Whitewater, Rosenstein returned to the Justice Department. As he climbed through the ranks, he watched many of his peers depart for higher-paying jobs in the private sector. Rosenstein, by contrast, never lost the sense of pride he felt on his first day at work. "Most of all," says former federal prosecutor Michael Attanasio, "he loves that department."
---
When Rosenstein was appointed by George W. Bush as Maryland's top federal prosecutor in 2005, the US Attorney's office in Baltimore was struggling to recover from the tumultuous term of his predecessor, Thomas DiBiagio, who'd been forced to step down amid allegations that he'd used his authority to go after political opponents. Rosenstein's unflappable, soft-spoken leadership stabilized the office. He worked to create an environment that encouraged candor. Above his desk, he posted a sign that read: "Don't tell me what I want to hear, just tell me what I need to know."
Although the nation as a whole was then in the midst of a 23-year-long drop in violent crime, Baltimore's murder rate remained stubbornly high. "I thought it was a tremendous opportunity," Rosenstein says, "because it was clear to me that there were strategies that had worked elsewhere." Each morning, he steered his Honda CRV up I-95 from Bethesda for the hourlong trip to his office. Sometimes he'd listen to the opening number from the musical Hairspray: "Good Morning Baltimore."
Rosenstein's new staff, which included 75 prosecutors, found him to be a diligent and meticulous manager. "It was not unusual to get e-mails from him at 1, 2, 3 o'clock in the morning," says Steve Hess, who worked as law-enforcement coordinator under Rosenstein for 12 years. Former prosecutor Arun Rao recalls a story about a colleague who was working a case that involved a car accident on Maryland's Eastern Shore. "Late at night, [the colleague] gets an e-mail from Rod saying, 'I noticed that this particular stretch of highway is known for having a lot of accidents,' " Rao says. "'Have you looked into this? Is that a factor we can use?'" On another occasion, according to Hess, Rosenstein spotted a math error in the draft of a local police chief's crime report, and he made sure the chief was contacted to correct the mistake before releasing the statistics publicly.
"Don't tell me what I want to hear, just tell me what I need to know."
Rosenstein made it a point to get into court a couple of times each year and argue cases himself—an unusual practice for a sitting US Attorney. "He really enjoyed that work and wanted to exercise those muscles," says Jonathan Biran, a former prosecutor. In 2011, for example, Stacy Belf was preparing for the home-invasion trial of alleged murderer Jason Scott when her partner on the case left the agency. Rosenstein called and asked if he could fill in.
"Yes," Belf responded, "I'll be happy to be your second chair."
"Absolutely not," she says Rosenstein replied. "You'll be first chair and I'll be second chair."
Rosenstein also insisted that he and the more junior prosecutor split the workload 50-50. "He was driving all over creation to talk to witnesses and visit the houses of victims," Belf says. The pair won a conviction and a 97-year sentence for Scott. But when a news story incorrectly identified Rosenstein—and not Belf—as lead prosecutor in the case, he called Belf in a panic, mortified that she might think he'd whitewashed her contribution to burnish his own reputation.
Although a Bush appointee, Rosenstein kept his job once Barack Obama took office, one of only three US Attorneys across the country who weren't replaced with Obama appointees. He had earned the respect of the state's mostly Democratic leaders, despite targeting crooked members of the party, such as Jack Johnson, the former Prince George's county executive who pleaded guilty in 2011 to taking bribes. During his 12 years in office, Rosenstein also pioneered the use of federal racketeering statutes to combat the rise of MS-13 and other gangs in the Washington suburbs. But fighting the violent crime in Baltimore was among his most urgent priorities. Says former Baltimore police commissioner Fred Bealefeld: "Rod felt the burden of the murders and shootings in the same way that I did."
After the murder of government witness Carl Lackl and the desperate plea from jail administrator Wendell France, Rosenstein took on one of his most sensitive cases yet.
---
Rosenstein felt discretion was paramount. To preserve the integrity of the Black Guerrilla Family investigation, the task force he assembled met each month in a secure room in a state building outside Baltimore, rather than at the headquarters of any participating agency. Rob Harding, a Rosenstein deputy who oversaw the case day to day, also withheld sensitive information about the probe from certain corrections officials, even though they were part of the team. Says Harding: "We didn't know who we could trust."
FBI agents and a Baltimore detective began showing up unannounced at the homes of former corrections officers to ask about their experiences at the jail. Many had resigned out of fear from what they'd seen. "There was one specific guy," recalls former Baltimore detective Mike Corcoran, "who said he was actually moving to Ohio for his protection, that he was threatened by the Black Guerrilla Family gang."
Founded in 1966 in the California prison system, the Black Guerrilla Family, also known as BGF, had used ruthless force and drug trafficking to establish its authority on Baltimore's streets. Because the jail was located in a crime-ridden neighborhood and its members rotated in and out of the facility, the gang was known to be a problem there. But after seeing the terror on the faces of the ex–jail employees they interviewed, investigators knew this was no ordinary BGF hustle. "That's when we started hearing certain names," Corcoran says. "Inmate names and officer names."
"Rod felt the burden of the murders and shootings in the same way that I did."
Unlike investigations into gang activity on the street, the task force wouldn't be able to surveil their targets inside the jail. Instead, they listened to recorded phone calls made by inmates on the facility's lines and used the information they gathered to obtain court-approved wiretaps on the phones of suspected conspirators outside the jail. For hours on end, investigators sat in the FBI's Baltimore field office and listened in on conversations, trying to map out the gang's power structure. Atop this hierarchy, they eventually concluded, was a thirty-something BGF leader and accused murderer named Tavon White.
On one wiretapped phone call, White explained his status in the detention center: "This is my jail. You understand that? I'm dead serious. I make every final call in this jail, and nothing go past me, everything come to me. Any of my brothers that deal with anybody, it's gonna come to me. You see what I am saying? Everything come to me. Everything. Before a motherf—er hit a n—– in the mouth, guess what they do, they gotta run it through me. I tell them whether it's a go-ahead, and they can do it, or whether they hold back. Before a motherf—er stab somebody, they gotta run it through me. Anything that get done must go through me."
The team eventually came to identify White's top lieutenants, the conspirators on the jail's staff, and the tactics used to smuggle in contraband. But before the task force had enough evidence to charge all the suspects, Washington threatened to shut down the whole thing.
Roughly two months after they went up on the wires, investigators intercepted calls about a corrections officer's plans to smuggle knives into the jail. This alarmed officials at the Justice Department's Office of Enforcement Operations, which monitored the task force's operations, Harding says. The higher-ups at Main Justice had been willing to let some drugs and cell phones into the facility in order to expose a vast criminal conspiracy, but weapons were another matter. They asked the task force to shut down the wires, which would have effectively ended the case.
Absolutely not, Harding protested. Ending things now would scrap their shot at dismantling the entire network. "This particular investigation made a lot of people very nervous," Harding says. "But those are the cases that make the big impact."
Only Rosenstein, through his years working at Justice headquarters, had the clout to intervene on the task force's behalf. And according to Harding, Rosenstein managed to convince Washington to let the investigation proceed. "He let us survive long enough to make a big, giant case," Harding says. (Investigators arranged to have the knife-smuggling corrections officer thoroughly searched upon entering the jail, preventing the weapons from getting into the facility without alerting suspects to the ongoing probe.)
Wendell France recalls how concerns about the task force weren't limited to Washington. "In meetings and being around the [Maryland] governor's staff," he says, "you could sense that not everybody was thrilled that we were digging up all this mess." It was likely to result in bad press for then governor Martin O'Malley and the state—not a welcome possibility at a time when O'Malley was considering running for President. But Rosenstein, France says, sheltered the team from such pressures. "Rod was basically not interested in the politics," he says. "He saw something that was going on that was bad, and he wanted to address it." (O'Malley says he never tried to influence law enforcement: His concern, he says, was that the state would "lose control of the pace of the case. Any sort of political embarrassment was a secondary thing.")  
---
Harding's "big, giant case" isn't much of an overstatement. Investigators would come to learn how White and his disciples took command of the jail through violence and intimidation. According to an FBI search-warrant affidavit, BGF gang members carried out mob beatings, forced other inmates to pay "rent" to use the TV room, and extorted "protection money" from their relatives. At the same time, BGF members corrupted corrections officers through bribes—made using prepaid Visa cards that could be loaded with cash via cell phones—and sexual relationships.
Investigators found documents detailing BGF's strategy for asserting sexual control over female guards. "New BGF recruits are taught to target a specific stereotype of a [corrections officer], specifically women with low self-esteem, insecurities and certain physical attributes," an FBI agent said in the affidavit. "These [corrections officers] are prime targets whom BGF members can manipulate easily." White, for example, impregnated four different guards, two of whom tattooed his name on their bodies. He gave one of them a diamond ring and made a Mercedes and an Acura available to others. Many corrections officers considered inmates their boyfriends or husbands, and employees sometimes served as lookouts while inmates and staff had sex.
All the while, White used his cell phone to orchestrate the smuggling operation. Corrupt jail employees received contraband—tobacco, pot, pills, weapons—from gang members on the street and hid the items in their shoes, body cavities, and lunches as they entered the facility. (Cell phones stuffed into submarine sandwiches, drugs concealed beneath a tray of spaghetti.) One employee carried a pouch of Percocet in her underwear. Inside the jail, gang members who worked in the kitchen, laundromat, and sanitation services distributed the contraband. Corrupt employees even warned the gang of upcoming cell searches. "I just got a message [from a corrections officer] saying that they was going to pull a shakedown tonight," White said in a wiretapped call. "Let me call all these dudes in my phone and let them know."
Crooked employees could earn as much as $15,000 a week, and according to the affidavit, cooperating witnesses estimated that at least half of the prison staff were on BGF's payroll. The case had become the most important corruption prosecution in the state, and as the investigation neared its conclusion, Rosenstein was encouraged by updates from the team. "He wanted to know," Harding says, "whether we were going to be able to bring down a whole gang."
Before dawn on the morning of April 23, 2013, tactical squads of law-enforcement officers rushed into houses and apartment buildings all over Baltimore, arresting 13 corrections officers and four others believed to be involved in the smuggling ring. By that afternoon, those 17 defendants—plus seven BGF inmates—had been transferred to the federal courthouse in downtown Baltimore, where they made their initial appearances on charges including racketeering, drug conspiracy, and money laundering.
It was an extraordinary day for Rosenstein. The indictments made international news, prompted legislative hearings as well as changes to the state's penal system, and two years later resulted in the shuttering of the Baltimore City Detention Center. They also served as an embarrassment to Governor O'Malley, the future presidential hopeful who was on a trade mission to Israel when the scandal broke. As soon as he got back to the US, O'Malley says he called Rosenstein and said, "I want to see you and this FBI guy, and I want to see you now."
Rosenstein and his FBI counterpart traveled to Annapolis to meet the governor, who angrily objected to the way the feds trumpeted the indictments with a splashy press conference.
"He's a politician," remembers Rosenstein. "He's got a different perspective than I do."
O'Malley was upset that his state officials had first alerted the feds to the case but now, he felt, were being presented to the public as complicit. As O'Malley puts it, "You guys treated [the corrections director] like he was part of some criminal conspiracy—it's exactly why more people don't go to you with cases."
Says Harding: "There was a lot of feeling that the case didn't have to have create the bad publicity that it did. From our perspective, we were just going after the bad guys. The fact that it made [the jail] look like it was poorly run was just, I'm afraid, the facts of life."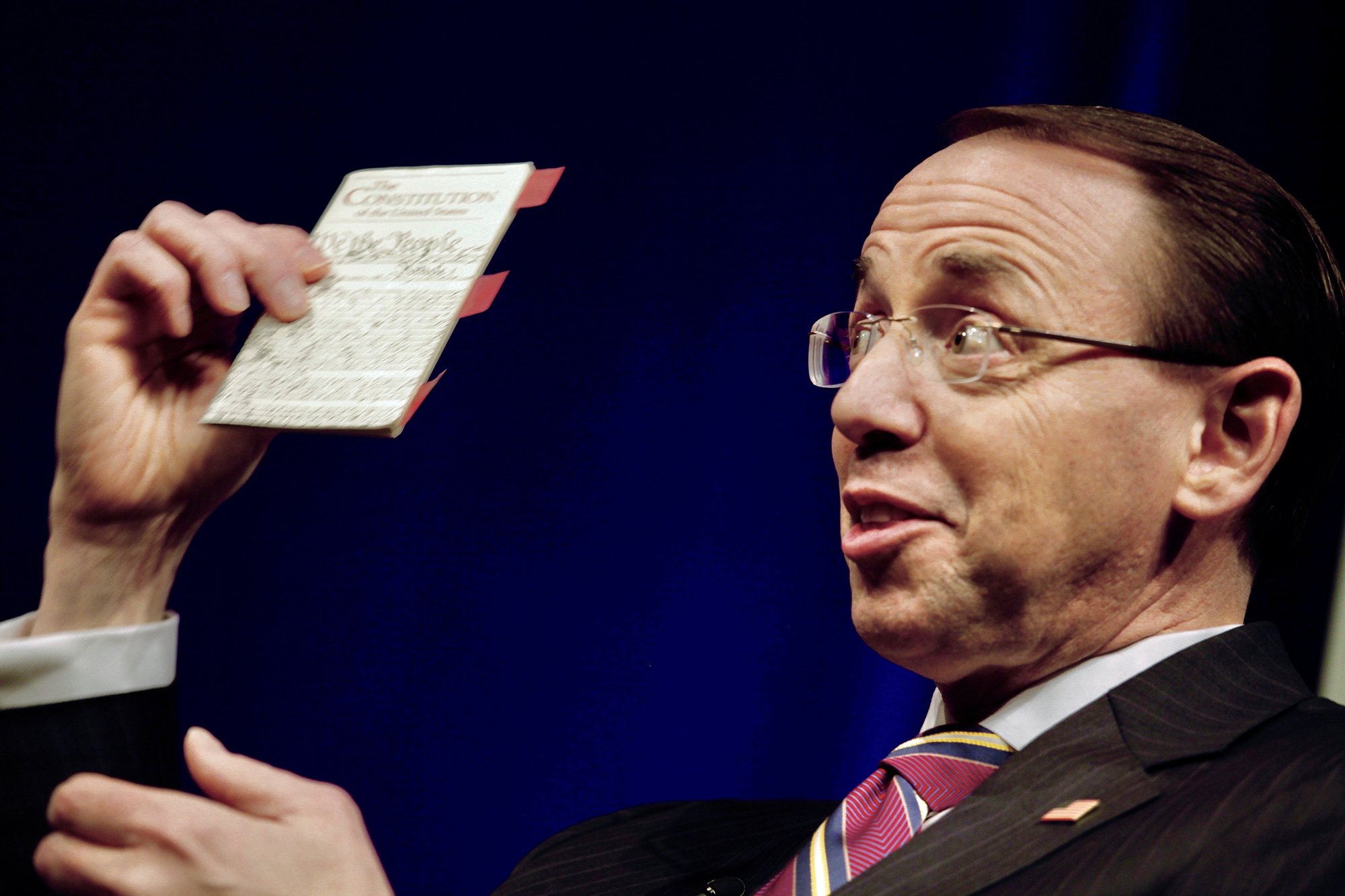 ---
Nearly five and a half years later, Rosenstein's life has changed dramatically. Instead of driving his old CRV up I-95 to Baltimore, he climbs into the back of a government vehicle, along with a detail of armed federal agents, and heads south into downtown DC. Instead of the relative anonymity he once enjoyed, he now gets noticed in public and heckled in right-wing media for enabling a political "witch hunt."
Until recently, Rosenstein had faced some of his toughest headlines last year, after then FBI director James Comey's firing. Rosenstein—on the job less than two weeks—had written a three-page memo that faulted Comey for the way he'd handled the investigation into Hillary Clinton's use of private e-mail while she was Secretary of State. Trump initially said the memo gave him the grounds to fire Comey, before reversing himself and saying he had already made up his mind to oust the FBI director. Rosenstein's drafting of the memo was viewed by many as a misstep—naive at best, complicit at worst.
Rosenstein remembered the episode in a speech last year, describing how he'd received a text from a friend amid the chaos. "You need to get out of there," the friend said.
Rosenstein responded, "There is no place I would rather be."
He may feel differently today. And perhaps the kind of qualities that made him a successful federal prosecutor have left him ill equipped for the knife fight that now surrounds him.
"I don't think his career as a Justice Department official or as a prosecutor prepared him for this role," says Jens David Ohlin, a vice dean and law professor at Cornell Law School. "We're not in a moment of normal politics, we're in a moment of extraordinary politics, so I think the snake pit that he's found himself in was quite extraordinary. You could very well imagine a different presidency where he's deputy attorney general and he wouldn't once have to deal with something as politically complicated or fraught."
How will Rosenstein handle himself at Thursday's high-stakes meeting with Trump? The New York Times reported that the deputy attorney general was emotional in a meeting earlier this week with White House chief of staff John Kelly. What will Rosenstein do if Trump explodes at him? According to his former employees from Maryland, even during times of extreme stress, Rosenstein stayed cool. Says former colleague Steve Hess: "I don't think I ever heard him raise his voice, ever."