Be a tourist in your own city—but leave the obvious stuff to the tourists. Here are 92 off-the-beaten-path things you may not know about, including behind-the-scenes tours, quirky museums, secret bars, little-known parks, and things hidden in plain sight.
Where admission prices are given, they are for adults unless otherwise noted. There may be reduced fees for seniors, students, military, or children. This section was written by Rick Snider, Andréa Seiger, Sherri Dalphonse, Ann Limpert, Matthew Graham, Susannah Herrada, Emily Martin, Jennifer Barger, Rin-rin Yu, Madeline Rundlett, Aly Prouty, and Grace Cutler.
The Tour Behind the Tour
Three well-known attractions that offer not-so-well-known insider tours.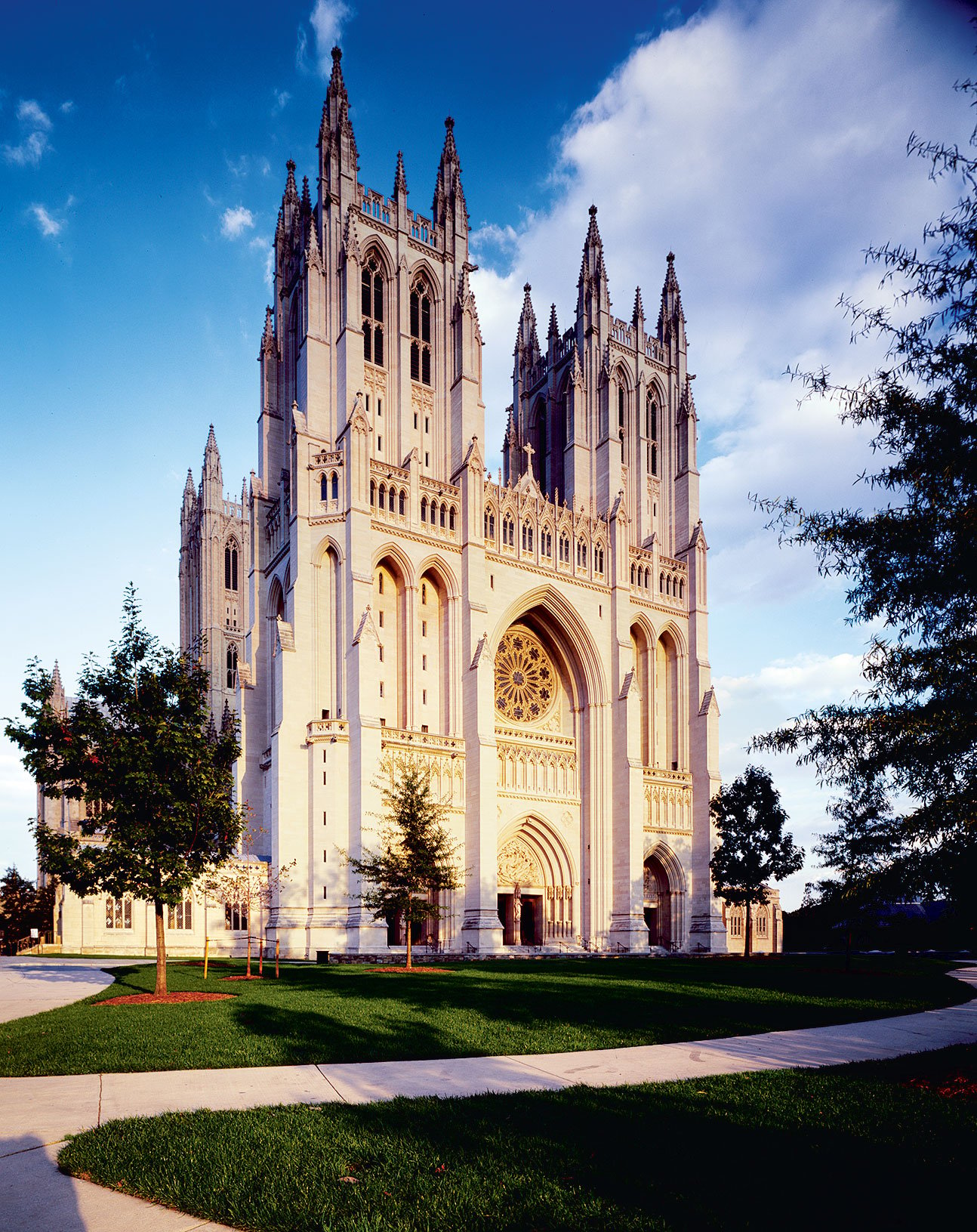 You have to scale lots of stairs and heights on the cathedral's "Behind-the-Scenes" tour—which goes beyond what visitors typically see, namely the main floor and crypt. But the reward is views of grotesques, flying buttresses, stained-glass windows, and other features too high to see clearly from the ground. 3101 Wisconsin Ave., NW. $27.
An intimate Sunday-evening tour allows visitors to walk across the stage and exit through the back into Baptist Alley, just as John Wilkes Booth did after assassinating Abraham Lincoln. You can also see inside the President's box from a doorway that's normally closed. It's a rare view from inside the theater, which still looks almost exactly as it did that fateful night. 511 Tenth St., NW. $28.
The almost-300-step climb to the top of the US Capitol dome is not an easy feat—or an easy tick-et. A member of the House or Senate must accompany visitors. Those willing to navigate the at times narrow and uneven stairs are rewarded with a rare and breathtaking view. First St., SE. Free; contact the office of your senator or representative to arrange a tour.
---
Back to Top
Tiny Museums
Five spaces that are small but compelling.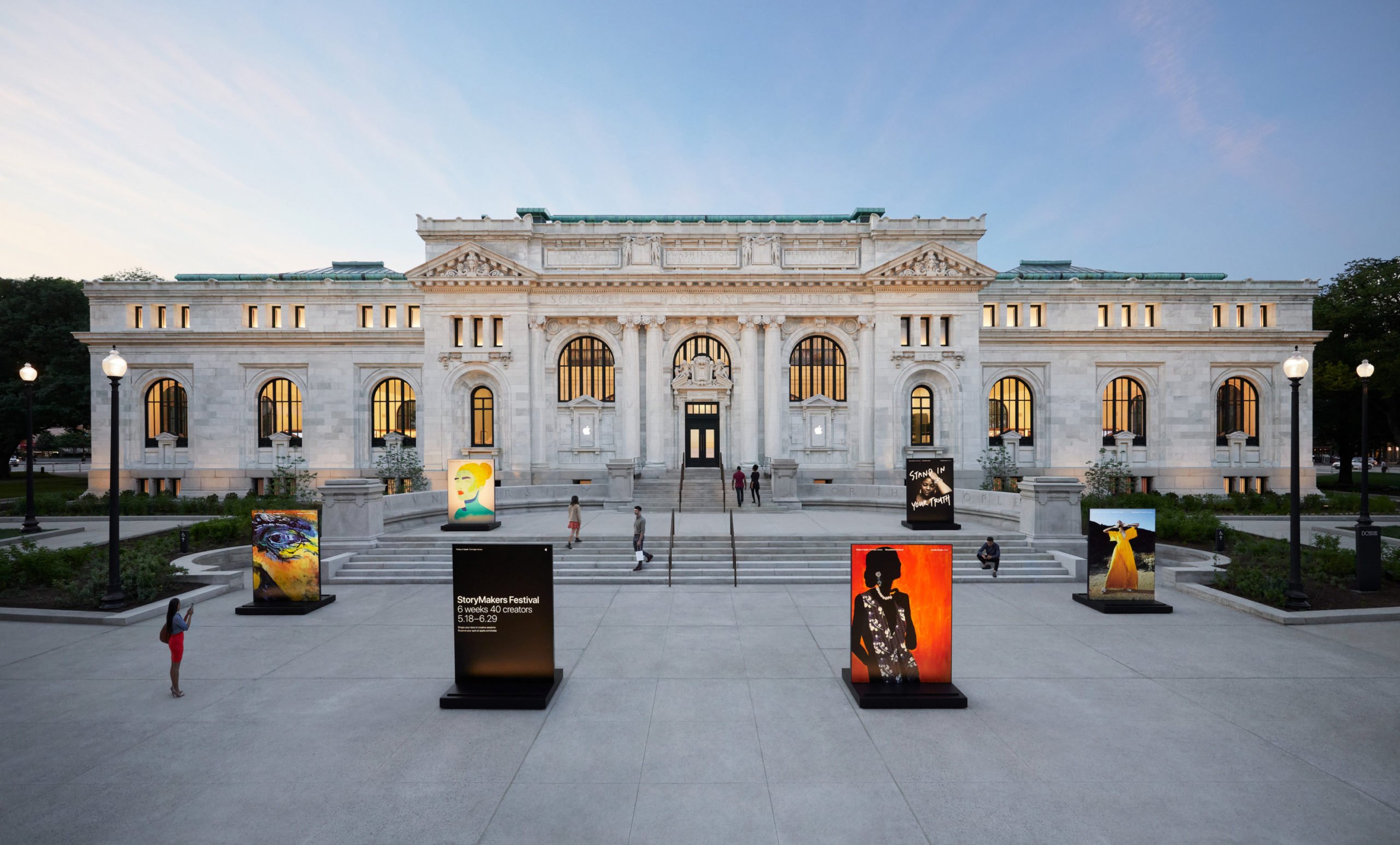 Did you know that actress Hedy Lamarr helped invent a communications technique similar to wi-fi? This museum showcases the work of inventors who brought us such advances as antibiotics, audio computer screens for the blind, and that "first and ten" yellow line seen on football broadcasts. US Patent and Trademark Office, Madison Building, 600 Dulany St., Alexandria. Free.
Better known for later founding the American Red Cross, Clara Barton spent four years helping families find 22,000 missing Union soldiers after the Civil War. A 1996 building demolition was stopped when a final walk-through revealed her office and residence behind a sealed wall. The museum, now filled with replica furniture, offers docent tours on the half hour. 437 Seventh St., NW. $9.50.
The Mall's oldest structure has reopened after more than 40 years as a storage shed. From 1835 to 1855, it was a toll plaza for C&O Canal Barges, and photos on the walls show the stark life of the toll collectors who resided there—including one who lived there with his wife and 13 kids. Constitution Ave. and 17th St., NW. Free.
Come for an animatronic Smokey, stay for the Forest Service history. Or just stay for more of the baritone-voiced fire-prevention bear, who, with his feet on a desk, welcomes visitors with "Only you can prevent forest fires." Fun fact: The real Smokey lived at the National Zoo. 1400 Independence Ave., SW. Free.
You'll have to sneak past the Apple Store to get to this collection, which occupies the upstairs of a grand Beaux Arts building that was once the city's main library. Exhibits of photographs, timelines, and interactive displays lay out the District's often-overlooked history. Check out "The Big Picture" exhibit, featuring 74 panoramic photos spanning the 20th century, some of which are nine feet high, including one of the Washington Senators before they won the 1924 World Series. 801 K St., NW. Free.
---
Back to Top
Child's Play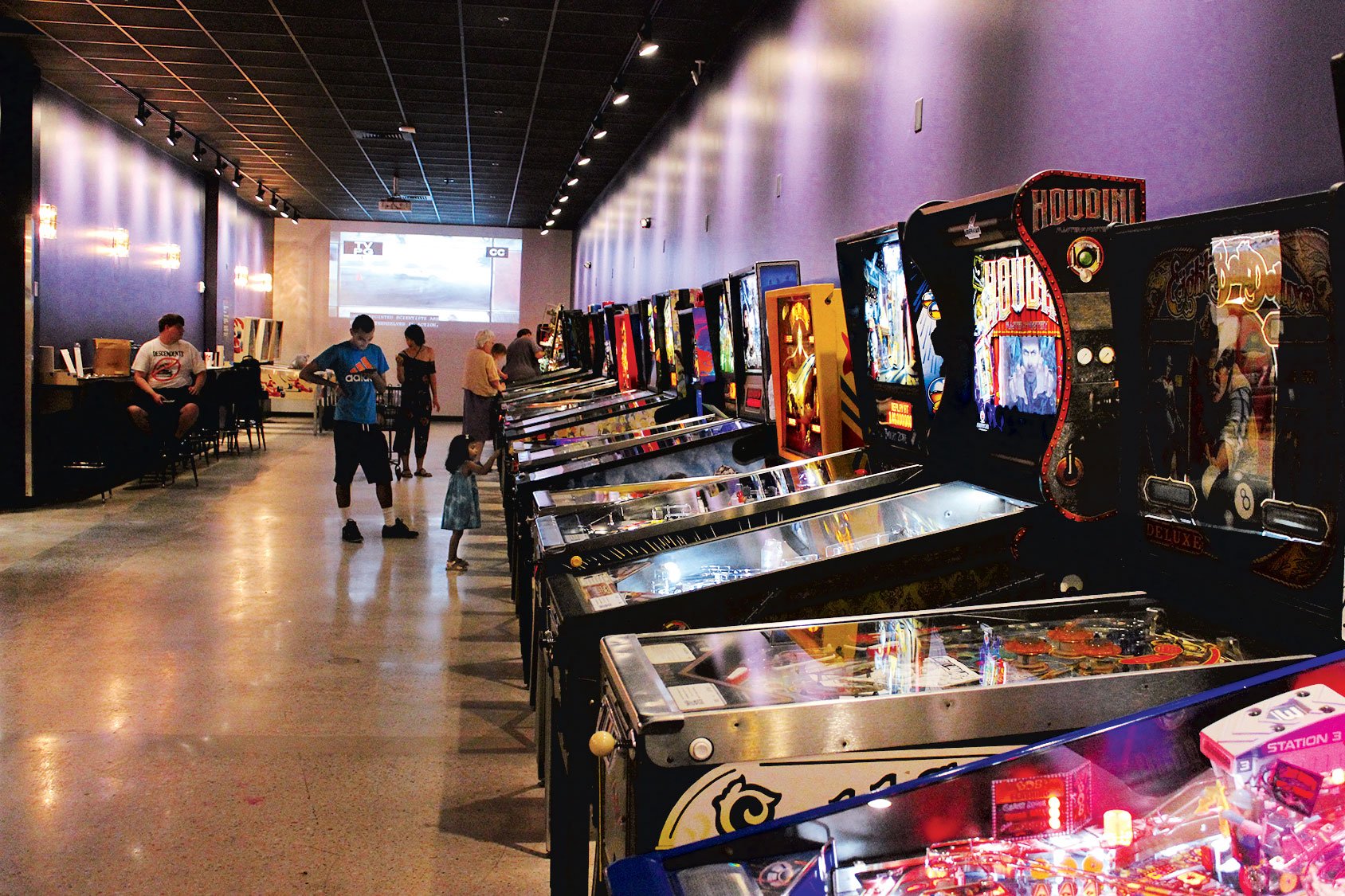 What's the tie between organic groceries and pinball? Just that the owner of MOM's Organic Market is also a pinball enthusiast—and has opened a full-on pinball parlor in a room behind the frozen section of his College Park location. Nearly 30 coin-operated machines fill the space, and tournaments are held every Friday. 9801 Rhode Island Ave., College Park; 301-220-1100. 50 cents a game.

Roots grow deep at this museum, where you get a taste of Loudoun County's rural history. Let the kids milk a (fake) cow or play postmaster at the Waxpool General Store, a replica of the original that stood just down the road. Nibble on fresh veggies as you stroll the community garden and the barns. 21668 Heritage Farm Ln., Sterling; 571-258-3800. $5 adults; $3 ages 2 through 12.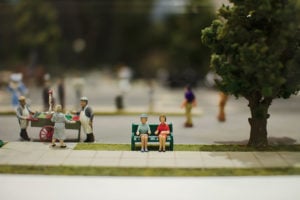 Before Metro and its woes, Washingtonians traversed the area in streetcars, a few of which can still be viewed at this quaint museum. Visitors can take a ten-minute ride on a historic trolley and check out streetcars from other countries. 1313 Bonifant Rd., Colesville; 301-384-6088. $10 adults; $8 kids 17 and under.
---
Back to Top
Look Up
Gems you won't see unless you glance away from your phone—and way up.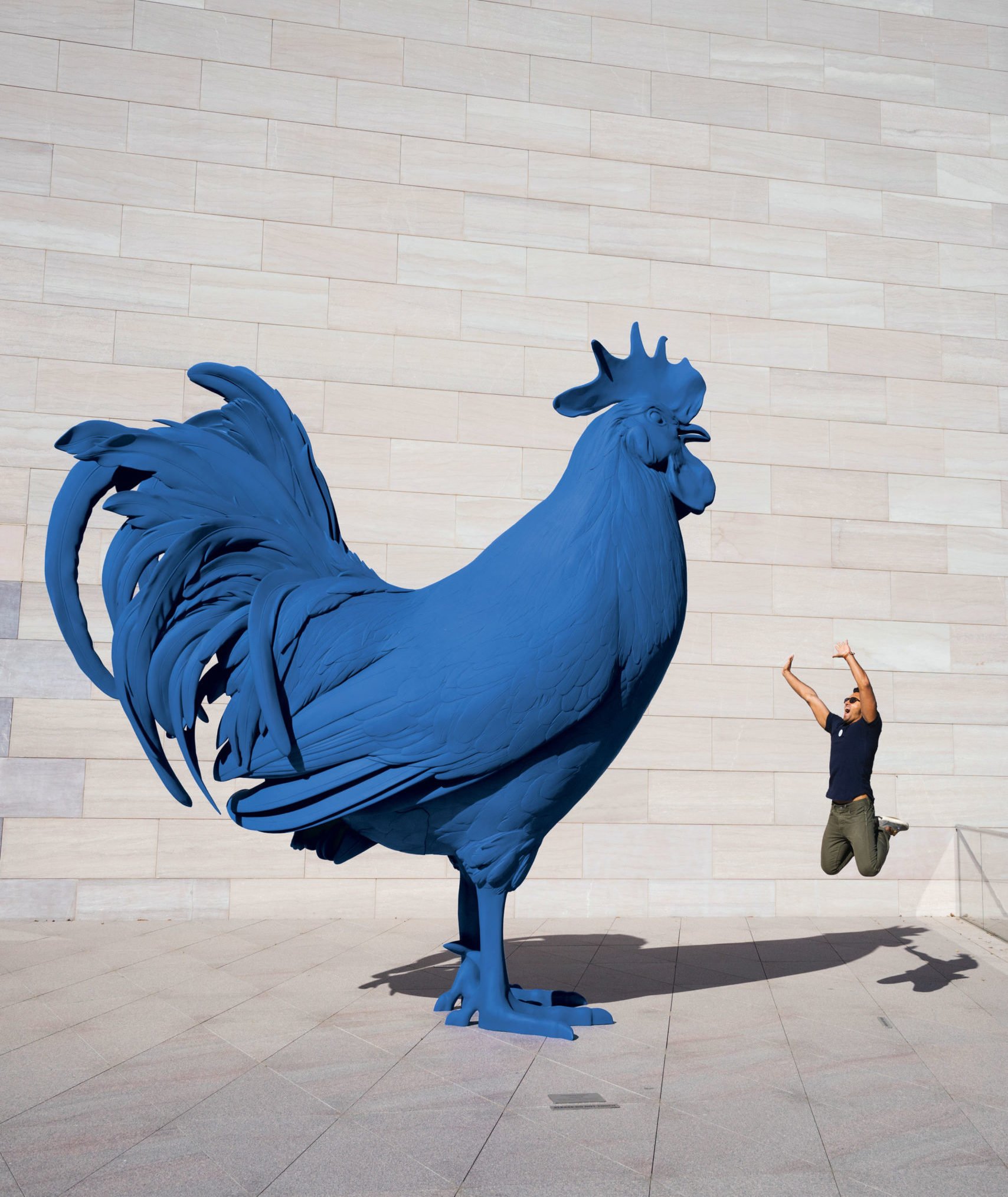 Giant Blue Rooster
It's electric blue and stands 14½ feet high on the roof terrace of the National Gallery of Art's East Building, yet many passersby and gallery visitors miss it. That's a shame, because Katharina Fritsch's sculpture, "Hahn/Cock," unveiled when the renovated gallery reopened in late 2016, is not only fun to see—and to 'gram—but its lofty perch offers a great city view. Fourth St. and Constitution Ave., NW.
Kicking Bear Masks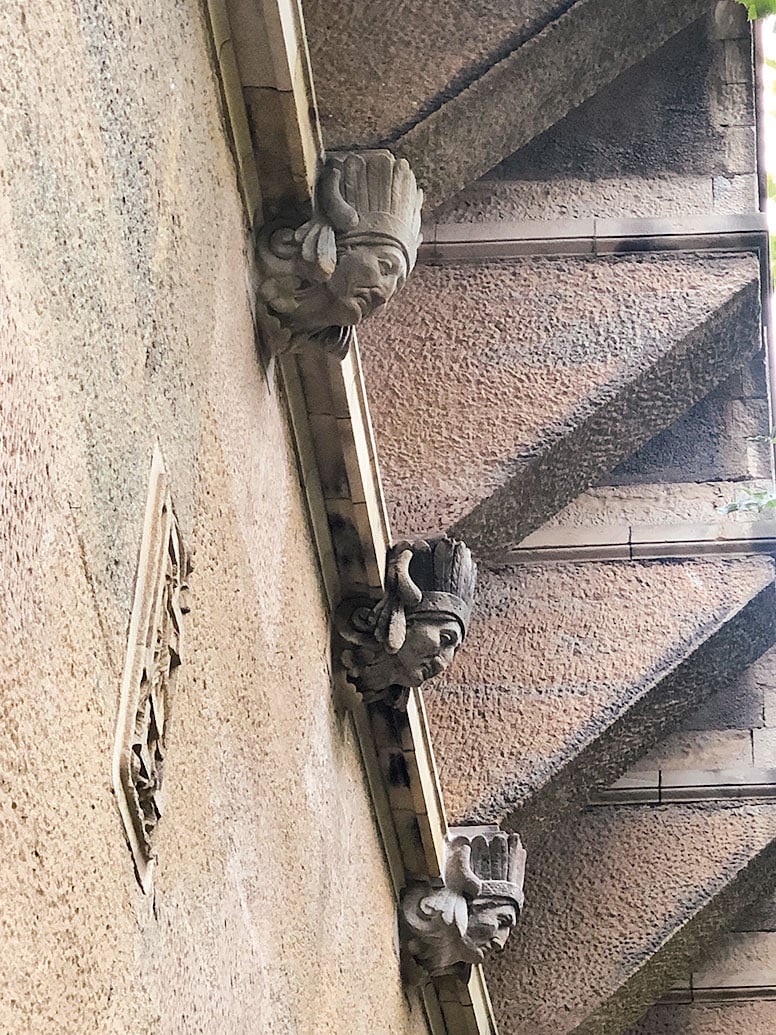 If you're driving, walking, or biking in Rock Creek Park below what's known as the Buffalo Bridge, on Q Street, glance up to see sculptures—lining both sides, 56 in all—of a Native American man in a headdress. The carvings were based on a life mask of Sioux chief Kicking Bear.
Masonic Masonry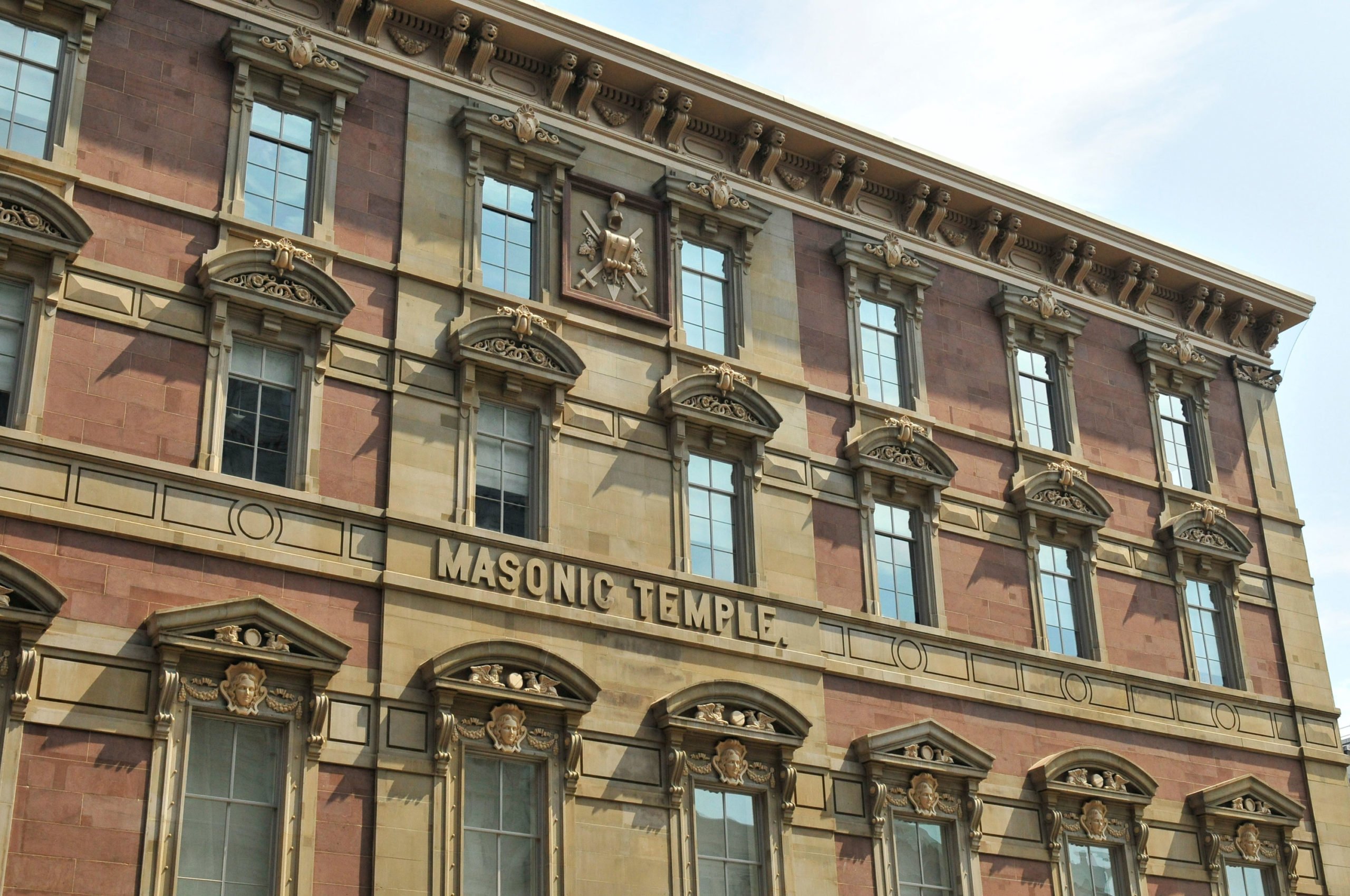 A circa-1869 Masonic temple at Ninth and F streets, Northwest, may no longer be a temple—but after dodging a wrecking ball in 1978, it's still standing. The Smith restaurant now occupies the ground floor. Look up at the limestone exterior to spy ornate detailing including lions' heads and winged creatures. 901 F St., NW.
Ceramic Cat
When a retired Navy commander built his Embassy Row home in 1901, he had a masonry cat placed on a ledge to commemorate the felines on his ship. Later, owner Olga Hirsh­horn—her husband's art begat the Hirshhorn Museum—dubbed the garage below it the "Mouse House" in tribute. 2201 Massachusetts Ave., NW.
Mythical Creatures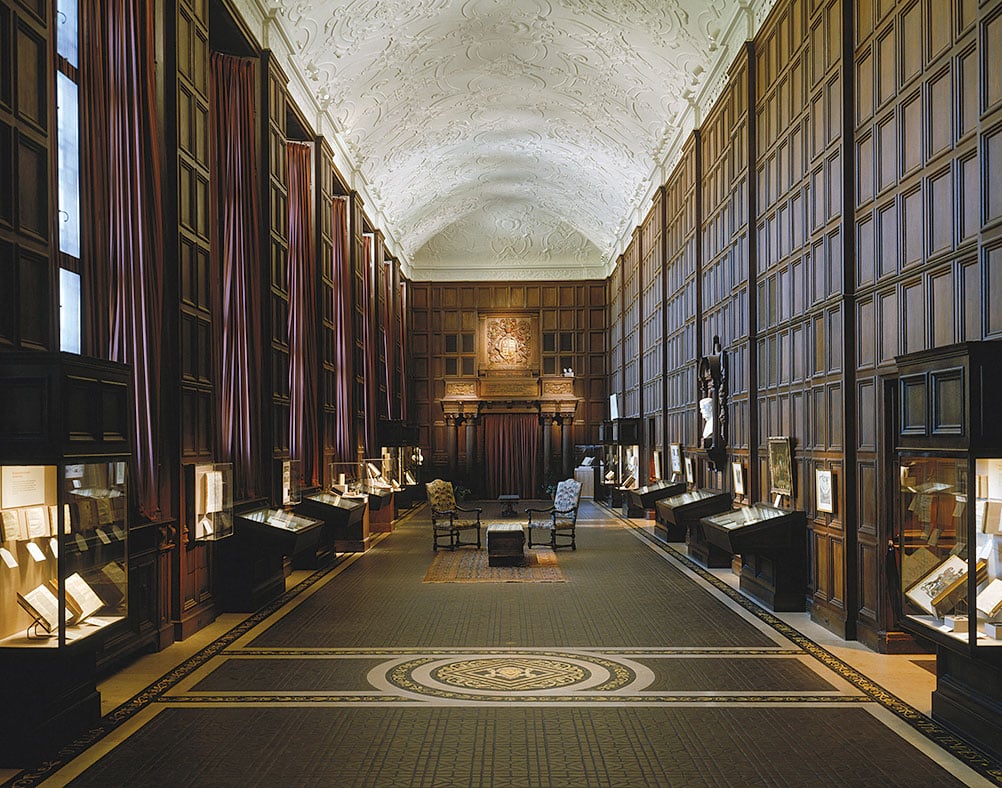 Who needs to read the First Folio when you can just gaze up at the decorative barrel-vaulted ceiling in the Folger Shakespeare Library's Great Hall? "There are cool animals and fantastical beasts," says director Michael Witmore. "The figure I find most interesting is a mythical 'green man' that comes out of the woods to celebrate Twelfth Night." 201 E. Capitol St., SE.
---
Back to Top
Look Down
Gems you won't see unless you glance away from your phone—and down.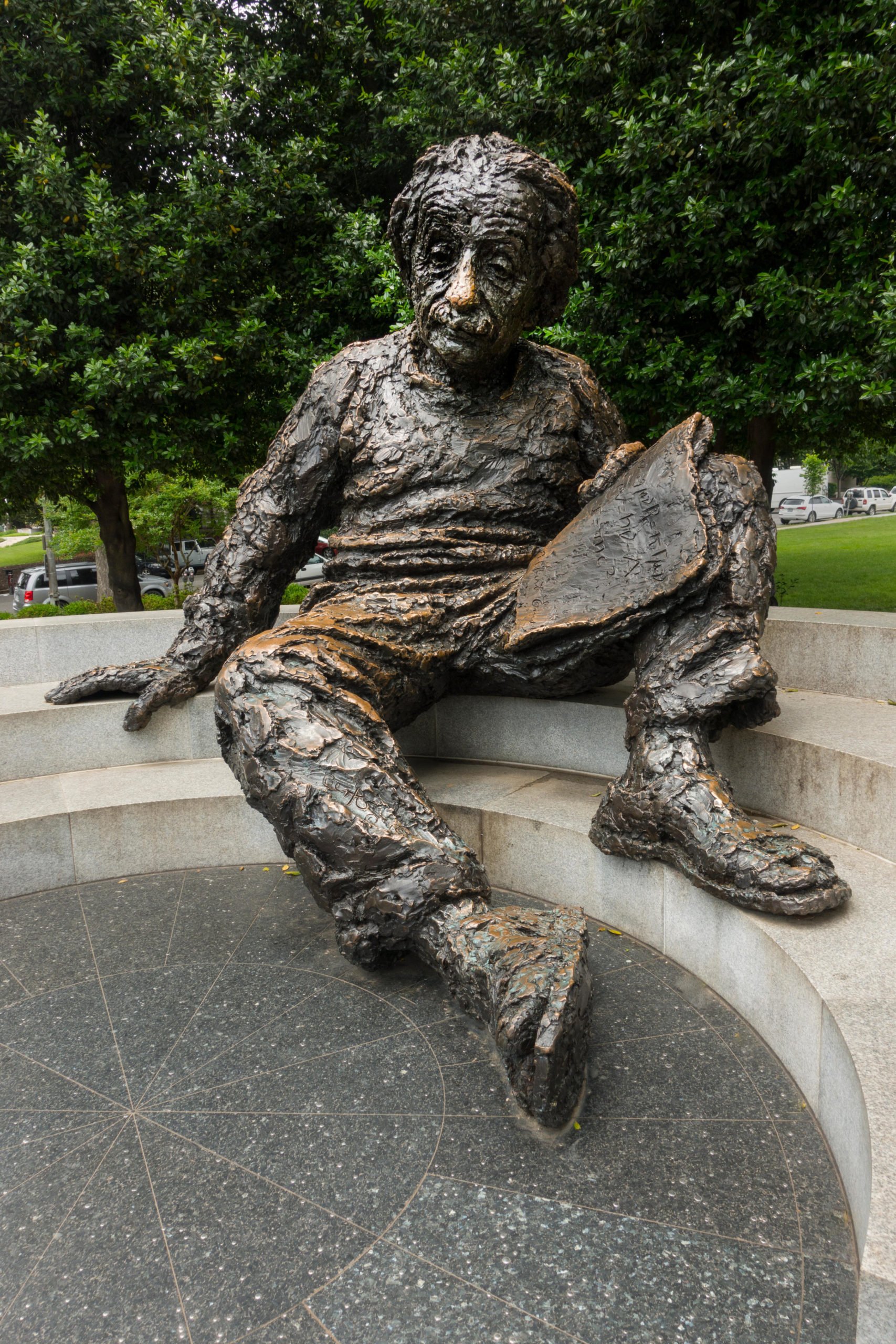 The bronze statue of Albert Einstein in front of the National Academy of Sciences is well known. But if you visit, check out the part below Einstein: The granite base contains more than 2,700 metal studs marking the positions of the planets, stars, sun, and moon on the day the memorial was dedicated in 1979. 2101 Constitution Ave., NW.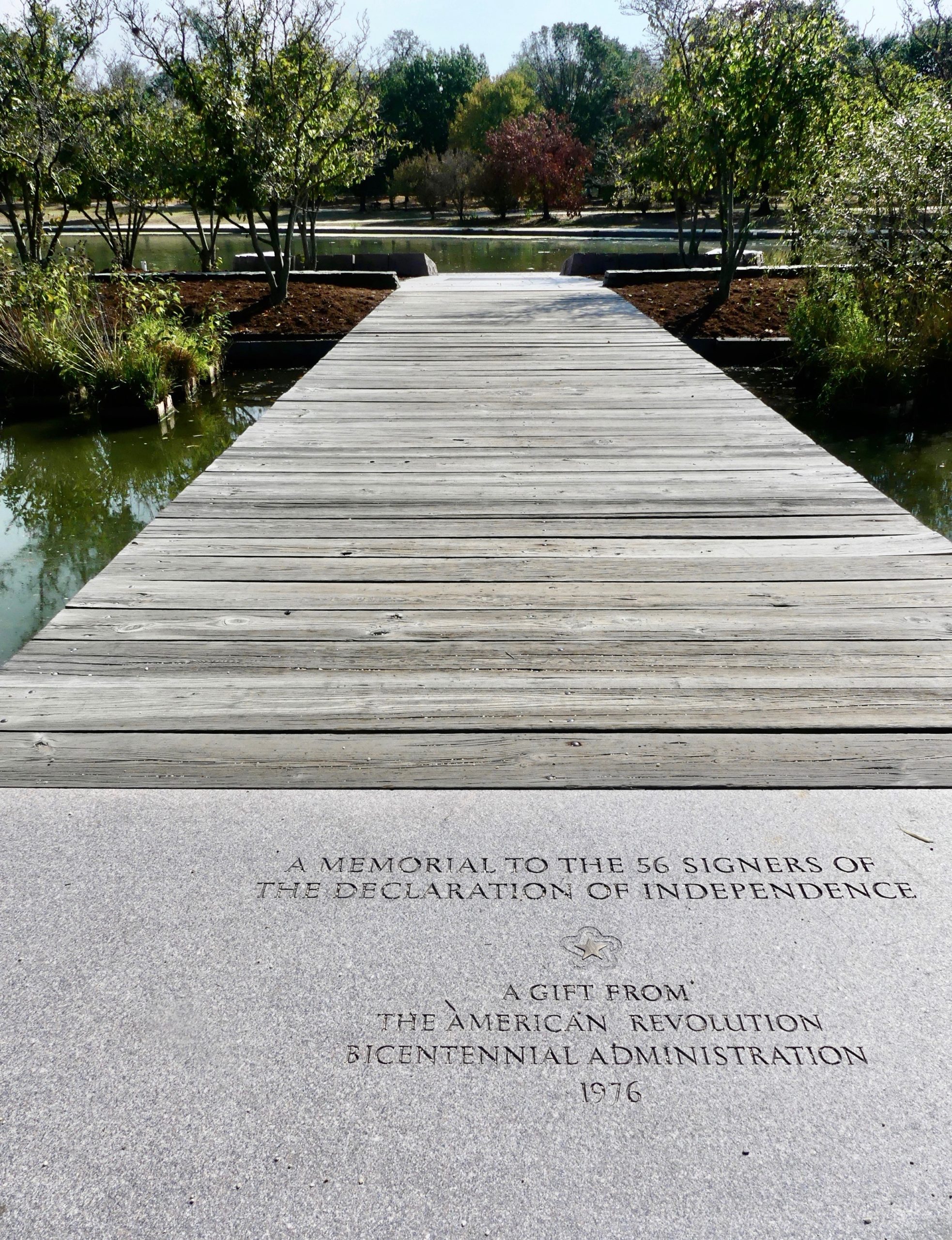 This small island within Constitution Gardens contains 56 stones bearing signatures of the 56 signers of the Declaration of Independence. Naturally, John Hancock's is the biggest. George Washington didn't sign, opting to be with the troops. 19th St. and Constitution Ave., NW.
"Named Stones"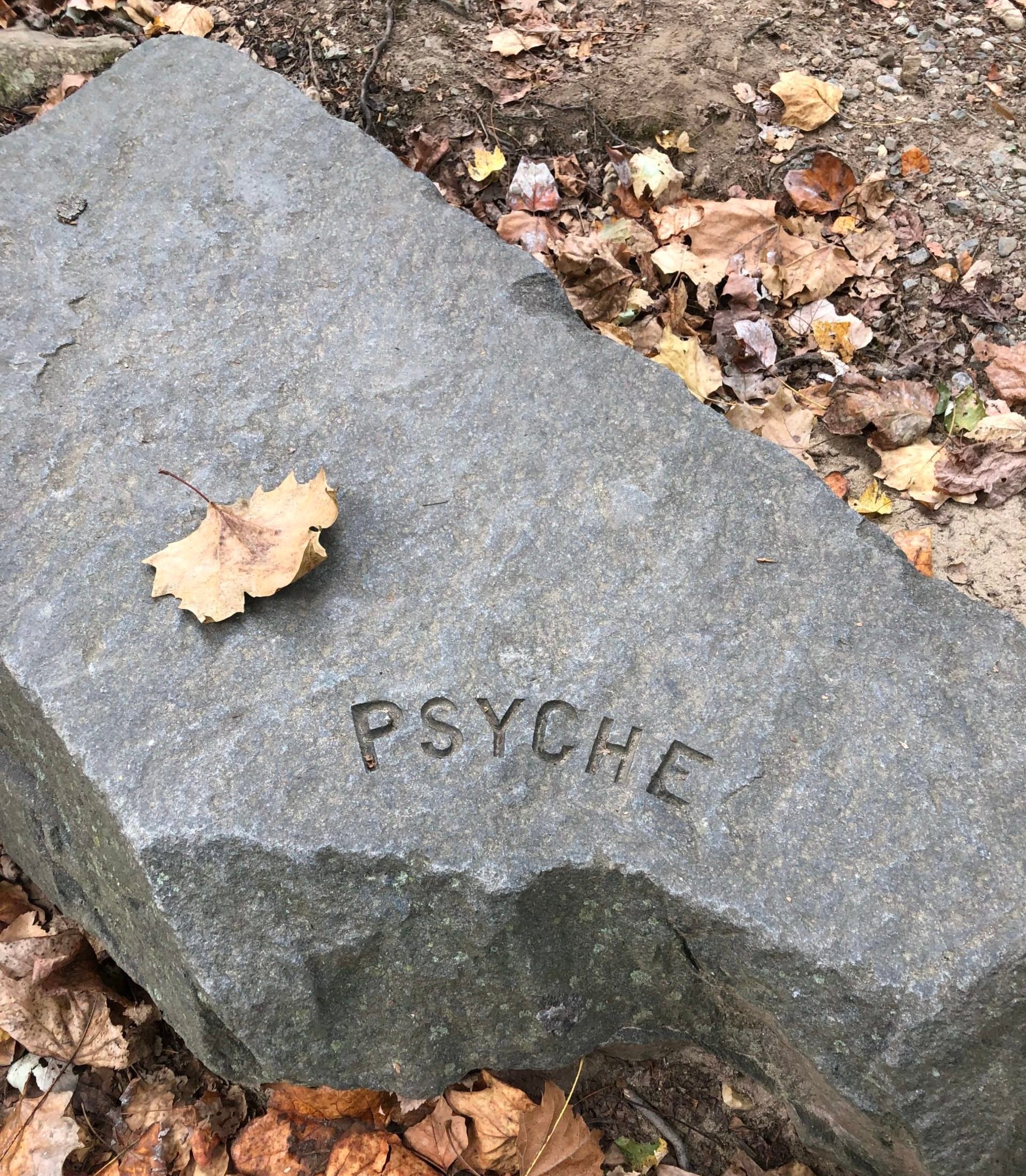 Stroll along Four Mile Run in Arlington's Bluemont Park and try to spot a series of boulders, in and by the stream, engraved with phrases such as sleeping moon, artemis, and psyche. (Hint: They're near the playground and baseball fields.) The "Named Stones" are by Arlington artist J.W. Mahoney. 601 N. Manchester St., Arlington.
Bloodstains at the Capitol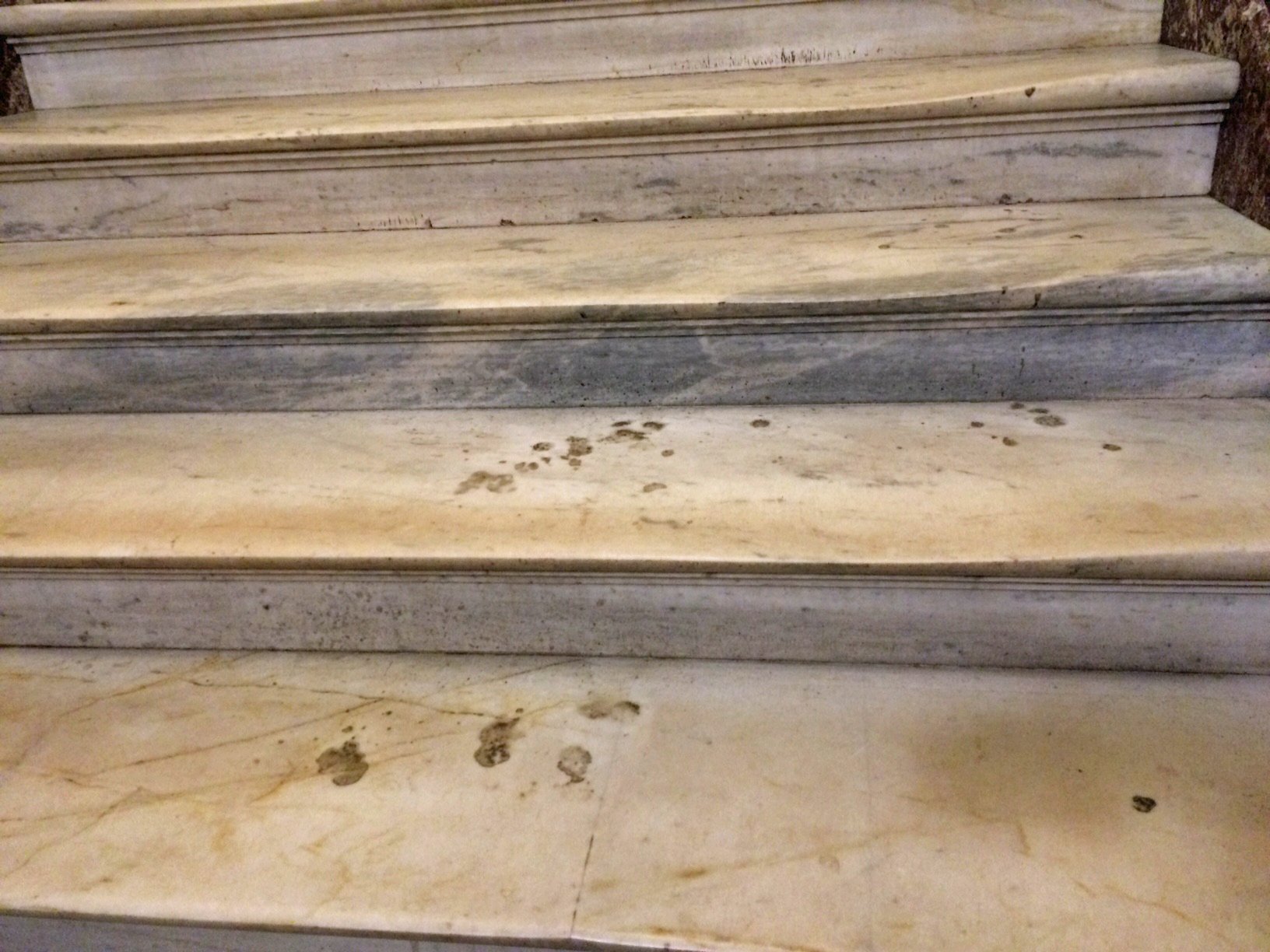 In 1887, reporter Charles Kincaid exposed Kentucky congressman William Taulbee's extramarital affair. Three years after that, the two got into an altercation at the Capitol and Kincaid was warned by the then-lobbyist to arm himself. He did: Later that day, Kincaid shot Taulbee to death on the House's east staircase. Bloodstains still remain on the marble. Kincaid was acquitted on the grounds of self-defense. First St., SE.
MLK Jr. Time Capsule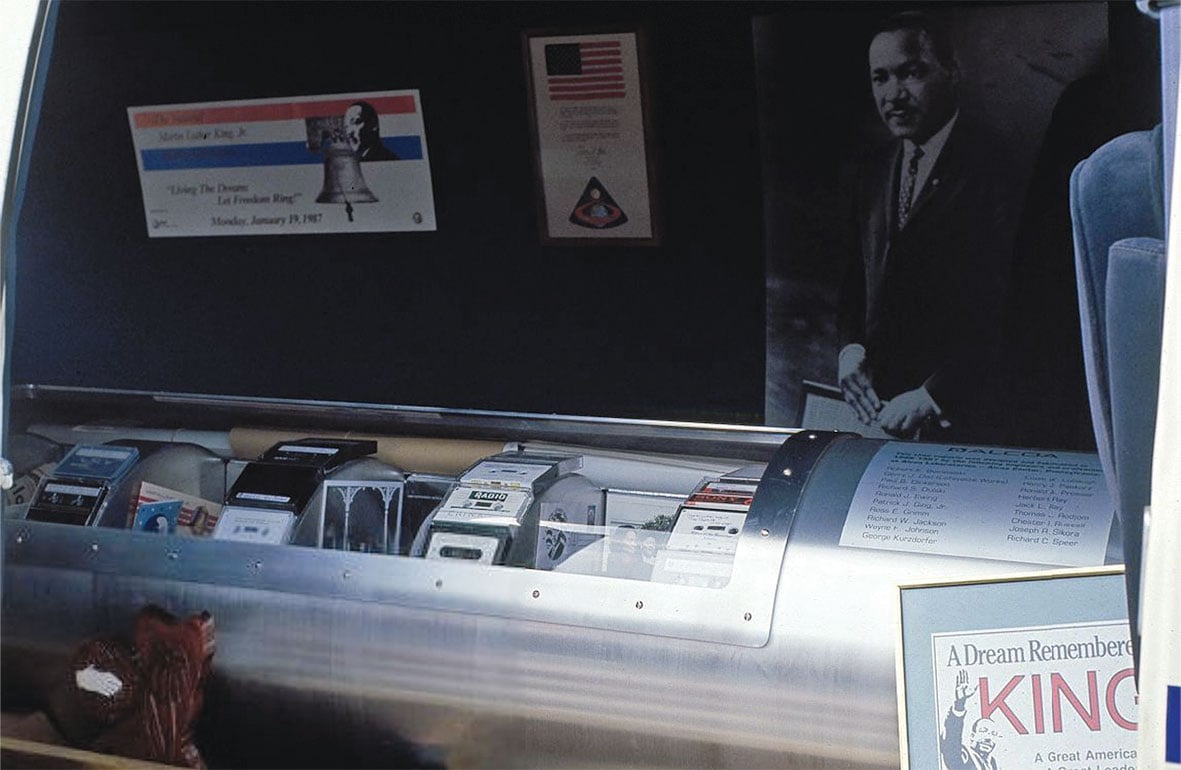 In 1988, a time capsule containing a Bible and robe that belonged to Martin Luther King Jr., among other items, was placed beneath Freedom Plaza—which previously had been Western Plaza but was renamed in his honor. Engraving in the plaza floor marks the site. 1455 Pennsylvania Ave., NW.
---
Back to Top
Sleeper Hits
Four unique places to spend the night.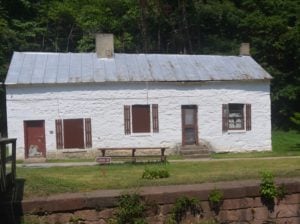 This historic C&O Canal lockhouse is the seventh that's been rehabilitated for overnight stays. Known as the Swains, after the family of lockkeepers who owned it until 2006, it's decorated in a circa-1916 style. The house comfortably sleeps up to eight and has heat and air conditioning—unlike some of the more rustic refurbished cottages that are part of the Canal Quarters program. 10700 Swains Lock Rd., Potomac; $160 a night.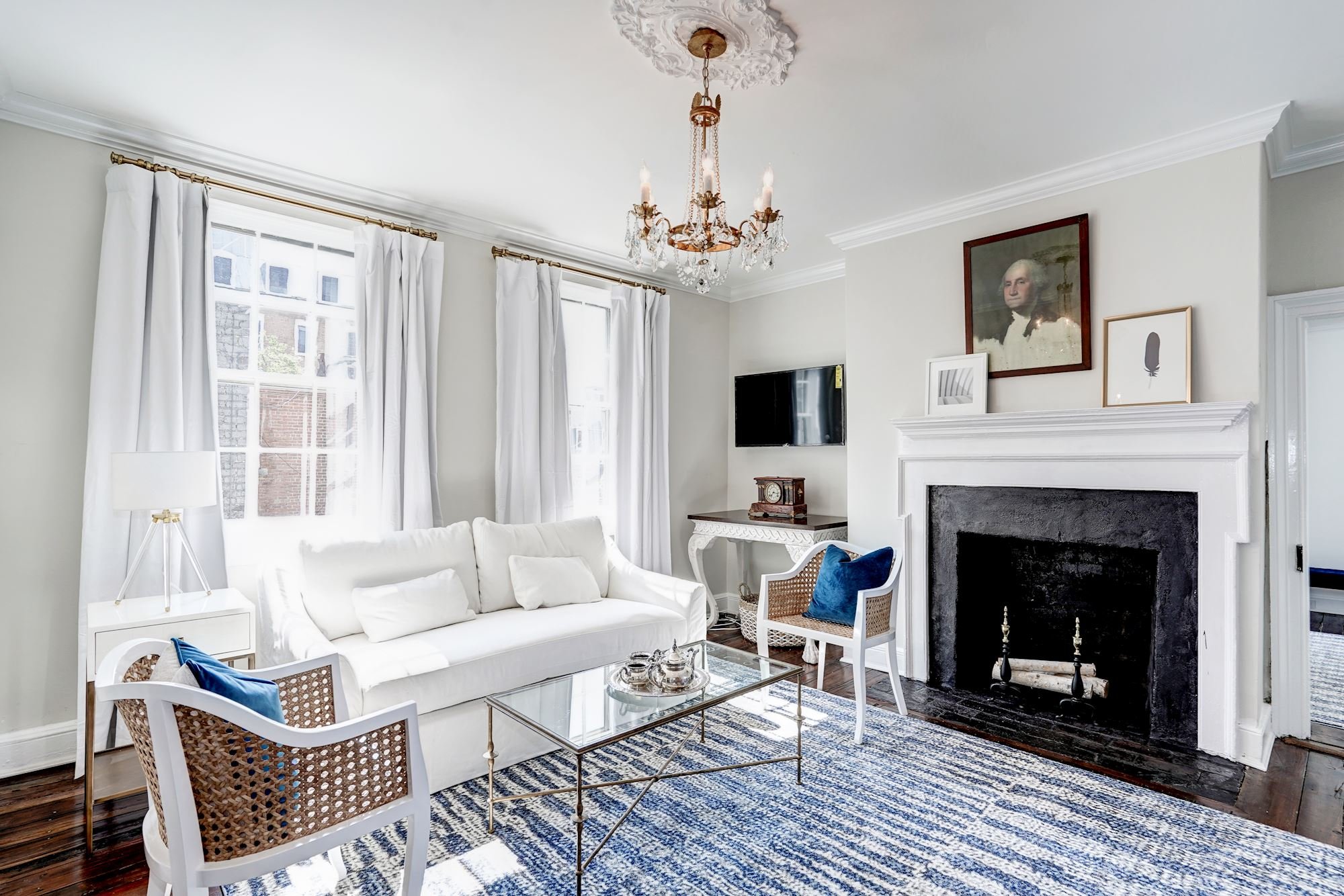 This Old Town Air­bnb mixes modern glam and historic appeal. You can rent the entire updated 6,000-square-foot townhouse or just one of the eight suites. Each chic guest room is named after a President born in Virginia. The house was built in 1815, so George Washington never slept here—but the intact kitchen fireplace was his, incorporated from an-other, older building on the property. 506 Cameron St., Alexandria; From $148.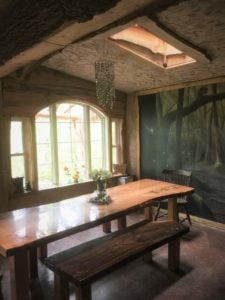 This fanciful hut is at the Maple Tree Campground in Rohrersville, Maryland. Keep warm next to the wood stove while surrounded by an enchanted-forest mural or sip tea at the handmade harvest table. The cozy stone structure sleeps up to four, with room for pets. Even better, it has electricity. 20716 Townsend Rd., Rohrersville, Md.; $140 a night.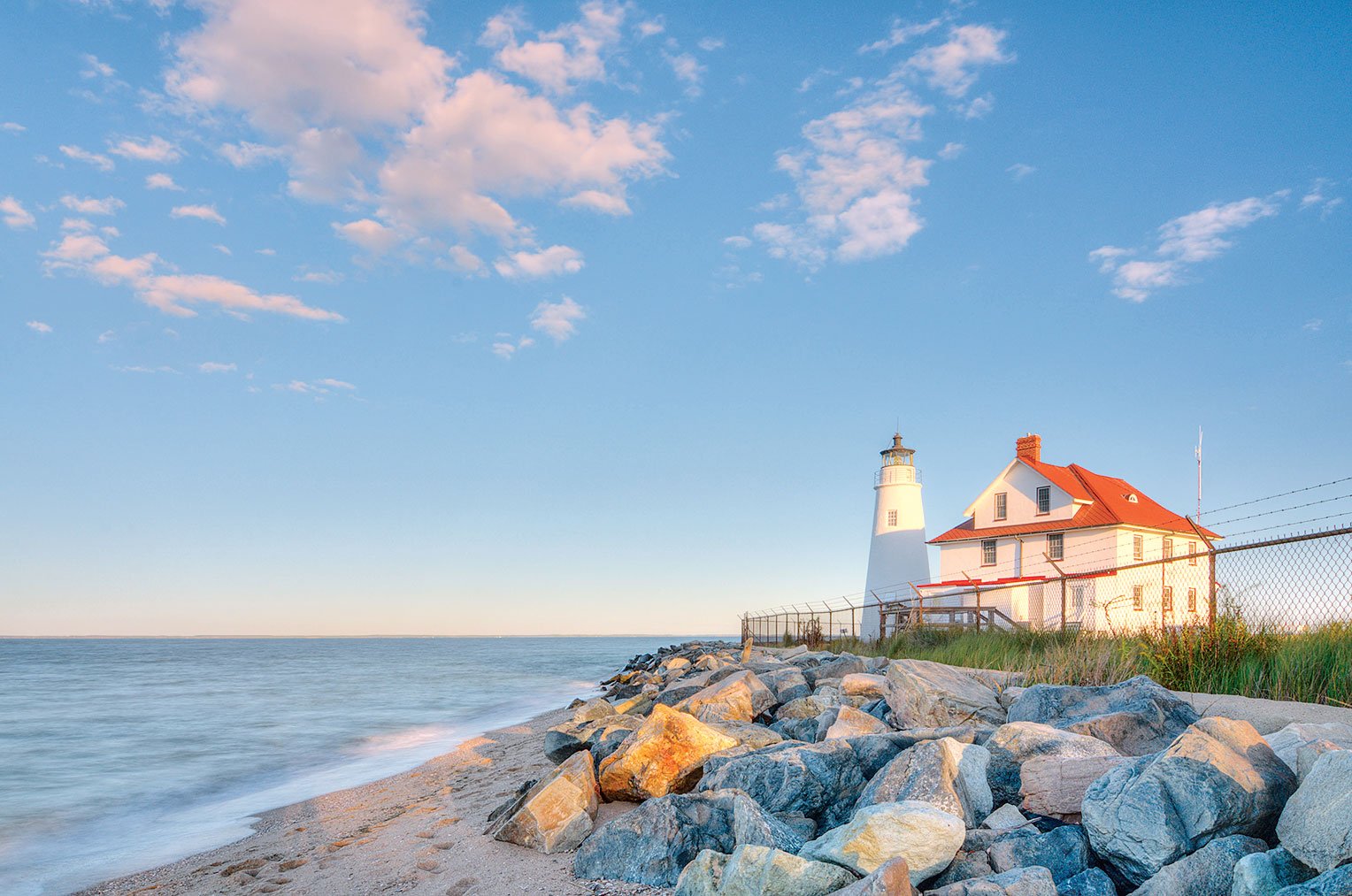 At this 1828 lighthouse, guests can rent either the lighthouse keeper's quarters, the assistant keeper's, or both. Catch a sunrise, plus the Chesapeake Bay breezes and views of Calvert Cliffs, from the well-appointed duplexes, which sit next to the still-active lighthouse. Be prepared to share the stunning grounds with the public from 1 to 4 each day, May through September. 3500 Lighthouse Blvd., Lusby, Md.; A three-night stay starts at $550.
---
Back to Top
Secret Shops
Three out-of-the-way stores.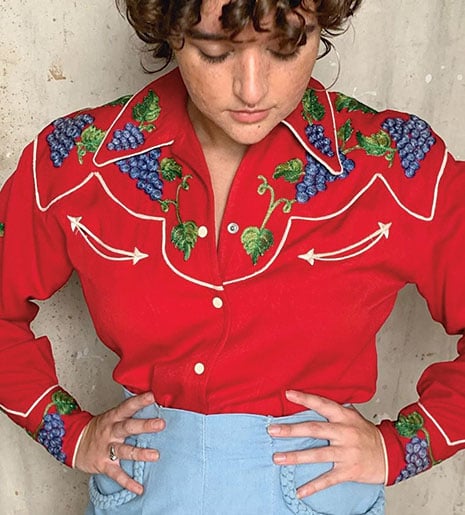 When she worked at the Defense Department from 1986 to 2012, Shelley White wore 1940s suits to meet top brass. Now she sells vintage clothing in a tucked-away Arlington warehouse and provides costumes for retro movies and TV shows such as The Marvelous Mrs. Maisel. Thousands of men's and women's garments, circa 1900 to the '70s, include a 1930s silk kimono ($250) and Eisenhower-era cashmere cardigans ($75 and up). 5179-B Lee Hwy., lower level, Arlington. Open mainly by appointment (call 703-517-7373); check Instagram @amalgamatedshop for some Saturday hours.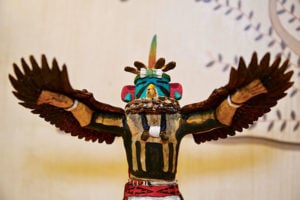 You'll have to go through security and clip on a red cardboard pass to visit the Interior Department's Indian Craft Shop, which has been selling works by Native American artisans since 1938. Wooden beamed ceilings and murals of a family on horseback set the scene for goods created by more than 50 US tribal groups, including Kiowa appliqué denim jackets ($250), beaded Navajo bracelets ($35 to $65), and lots of Acoma pottery. Department of the Interior, 1849 C St., NW. Open Tuesday through Friday 10 to 4:30, third Saturday of the month 10 to 4.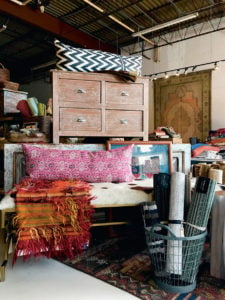 For years, bohemian-home wizards Timothy and Mia Worrell ran rug, textile, and furniture shops in Logan Circle and Virginia's Mosaic district. Now the couple splits time between DC and Charleston, selling vintage Moroccan shag carpets, Turkish kilims, and upholstery out of a Merrifield warehouse by appointment and via occasional open houses. They're popular with interior designers, and their workroom can turn your fabric—that silk snagged in Vietnam, a fragment of your grandmother's quilt—into a pillow or mounted wall piece. 2808-D Merrilee Dr., Fairfax; 202-468-1404.
---
Back to Top
College Town
Campus offerings—no need to matriculate.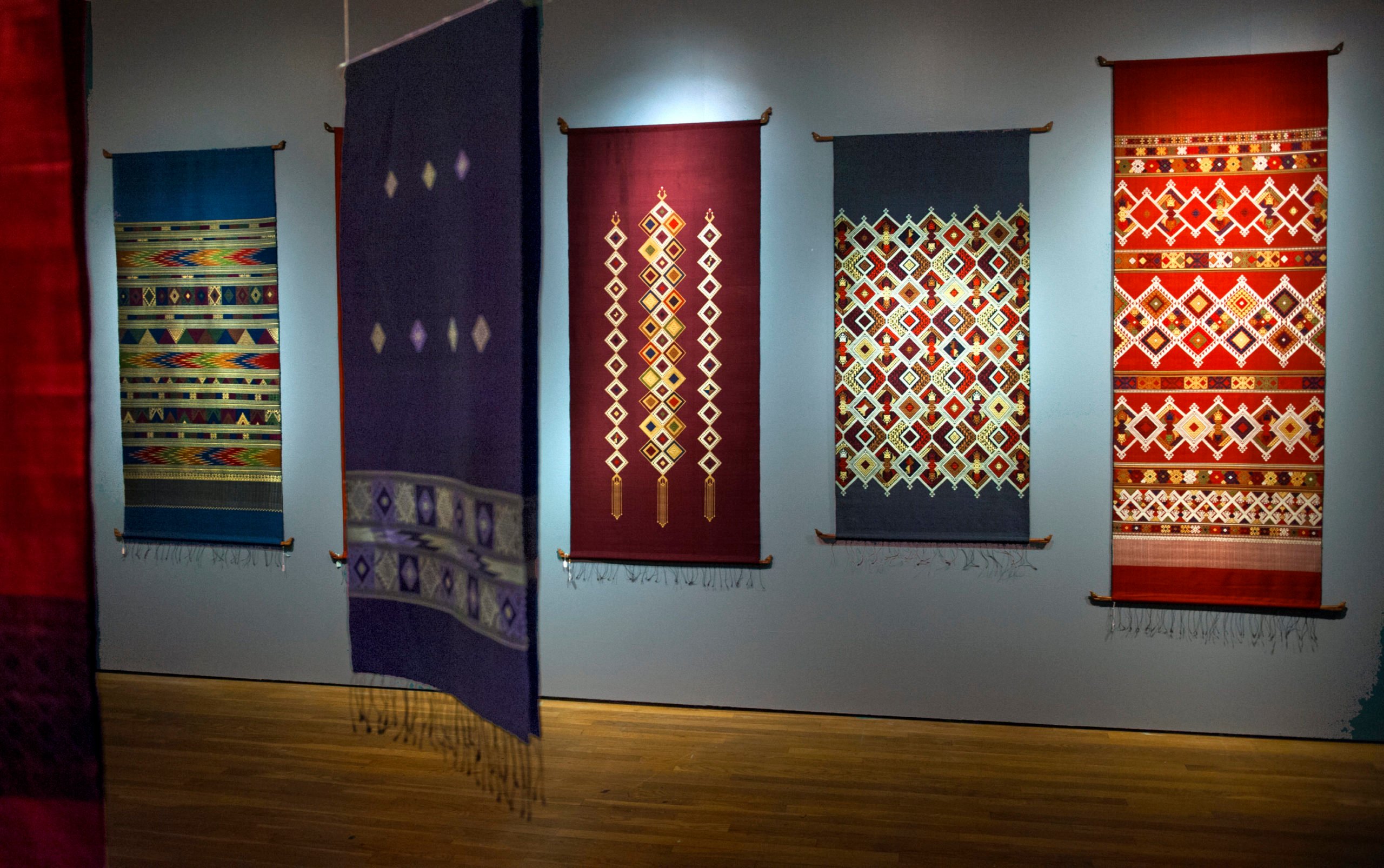 American University
Perhaps you've been to AU's Katzen Arts Center. But did you look around outside? The 84-acre campus is an accredited arboretum and offers tours. Among the 4,000 trees are cherry blossoms. There are also tomatoes and thyme, which are free for the taking. 4400 Massachusetts Ave., NW.
George Mason University
The Gillespie Gallery of Art is a single expansive room that showcases nationally recognized artists. Starting January 22, Agustina Woodgate, of recent Whitney Biennial fame, will dis-play her work. 4400 University Dr., Fairfax.
Catholic University
If you find the Basilica of the National Shrine of the Immaculate Conception too big, venture to Caldwell Chapel. The university's original chapel, it's in the campus's oldest Romanesque building, Caldwell Hall. Sit in a pew, gaze at the stained glass, and enjoy the serenity. 620 Michigan Ave., NE.
Gallaudet University
The National Deaf Life Museum recounts the 150-year-plus history of the university as well as aspects of deaf heritage. Among the exhibits is one about a ten-year NASA project testing motion sickness with deaf subjects. 800 Florida Ave., NE.
University of Maryland
The only area university with an on-campus dairy, 95-year-old Maryland Dairy scoops some of the region's best ice cream. Try "Fear the Turtle," with pecans and caramel. Stamp Student Union, 3972 Campus Dr., College Park.
George Washington University
Maybe you lost track of the Textile Museum after billionaire Jeff Bezos bought its former home in Kalorama. Now the collection of tapestries and carpets—representing five continents over five millennia—is housed on GW's campus. 701 21st St., NW.
---
Back to Top
On This Spot
Eight historic sites—most marked with signs or plaques—that you may have walked by and never noticed.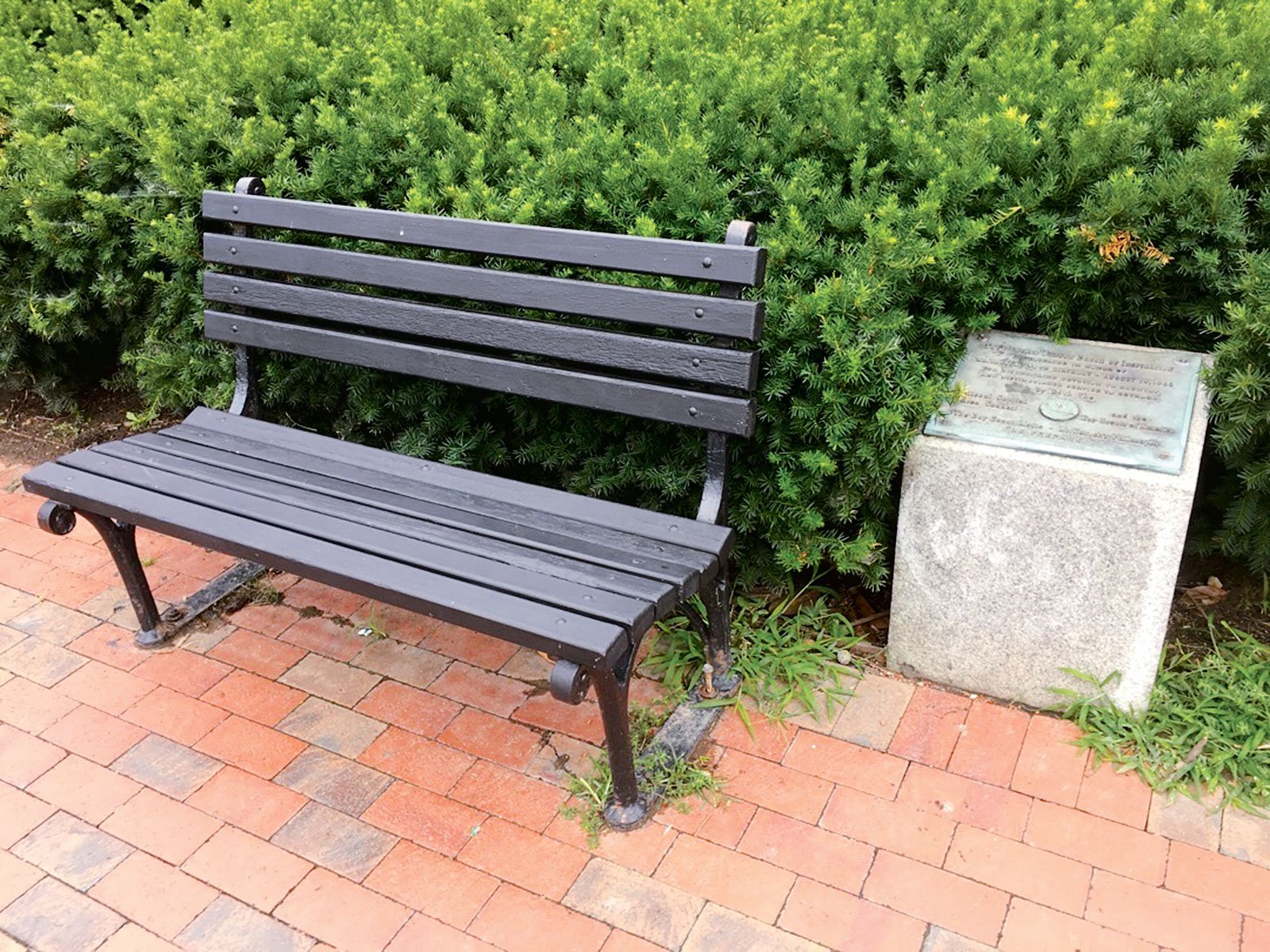 Imagine a stream running red with the blood of men dueling after an argument about, oh, the speed of a steamship. A sign describes what 1800's "gentlemen" did here—in what's now a park—to settle a score. 38th Ave. at Bladensburg Rd., Colmar Manor.
2. Bernard Baruch Bench
Imagine a Wall Street fat cat sitting on a park bench alongside congressmen, away from probing microphones. That's what Bernard Baruch did on this bench in Lafayette Square. He also waited there for a signal to come to the White House, to meet with Franklin Roosevelt or Woodrow Wilson. 1600 Pennsylvania Ave., NW.
3. Williams Slave Pen
Before 1850, slaves were bought and sold in DC, hustled through the streets right in front of the US Capitol. The sign at this spot marks the place where the Yellow House, a notorious slave pen, once held auctions of human cargo. Independence Ave. at Seventh St., SW.
4. Letelier-Moffitt Monument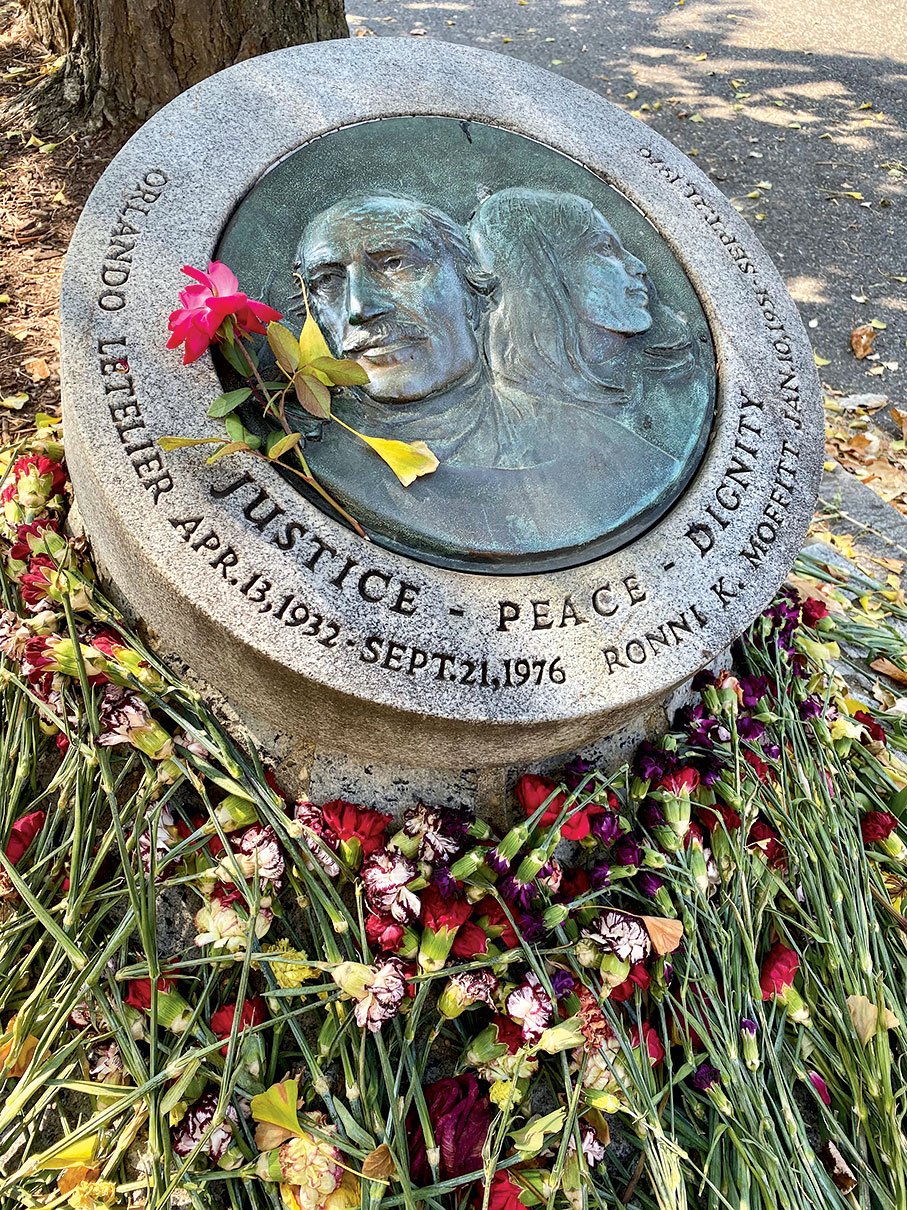 An act of terrorism on DC's Embassy Row is remembered by a fireplug-size monument where, in 1976, a car bomb killed outspoken Chilean exile Orlando Letelier and coworker Ronni Moffitt. Sheridan Cir., between Massachusetts Ave. and 23rd St., NW.
5. First Airmail Flight
Those ball fields in West Potomac Park once served as the runway for the first airmail flights from Washington to New York. A rock marker on Ohio Drive, along the river and roughly across from the entrance to the FDR Memorial, shows where President Woodrow Wilson—along with hundreds of children allowed out of school for the day—watched the initial flights. Ohio Dr., SW.
6. Singing of "The Star-Spangled Banner"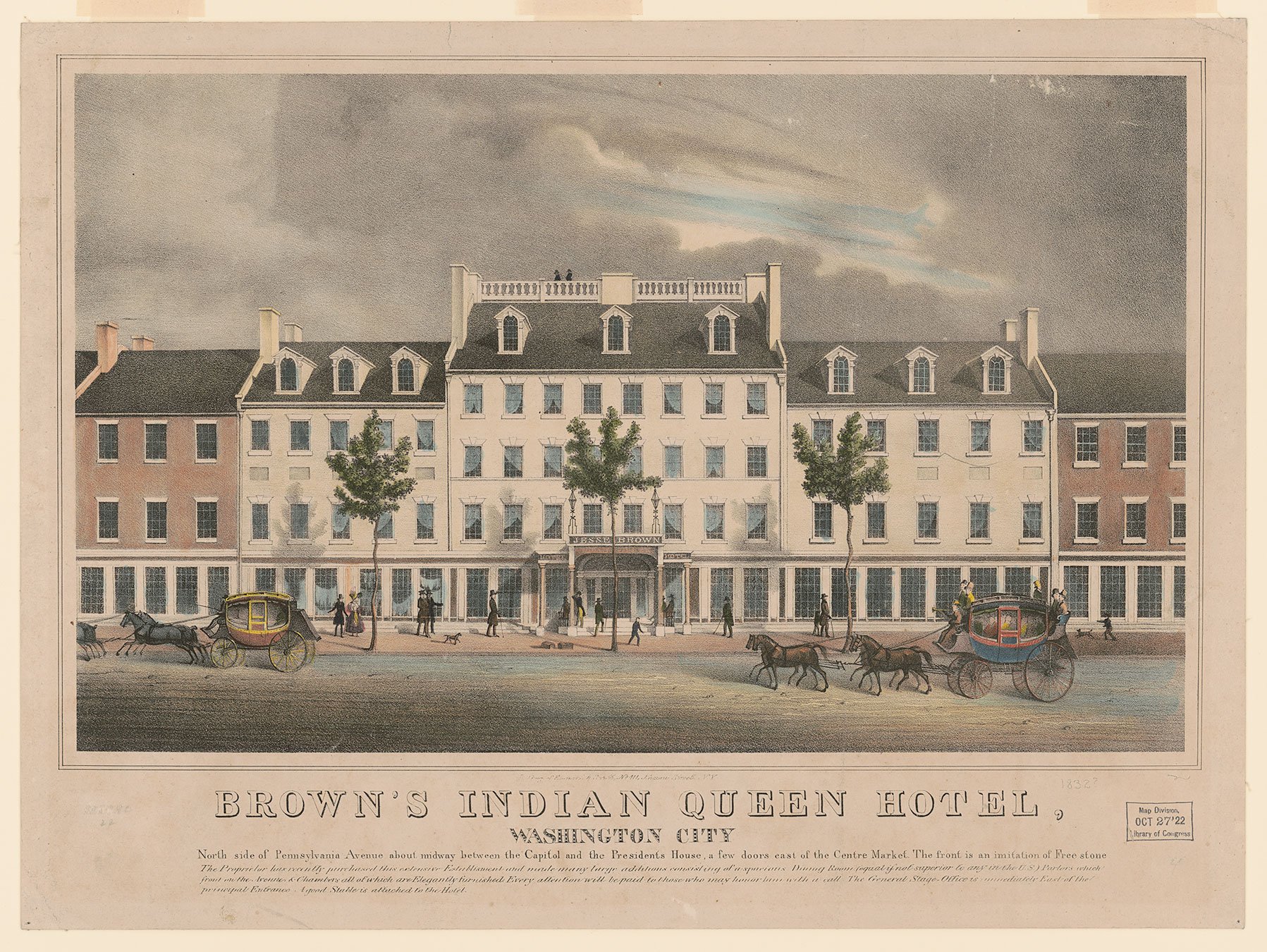 In 1814, Indian Queen Hotel—notable in its day for hosting grand events—is where "The Star-Spangled Banner" was apparently sung for the first time, by an unknown singer at an event lost to time. A plaque on what today is an office building commemorates the occasion. 601 Pennsylvania Ave., NW.
7. Braddock's Rock
Near the ramp leading from Constitution Avenue to Roosevelt Bridge, a circular stone well protects a rock 16 feet below. (Before the terrain changed, the rock was at the edge of the Potomac.) This is where General George Braddock supposedly arrived with troops to fight the French and Indian War in 1755. Braddock soon died, leaving aide George Washington in charge. Constitution Ave., NW.
8. Lincoln at Fort Stevens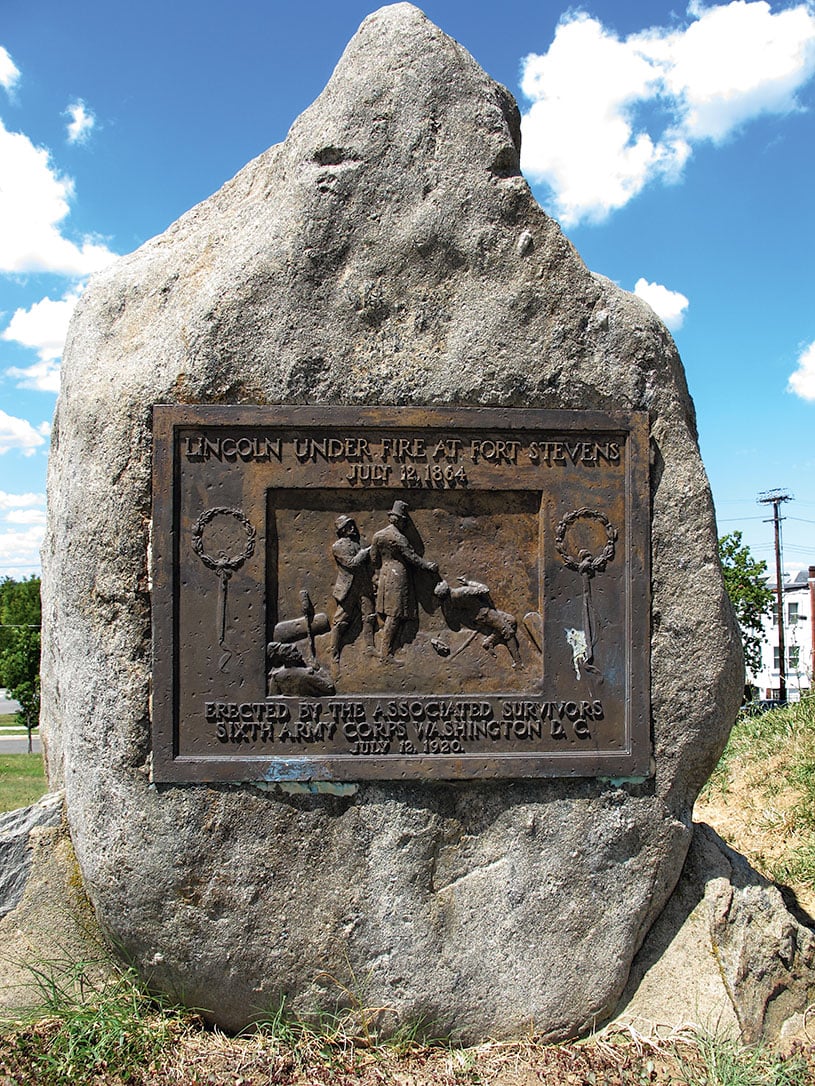 A stone marker notes where President Abraham Lincoln stood on a parapet and just missed being shot while overlooking the Battle of Fort Stevens in 1864—the only Civil War battle waged in the District. This national park, with cannons and other remains of the fort, hosts an annual day to commemorate the battle in July. 6001 13th St., NW.
---
Back to Top
Fresh Adventures
Five fun outdoor outings you may not know about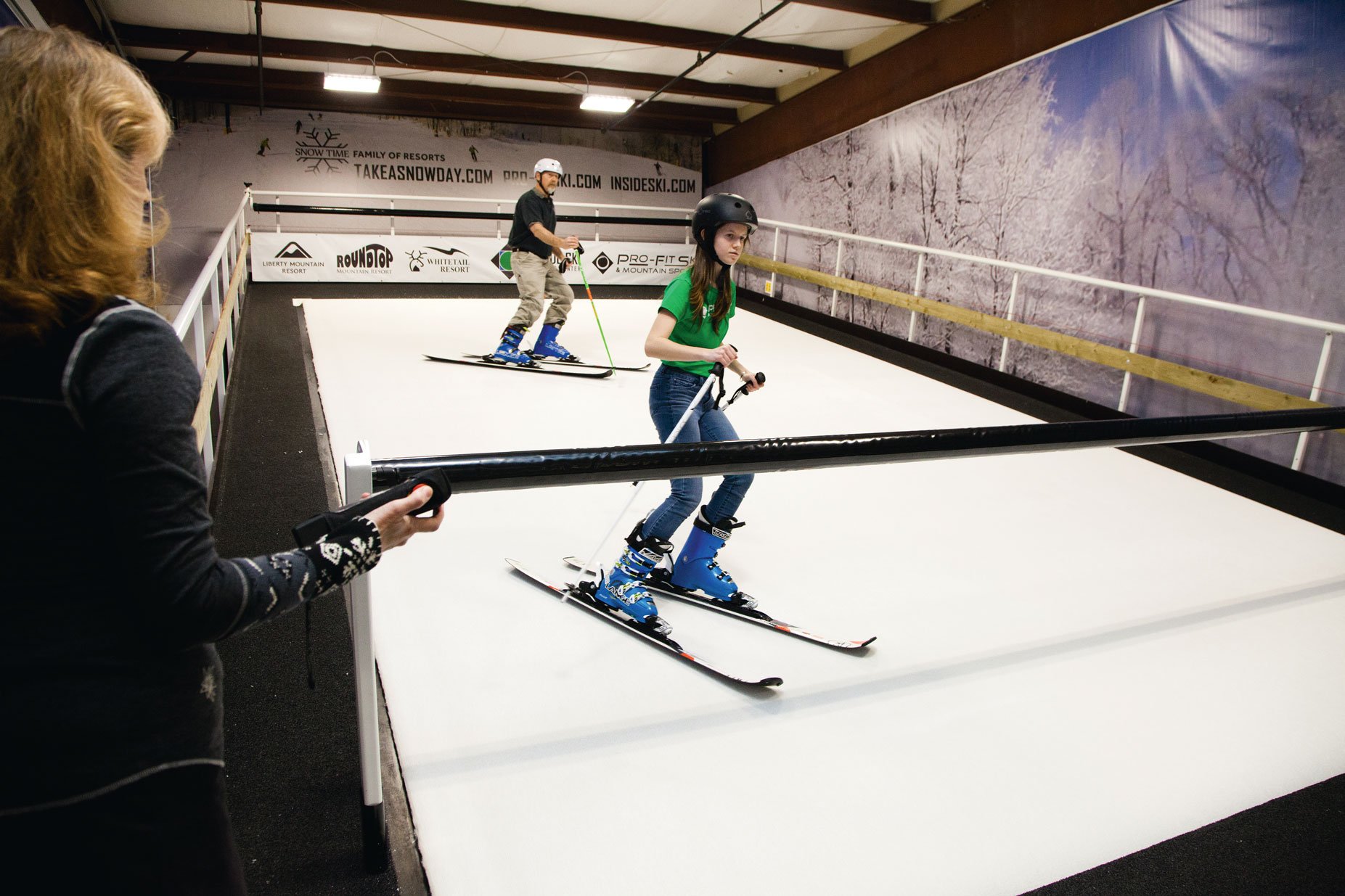 Essentially a wide treadmill on a slant in the back of a Leesburg sports shop, Inside Ski Training Center sends would-be skiers down a belt made of an AstroTurf-like material and coated with water to reduce friction. With an instructor controlling the speed, you learn the basics with no lift lines. (Granted, the views can't quite compete with an actual mountain.) $89 for one private adult lesson; packages and group rates available. 34-B Catoctin Cir., SE, Leesburg.
This Montgomery County facility—not to be confused with the more famous Cabin John Regional Park—looks at first blush like ordinary rec-department stuff: basketball courts, playing fields, a playground. The real fun, though, lies down a winding path. From there, you can hike a scenic trail next to Cabin John Creek or sit on a small beach at the creek's edge. In this narrow wooded gorge, the city disappears. 7401 MacArthur Blvd., Cabin John.
Completed in May, this three-quarter-mile-long boardwalk meanders across wet-­lands near Leesylvania State Park, with stunning views of an ecosystem that visitors might not otherwise see: tall grasses, calm waters, great blue her­ons. It's handicapped-accessible, too. 15125 Blackburn Rd., Woodbridge.
Part of Blandy Experimental Farm, this arboretum—about 70 miles from DC—is a serene alternative to the more touristy National Arboretum. In fact, if you're driving too fast on Route 50, you could miss it. Some 172 acres of native plants include boxwoods, wildflowers, and more than 5,000 trees. Stroll quiet paths or sit and take in the views. Even in winter, it can be appreciated via a three-mile scenic loop drive. 400 Blandy Farm Ln., Boyce.
At Waredaca Farm and Brewing Company near Damascus, no horseback experience is required for a one-hour guided ride through forest and pastures and, finally, to the on-site brewery for a tasting. Rides start up for the season in late March. $60 ($50 just for the trail ride). 4017 Damascus Rd., Laytonsville.
---
Back to Top
Ten Under-the-Radar Attractions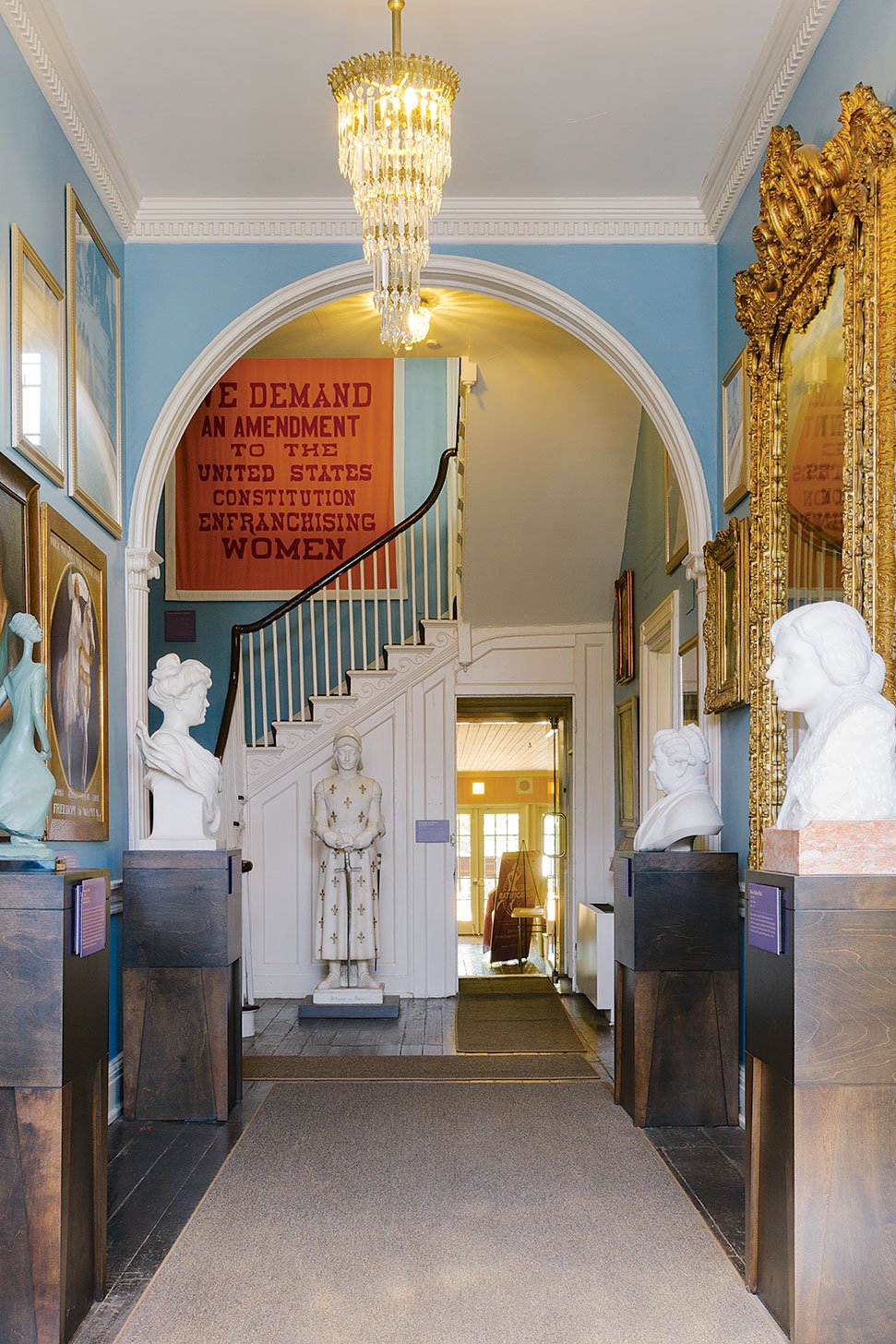 In a building burned by the British during the War of 1812, the headquarters of the National Woman's Party chronicles the struggle for the 19th Amendment, which gave voting rights to women. Check out the desk of Susan B. Anthony. 144 Constitution Ave., NE. Free.
Test your skills as a 911 operator or a police officer in a hands-on decision-making simulation. Examine forensic evidence, compare your sense of smell against a canine's, and check out deadly prison contraband such as a gun made of paper that actually fired a metal bullet. 444 E St., NW. $21.95.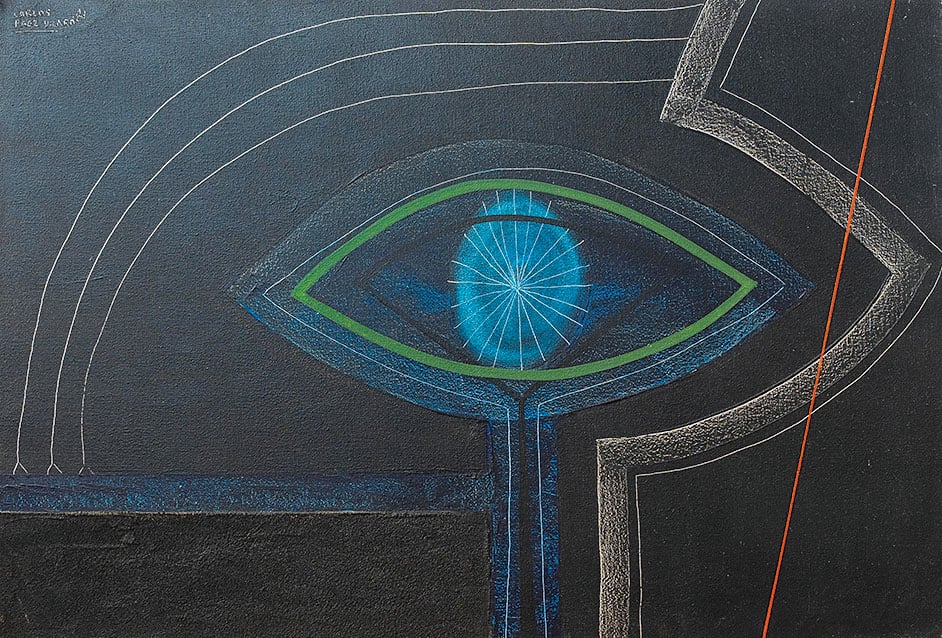 This museum showcases the work of Latin American artists, much of which deals with contemporary socio­political issues. Look up as you walk through the solarium: It's tiled with a mosaic of images from Mesoamerica. Before you go, make a reservation to see the stunning underground mural, "Roots of Peace." 201 18th St., NW. Free.
The world's oldest continually operating airport opened in 1909, when Wilbur Wright taught military aviators in the federal government's first airplane. Public flights followed in 1912. The museum includes historic aircraft and hands-on activities for kids. 1985 Corporal Frank Scott Dr., College Park. $5.
True, it failed at its initial job of protecting Washington—it was captured by British forces in the War of 1812 after the city's burning. But nowadays, the old fort in Prince George's County, abandoned by the US military in 1946, is a national park where kids can climb on cannons and you can picnic. 13551 Fort Washington Rd., Fort Washington. Free.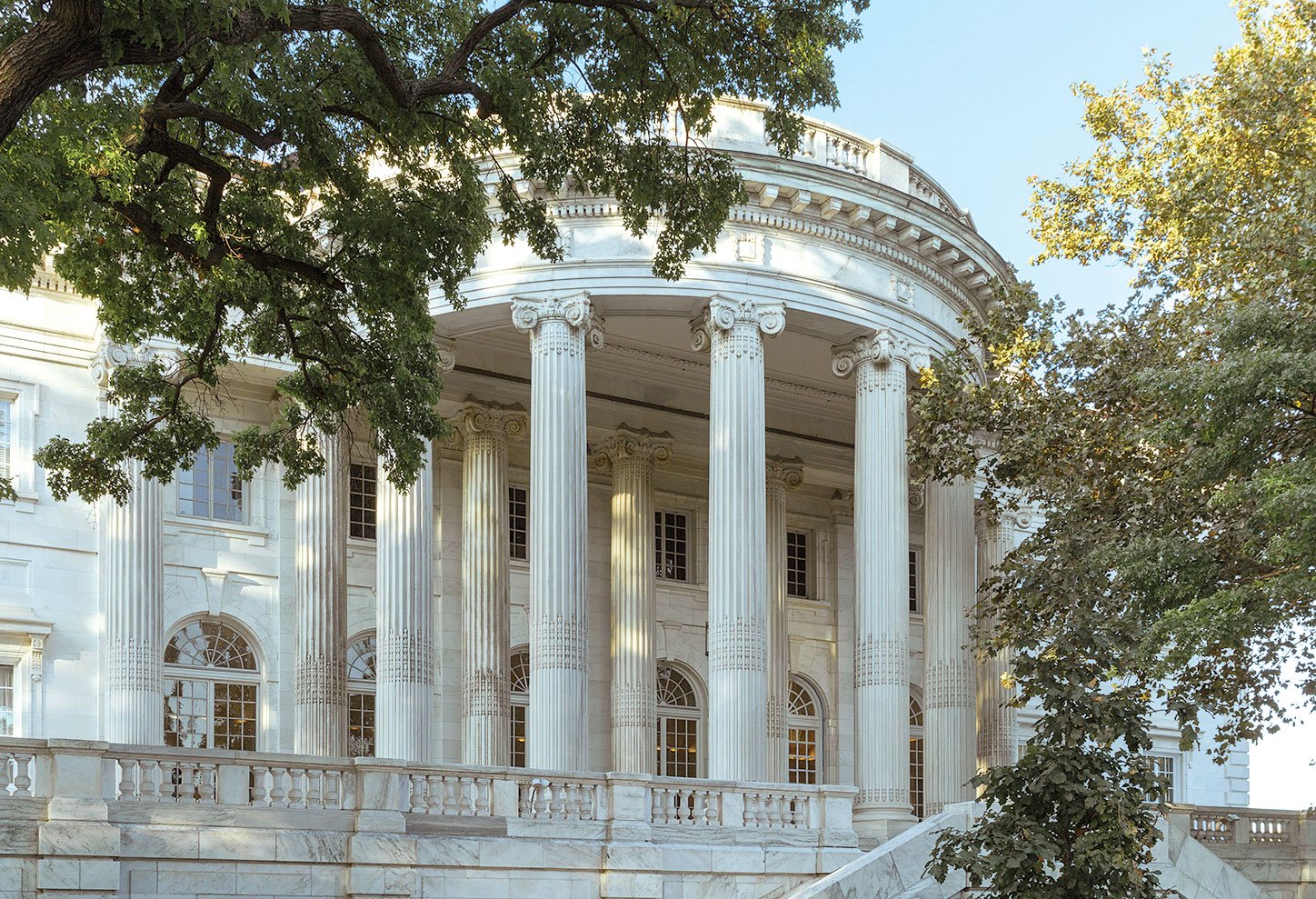 Snap a photo on the south portico, where The West Wing filmed some scenes. Inside the headquarters of one of the nation's oldest women's societies, 31 state rooms are furnished in period decor, a US history lesson in itself. Don't miss the New Hampshire children's playroom. 1776 D St., NW. Free.
POTUS 28 retired to this Kalorama mansion. He lived there three years, and wife Edith resided in the house until her 1961 death—the day the Wilson Bridge opened. Among the artifacts is a baseball signed by Britain's King George V. 2340 S St., NW. $15.
This neoclassical home built in 1816 by Thomas and Martha Custis Peter—a son of Georgetown's first mayor and a granddaughter of Martha Washington—remained in the Peter family for 178 years, making it a fascinating timeline of American antiques and history. The gardens even feature some original plantings. 1644 31st St., NW. $10.
Lincoln assassin John Wilkes Booth's escape route included the Surratt house to obtain guns and Dr. Mudd's to be treated for a broken ankle. Surratt House, 9118 Brandywine Rd., Clinton; $5. Mudd House, 3725 Dr. Samuel Mudd Rd., Waldorf; $7.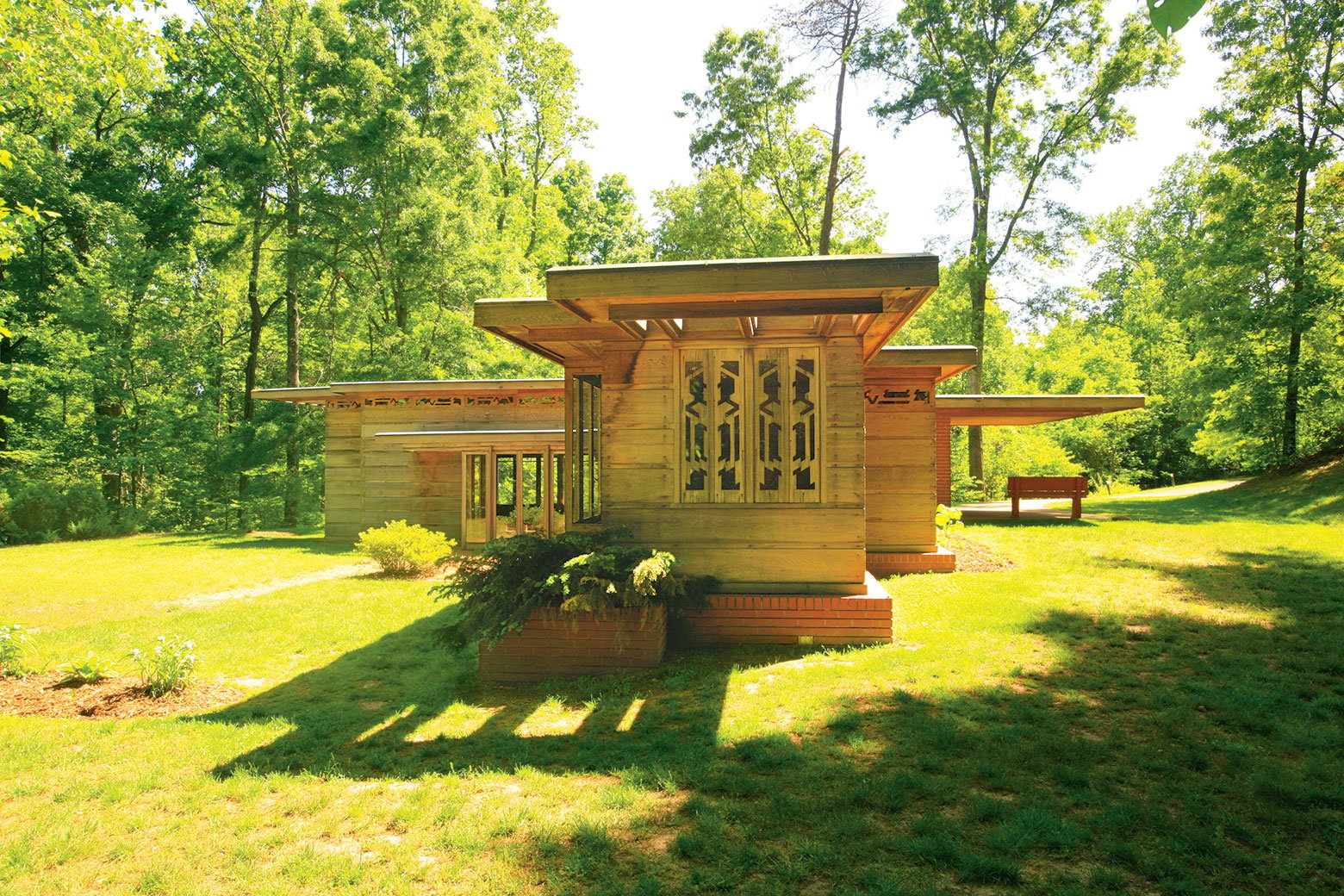 A Frank Lloyd Wright home designed for a middle-class family, it cost so much—$7,000 in 1941—that Wright declined his final payment. The furniture was designed by the architect, too. 9000 Richmond Hwy., Alexandria. $15.
---
Back to Top
Salute the Troops
Six military museums.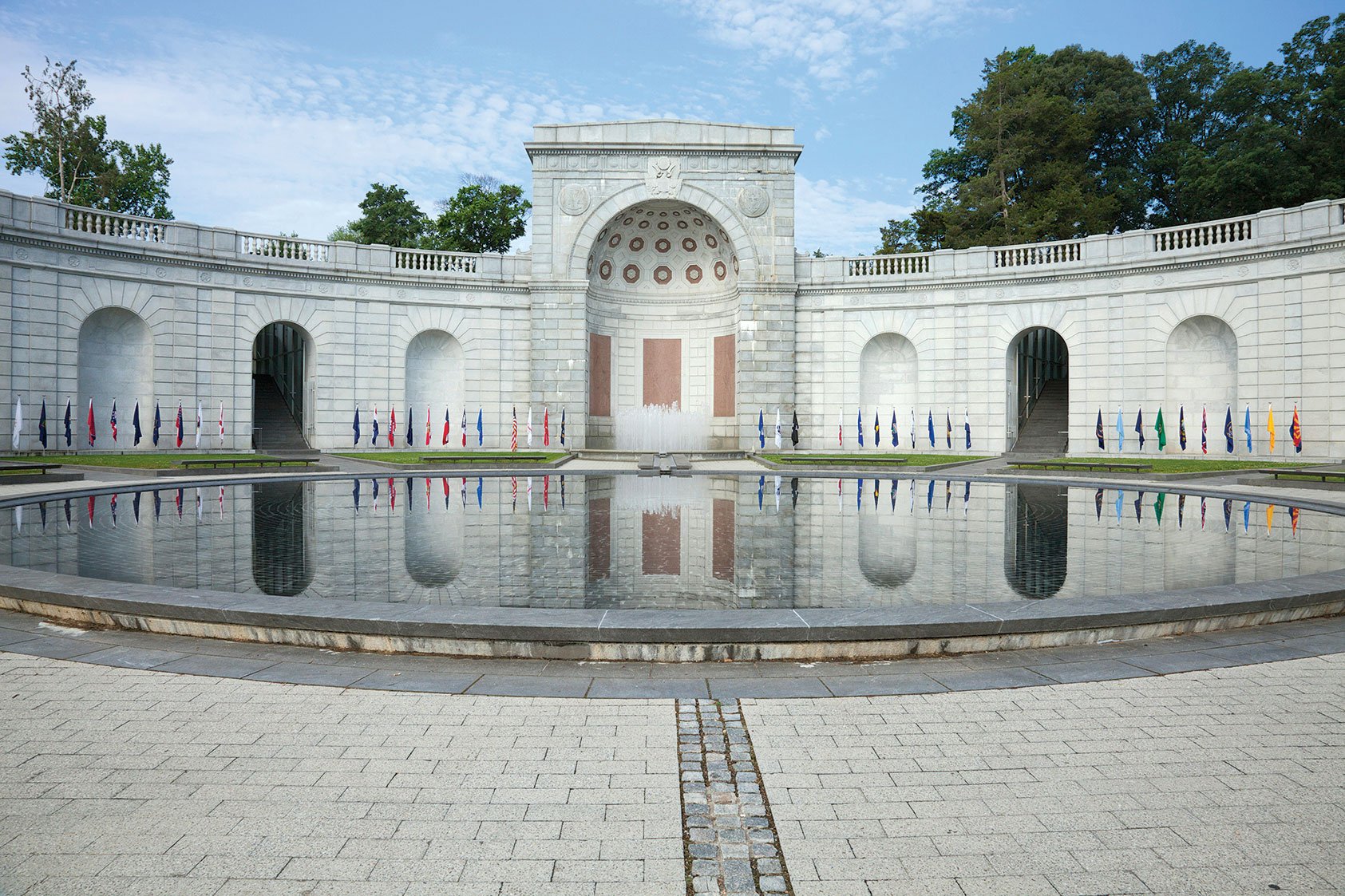 The only major national memorial to women in the military, WIMSA is housed in the ceremonial entryway to Arlington National Cemetery. The current "Fallen Military Women" quilt exhibit has been extended indefinitely. Memorial Ave., Arlington.
Drink a beer in a replica of Tun Tavern, where the Marine Corps was founded in Philadelphia in 1775. Non-replica artifacts include an American flag raised over Iwo Jima. 18900 Jefferson Davis Hwy., Triangle.
The US Colored Troops were 10 percent of the Union Army. See Harper's Weekly drawings of campaigns and learn of the 25th Army Corps capturing the Confederate capital of Richmond. On monthly Descendants Days, storytellers share ancestors' tales. 1925 Vermont Ave., NW.
The bathyscaphe Trieste, a 1960 submersible that has the record for the deepest dive into the Marianas Trench, is here. Also cool: a German armored diving suit, a kamikaze training plane, and scale model ships. 736 Sicard St., SE.
See a handwritten militia order to assemble in Boston on the second day of the American Revolution, the uniform of the first woman to serve in the Air National Guard, and mini dioramas depicting heroic episodes in National Guard history. 1 Massachusetts Ave., NW.
Our favorite items include a timeline of naval history, a scale model of the aircraft carrier USS York­town, and Navy uniforms on display. 701 Pennsylvania Ave., NW.
---
Back to Top
Hidden Treasures
Three not-so-congressional artifacts in the Library of Congress, rarely on view—but online.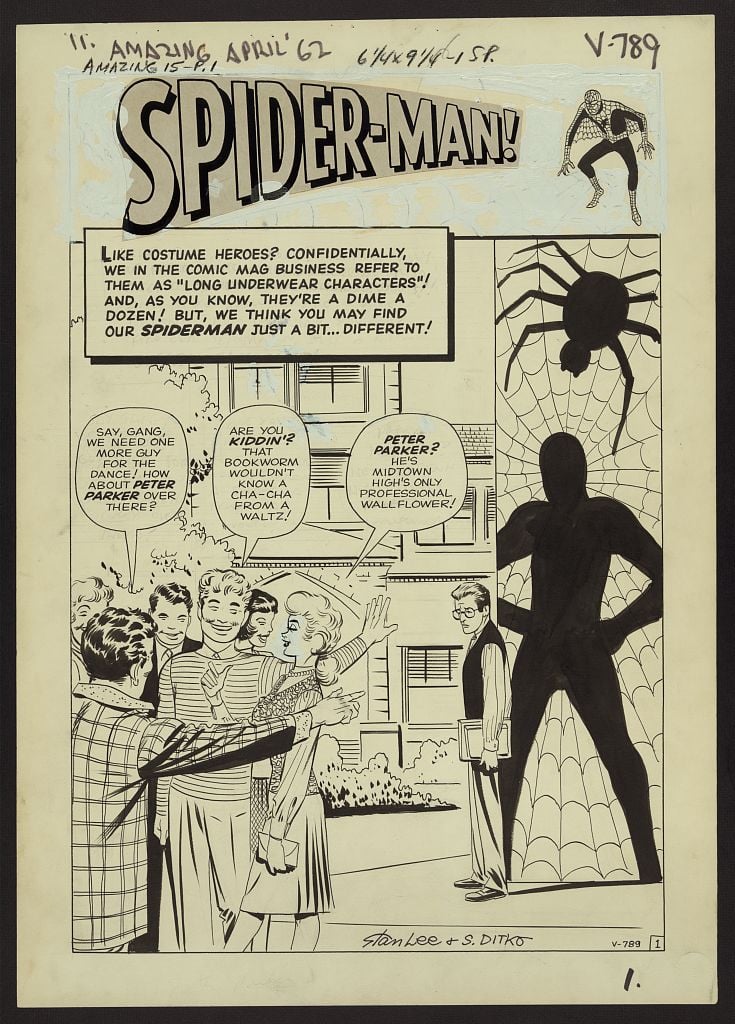 The library archives comic books, too, including pages that illustrate the origin of Spider-Man.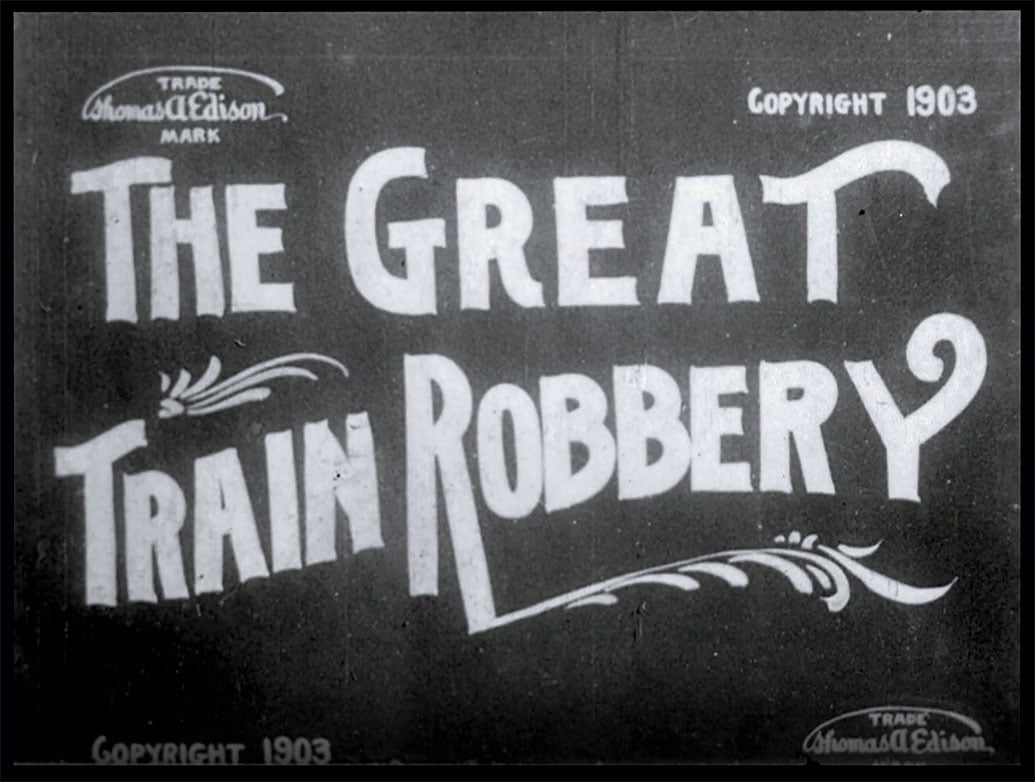 The 1903 film, the first of at least four to use that title, is less than 15 minutes long—but it innovated techniques such as shooting on location.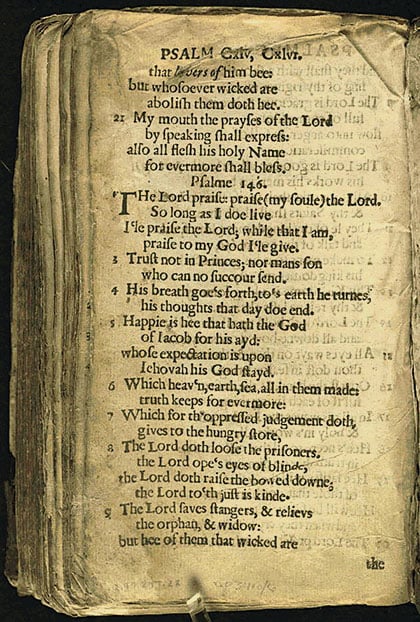 This book of hymns from 1640 was the first book printed in British North America—specifically, Cambridge, Massachusetts.
---
Back to Top
Secret Bars
Drinks with a dash of intrigue.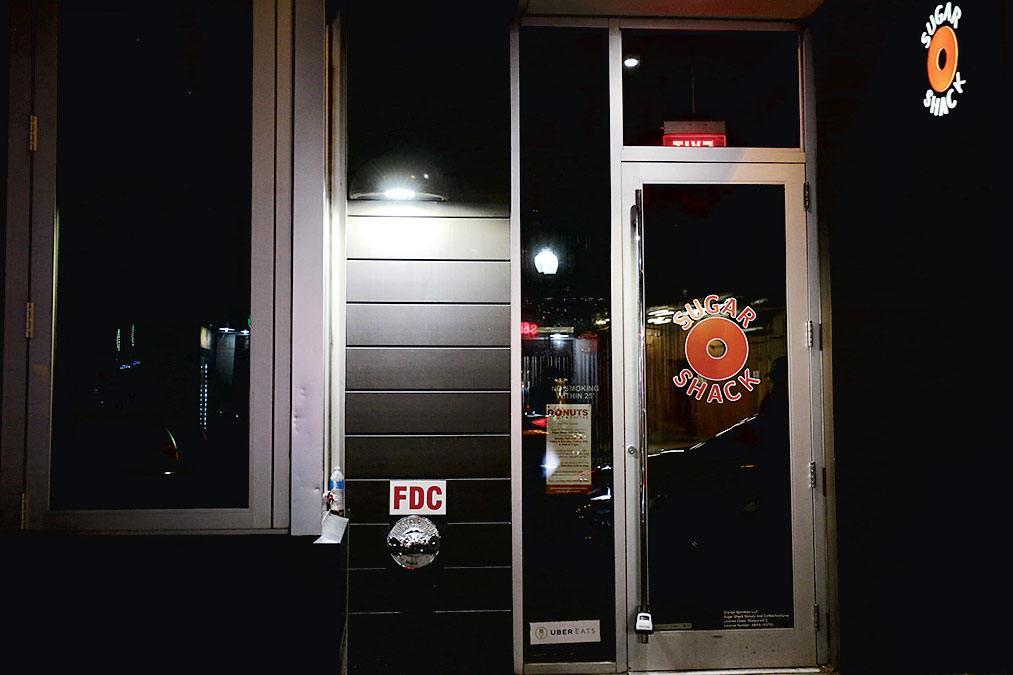 Can you find the sliding door hidden within the walls of Sugar Shack? Hint: Look for a raised whiskey flag. Give the flag a tug and you'll be transported to a sea-inspired bar, with lobster cages, string lights, and ships' steering wheels. Sugar Shack's DC location is home to a sister bar, Nocturne. Captain Gregory's, 804 N. Henry St., Alexandria. Nocturne, 1932 Ninth St., NW.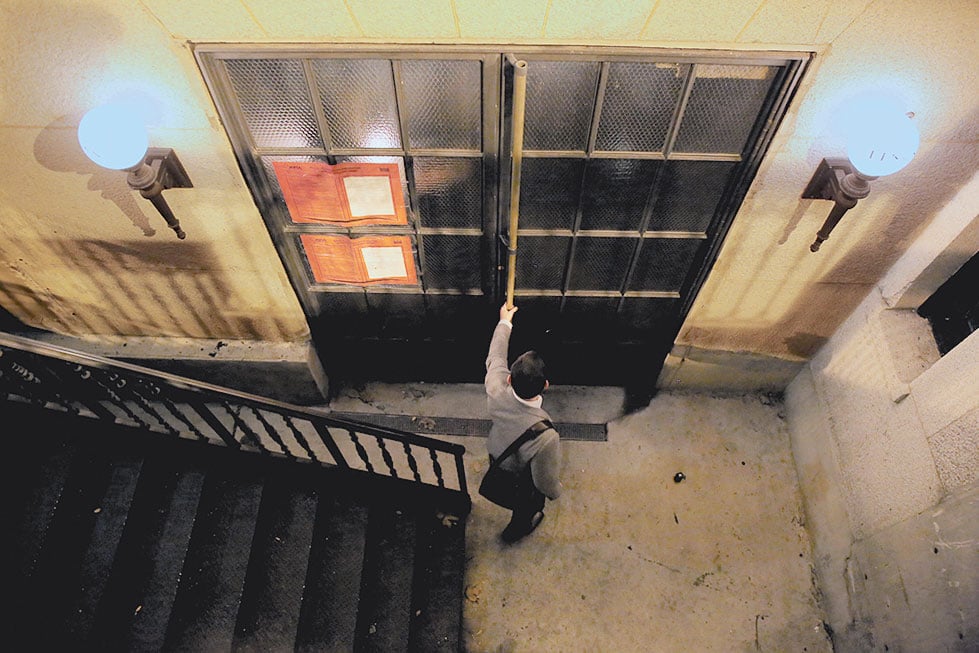 Adjacent to Capital One Arena is the unassuming Fuel Pizza & Wings. Peer around the corner and descend a metal staircase to an alley with a set of double doors. A faint glimmer of light lets you know the basement speakeasy is open for business. There, you can indulge in such fare as grilled cheese, oysters, and housemade cocktails. 600 F St., NW.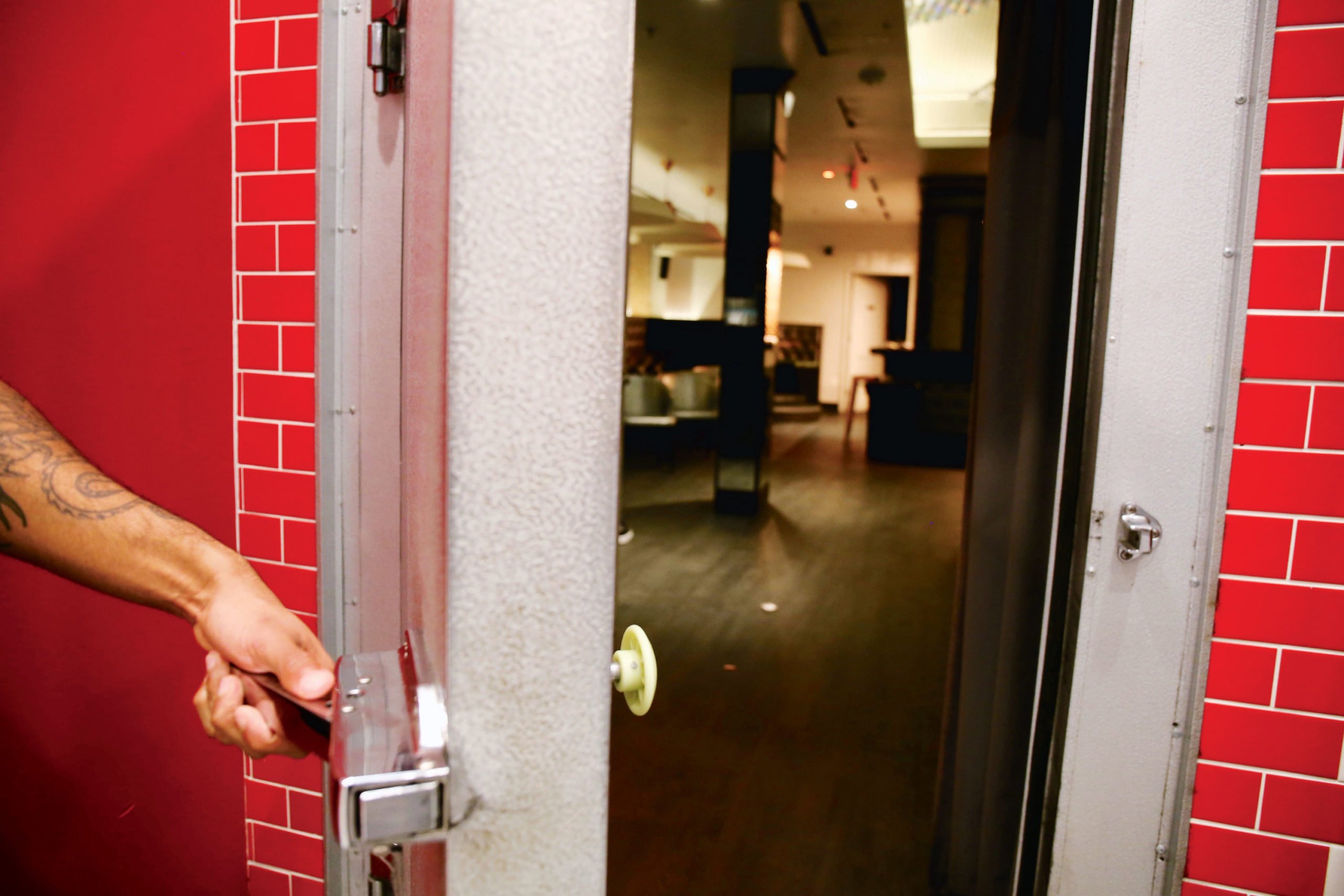 In the rear corner of Capo Italian Deli is a freezer door with a caged light overhead. If the light glows red, feel free to peek inside—a cocktail bar awaits. Slide onto a velvet sofa under an ornate chandelier and jam out to live music or a DJ while you sip mixed drinks or nibble on a Buffalo-chicken cheesesteak, tricolor pasta, or tiramisu. 715 Florida Ave., NW.
---
Back to Top
Be an Embassy Insider
Six ways to appreciate foreign exchange.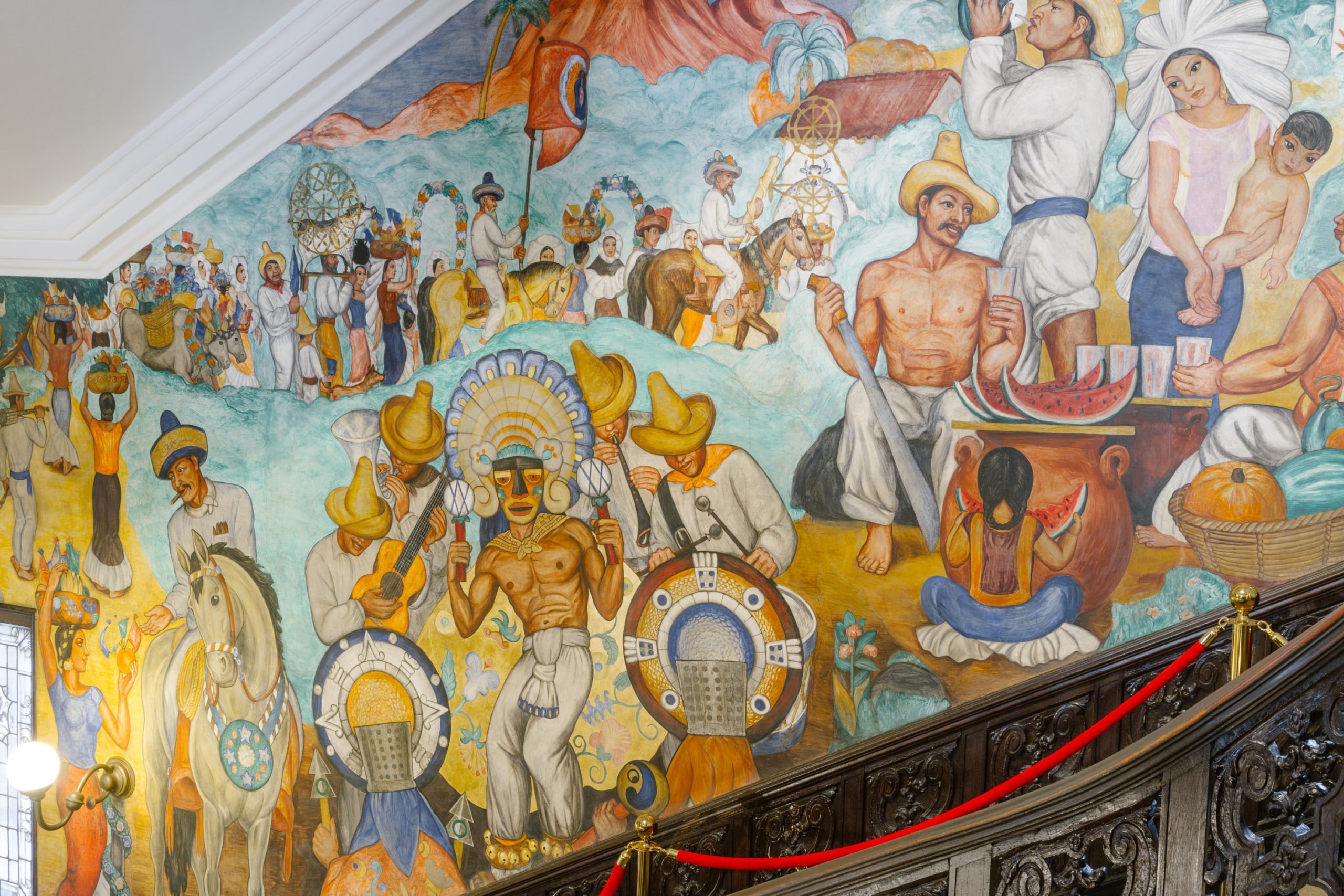 At the Mexican Cultural Institute, the dramatic, recently restored Roberto Cuevas del Rio mural lining the three-story stair-case tells the story of Mexico's history and its long friendship with the US. 2829 16th St., NW.
Argentina's embassy has been teaching tango's cruce dance step for 20 years. Three sessions of four classes each are planned for 2020. Classes fill fast. Check dates on Twitter: @arginusa. 1600 New Hampshire Ave., NW.
The National Film Centre of Latvia partners with the Latvian Embassy to showcase the country's film industry. A yearlong festival running through May screens movies usually on the third or fourth Thursday of the month at 6 pm. To reserve free tickets, search for Latvian Film Club at eventbrite.com. 2306 Massachusetts Ave., NW.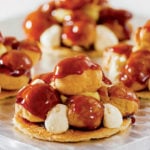 Mark Courseille, who worked with legendary chef Michel Richard at Citronelle, is executive chef at Le Café Descartes in the French Embassy. Weekday options include a three-course, $38 menu du jour. For reservations and mandatory preregistration, e-mail reservations@lecafedescartes.com. 4101 Reservoir Rd., NW.
5. Bond Over Soccer in Europe
Expats often gather at their respective embassies to cheer on their teams when it's international-soccer-tourney time. This year's big event: the UEFA European Championship, mid-June through July. You don't have to be a foreign expat to go, but try to root for the home team on embassy property. Check dc-embassy-events.org or embassy websites for details on watch parties.
6. Attend an Art Opening in Korea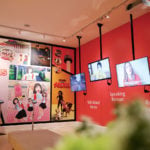 A new exhibit showcasing South Korean art opens on the first Friday of every month at the embassy's Korean Cultural Center. The jury-selected artist is often present at the opening, with a reception following the artist's remarks. Reserve free tickets at washingtondc.korean-culture.org. 2370 Massachusetts Ave., NW.
---
Back to Top
Hidden in Plain Sight
DC Cycling Concierge owner Jeff Miller leads bike tours that often reveal the city's lesser-known sights. These are six of his favorites.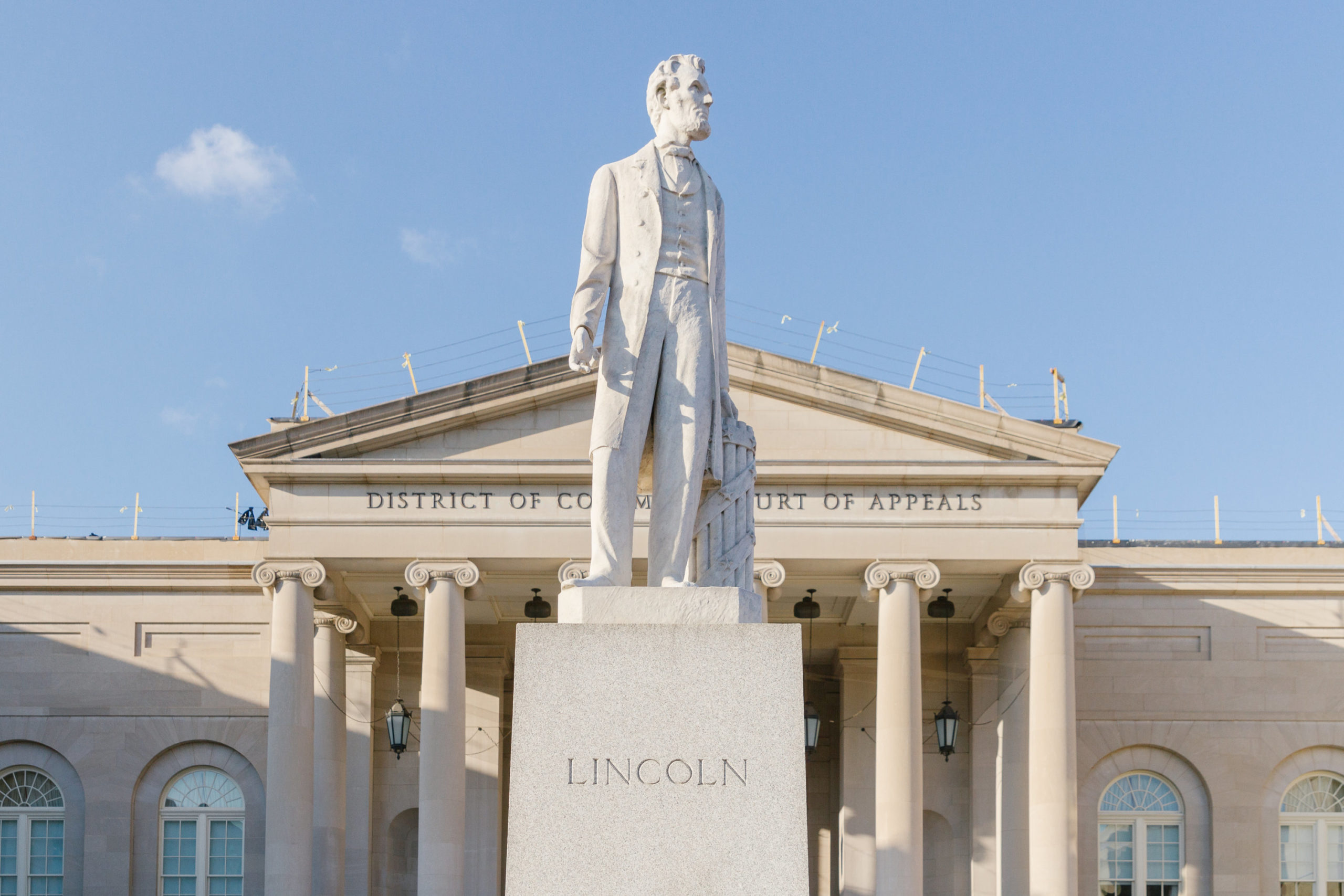 1. The "Original" Lincoln Memorial
The Lincoln Memorial was dedicated 57 years after he was assassinated, but this marble statue of the 16th President went up just three years after his death, outside what's now the DC Court of Appeals. "The sculptor, Lot Flannery, was at Ford's Theatre the night Lincoln was shot," Miller says. Indiana Ave., NW, between Fourth and Fifth Sts.
2. Bartholdi Fountain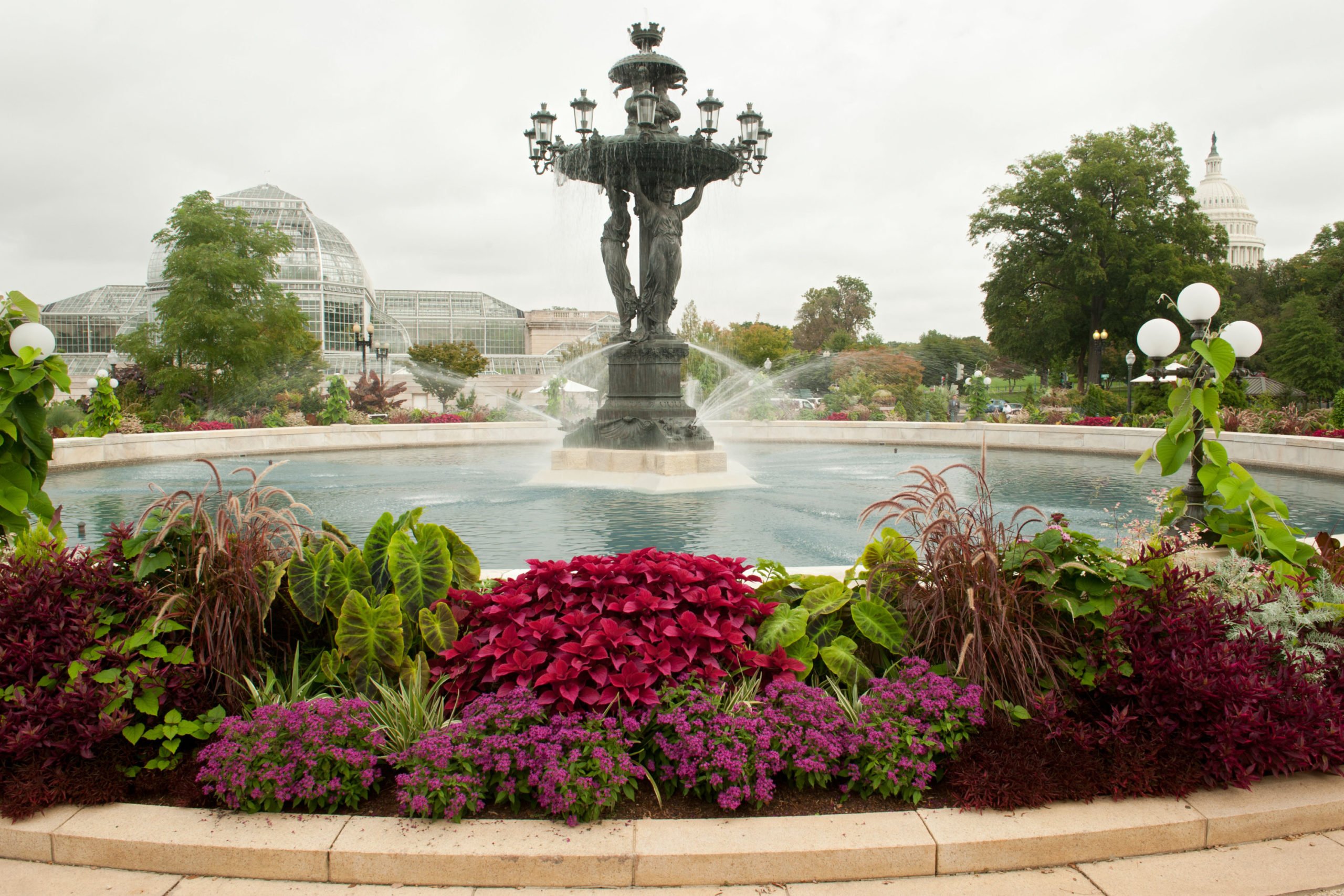 This cast-iron fountain in the Botanic Gardens was designed by Frédéric Auguste Bartholdi, who went on to conceive the Statue of Liberty. "It's so dramatic and over the top," Miller says. "At night, it's just stunning, having the fountain lit up and the Capitol dome lit behind it." Independence Ave. and First St., SW.
3. John Ericsson Memorial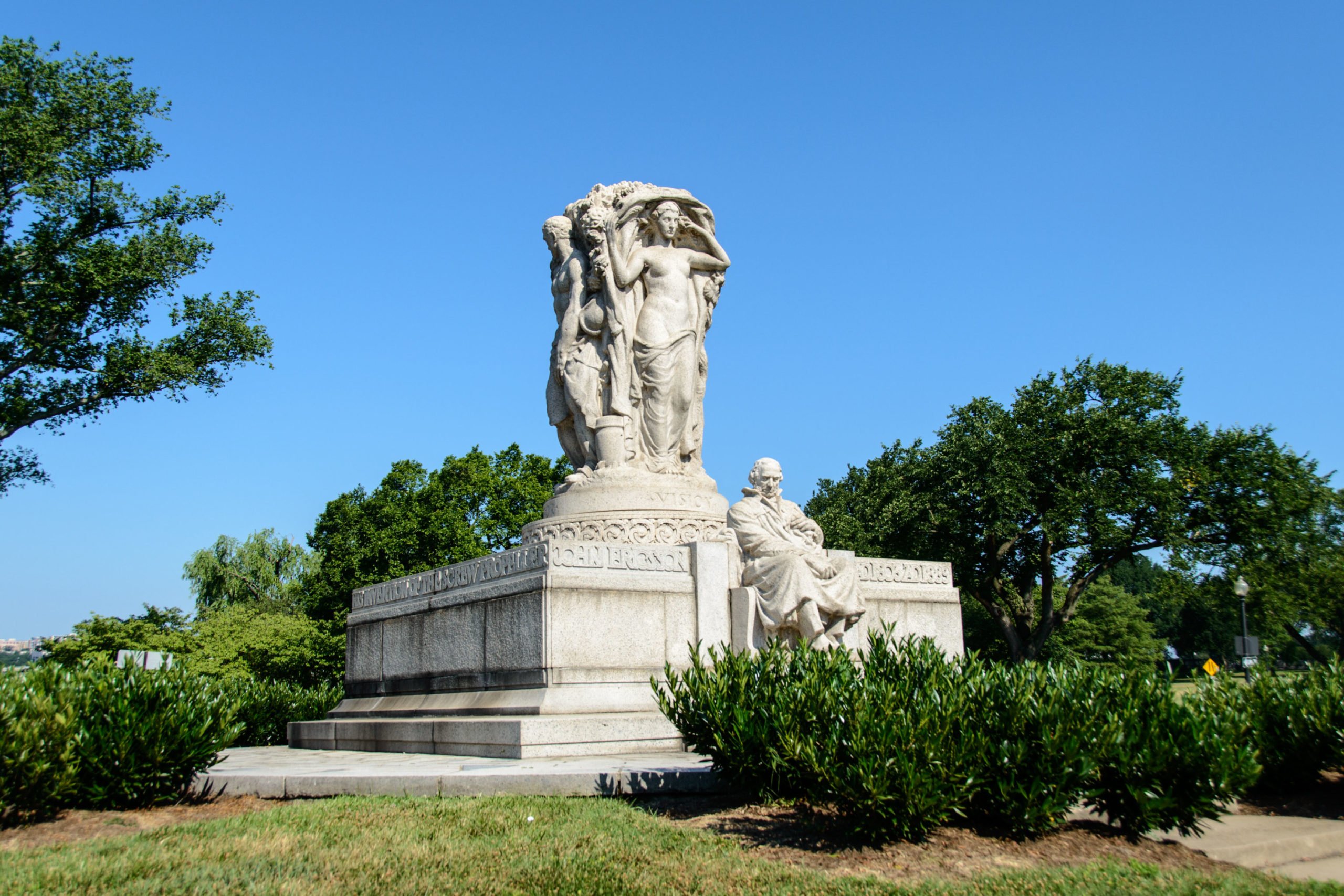 Ericsson, a little-known Swedish-immigrant engineer, invented the screw propeller and ironside boat with a rotating cannon turret—which Miller says helped the Union win the Civil War. Ohio Dr. and Independence Ave., SW.
4. Kilroy Was Here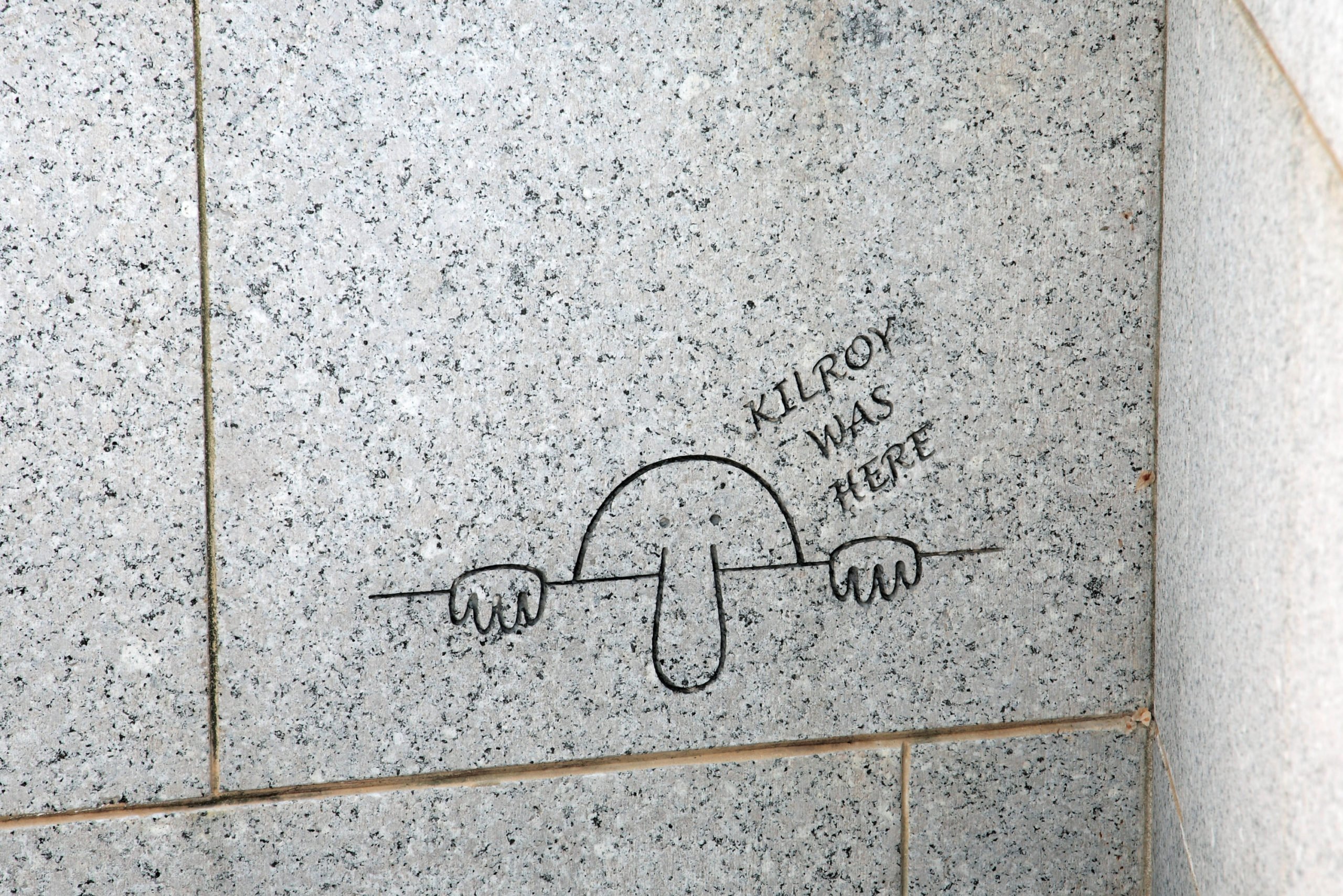 Wherever American GIs went during World War II, KILROY WAS HERE graffiti followed—the bald man with a long nose was tagged on many a surface. Fittingly, the tradition was incorporated into the World War II Memorial. Walk behind the memorial, Miller says, and you'll find KILROY WAS HERE engravings—one each on the Atlantic and Pacific sides. 1750 Independence Ave., SW.
5. George Mason Memorial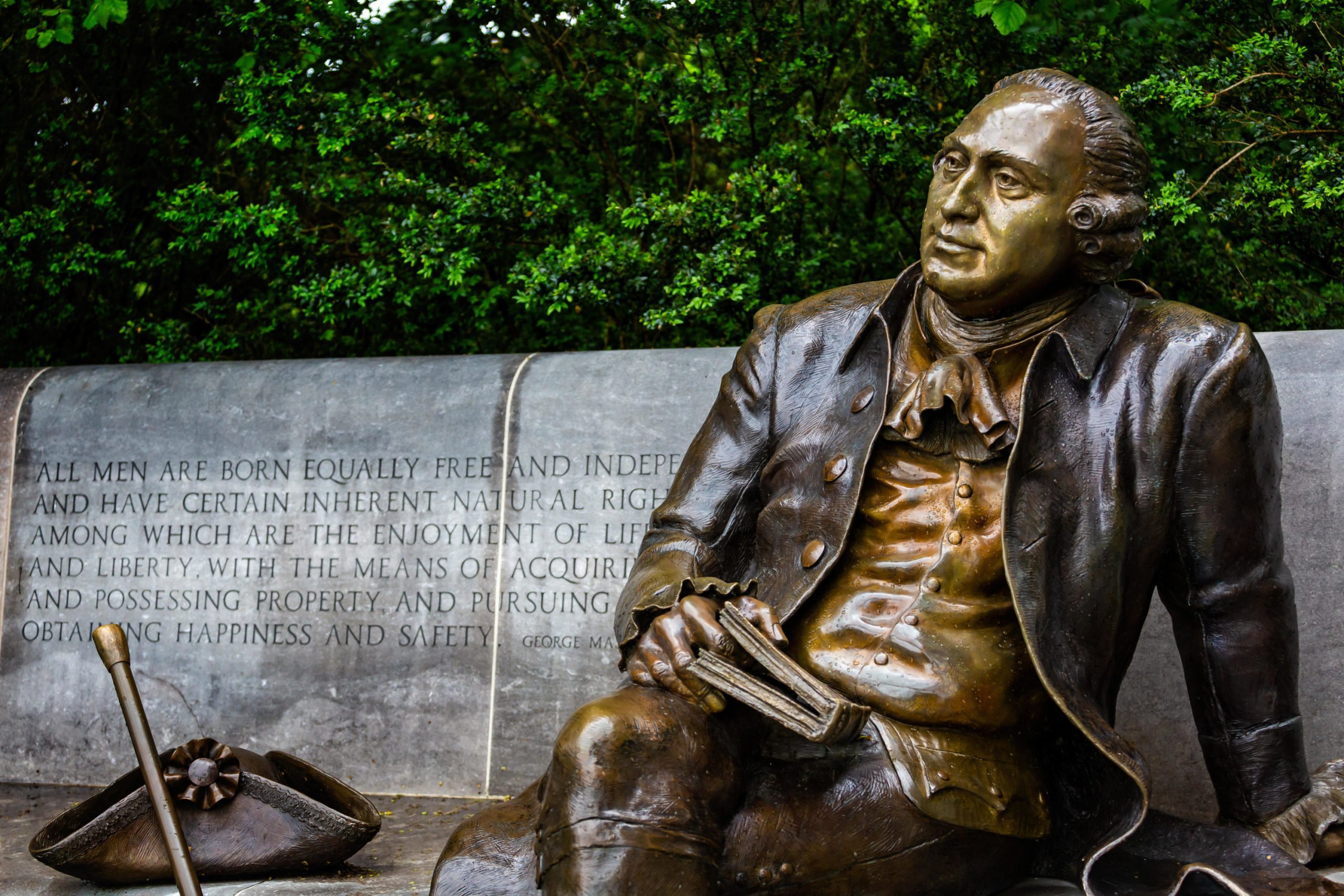 "Not a lot of people know about him," Miller says of Mason, a Founding Father, "despite his being the father of the Virginia Declaration of Rights, which many think was the basis for the Declaration of Independence." East Potomac Park.
6. Mary McLeod Bethune Memorial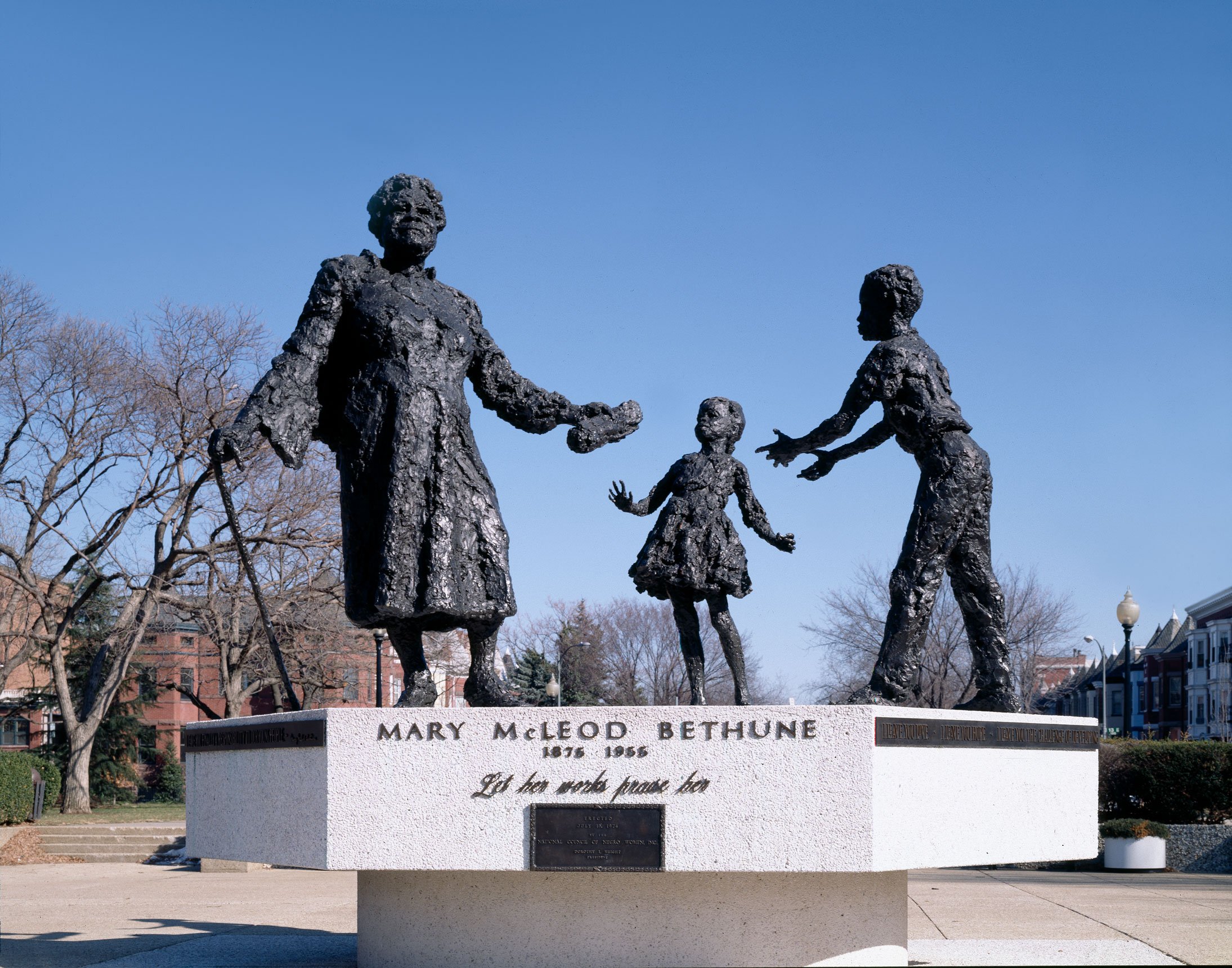 This bronze statue in DC's Lincoln Park salutes the founder of the National Council of Negro Women. Artist Robert Berks also sculpted the Albert Einstein Memorial on Constitution Avenue and the JFK bust at the Kennedy Center. "There are so few statues of women in our city," says Miller. "It's lovely that it's next to a playground and not tucked away in some forgotten spot." E. Capitol and 11th sts, NE.
---
Back to Top
Four More Things Hidden in Plain Sight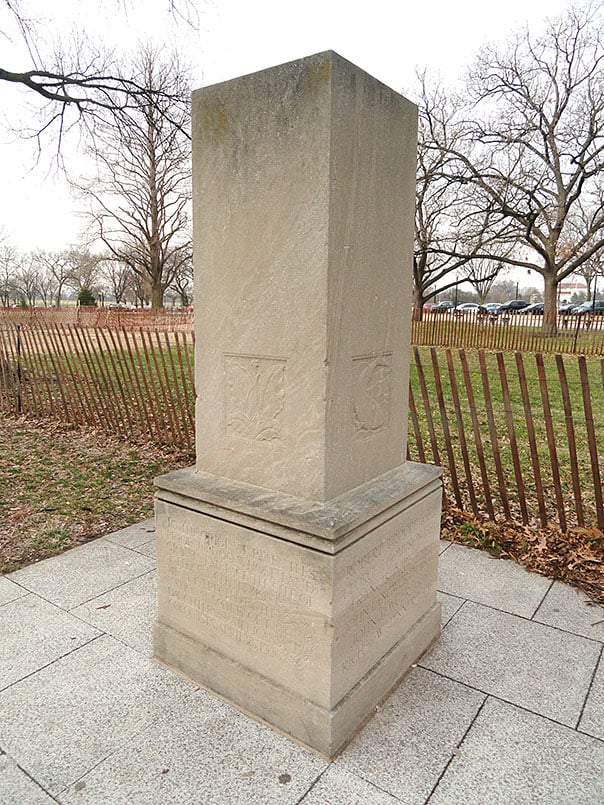 A small granite marker, often hemmed between food trucks and the Ellipse, names the 18 patentees prior to 1700 whose land formed the capital. Tobacco, wild-turkey, corn, and fish symbols recall their agricultural pursuits on the land. 15th St. and Pennsylvania Ave., NW.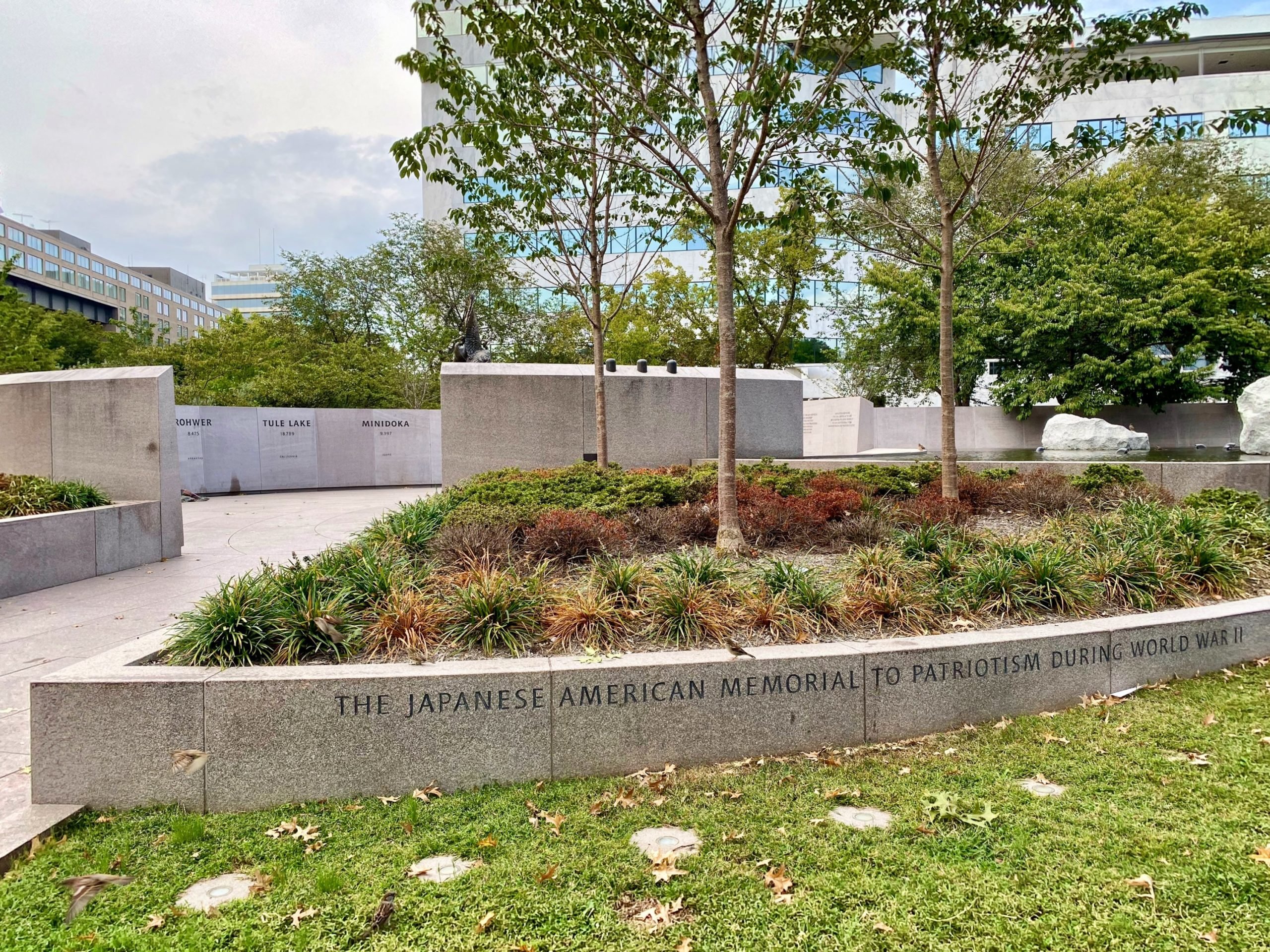 A granite wall honors the 120,000 Japanese Americans interned during World War II. Bronze cranes in barbed wire symbolize the struggle for freedom. Louisiana Ave. and D St., NW.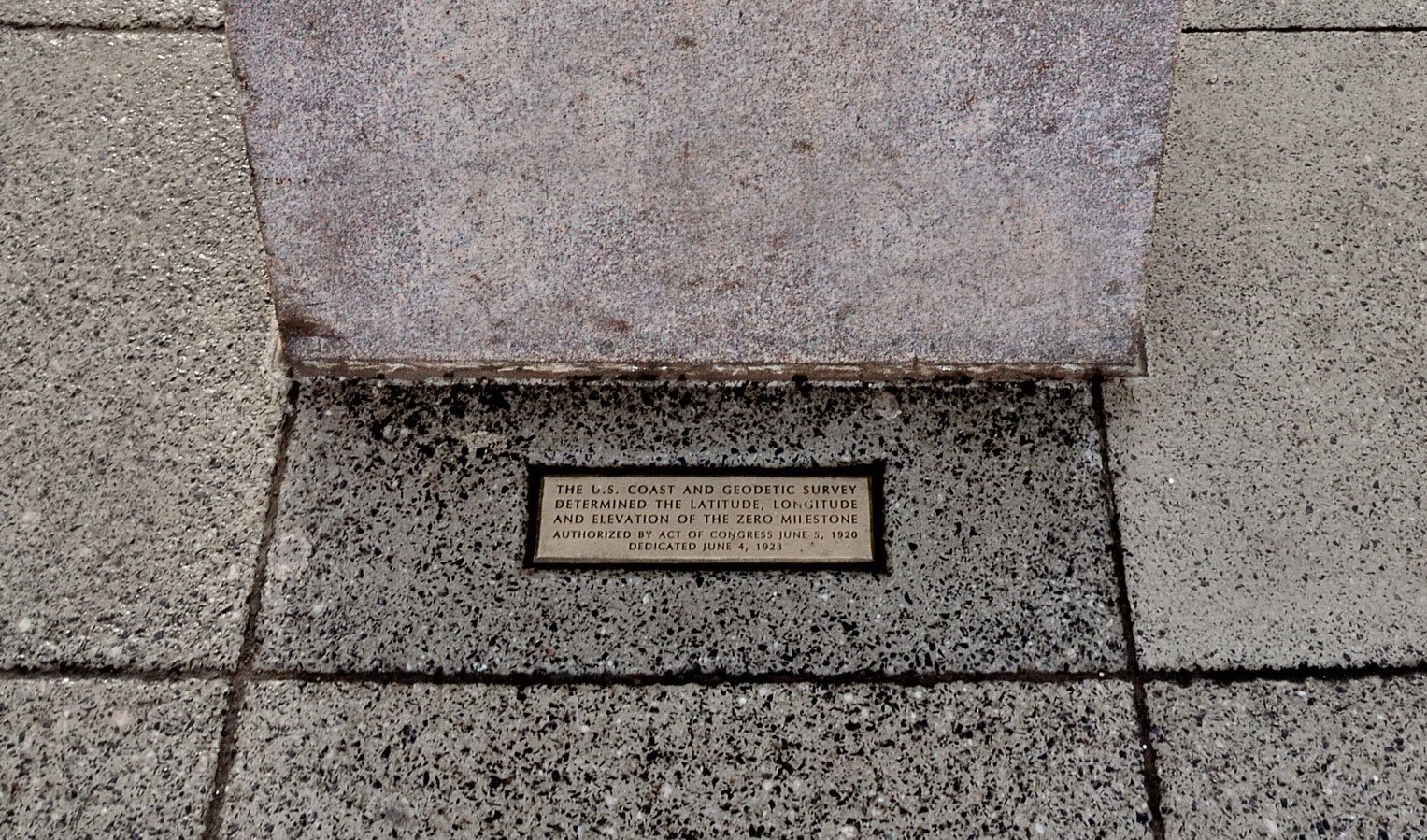 The Good Roads Movement conceived this stone marker with a bronze compass, dedicated in 1923, with the idea that every US and Western Hemisphere highway should have a beginning point, à la Rome's Golden Milestone. It never caught on, but all distances in and around DC are measured from here. E St. between 15th and 17th sts., NW.
4. Godey Lime Kilns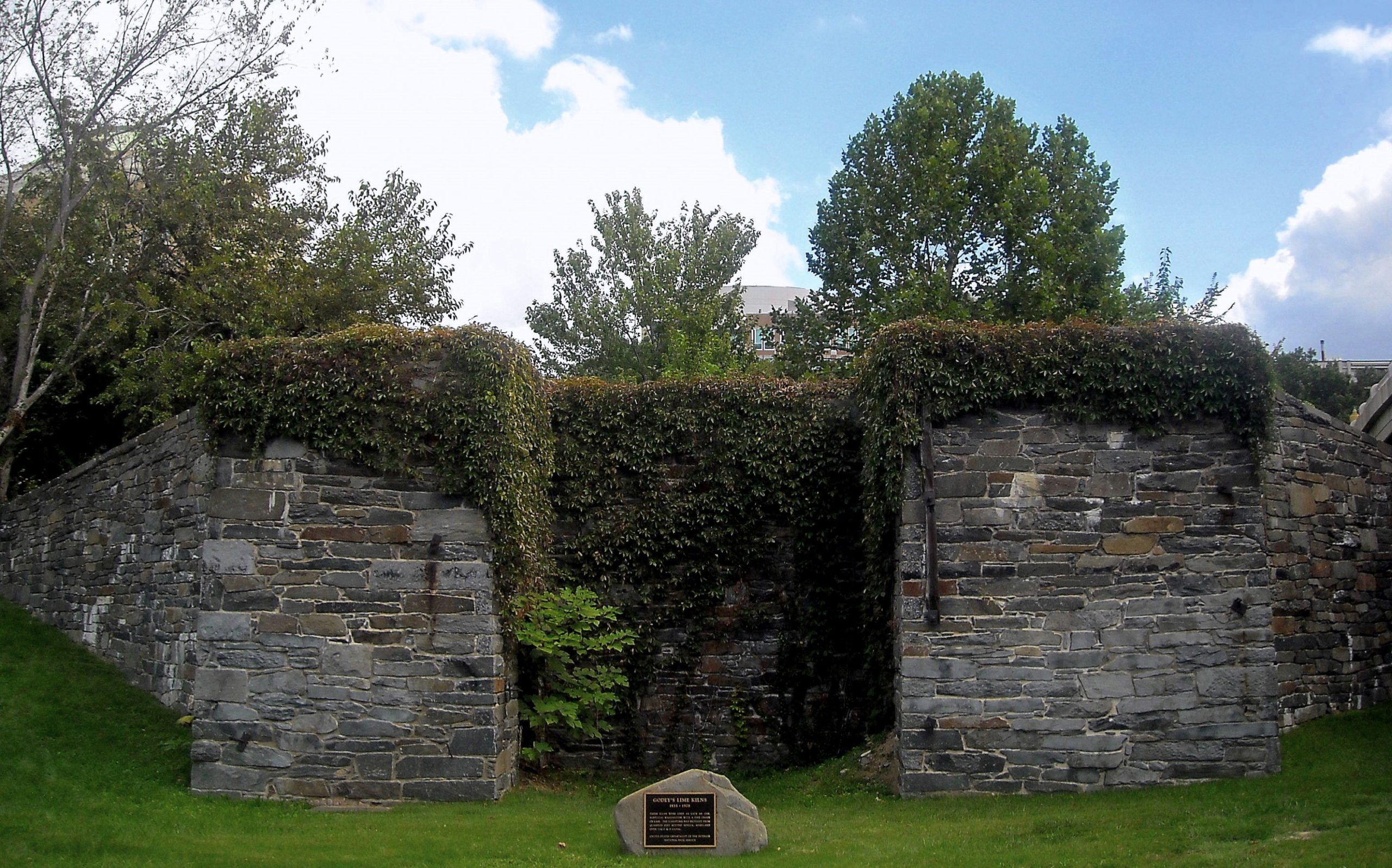 Lime production was big business in Georgetown until 1907—used as mortar in the construction of the city and supplied by vessels transporting limestone down the C&O Canal. These two remaining kilns in Foggy Bottom were saved in the name of historic preservation. Rock Creek Parkway at Whitehurst Freeway.
---
Back to Top
Home of the Grave
Area headstones to see before you die.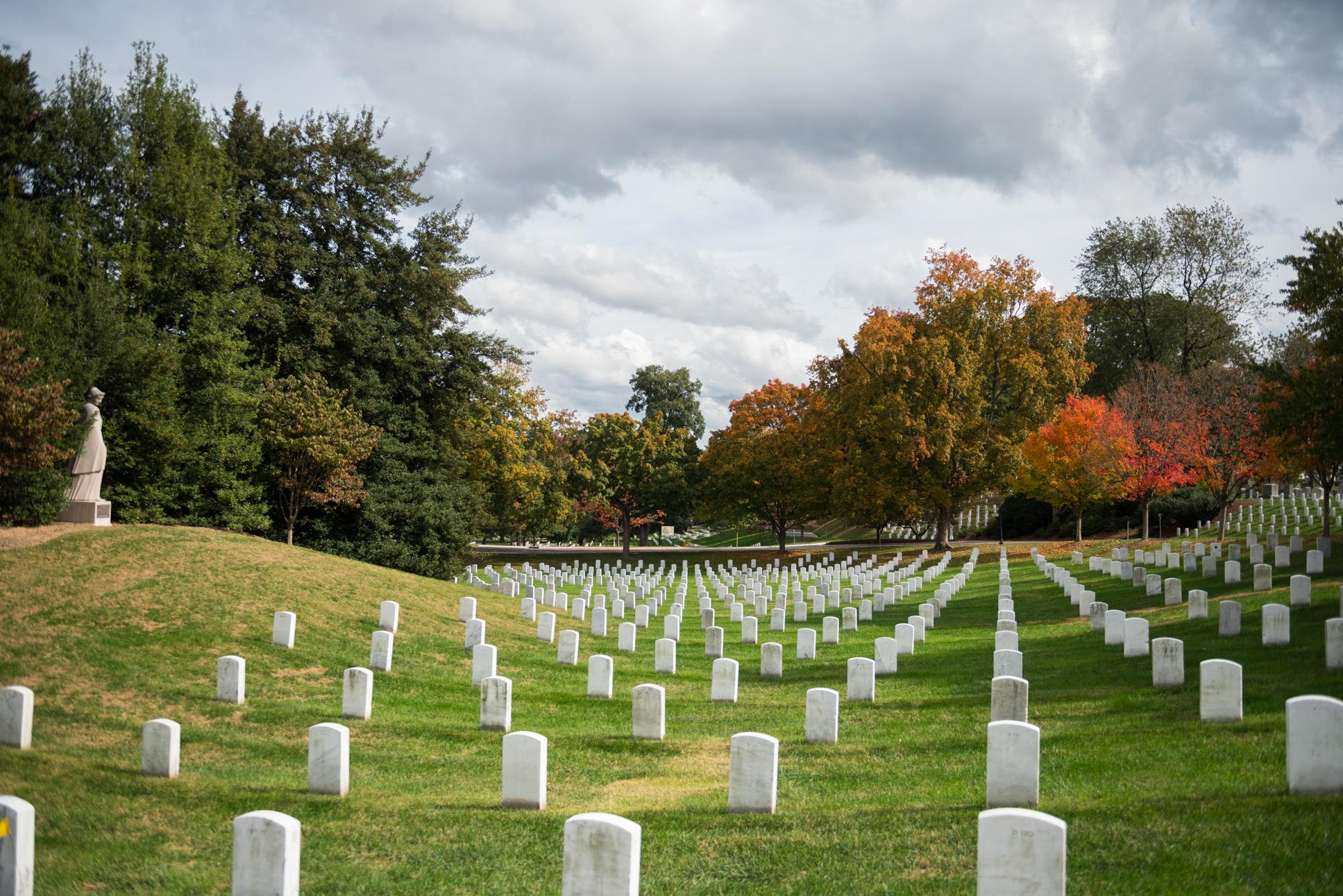 Well-known gravesite: Pierre Charles L'Enfant. Fittingly, his memorial sits atop a hill overlooking the city he laid out.
Not so well known: Nurses Memorial. This stately marble statue, erected in 1938, honors nurses who served. It gazes out over the graves of Army, Navy, and Air Force nurses.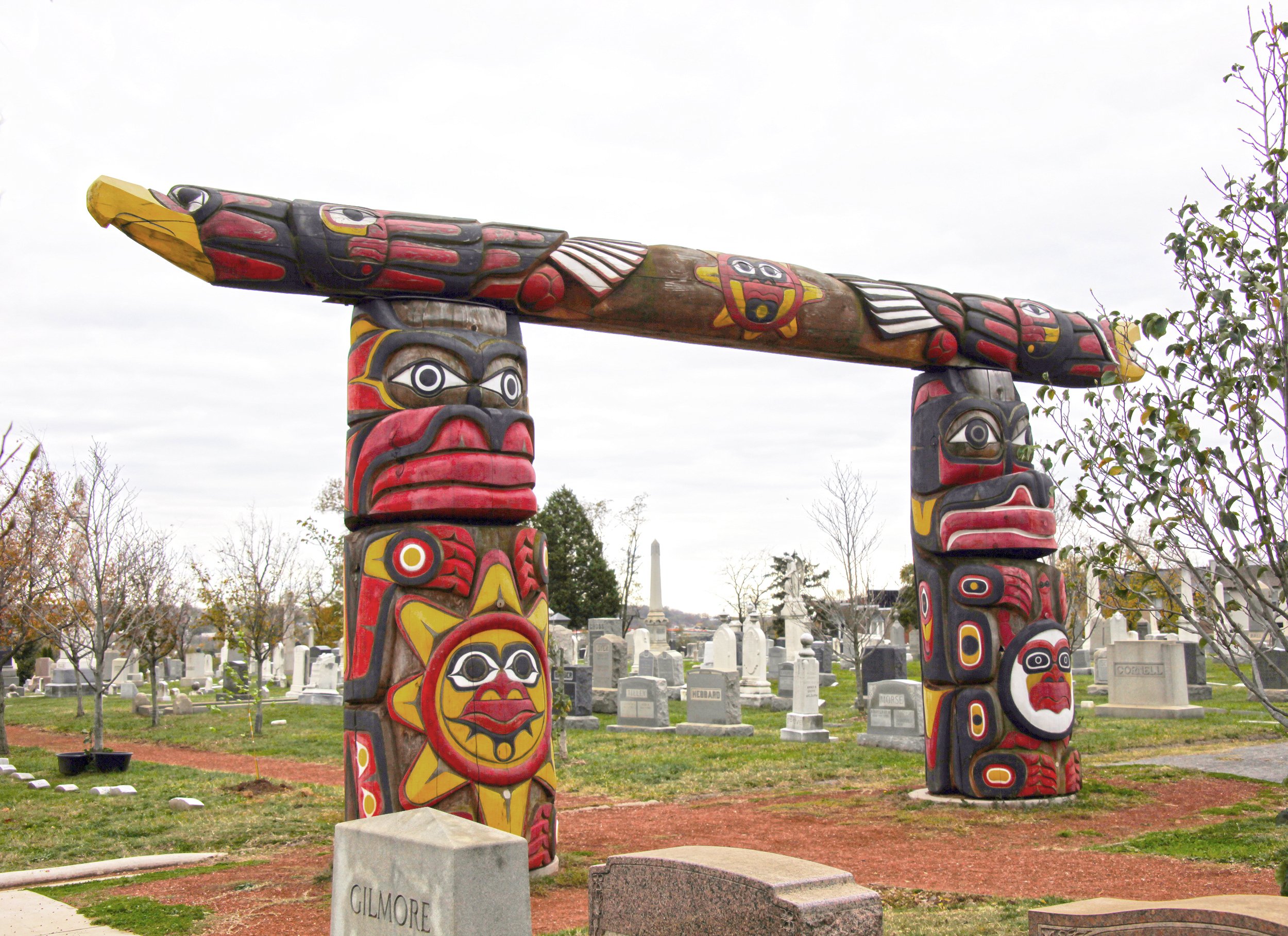 Well-known gravesite: Marion Barry. The "mayor for life's" black-stone memorial features his portrait in bronze relief.
Not so well known: 9/11 Healing Poles. A gift of Washington state's Lummi Nation, the two totems and a crossbar named "Liberty," "Freedom," and "Sovereignty," respectively, honor those who lost their lives during the 2001 terrorist attacks.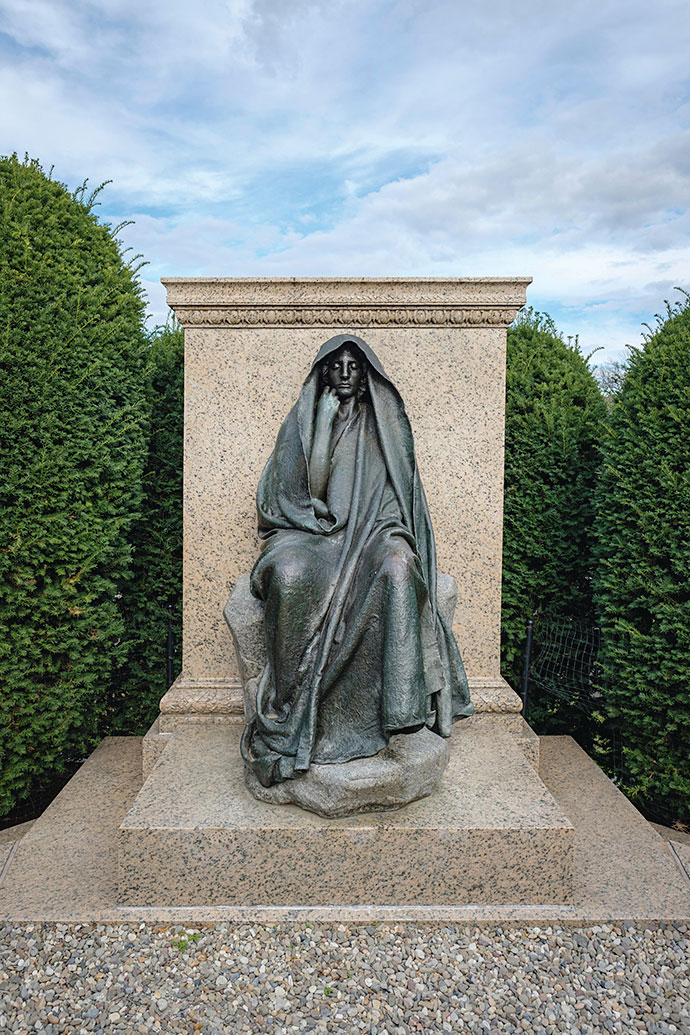 Well-known gravesite: Adams Memorial. The moody, evocative figure was sculpted by Augustus Saint-Gaudens to memorialize Henry Adams's wife, Clover.
Not so well known: "Queen of the Corporate Jungle." Evelyn Y. Davis—a shareholder activist who spent decades pushing for better corporate governance—commissioned stonecutters to engrave her résumé on her behemoth of a grave. Though the stone initially read "1929–Forever," Davis passed away in 2018.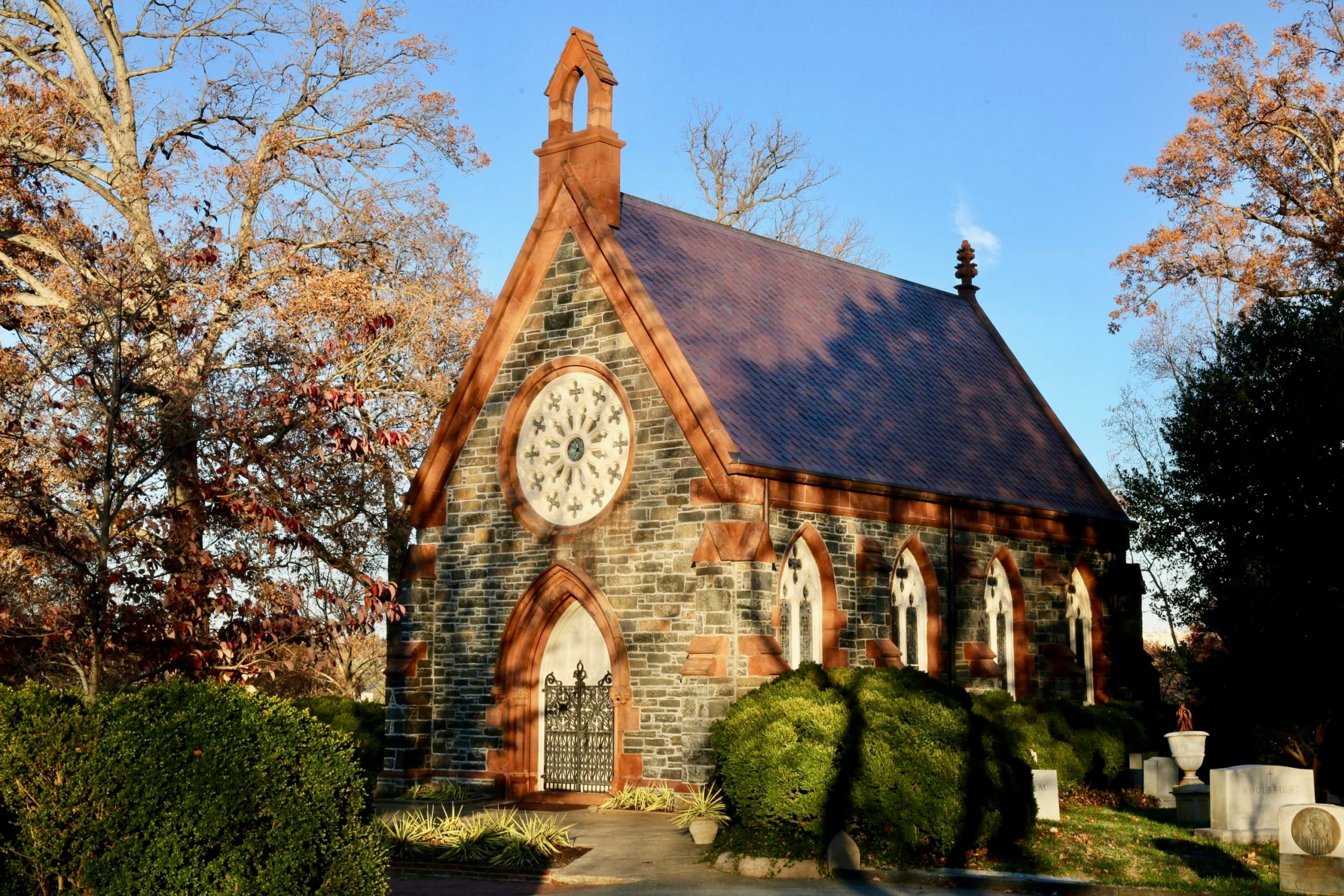 Well-known site: Renwick Chapel. The Gothic Revival church was designed in 1850 by a young James W. Renwick Jr., who went on to design the Corcoran and the Smithsonian Castle. The cozy gneiss-and-sandstone chapel was restored in 2014.
Not so well known: Spencer family grave. A hulking white stone adorned by an angel with outstretched wings—carved by Louis Comfort Tiffany's studio in 1927—looks over the resting spot of railroad tycoon Samuel Spencer and family.
---
Back to Top
Did You Know?
Four secret ways to enjoy some of Washington's most popular attractions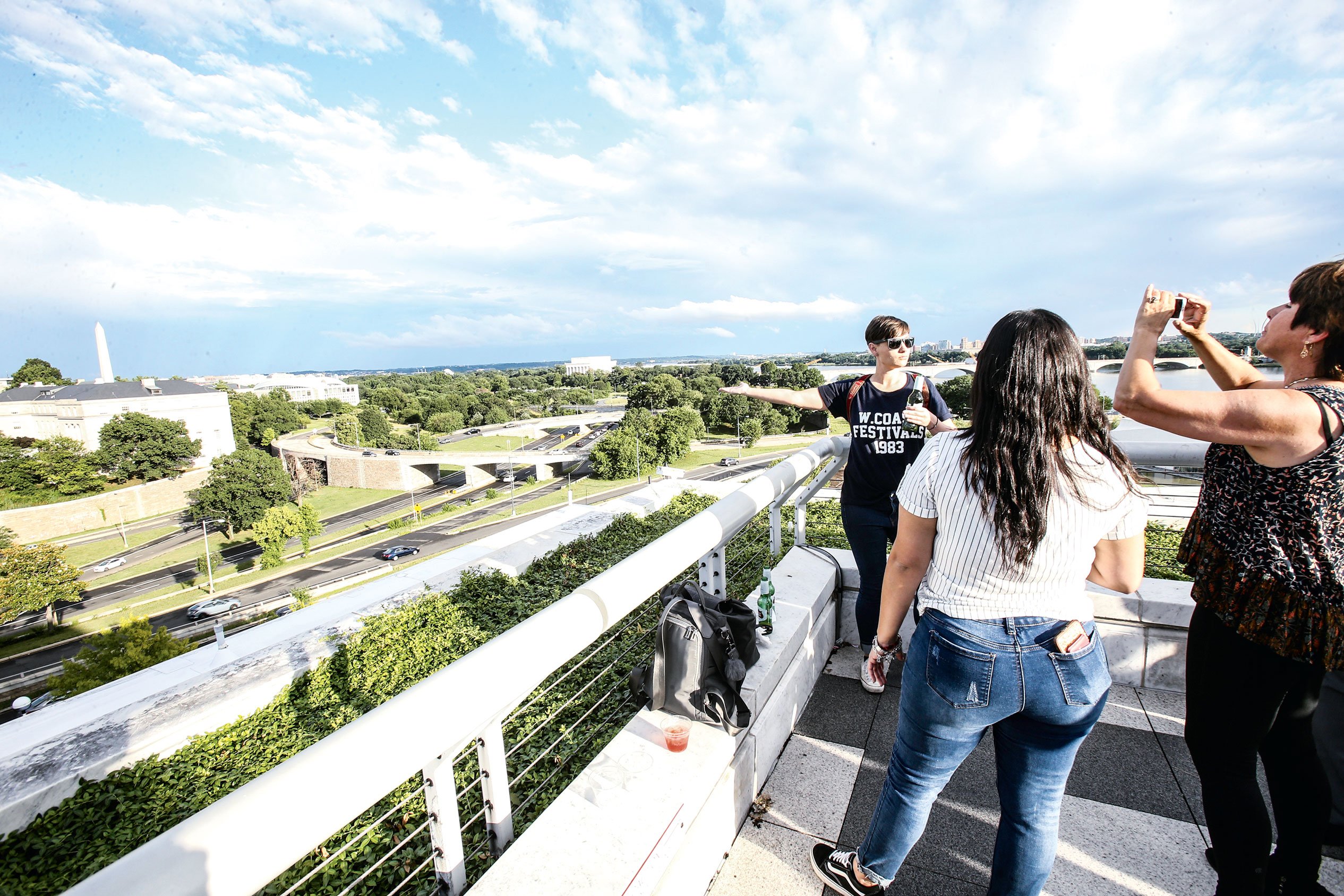 1. Reservations to Glenstone Museum can involve months of waiting. If you're driving, that is. Visitors who take Ride On Bus 301 from the Rockville Metro can walk right in—no reservation needed. 12100 Glen Rd., Potomac.
2. There are ways to skip the lines at two popular eateries. At Le Diplomate (1601 14th St., NW), two barstools hidden at the back of the glassed-in L'Orangerie room are for walk-ins. And if Shaw's All-Purpose (1250 Ninth St., NW) is mobbed, get a pizza to go, then bring it to the bar Lost & Found (1240 Ninth St., NW), which allows carryout.
3. The Kennedy Center rooftop has one of the best views in town. Thanks to 20 new weather-resistant tables, you can take it in while picnicking on the roof. Grab some food from the center's KC Café or bring your own. (No outside booze, though.) The lawn at the new Reach offers another picnic-worthy vantage. 2700 F St., NW.
4. There's a Smithsonian museum few are aware of: Smithsonian Gardens, which manages more than 180 acres in DC, is an accredited museum with exhibits and programs. It's not just pretty plants and flowers: You can learn about monarch butterflies, for example, at "Monarchs on the Move" outside the Hirshhorn or about the vital role of lifeless trees in "Dead Wood Is Life," outside American History.
An earlier version of this write-up has been corrected.
This article appears in the January 2020 issue of Washingtonian.