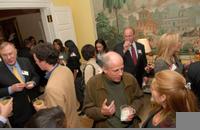 What: 02138 Launch Party, the new Vanity Fair-like magazine for Harvard grads
Where: Former Cuban Embassy, now the house of Atlantic Media Publisher David Bradley
When: October 24, 6:30 to 8:30 p.m.
Who: Assorted Atlantic Media staff including Stuart Taylor, Jr., Ross Douthat, and Matt Quirk; local Harvard alums ranging in age from 21 to 80, including ABC's Jessica Yellin, Time's Perry Bacon, NYT's David Sanger, Fred Malek, and Ford Transportation Secretary William T. Coleman, Jr., 02138 staff, sponsors, and Examiner gossip Jeff Dufour. Also present were two of the "Harvard 100," 02138's list of the school's most powerful alumni: Conservative powerhouse Grover Norquist (#40) and the Aspen Institute's Walter Isaacson (#87). No sign of Harvard MBA George W. Bush, who made #2 on the list (behind Bill Gates).
Entrance Price: One (1) Harvard Degree
Scene: The best dressed were the waiters, followed by Katherine Bradley. Guests mingled through the palatial first floor of the Bradley's house, interrupted briefly by remarks from 02138's founders.
Food: Passed snacks, large table buffet.
Beverages of Choice: Pom magaritas, Champagne, Glenmorangie scotch whisky.
Sign of Excess: The dual Maybachs on display out front.

Gift Bag Contents: Premiere issue of 02138, Maybach branded Titleist golf balls, Hardcover copy of "The Namesake: A Novel" by Jhumpa Lahiri (while Lahiri isn't an alum, the book will be made into a movie by Mira Nair, Harvard '79).
Ratings:
Bold Face Guests: 2 (out of 5)
Swankiness: 3 (out of 5)
Food/Drinks: 4 (out of 5)
Overall Exclusivity: 4 (out of 5)
Total Score: 13 (out of 20)