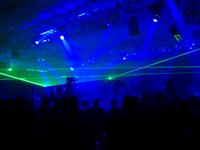 What: 17th Annual Fight Night for Fight For Childen
Where: The Washington Hilton, converted into a Vegas boxing ring.
When: November 2, 6 p.m. to late
Who: All men. The city's powerful business elite, associates of founder Joe Robert, Jr.. The 2,000 guests ranged from Cafe Milano owner Franco Nuchese to power brokers like Howard Gutman and Terry McAuliffe to media figures like ABC's Terry Moran, as well as business titans like Jim Kimsey, Mitchell Rales, Raul Fernandez, Tom McMillen, and the night's chair, Chuck Kuhn, as well as local pols Robert Bobb, Adrian Fenty, and Michael Steele. Also present were the legends of sport like Jake "The Bronx Bull" LaMotta, Hector "Macho" Camacho, and Mario Andretti. Basically the only females present were the Redskins cheerleaders selling their calendar, Hooters Girls selling raffle tickets, and a cocktail waitress at each table.
Scene: Fight Night is what the rest of America imagines Washington is really like–lots of men in fancy tuxedos, smoking cigars, cradling bourbon and martinis, dining on steak, and greeting each other with backslaps. Emotional highlight of the evening was the presentation of the colors by a Marine Corps honor guard–Roberts' son is a Marine sergeant and Iraq veteran.
Entertainment: Motown legends The Temptations, laser light show (made possible thanks to the thick cigar smoke filling the room), boxing matches, and–a new addition for this year–a kickboxing match. In the evening's main bout, Junior Middleweigh Billy Lyell defeated Jerome Ellis in eight roungs for the Fight for Children title.
Food: Steak, naturally.
Beverages of Choice: Hennessey cognac; Maker's Mark bourbon, Redwood Creek wine.
Sign of Excess: Mitchell Rales bid $110,000 for a custom built motorcycle from Hardcore Choppers.
Gift Bag Contents: Fight Night t-shirt, cigar, mini-boxing glove, matches, and a U.S. flag lapel pin. Guests lucky enough to be seated with Zoo Director John Berry also received a stuffed baby tiger.
Fallout: Immediately after the event the hotel has to deploy scores of ionizers to soak up and remove the cigar odor.
Ratings:

Bold Face Guests: 3 (out of 5)
Swankiness: 4 (out of 5)
Food/Drinks: 4 (out of 5)
Overall Exclusivity: 4 (out of 5)
Total Score: 15 (out of 20)