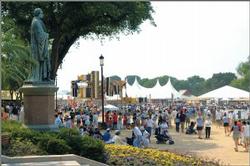 Wednesday, June 27: The 41st annual Smithsonian Folklife Festival kicks off today, running through July 1 and July 4 through 8. This year's themes are "Mekong River: Connecting Cultures," "Northern Ireland at the Smithsonian," and "Roots of Virginia Culture." The festival will focus on the food, music, art, and much more from these parts of the world. 11 am to 5:30 pm, with evening events beginning at 6 pm. The festival is located on the Mall between the US Capitol and Lincoln Memorial. Free. For more on the Folklife Festival, read below.
Lots more going on this week. If you're not finding a great happy hour with our new Happy Hour Finder, then you can check out an author reading, a free sci-fi film, or an outdoor concert at the zoo. Details and more in our Where & When Weekly column.
The 41st annual Smithsonian Folklife Festival celebrates three different parts of the world: Southeast Asia's Mekong River, Northern Ireland, and Virginia. It'll be on the National Mall between 7th and 14th streets from 11 to 5:30 Wednesday, June 27, through Sunday, July 1, and Wednesday, July 4, through Sunday, July 8; concerts, dance parties, and other evening events start at 6. Visit folklife.si.edu.
More than 2 million Americans trace their ancestry to the Mekong River, which runs through Vietnam, Thailand, Cambodia, Laos, and the Chinese province of Yunnan. Artists, craftspeople, cooks, and others from the region will introduce visitors to its cultures. On five stages, watch performances of Vietnamese opera, Thai shadow puppetry, Cambodian classical dance, and more.
The Northern Ireland program features everything from traditional industries like Belleek pottery and Bushmills Irish Whiskey to crafts such as lace making and bagpipe making. Northern Irish performers, artists, storytellers, and workers will be on hand to demonstrate the region's culture and history.
In honor of the 400th anniversary of the founding of Jamestown, the Smithsonian celebrates Virginia's native, African, and English roots. Meet fruit growers and wooden-boat builders from Virginia and England; peanut farmers and pottery makers from West Africa and Virginia; and African, Native American, and Virginian blacksmiths. Musical performances include gospel, ballads, blues, and bluegrass.
—Sara Levine