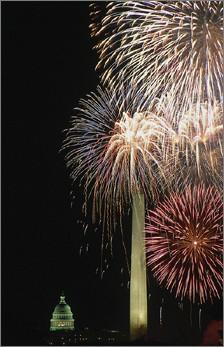 You can't beat watching DC's fireworks show on the Mall—but if you've done it once and braved the massive crowds, you may not be eager to try it again. So read below for some less-crowded spots to consider.
Cardozo High School
1300 Clifton St., NW
Metro: U Street/Cardozo
Cardozo High School is on a hill high above downtown DC, and its playing field has views of the Mall. The crowd is mostly a diverse group of locals, and there's a friendly community feel. It's a well-known spot within the neighborhood, so get there on the early side.
Pentagon Heights/Navy Annex
Metro: Pentagon or Pentagon City
Some of the best views are across the river in Arlington. For a less-crowded spot, try the hill below the Navy Annex at the end of Columbia Pike. The wide, grassy slope is across from the southern gate of Arlington National Cemetery and looks down over the Pentagon. You can't beat the clear view of the Mall.

George Washington Masonic Memorial (Masonic Temple)
101 Callahan Dr., Alexandria
Metro: King Street
Alexandria's Masonic temple sits atop Shuters Hill, just a mile from the Potomac River bank. Its large lawn, overlooking downtown DC, is a choice spot to spread out a blanket and enjoy the fireworks. Go early to get a view that isn't blocked by trees.

Gravelly Point/Mount Vernon Trail
Metro: Reagan National Airport, Rosslyn, Pentagon
A multipurpose trail runs along the grassy banks on the Potomac's Virginia side from Theodore Roosevelt Island to Mount Vernon. Pick a spot and enjoy unobstructed views of the fireworks and their watery reflections. Gravelly Point, at the north end of the airport, is popular, but expect to hear planes as they take off and land only a few hundred feet away. Parking is limited along the trail, but the National Park Service sets up designated areas for pedestrians to cross the GW Parkway from Rosslyn and the Pentagon.
Washington National Cathedral
3101 Wisconsin Ave., NW
Metro: Tenleytown-AU, Cleveland Park
On the south side of the cathedral is a grassy hill overlooking much of DC, with great views and room for kids to run around. Bonus: The cathedral keeps its parking-garage restrooms open until about 8 pm.
Hotel Balconies and Rooftops
If you're willing to put down some cash for the night, it can be worth it to get a hotel room and host your own private celebration. DC hotels that offer rooms with a balcony view of the fireworks include the Mandarin Oriental, the Willard InterContinental, and the Hotel Washington. In Arlington, try the Sheraton National, the Doubletree Inn in Crystal City, or the Key Bridge Marriott.