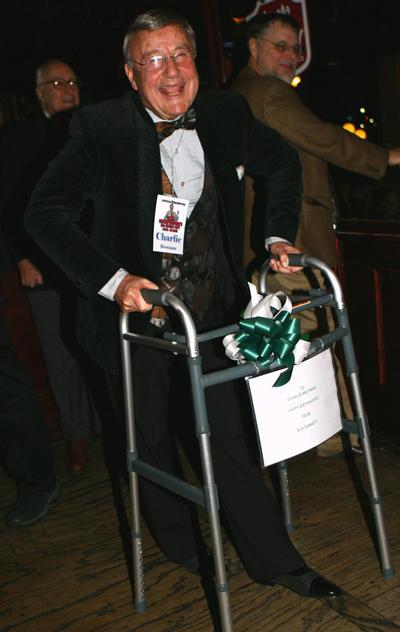 Charlie Brotman is one of the all-around good guys in Washington, so it wasn't surprising to see so many sports and media luminaries show up to celebrate his 80th birthday Tuesday night at Les Halles.
What was surprising was to find that Andy Ockershausen, the longtime head of WMAL radio and now a top exec at Comcast Sportsnet, can be as funny and cutting at the microphone as he is in private. When Brotman's buddy Henry "Shipwreck" Saks approached the microphone to dish on his pal Charlie, Ockershausen said he and Brotman were so close they bought their rugs at the same place.
Then Mark Russell went right for the hair, or lack of it. Russell harkened back to the early days of major league baseball at RFK Stadium, where Brotman was the public address announcer, and how there's never been artificial turf there.
"A claim Charlie can't make," he said.
Sports columnist Christine Brennan said when she started working at the Washington Post years ago, then sports editor George Solomon said she had to meet Brotman. It wasn't difficult: Brotman was in Solomon's office more than he was.
Tony Kornheiser made an appearance but didn't speak.
NBC 4 news reporter Tom Sherwood stopped in for a few minutes and never left.
I tried to talk nice to Sada, Brotman's wife of 57 years.
"I've written about Charlie a few times," I said.
"Sorry to hear about that," she said.
Charlie Brotman is a native Washingtonian. He graduated from McKinley Tech and took classes at the University of Maryland. When he was working as a sports announcer at a radio station in Orlando in 1956, he ran into Senators owner Calvin Griffith. The team was looking for an announcer. Brotman tried out and got the job, starting with opening day.
When the Senators left town in 1971, Brotman started his career in sports public relations. He's been promoting events from boxing to golf to baseball ever since, with Sugar Ray Leonard one of his top clients. His company, Brotman-Winter-Fried, is working for the Washington Nationals.
Along the way, Charlie Brotman has endeared himself to thousands of Washingtonians, and several hundred showed up to drink and eat an incredible spread on his behalf.
DC City Council members Jack Evans and Harry Thomas Jr. presented Brotman with a council resolution in his honor. Carol Schwartz praised him for volunteer work for the needy. Former Redskins George Starke and Dexter Manley made thes scene. Ditto WUSA-TV sports director Brett Haber.
Long time radio jock Jim Bohannon presented Brotman with a token of his appreciation: a golden Viagra.
Did I say Brotman was a great Jewish athlete?
No joke.