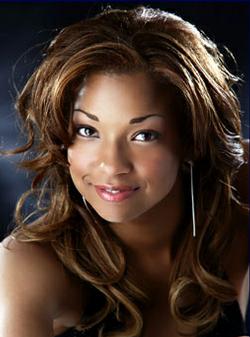 When Howard University law student Chelsey Rodgers says, "I'm coming home with the crown," it's easy to believe her.
DC's representative in the upcoming Miss USA Pageant on April 11 oozes charm, poise, and self-assurance. She took time between dress fittings and studying to sit down with us and hone her interview skills for the big day in Las Vegas. Our impression? Whether she's strolling around in evening wear or thumping the table in the courtroom—she has signed on with the DC law firm McKee Nelson—she's going to be tough to beat.
On the pageant experience: "I love being on my feet in front of a roomful of people. It's scary; it's exciting. People expect you to be confident, intelligent, and poised. Not only that—they expect you to stand for something. When you leave that room, it's all about the impression you leave. It all depends on how well I express myself. I love the challenge. It's the most valuable professional training a woman can get."
On the swimsuit competition: "Before I started competing in pageants, I thought it was a little sexist. All the stereotypes bothered me a little. But in the end, it's not about how well you wear a two-piece. It's about how you carry yourself in an uncomfortable situation. No one's perfect. No one's body is flawless. The swimsuit competition is putting yourself in front of a roomful of strangers and letting them see that."
On staying in shape: "I try to go to the gym every day, but I go at least three to five times a week. It usually takes an hour and a half. Thirty to 45 minutes on cardio, 50 to 100 crunches, and light weights on the arms and legs to get and maintain tone.
On getting ready for the pageant: "My schedule is crazy. It involves a lot of coffee. School's the first place I hit every day, and then there are so many other obligations. I usually go to bed between 2 and 5 in the morning."
Her guilty pleasures: "Chocolate, of course. And not the dark stuff that can be kind of healthy—rich, beautiful milk chocolate. Also, I love Steak 'n Egg." For the uninitiated, that's Osman & Joe's Steak 'n Egg Kitchen, the 24-hour hangout in DC's Tenleytown where you can eat anything you want as long as it's greasy.
Her style: Rodgers looked the part in a cream-colored pinstripe pantsuit and black heels: "H&M and Nine West have great stuff if you're on a budget." Her Louis Vuitton bag, however, and her ability to wax eloquent on the finer points of handbagging betrayed a love for the finer things in fashion.

Her most embarrassing pageant moment: "I lost a boob cup once. It's one of the tools of the trade, but I was uncomfortable with it. I told the girls before we went out: 'If you see something fall out of me, just act like nothing happened.' I could sense it shifting as we walked out and it came out on me. All you can do is act like nothing happened."

On campaign 2008: She stopped short of naming names: "A lot of people are looking for excitement, and that's great. I'm more concerned with the details. Can you carry out what you're promising? Do you have a plan for this, that, and everything else?"
Would she be happy with second place? "Honestly, I'm just grateful for the experience. Then again, we don't have to worry about second place, do we?"