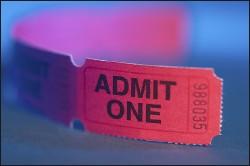 Self-proclaimed "D-List" celebrity and Bravo TV star Kathy Griffin brings her standup comedy tour to DC at DAR Constitution Hall on Friday, September 26. Tickets ($48.50 to $55.50) go on sale Friday, June 20, at 10 AM and can be purchased here.
Also going on sale this Friday is Culture Club's Boy George, who will be playing all of his hits at Sonar in Baltimore on Thursday, July 31, following a show at the 9:30 Club the previous night. Tickets ($35) go on sale at 10 AM, and tickets for his 9:30 Club show are on sale now.
Black Kids are all the rage on the indie rock scene, and they're headed to the Black Cat on September 26 with another buzzed-about band, the Virgins. Tickets are $15, go on sale Friday, and can be purchased here.
Eight-man band the Mars Volta will be playing at Baltimore's Rams Head to showcase its latest album, The Bedlam in Goliath, on Sunday, September 21. Tickets cost $35 and go on sale starting Saturday, June 21, at noon.
3 Doors Down, also known as the band that brought us that catchy 2000 hit "Kryptonite," continued to prove its staying power with the number-one debut of its self-titled album last month. The band's latest tour touches down at Merriweather Post Pavilion on Saturday, September 13, with bands Hinder and Finger Eleven. Tickets go on sale Saturday at 10 AM and cost $29.50 to $75.
Canadian sisters Tegan and Sara are steadily gaining notoriety with their indie-infused alternative pop-rock songs, and they'll continue to do so at Rams Head in Baltimore on Thursday, October 2. Tickets go on sale Monday, June 23, at 10 AM.
For a bluesy, soulful performance with a Latin twist, or what the band likes to call "Texican Style" music, get your tickets to see Los Lonely Boys at Rams Head on Tuesday, September 9. Tickets can be purchased on June 21 starting at noon for $27.
Just in case you haven't heard already, the annual Virgin Mobile Festival, a.k.a. the granddaddy of indie-pop shows in the area, still has single-day and two-day tickets available for August 9 and 10. This year's line-up is impressive; Saturday's top acts include the Foo Fighters, Wilco, Jack Johnson, Bloc Party, and Lupe Fiasco. Sunday brings more big-name artists, including Bob Dylan, Nine Inch Nails, Kanye West, Stone Temple Pilots, and Lil' Wayne. The festival takes place at Baltimore's Pimlico Race Course, and tickets are available now. Single-day tickets are $97.50, two-day tickets $175.00.
Related:
Guide to Free Summer Concerts
Guide and Map to Washington's Independent Record Stores
More>> After Hours Blog | Arts & Events | Happy Hour Finder | Calendar of Events