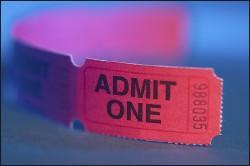 Liz Phair comes to 9:30 Club next month to perform her newly re-released 1993 album, Exile in Guyville, in its entirety on Thursday, August 28. The show is one of only three of her upcoming performances, and she's currently working on a new album to be released in the fall. Tickets went on sale this morning at 10 and cost $25.
Legendary rock band The Who comes to the Verizon Center on Monday, November 3, for a show that many longtime fans of the 44-year-old group will flock to—even if it costs a pretty penny. Ticket prices start at $55, but some seats are going for $80, $100, and even $205. Sales begin on Friday, July 25, at 10 AM.
Bands Against Me! and Ted Leo and the Pharmacists have lined up a show at the Black Cat for Wednesday, October 8, that promises to be an upbeat indie rock show for all to enjoy. Tickets cost $18 and go on sale Friday at 5 PM.
The Charlatans, an alternative rock band from the UK, mix pop and electronica beats to create songs you can't help but bob your head to. They released their latest album, titled Mis-Takes, just last week and will perform at the Black Cat on Wednesday, October 15, for $20 a ticket. Sales begin Friday at 5 PM.
Anthony Gonzalez, also known as M83, comes to the Black Cat on Thursday, November 13, with opener School of Seven Bells. M83 cites '80s films Sixteen Candles and The Breakfast Club among his influences, which definitely can be heard in the catchy single "Kim and Jessie." Tickets are $17 and go on sale Friday at 5 PM.
The last time we heard from Grammy-winner Alanis Morissette, she was parodying the Black Eyed Peas' "My Humps" on YouTube, a performance that now has over 14 million views. Now she's touring in promotion of her latest album, Flavors of Entanglement, and she performs at DAR Constitution Hall on Monday, September 22. Tickets are $45.50 and $51.50. The following night she performs in Baltimore at the Lyric Opera House; tickets are $47 and $57. Both shows go on sale Saturday at 10 AM.
International pop star Enrique Iglesias begins his US tour this fall, and he's lined up a show at the Patriot Center in Fairfax on Friday, October 3. Dominican boy band Aventura opens, and tickets go on sale Friday at 10 AM for $58, $88, and $128.
More>> After Hours Blog | Arts & Events | Happy Hour Finder | Calendar of Events