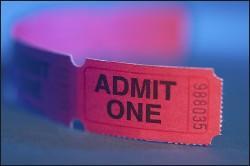 After being discovered on MySpace by a record-label intern, the pop/rock band Metro Station quickly grew to celebrity status with the release of its self-titled debut album and a catchy single, "Shake It." The Los Angeles-based group, made up of four young guys (including Miley Cyrus's brother), will perform at Sonar this Halloween, Friday, October 31. The $15 tickets ($18 at the door) also include performances by opening acts Shwayze, Tyga, and Cash Cash. Ticket sales begin Saturday, August 23, at 10 AM.
In addition to a show at the Black Cat on Thursday, October 2, the electronica duo Ratatat has lined up a show at Sonar for Sunday, October 5. Composed of producer Evan Mast and guitarist Mike Stroud, Ratatat just released a new album last month titled LP3. Tickets are $15 ($17 at the door) and go on sale Friday, August 22, at 10 AM.
Country and blues fans will appreciate this upcoming tour: An Acoustic Evening With Lyle Lovett and John Hiatt makes a stop at the Warner Theatre on Sunday, October 19. Tickets ($69.50) go on sale Friday at 10 AM.
With each new album from the alternative-rock band Staind comes another hit single. The Illusion of Progress is the band's latest album, and it follows its 2006 compilation release of hits going as far back as 1996. Seether and Papa Roach, similar bands that also tend to delve into the metal side of rock, will open the show at Merriweather Post Pavilion on Saturday, October 4. Tickets are $25-$40 and go on sale Saturday, August 23, at 10 AM.
The Disney-bred pop group the Cheetah Girls has its own movies, books, DVDs and CDs, so we're not surprised to hear it's going on tour. The family-friendly show will be at the Verizon Center on Sunday, November 9. Tickets ($35 to $45) go on sale Saturday at 10 AM.
Chopteeth, La Timbistica, and Fertile Ground will all perform Friday, October 3, at the 9:30 Club as part of the Duke Ellington Jazz Festival. You'll hear different variations of jazz at this show, including Latin jazz (La Timbistica), soul-jazz (Fertile Ground), and Afrobeat (Chopteeth). The festival is October 1 through 7, and tickets went on sale this morning for $## 25.
More>> After Hours Blog | Arts & Events | Happy Hour Finder | Calendar of Events