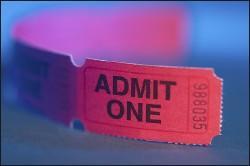 This fall, legendary rock band AC/DC is launching its first world tour since 2001, titled Black Ice after its latest album, which will be released October 20. The band lined up a show at the Verizon Center on Saturday, November 15. Tickets ($92.50) go on sale Saturday, September 20, at 10 AM.
French Kicks, who released an album in April titled Swimming, is releasing an EP titled Covers next week. It will feature cover versions of "Questioningly" by the Ramones and "Carolina Goodbye" by the Zombies along with a couple of other songs. Check out the band's show at Black Cat on Friday, November 21. Tickets ($13) go on sale Friday, September 19, at 5 PM.
Gypsy punk group Gogol Bordello is quickly becoming must-see entertainment. It's known for high-energy theatrical live shows and has even been called the greatest live band in New York. It's no wonder that the eight-member band has two shows scheduled at the 9:30 Club. Catch the entertainment Friday, January 2, or Saturday, January 3, for $28; tickets went on sale this morning.
A family-friendly live adaptation of the 1939 film The Wizard of Oz will be at the Warner Theatre this December. Eight shows are scheduled between Tuesday, December 2, and Sunday, December 7; tickets ($40 to $80) go on sale Friday at 10 AM.
Joel McHale hosts The Soup, a weekly show on E! Entertainment Television that pokes fun at celebrities and pop culture. His comedy tour stops at Warner Theatre on Friday, November 7. Tickets ($33.50) go on sale Friday at 10 AM.
Comedian Lewis Black, who makes regular appearances on The Daily Show with his popular Back in Black segment, is also planning a performance in the area. He'll be at the Patriot Center on Saturday, October 18. Tickets ($30) go on sale Saturday at 10 AM.
More>> After Hours Blog | Arts & Events | Happy Hour Finder | Calendar of Events