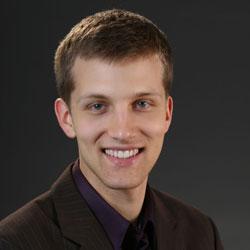 Back in January of last year, James Kotecki was a senior at Georgetown University majoring in international security studies, who would post web videos critiquing the 2008 presidential campaign candidates in his spare time. Today, Kotecki is still doing just that—except now, he's doing it professionally, as writer, producer and host of KoteckiTV, an online video series for the Politico.
Kotecki's video blogs are witty, slightly cynical and sprinkled with pop culture references—not to mention the occasional musical performance from Kotecki himself, who raps and plays the guitar. Can you say triple threat? We spoke with Kotecki about Sarah Palin, which political party knows how to, well, party, and who'd make the ideal John Mccain impersonator.
Name: James Kotecki
Age: 22
Occupation: Video blogger, Politico.com.
Hometown: Raleigh, North Carolina.

Must-have item at all times:
Gumption.
Signature drink:
I like cider. With or without alcohol is fine.
Finish this sentence: When not working, you can find me . . .
. . . playing guitar. I'm just starting to learn, so I suck, but fortunately I only do it to amuse myself, and my standards are low.
Washingtonians you admire:
I like the work ethic of Mike Allen, the wit of Christopher Hitchens, and the voice of Kojo Nnamdi.
Favorite neighborhood in Washington:
Georgetown! Gotta show my alma mater loyalty.
Washington insider tip:
Go to the E Street Cinema. You get all the feelings of movie-snob superiority with none of filthy, beer-stained seats.
Finish this sentence: Thinking about the Metro makes me . . .
. . . think about when I was really young and thought it was so cool, like a ride at Disney World.
Favorite YouTube video:
Two Percent Milk: The Rap
What would you change about DC?
There'd be more hipsters in downtown areas. I wouldn't want to be one, but I'd feel cooler knowing they were around.
As you answer these questions, what Web sites are open in your browser?
"YouTube and Gmail, but just for the question I've opened up a few more: the Comics Curmudgeon, Medium Large, and Garfield Minus Garfield.
You were at both political conventions this year. Who's more fun to party with, Democrats or Republicans?
The Dems. The GOP convention was better planned but less fun.
Turns out you're a talented rapper. What do you think Sarah Palin's special talent is? Other than not blinking, of course.
I would love to see Sarah Palin do some improv. She'd be hilarious at any skill level.
You came in second to Governor Mike Huckabee at DC's Funniest Celebrity contest. What politicians do you think are legitimately funny?
Barney Frank makes C-SPAN worth watching. Also, any politician who simply and accurately describes the situation around them is funny by default. Washington is all about building up these artificial realities, and my favorite type of comedy is all about puncturing those realities.
Josh Brolin is playing George W. Bush in Oliver Stone's movie, and Tina Fey is dead-on as Sarah Palin, but who should play John McCain in a movie? What kind of movie do you imagine it being?
Every John McCain impersonator or actor I've ever seen falls far short of the mark both in mannerisms and appearance. It's time to give up on realism and just have Laurence Fishburne star as John McCain in a musical-comedy showstopper called Jazzy, Snazzy, and Razz-a-ma-tazzy: The John McCain Story. And then everyone can just stop trying to impersonate John McCain.
Now that "lipstick on a pig" is taboo, what's the next common phrase that will soon become too offensive to utter during this campaign season?
Isaiah 1:3: "The ox knoweth his owner, and the ass his master's crib: [but] Israel doth not know, my people doth not consider." Here we have criticism of Israel, a Cribs reference, and the word "ass," all wrapped up in a biblical quote clearly taken out of context. This is going to offend everyone—too bad politicians can't help but quote the Bible!
Other Washingtonian Favorites:
David Malitz
Curtis Sittenfeld
Katherine Kennedy
Barton Seaver
Lindsay Czarniak

Want more Washingtonian Favorites? Check out last week's interview with local filmmaker Laura Waters Hinson. Also, don't forget to check back in next Thursday for our interview with musician Olivia Mancini. Mancini and the rest of her band, the Housemates, will be playing a benefit concert tonight at the Rock and Roll Hotel alongside other local acts. Get tickets for the show here.
Want to recommend someone you know for a Washingtonian Favorites? Send your suggestions to asalinas@washingtonian.com
More>> Capital Comment Blog | News & Politics | Society Photos