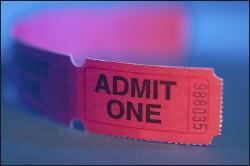 The comedy group Stella—which consists of Michael Ian Black, Michael Showalter, and David Wain—formed in 1997 and spent the next seven years entertaining New Yorkers with nightclub shows in Greenwich Village. Fast-forward to 2005, when the guys landed their own self-titled sitcom on Comedy Central. These days, they're gearing up for a new tour, and you can check out their show at Sixth & I Historic Synagogue on Tuesday, December 2. Tickets ($27.50) go on sale Friday, October 24, at 10 AM.
Mike Epps, another familiar face from Comedy Central, frequently plays the funny guy in movies—such as Welcome Home, Roscoe Jenkins, and Something New—but he's also a well-known standup comic. His latest tour comes to Meyerhoff Symphony Hall in Baltimore on Wednesday, November 26. Tickets ($33.50 to $63.50) go on sale Saturday, October 25, at 11 AM.
Method Man and Redman have scheduled a new show in the area, in addition to their 9:30 Club performance on November 26. This time they'll perform at Sonar on Tuesday, December 2. Tickets ($20) go on sale Friday at 10 AM.
Rhett Miller, of the rock band the Old 97's, still performs with his bandmates but is also maintaining a solo career. He has several solo shows lined up throughout the next couple of months, one of which will be at the Black Cat on Saturday, December 20. Tickets ($15) go on sale Friday.
The music from the alternative-rock band Nada Surf can usually be heard throughout popular prime-time television shows (a few years ago it was on The OC; now you can hear it on Heroes), but the guys have shown that they have more than that with the release of their fifth album, Lucky, earlier this year. Their tour comes to 9:30 Club with openers the Jealous Girlfriends and Delta Spirit on Friday, December 5. Tickets went on sale this morning.
Country-music icon Loretta Lynn's career has spanned more than four decades, and she's showing few signs of slowing down—she's lined up a surprise show at 9:30 Club on Saturday, December 6. She'll perform with opening acts the Lynns and Justin Jones. Tickets went on sale this morning.
More>> After Hours Blog | Arts & Events | Happy Hour Finder | Calendar of Events