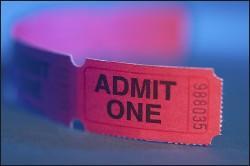 The Black Keys, a bluesy rock duo from Akron, Ohio, consisting of guitarist and vocalist Dan Auerbach and drummer Patrick Carney, will perform at Rams Head in Baltimore on Wednesday, February 4, with opener Patrick Sweany. Tickets ($25) go on sale Saturday, November 22, at noon. A few weeks later, Auerbach returns to Washington for a solo show at 9:30 Club on Saturday, February 28. Tickets ($20) went on sale this morning.
B.B. King, also known as the King of Blues, has lined up a show at DAR Constitution Hall with fellow legendary blues musician Buddy Guy on Friday, February 20. Tickets ($65 to $70) go on sale Friday, November 21, at 10 AM.
Heavy-metal band Mötley Crüe will embark on its Saints of Los Angeles tour, named after its new album, which comes out this winter. Hinder and Theory of a Deadman will open the show at Baltimore's 1st Mariner Arena on Saturday, March 14. Tickets ($27.50-$93) go on sale Saturday at 10 AM.
The Tony Award-winning rock musical Spring Awakening comes to the Hippodrome at the France-Merrick Performing Arts Center Tuesday, June 9, through Sunday, June 21. Tickets ($22 to $67) go on sale Sunday, November 23, at 10 AM.
Hip-hop group Nappy Roots released its most recent album, The Humdinger, this summer. Now the band is gearing up for a tour in support of that release and will perform at Sonar on Wednesday, January 21. Tickets ($15) go on sale Friday at 10 AM.
Andrew Bird's new album, Noble Beast, will be released on January 27, and about a week later he'll perform at 9:30 Club. The show is Tuesday, February 3. Tickets ($25) went on sale this morning.
Tickets to see Cut Copy at 9:30 Club next year are on sale. In March, the band will wrap up its North American tour in support of the album In Ghost Colours, which was released last April. The show is scheduled for Monday, March 23. Tickets ($25) are on sale now.
Fountains of Wayne will perform several full-band acoustic shows throughout the beginning of 2009, two of which are in Washington. Catch the band at the Birchmere on Thursday, February 19, or at Rams Head on Friday, February 20. Tickets to the Birchmere show ($25) go on sale Friday at noon; tickets to the Rams Head show aren't on sale yet, but we'll keep you posted.
Rapper T.I. is performing at the 1st Mariner Arena on Sunday, December 28. The lineup includes Akon and Young Jeezy; tickets ($27.50 to $83) go on sale Friday at 10 AM.
More>> After Hours Blog | Arts & Events | Happy Hour Finder | Calendar of Events