What: Around 350 stylishly attired partygoers packed the DC nightclub Shadow Room for a fashion show by local designer Eddie Fam's ICKY line of urban daywear and a benefit for the Hoop Dreams Charity.
Where: Shadow Room, 2131 K St., NW.
When: November 20, 7 to 11 PM.
Tickets: $50 in advance, $60 at the door.
Who: Notable attendees included emcees Paul Wharton of TrenDC and Pamela Sorensen of Pamela's Punch as well as Redskins and Wizards cheerleaders, Bachelor: An Officer and a Gentleman star Andy Baldwin, and Mi Chiamo Eka designer and former Washingtonian best-dressed winner Ebong Eka.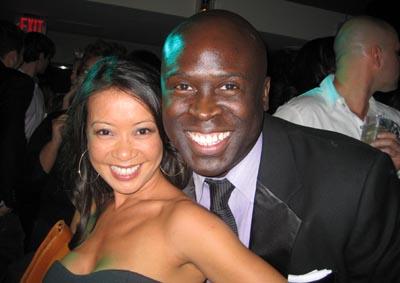 Food and drink: Guests mingled during a two-hour open bar featuring complimentary cocktails by P.I.N.K vodka, small bites from Mediterranean-inspired lounge Neyla, and cupcakes from Georgetown Cupcake. Beer, wine and other cocktails were upward of $8 each. Nibbles were few, far between, and cold, but the miniature tapas we tasted were passable, including a small puff of phyllo dough filled with ground beef. Georgetown Cupcake desserts were, as expected, delish, although they were relegated to a back corner and took some searching to discover. Event cocktails included a version of both a cosmopolitan and a Shirley Temple (with a twist—it was green!). They were fabulous-tasting (and sipped by many of the men in attendance) but predictably low on alcohol.
Scene: Stylish partygoers wore mostly cocktail dresses and sharp suits, but a few sported a designer-denim-and-T-shirt combo. Models and Redskins/Wizards cheerleaders mingled with the crowd during the pre-event happy hour, signing autographs and posing for photos. For those who preferred a more A-list photo op, a wax statue of America's Next Top Model host Tyra Banks was on loan (complete with red carpet) from Madame Tussauds wax museum. Guests enjoyed laughing and talking but grew antsy when the show, scheduled to begin at 9, didn't kick off until nearly 9:45. A small, low-to-the-ground runway prevented many guests from seeing the majority of the show, which caused temperamental host Paul Wharton to tell guests to "shut the [blank] up" on several occasions. Overall, most guests appeared more interested in mingling with each other than watching the models—which was fine, seeing as how they had paid their charitable entry fee before the event. Thankfully, even the low runway couldn't overshadow the event's success. The show raised more than $16,000 for the Hoop Dreams Scholarship Fund, which helps DC public-school children attend college.
Boldface names: 2 out of 5
Swankiness: 1 out of 5
Food and drink: 1 out of 5
Overall exclusivity: 2 out of 5
Total score: 6 out of 20
More>> Capital Comment Blog | News & Politics | Society Photos