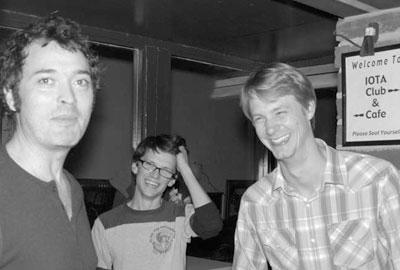 The Moderate is a band. Yes, that's obvious, but it's also refreshing. On the album AM/FM, released last summer, the band plays like three interdependent parts that follow smalls bits of dissonance with great harmony. Ignoring trends of studio overproduction and wizardry, musicians Jim Dempsey, Drew Marks, and Mike Maloney instead rely on just an electric guitar, bass, and drum kit to make their rollicking sound.
Two parts North Carolina and one part Maryland, the Moderate sounds just like three friends creating a glorious racket. Imbued with the bare simplicity of the Black Keys paired with the looseness of the Grateful Dead, the band knows not all songs have to fit nicely into a 2½-minute package. The Moderate uses space. Each musician plays as if he genuinely appreciates the others' musical prowess, and the listener can hear that interaction in each song.
"What do they know about rock and roll?" sings Dempsey as he strums his raw, tremolo-infused electric guitar in "Rock and Roll." The track builds on a flat note and a volume that fluctuates between restrained and roaring to produce a sense of anticipation before its crowd-pleasing climax. Head-banging transitions by drummer Drew Marks and the steady pluck of bassist Mike Maloney provide the glue for a song that never outstays its welcome.
"Lost, Boy," the band's best effort on AM/FM, features a cathartic two-minute guitar solo by Dempsey. Always building, from short to long licks, the guitarist sounds as if he's sliding his fingers down a piano, with the notes coming fast and effortlessly. At the end of the solo, Dempsey sings about his lost friend: "AM/FM, songs that make it hurt/ But I'd bring you back, I'd bring you back, I'd bring you back if I could."
Find out more about the Moderate for yourself when the band plays Highwater Thursday, December 11; Iota Club & Café Friday, December 12 (Dempsey solo); and the Black Cat Tuesday, January 6. For now, check out our Q&A with all three band members:
Name: The Moderate.
Jim Dempsey (guitar, lead vocals).
Drew Marks (drums).
Mike Maloney (bass, backing vocals).
Ages:
Dempsey: 26.
Marks: 26.
Maloney: 38.
Hometown:
Dempsey: Raleigh, North Carolina.
Marks: Raleigh, North Carolina.
Maloney: Hyattsville.
First song that made you want to play music:
Dempsey: "Little Wing" by Jimi Hendrix.
Maloney: "Black Dog" by Led Zeppelin.
First instrument:
Dempsey: Guitar.
Marks: Drums.
Maloney: Guitar.
Local spot to seek inspiration or write music:
Dempsey: "U Street for inspiration and my room to write."
Marks: "Jim's bedroom—so inspiring."
Maloney: "My living room."
Best local venue:
Dempsey: "Black Cat, Rock and Roll Hotel, Iota Club & Café."
Maloney: "Iota."
Best bar to hear music:
Dempsey: "Black Cat's got a great jukebox."
Maloney: "Iota."
Favorite local band other than your own:
Dempsey: "Brandon Butler and Fugazi."
Marks: "Brandon Butler, Justin Jones, John Bustine, Revival, and Rose."
Maloney: "Gist."
Best thing about Washington's music scene:
Dempsey: "Band pasta."
Marks: "Great musicians and supportive friends."
Maloney: "Iota's open-mike night—free music!"
Worst thing about Washington's music scene:
Marks: "Everyone hits on how transient this city is, and I have to agree."
Maloney: "Vast amounts of uninterested jerks."
Craziest tour memory:
Dempsey: "Mike getting in a fistfight with Buckethead. (Note: This may not have actually happened.)"
Maloney: "Watching cops pepper-spray a crowd at South by Southwest."
Finish this sentence: "When not making music, you can find me . . .
Dempsey: ". . . completely consumed by my fantasy-football league."
Maloney: ". . . walking my dogs, hanging out with my lady, and cooking Italian food."
Rolling Stones or the Beatles?
Dempsey: "I don't take sides."
Marks: "The Beatles."
Maloney: "The Beatles."
Digital download or hard copy?
Dempsey: "Either."
Marks: "Hard copy—jewel cases and all."
Maloney: "Digital download."
Rolling Stone, Spin, or blogs?
Dempsey: "Paste."
Maloney: "All crap!"
Club show or festival?
Dempsey: "Club."
Marks: "Club."
Maloney: "Never been to a festival in my life."
How did the Moderate come to be?
Dempsey: "We formed the Moderate in an effort to counter any influence the Decemberists might have on modern music."
Marks: "The music gods smiled down upon us."
Maloney: "I heard Jimbo's songs at Iota's open mike. Became friends. Played some shows. Started a band."
When you introduce someone to your music, what's the first song you play?
Dempsey: " 'Lost, Boy.' "
Marks: "I like to play our song 'Rock & Roll' as an introduction. It's my favorite song to play live and our most interesting song so far."
Maloney: " 'Rock & Roll.' "
Favorite musician or band that sounds nothing like you
Dempsey: "Ghostface Killah."
Marks: "Eddie Money."
Maloney: "Clutch."
Previous Local Listens:
Justin Jones
Kitty Hawk
More>> After Hours Blog | Arts & Events | Happy Hour Finder | Calendar of Events