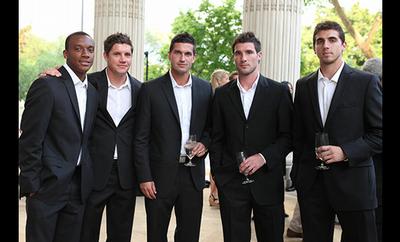 If you're DC United—a well-loved but currently struggling team in the MLS—how do you feel when one of the world's best sides drops by for a friendly game? If you're Devon McTavish, the answer is pretty casual: "It'll be fun," the midfielder said at a reception last night to celebrate AC Milan's visiting players. "This is just a routine training week for us, really."
In any other town in any other country, the arrival of players such as Ronaldinho, Clarence Seedorf, Dida, and Mancini might raise a sweat or two. But here in Washington, where soccer tends to take a back seat to other sports, the DC United players were making the most of an opportunity to play a game with some of their heroes. "It's exciting," said 2010 team addition Daniel Allsopp. "I guess you could get overwhelmed, but I don't think anyone's expecting us to win." McTavish was looking forward to meeting former Dutch international Seedorf. "I've been watching him forever," he said.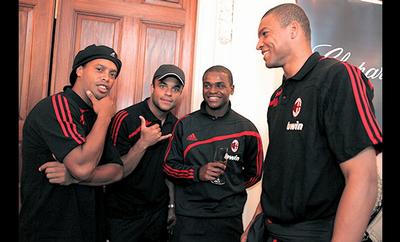 Despite efforts to keep things cool, DC United's players seemed notably more on edge than their Milan counterparts, who arrived wearing team kits, took advantage of the free bar, and even huddled on the balcony of DAR Constitution Hall's O'Byrne Gallery to smoke. Brazilians Ronaldinho and Dida rushed to plug their iPods into the speaker system and happily posed for photographs with fans and servers. The suit-wearing DC United team stuck to iced water and mostly kept their distance, although McTavish did joke about sneakily kicking Ronaldinho in the ankle ahead of Wednesday's game.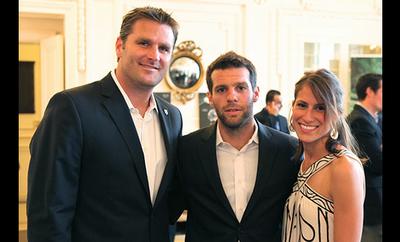 DC United head coach Curt Onalfo seemed to be doing his best to keep everyone relaxed. "This is a big deal for our city, but as far as preparations go, it's about making sure the guys are fresh and rested." Ahead of the upcoming World Cup in South Africa, Onalfo, former assistant coach to the US men's national team, said he'd be watching most of the games at home or in the office, although he might make an effort to go to Tony's Pizza in Fairfax for the final. "I think I watched the World Cup there in 2006," he said. Any clues on who might take the trophy? Most players declined to hazard a guess, although a few mentioned Spain, and captain Jaime Moreno, a Bolivian, said he was rooting for a South American team to win this year.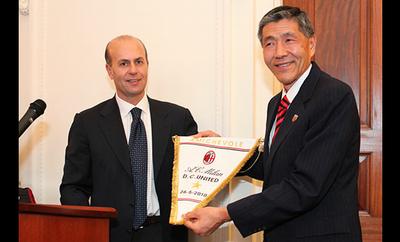 AC Milan organizing director Umberto Gandini summed up the evening's friendly atmosphere in a quick speech, although he couldn't resist a quick dig: "We share the same colors, black and red, and we share the same passion for football. Even if it's soccer for you, for the rest of the world it's still football."
Subscribe to Washingtonian
Follow Washingtonian on Twitter
More>> Capital Comment Blog | News & Politics | Party Photos