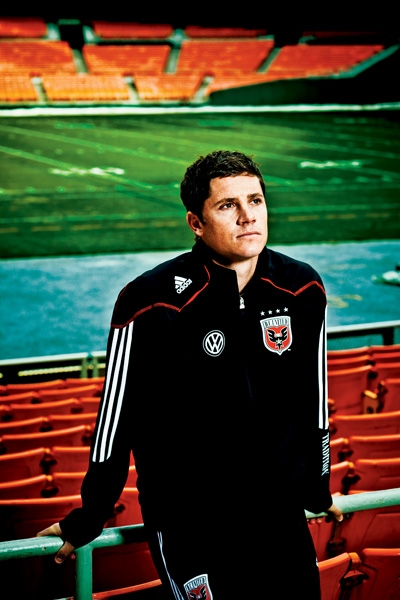 >> See All Washingtonians of the Year

Watch DC United's Devon McTavish on the soccer field and you'll see strength and grace. What you won't see is that McTavish suffers from Crohn's disease, a chronic condition that causes gastrointestinal inflammation.
Although 1.4 million Americans have Crohn's and similar conditions, it's not the kind of thing celebrities like to talk about. McTavish does. He's raising awareness and funds for the Greater Washington DC/Virginia Chapter of the Crohn's & Colitis Foundation of America (CCFA).
McTavish has hosted fundraising events and recruited his teammates to take part. He has chaired two walks for the foundation and gotten DC United involved in the events. McTavish raised nearly $7,000 just by blogging about the disease and challenging fans to help.
When he was 16, McTavish returned from a vacation in Mexico with what his family assumed was a stomach bug. The symptoms persisted for three painful months until a pediatric gastroenterologist at the University of Virginia diagnosed the ailment as Crohn's.
By then, McTavish was playing soccer and basketball for his high school in Winchester. As he tells audiences, he had to sit out a few practices and take some extra breaks, but he never missed a game.
DC United gives him a platform to spread the message that Crohn's doesn't have to mean the end of an active life.
McTavish is also a team leader in community service. Working with both international Habitat for Humanity and the organization's DC chapter was a welcome break from a tough soccer season, he says: "It's nice to be able to get there and hit nails into a wall."
He's an enthusiastic volunteer for DC United's community-service programs and works with the United Soccer Club to get more inner-city kids playing after-school soccer. He recently won his team's MLS W.O.R.K.S. Humanitarian of the Year award.
McTavish's warmth, enthusiasm, and ready smile impress everyone who meets him. "The biggest thing is his generosity and his genuineness," says Marcy Fritter, development director for the local CCFA. "He's just a genuinely good guy."
Subscribe to Washingtonian
Follow Washingtonian on Twitter
More>> Capital Comment Blog | News & Politics | Party Photos