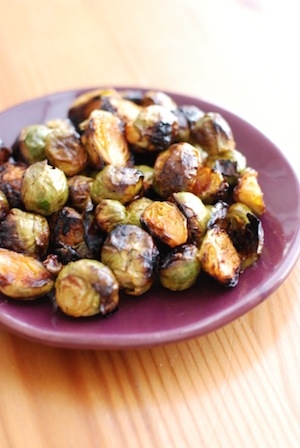 What: Brussels sprouts. Forget what you recited as a kid about hating these green, knobby vegetables. They're actually deliciously nutty, easy to like—and now that you're an adult, we know it won't scare you off when we say that they're really good for you, too. Through mid-February, you can often find Brussels sprouts on the vine at the farmers market; at the grocery store, they're usually sold loose or in a mesh bag and available most of the year. Cookinglight.com says to look for bright-green sprouts that are firm, and the smaller ones are generally sweeter. Peel off and discard any yellowing or brown outer leaves, and store the sprouts in an air-tight plastic bag in the refrigerator. Make sure to cook them within a few days of buying.
Why they're good for you: Along with broccoli, cabbage, and cauliflower, Brussels sprouts are in the cruciferous-vegetable family, which carries lots of cancer-fighting antioxidants, says Faye Berger Mitchell, a Bethesda-based dietician. "They're also good for the digestive system," she adds. According to Self magazine's NutritionData Web site, ½ cup of boiled Brussels sprouts has just 28 calories, 6 grams of carbohydrates, and no fat. The vegetable packs in 137 percent of the daily recommended value for Vitamin K (helps with blood clotting and bone strength) and 81 percent of the recommended dose of Vitamin C. You'll also take in folate, necessary for tissue growth, blood-pressure-lowering potassium, and iron.
What the experts say: In the book Cooking With Foods That Fight Cancer, authors Richard Béliveau and Denis Gingras say that cruciferous vegetables are high in glucosinolate, a molecule that kick starts carcinogen-fighting mechanisms in our body.
How to incorporate Brussels sprouts into your diet: To reap the health benefits of Brussels sprouts, try to eat about 1½ cups two to three times per week. Overcooking the sprouts can cause them to lose nutritional value, and they'll emit an unpleasant sulfur smell. Berger Mitchell trims off the flat ends, then cuts the sprouts in half lengthwise. She says to toss them with a little olive oil, kosher salt, and "any herb you like." Roast them on a sheet tray in a 400-degree oven for about 35 to 40 minutes, or until fork tender. The timing, Berger Mitchell says, depends on how fresh they are.
Recipes:
• Thyme-braised Brussels sprouts
• Brussels sprouts with Sriracha, honey, and lime
• Salad of raw Brussels sprouts with red peppercorns and honey-mustard vinaigrette
• Sauteed Brussels sprouts with lemon and pistachios
Subscribe to Washingtonian
Follow Well+Being on Twitter

More >> Health | Top Doctors | Well+Being Blog