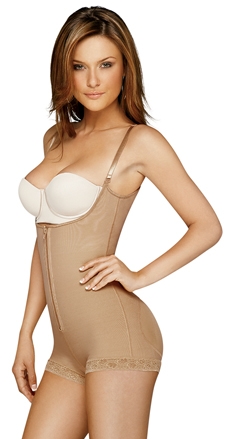 Related Articles:
Washington's Best Cosmetic Surgeons
Two New Fat Melting Procedures
The Plastic Surgeon's Wife
You may put it on when you want to squeeze your not-quite-size-eight self into your favorite dress, but when is shapewear not just shapewear? When it bills itself as a "lipo-transportation" device that "contours the body, redistributing and eliminating fat."
That's the claim of the Leonisa brand, sold for more than 50 years in South America and now widely available thanks to the Internet.
Leonisa's compression garments go "far beyond expectations of the average shapewear," says a press release.
Who could resist such marketing? I tried the most dominatrix-looking selection of the line, the Celebrity Style Body Shaper. Made of a sort of super-Lycra, it costs $74.99. After wearing it most days for a couple of weeks, I can't testify that flab was transported anywhere. When I unhooked and unzipped each evening, there it was. Doctors I consulted about Leonisa's "lipo-transportation" possibilities were too busy giggling to comment.
Wearing the garment did remind me to sit up straighter and carry myself better, and jiggly bits were indeed "redistributed" while I had it on. The first time I put on the shaper, the compression induced such a smooth line across my tummy and fanny that I put on a clingy cashmere dress I hadn't worn all last winter.
I looked maybe six pounds slimmer. While the Leonisa is no substitute for liposuction or trips to the gym, it's quick camouflage. Spanx—another line of shapers I've tried—is more comfortable to wear all day, but Leonisa gives a smoother look.
The science that recently convinced the Food and Drug Administration to approve Zeltiq, a medical device that kills off fat cells by freezing them, inspired another product intended to shape fat: FreezeAwayFat Cool Shapes shorts.
The shorts I tried cost $99.95, which includes four gel packets. The shorts are made of a purple polyester/Lycra fabric and come in small, medium, large, and extra large. Other than the fact they're covered with pockets, they look like something you'd wear biking.
You insert frozen gel packets into the pockets, choosing locations on your body where you'd like to lose fat, and wear the shorts for half an hour each day. If you're faithful, you're supposed to see a reduction in those zones after about five weeks.
Two doctors said no way would this work—gel pads wouldn't get sites cold enough to kill fat. Dr. Scott Gerrish, who uses Zeltiq in his Vienna practice, said "maybe." Even if it works for some people, he says, he'd expect a high failure rate because of variations in gel temperature and placement.
Then there's the "eeeeyowie!" factor. That's what I said every time I inserted the frozen gel packets.
I wouldn't call wearing the shorts painful in the way putting ice cubes down your underpants would be. It was tolerable, especially if I distracted myself by reading or tidying a room. But I made it through five days, not five weeks. Maybe if I'd tried them in July?
This article first appeared in the February 2011 issue of The Washingtonian.
Subscribe to Washingtonian
Follow Washingtonian on Twitter
More >> Health | Top Doctors | Well+Being Blog