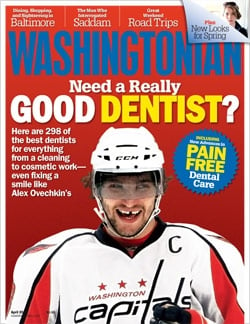 Not many people relish discussing dentistry. Dentists may be valuable—even noble—members of society, but for most of us, the need to see one is usually accompanied by a sense of overwhelming dread. Thus it's been fun for the editorial staff of The Washingtonian to see our April Top Dentists issue (not online yet but available on newsstands) make a bit of a splash in some unusual places.
Washington Capitals megastar Alex Ovechkin is this month's cover boy, in all his gap-toothed glory. In what's surely the first time a Top Dentists cover has been discussed on a sports blog, the Washington Post's Dan Steinberg has already taken note. "I think the image here pretty much speaks for itself," writes Steinberg. Our friends over at nbcwashington.com think we're "poking fun" at the hockey phenom, but we beg to differ.
"Ovechkin is as iconic a smile as Washington has," explains Washingtonian editor Garrett M. Graff. "As we were thinking about dentists and smiles, he naturally came up."
"Going to the dentist for a lot of people is an unpleasant experience," Graff continues, "so in approaching the cover, we wanted to do something that would make people laugh."
What do you think of the April cover? Let us know in the comments.