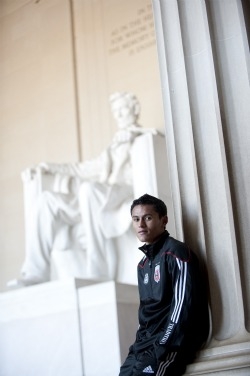 Andy Najar, the Honduran-born soccer star who emigrated to Northern Virginia and quickly became D.C. United's top player, will represent his native country in international competition, Najar said at a press conference at RFK Stadium Tuesday.
The announcement ends months of speculation over the 18-year-old's future. Word of Najar's choice first started to leak Monday night, with the Washington Post's Steven Goff noting that "Honduras' player pool is not as deep as the U.S. program's," so Najar should be able to "rise through the national system quicker and have a better chance of someday playing in a World Cup."
Najar exploded onto the soccer world's radar in 2010. Then 17, Najar scored five goals in 26 matches with D.C. United, earning Major League Soccer's Rookie of the Year award. He's the youngest player in league history to receive the honor.
The surprising performance grabbed the attention of the Honduran soccer federation, which asked Najar to join its national team. Committing to Honduras, however, would have prevented Najar from ever playing for the United States' national team.
Soccer players typically aren't allowed to represent more than one country in international competition.
As a result, Najar was forced to choose between his county of birth and his adopted homeland. "The US is a place that opens the door—it doesn't matter where you come from or what you bring," Najar told The Washingtonian in March. "But you can't forget your roots."
Najar emigrated illegally to Northern Virginia in 2007 but has since become a permanent resident. He attended Thomas A. Edison High School in Alexandria. During his sophomore year, Najar scored a school-record 22 goals and was named a first-team All-Met player by the Washington Post.
He dropped out of high school in 2010 to join D.C. United's first team. His original contract paid him $60,000 a year through his first season. Last December, D.C. United gave him a new contract, paying him in the low six figures annually.
Subscribe to Washingtonian
Follow Washingtonian on Twitter
More>> Capital Comment Blog | News & Politics | Party Photos