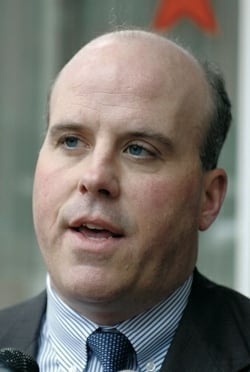 This story has been updated since it was first published.
The prosecutor leading the Obama administration's case against a former intelligence official who's accused of mishandling classified information has told a judge that he has "no interest in subpoenaing the reporter" who wrote a series of newspaper articles exposing wasteful and ineffective counterterrorism programs at the National Security Agency. But the prosecutor, who has subpoenaed a journalist for information about his sources before, didn't explicitly rule out the possibility, either.
The prospect of hauling a reporter into court, a rare move that is invariably fraught with controversy and implications for freedom of the press, came up at a hearing on the matter Thursday as both sides argued about whether the defendant, former NSA official Thomas Drake, should be allowed to introduce the newspaper articles in his defense. The government believes Drake gave the reporter information about classified intelligence matters, but Drake contends that none of the information he provided ended up in the reporter's stories. This, he argues, bolsters a broader claim that he never gave the reporter any classified information in their numerous exchanges, via e-mail and in person. Neither side has publicly identified the journalist, but The Washingtonian has confirmed she is Siobhan Gorman, who covered the NSA for the Baltimore Sun and now is with the Wall Street Journal.
According to court documents, U.S. District Judge Richard D. Bennett Thursday implied that calling the reporter to testify was a bad idea, cautioning the prosecution that he had no interest in heading down a "deep, dark hole." But the prosecutor, William M. Welch II, said that if Drake's attorney wanted to introduce the articles, then the defense would have to call Gorman. "If he wants to put the articles in, he's going to need a reporter to authenticate them," the transcript quotes Welch as saying, meaning Gorman would have to verify that she reported and wrote the articles. It was at that point that Welch told the judge, "I have no interest in subpoenaing the reporter," turning the decision back to the defense.
"He's playing a game of chicken," says Charles Tobin, a former journalist-turned-attorney who represents reporters who've been served with subpoenas. Tobin says that as a legal matter, there was no need for Gorman to verify her articles in court. Instead, by raising that possibility, Welch appeared to be "calling the defense attorney's bluff," Tobin says, because if Drake's team called Gorman, Welch would have the right to cross-examine her. Then he could try to ask her questions not just about what's in her articles, but about what's not in them, Tobin explains.
Welch has subpoenaed journalists before. Last year, he tried to compel New York Times reporter James Risen to identify his sources for a book Risen wrote about botched CIA operations. A former CIA officer alleged to be Risen's source was indicted in December.
Welch's subpoena touched off a debate over when the government should be able to force journalists to testify. An investigation by Washingtonian showed that Welch had overstepped the Justice Department's guidelines that govern that process. In November, Risen's lawyers succeeded in quashing the subpoena.
Journalists have zealously resisted subpoenas under the theory of "reporter's privilege," which holds that since news gatherers often have to promise people confidentiality in order to obtain information, they shouldn't be forced to testify about who those people are. If Gorman were called, she would presumably invoke privilege, legal experts say.
That would mire the Drake trial in a series of legal maneuvers and likely draw considerable media attention. "When you subpoena a reporter, you basically are adding another two years to your case," says Lucy Dalglish, the executive director of the Reporters Committee for Freedom of the Press, which advocates a federal press shield law codifying the privilege.
Federal investigators found what they say were classified documents in Drake's home and on his personal computer. Drake doesn't deny taking home information from NSA, but he disputes the government's assertion that the documents were classified. He also argues that he gave some information to Defense Department auditors as part of a whistleblower complaint, and that these communications were protected under the law.
Drake isn't charged with giving classified information to Gorman. Instead, Welch chose to indict him on the easier-to-prove offense of retaining official secrets.
"Welch's own argument is that the reporter is not relevant to the crime that's been charged," Tobin says. Either side calling a reporter risked "creating a legal sideshow."
Federal prosecutors have indicted five people for allegedly leaking to the press or mishandling government secrets, a record for any single administration. Supporters of government transparency say the administration's legal pursuit is at odds with Obama's pledge to hold officials to account for misdeeds and poor performance.
Dalglish echoed those sentiments, adding that the government's case depends largely on keeping Drake from showing that he talked to a reporter out of a public interest to spotlight official waste and mismanagement. "Welch doesn't want anyone to be able to portray Drake as a whistleblower," she says.
Advocates for Drake chastised the government for pointing the finger back at the defense. "It's ridiculous for Welch to blame the defense for wanting to subpoena a reporter," says Jesselyn Radack, an attorney with the Government Accountability Project, which has filed motions on Drake's behalf. "Welch is the one who put the newspaper articles at issue by making wild allegations about them in the indictment­—conveniently leaving out one of Drake's main ground rules: that he would never give the reporter classified information."
The indictment spells out in detail how Drake allegedly set up an encrypted e-mail system for giving information to Gorman, and how he met with her several times and offered to vet information in her articles before they were published. Based on Gorman's articles, Drake is clearly not the reporter's only source.
Welch has said that the content of the articles is irrelevant to his defense, because Drake still could have given classified information to the reporter that she or her editors ultimately decided not to publish. Nevertheless, on Thursday, the judge ruled that Drake could introduce the articles as evidence.