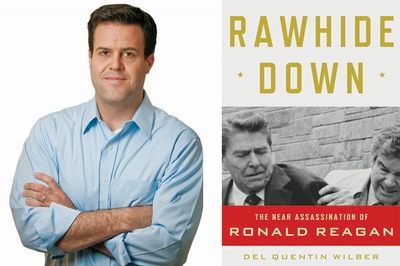 In the summer of 2008, reporter Del Quentin Wilber got a tip that the feds had launched an undercover investigation into DC taxi licensing. Word got back to FBI agents that Wilber was onto the story. Fearing he would blow their investigation, they brought him into the FBI's Washington office.
At some point, then–FBI field-office chief Joe Persichini reached into his desk and pulled out a pistol. It was the RG-14 22-caliber revolver that John Hinckley Jr. had used to shoot President Reagan on March 30, 1981. The gun had been in the bureau's museum.
A week earlier, Wilber had covered Hinckley's hearing in federal court to gain more release time from St. Elizabeths, the psychiatric hospital where he's been since the assassination attempt.
Persichini slapped the pistol into Wilber's hand.
"Now I was intrigued," Wilber recalls. "If this was the way the gun that had almost killed Reagan was being treated, how much attention had been paid to the story of that day?"
He checked the library and found little. He rang up Jerry Parr—Reagan's chief Secret Service agent that day had retired and was living in the District. They met for lunch at a deli near DC's Tenley Circle. Parr talked and talked.
There's a book here, Wilber thought.
Rawhide Down, Wilber's narrative of the day Reagan was attacked, reaches bookstores this month, the 30th anniversary of the shooting. It's a fast-paced read that draws well-crafted characters and gives a vivid sense of the history that brought the story's heroes and Hinckley together that day.
"It was the most unscripted day of Reagan's presidency," Wilber says. "It showed the American people what his mettle was. Whether you agree with his policies is another thing."
Rawhide Down is Wilber's first book. A native of McLean, he got the newspaper bug from Don Cheeseman, his English teacher at Georgetown Prep. "I liked talking truth to power," Wilber says.
One of his first attempts was a poll about the effectiveness of Prep's headmaster. While getting his journalism degree at Northwestern, Wilber interned at the Fairfax Journal, the Tampa Tribune, and the Times of Trenton. After graduating, he landed a job at the Baltimore Sun, where he worked for two legendary editors, John Carroll and Bill Marimow.
"If Marimow had said jump out the window to get a story," he says, "I would have."
Wilber dove into stories about cops and corruption. His coverage of the DC sniper attacks in 2002 caught the eye of a Washington Post editor, Jo-Ann Armao, who lured him to the paper.
"He gets very high marks from me as a reporter," says Armao, now on the Post's editorial board. "Hard-working to the point of driven, knowledgeable, accurate to a fault. And as a writer I think he knows that when you have a good story, just tell it."
In Wilber's telling of Reagan's day on the brink, heroes such as Jerry Parr and George Washington University Hospital trauma chief Joe Giordano come off the page. Al Haig, Cap Weinberger, and Mike Deaver walk and talk and posture. Nancy Reagan stands by her man. And Ronald Reagan, who in Wilber's telling came very close to dying, prevails.
Wilber, 36, lives on Capitol Hill with his wife, Laura Sullivan, an NPR reporter, and their two sons.
As for the story on bribes in the DC taxicab business? Wilber broke it in 2009.
Note From the Editor: On March 30, 1981, the world awaited word on the fate of President Ronald Reagan after he was shot by John Hinckley Jr. Thanks to doctors and nurses at George Washington University Hospital—and a bit of luck—Reagan survived to serve two terms. In "The Saving of the President," an article in the August 1981 Washingtonian, John Pekkanen told the tale of the fight to save his life. It won a National Magazine Award and was reprinted in August 2004 along with reflections by people involved in the historic event. Those accounts are at washingtonian.com/reaganstories.
This article first appeared in the March 2011 issue of The Washingtonian.
Subscribe to Washingtonian
Follow Washingtonian on Twitter
More>> Capital Comment Blog | News & Politics | Party Photos