Welcome to "The Daily Ask." Each day, we'll ask readers on Facebook and Twitter what they think about a particular topic. The best responses will be posted on the Web site the next day.
Yesterday, we asked, "A federal appeals court recently upheld a ban on dancing at federal memorials here in Washington. What do you think of the ban? Should dancing covered by the First Amendment?" It turns out asking about the First Amendment is as controversial as you think it might be.
Facebook Talks About the Dancing Ban: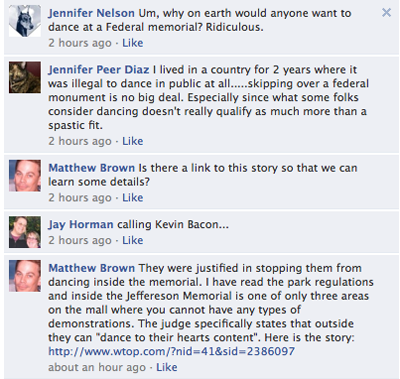 Now for tomorrow's question! Dominique Strauss-Kahn has resigned as IMF chief following allegations that he sexually assaulted a hotel maid in New York City. Do you think he should have resigned? Answer on Twitter or Facebook.
Subscribe to Washingtonian
Follow Washingtonian on Twitter
More>> Capital Comment Blog | News & Politics | Party Photos