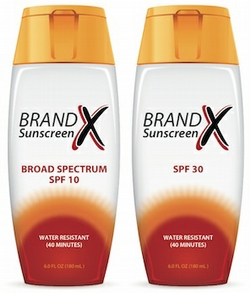 The Food and Drug Administration announced Tuesday that it will require new labels on over-the-counter sunscreen products. The rules are part of an effort to boost consumer knowledge about the dangers of sun exposure and make it easier compare the effectiveness of one product to another.
Under the new regulations, sunscreens that protect against both UVA and UVB rays will be labeled "Broad Spectrum," differentiating products that protect against only one kind of ultraviolet radiation. While both UVA and UVB rays play a role in skin cancer, UVB rays are more generally associated with sunburn on skin's outer layer. UVA rays penetrate more deeply, causing wrinkles and aging, and high UVA exposure "may even initiate the development of skin cancers," according to the Skin Cancer Foundation.
Previously, manufacturers were required only to test and label for UVB protection—that's where the familiar SPF value came from, which essentially tells you how much protection the product offers from outer-layer sunburn only. The new rules require companies to use a broad-spectrum test that measures UVA protection in relation to UVB protection.
Here's the catch: Products with SPF values as low as 2 could be labeled "Broad Spectrum" under the new rule. For the best protection, you'll want to find sunscreens labeled both "Broad Spectrum" and that have an SPF 15 or higher—only products that meet both criteria will be allowed to use language claiming they may help prevent sunburn and reduce the risks of skin cancer and early aging.
On the flip side, products that don't qualify as Broad Spectrum—and even those that do, but that have SPF values between 2 and 14—must include warning labels about skin cancer and early aging.
What you won't see anymore are claims of products being "waterproof" or "sweatproof"; the word "sunblock" won't be used, either. "These claims overstate their effectiveness," says the FDA on its Web site.
Claims of water resistance will remain, so long as the front label tells you how long the product remains effective while swimming or sweating. Products that aren't water resistant will need to include language instructing users to apply a water-resistant sunscreen.
The FDA is also considering a rule that would limit the SPF claims in sunscreens to 50+, stating in a press release that "there is not sufficient data to show that products with SPF values higher than 50 provide greater protection for users." Groups like the Environmental Working Group, which puts out an annual sunscreen guide, recommend that consumers flat-out avoid sunscreens claiming SPF values of 50 or more, citing studies which show that people who use higher-SPF lotions usually apply less lotion less frequently—actually leading to more burns.
Most major brands will begin rolling out products slugged with new labels next year.
Subscribe to Washingtonian
Follow Well+Being on Twitter
More >> Health | Top Doctors | Well+Being Blog