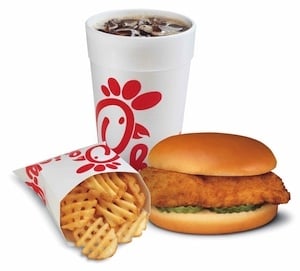 A few days ago, while perusing Chick-fil-A's Web site (yes, this is what I do in my spare time), I came across something pretty neat: a meal calculator, which allows you to select multiple menu items (entrée, sides, drinks) and tabulate the calories, fat, sodium, and more for your entire meal. Most sites only allow you to view the nutritional data for individual items—in other words, the math's on you.
Of course, you might not like what you find out about your favorite Chick-fil-A meals, but knowledge is power, right? I crunched the numbers for a few typical combinations. Here's the skinny on what you're eating, plus tips for slimming your order at the chicken chain.
Chicken sandwich, small waffle fries, small lemonade: 870 calories, 31 grams of fat, 6 grams of saturated fat, 1,540 milligrams of sodium, 49 grams of sugar.
Chargrilled chicken sandwich, medium fries, medium Coke: 820 calories, 23 grams of fat, 4 grams of saturated fat, 1,215 milligrams of sodium, 56 grams of sugar.
Chicken nuggets (12 count) and a small banana-bread-pudding milkshake: 1,180 calories, 42 grams of fat, 16 grams of saturated fat, 1,930 milligrams of sodium, 106 grams of sugar.
Spicy-chicken sandwich, medium carrot-and-raisin salad, medium sweetened iced tea: 870 calories, 32 grams of fat, 7 grams of saturated fat, 1,830 milligrams of sodium, 70 grams of sugar.
Chicken nuggets (eight count), large fries, small Dr Pepper: 790 calories, 33 grams of fat, 6 grams of saturated fat, 1,225 milligrams of sodium, 36 grams of sugar.
Chicken-salad sandwich, small fruit cup, small diet lemonade: 555 calories, 19 grams of fat, 3 grams of saturated fat, 1,140 milligrams of sodium, 25 grams of sugar.
Trying to cut back on fat and calories? A few tips:
• If you're ordering a chicken sandwich, ask them to hold the butter—Chick-fil-A butters its buns, and cutting it out could save 30 calories and 3 grams of fat.
• Make it a wrap. The chicken in the wraps are grilled, and the multigrain flatbread gives you a few extra grams of fiber. The restaurant has three wrap options: chargrilled chicken, chicken Caesar, and spicy chicken.
• The salads all around are excellent choices, especially the ones with grilled chicken. They come in at about 200 calories apiece. (The Chick-n-Strips salad has 460 calories, which still isn't a bad option.) Light-dressing choices include fat-free honey-mustard, light Italian, and reduced-fat berry balsamic vinaigrette.
• If you opt for sauce with your nuggets or chicken tenders, steer clear of the Chick-fil-A sauce—it has 140 calories and 13 grams of fat. Better choices include Buffalo sauce (10 calories, zero fat), barbecue sauce (45 calories, zero fat), and honey-mustard sauce (45 calories, zero fat).
• If you can live without the waffle fries (I admit it: I can't), you're in luck at Chick-fil-A. The restaurant has some of the best French-fry alternatives among the fast-food chains. Here you can get carrot-and-raisin salad, a fruit cup, soup, or a side salad. Just be wary of the coleslaw: A medium serving has as many calories (360) as and more fat (31 grams versus 19 grams) than a medium fry. And the coleslaw has 16 grams of sugar; the fries have none.
Subscribe to Washingtonian
Follow Well+Being on Twitter
More >> Health | Top Doctors | Well+Being Blog