Welcome to the Daily Ask. Each day, we ask readers on Facebook and Twitter what they think about a particular topic. Here's a recap of our responses.
Yesterday we asked, "This weekend's thunderstorm wreaked havoc on trees and power lines in the area. What damage did you experience, if any?"
Our Best Twitter Response

Our Facebook Poll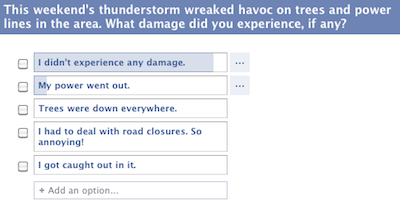 Now for tomorrow's question. Yesterday we posted a piece about highly discussed books (like Bob Woodward's frequent tomes) that few people seem to actually read. Have you ever faked reading a book? Answer on Twitter or Facebook.
Subscribe to Washingtonian
Follow Washingtonian on Twitter
More>> Capital Comment Blog | News & Politics | Party Photos