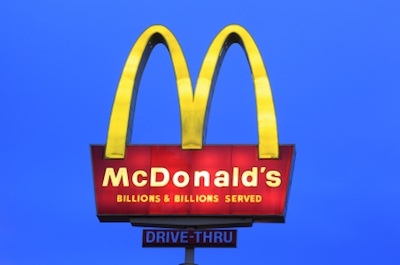 A new study shows that one in six American consumers are reading nutrition information on calorie-labeled menus and using them to make healthier food decisions. New York City recently began requiring chain restaurants with 15 or more locations to list calories on their menus. The controversial requirement has been found in the past to be having little effect on customer choices—sometimes even resulting in increased caloric intake, according to a study that was published in 2009.
The new study, published by New York- and California-based researchers in the British Medical Journal looked at the choices of 15,798 customers at fast food restaurants in 2007 and 2009. The study showed that while the new labels didn't have a significant impact on consumers' caloric intake on the entire group, one in six customers are reading them and using them to make better choices.
Customers at three fast food restaurants were consistently found to be making healthier choices: McDonald's consumers dropped their calorie intake by 5.3 percent, Au Bon Pain's dropped theirs by 14.4 percent, and KFC's customers dropped their caloric intake by 6.4 percent.
The study also found that posting calories actually saw an increase in caloric intake at one fast food outlet: Subway, where customers increased calories by 17.8 percent. Study authors attributed this increase to Subway's push on customers to upgrade to larger portion sizes.
New York City and California are two places that currently have a calorie-posting requirement, and the US Congress passed a similar law last year that will be implemented nationally in 2012.
This means that posting calories on menus can help some customers make healthier choices, but to tackle the US obesity rate of 17 percent, experts say more changes will be needed. Dr. Susan Jebb from the MRC Human Nutrition Research Centre in Cambridge said of the study, "Calorie labeling will help consumers make an informed choice about what they eat, but sustained improvements in the nation's diet will require a transformation of the food supply too."
Subscribe to Washingtonian
Follow Washingtonian on Twitter

More >> Health | Top Doctors | Well+Being Blog