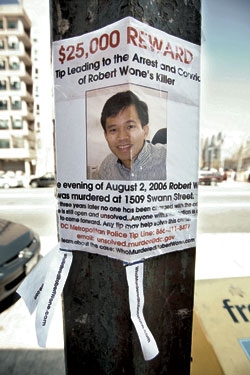 The Washington Post has a record of neglecting to credit the work of other publications. Check with random DC reporters; most have tales of being fleeced by the Post. Asking for credit is unbecoming—who wants to whine?
When I first read Keith Alexander's front-page article that Kathy Wone had settled her civil case against the three men who were present when her husband was stabbed to death five years ago, I was barely perturbed that he claimed his interview with her was "her first extensive interview since her husband was slain August 2, 2006."
Post writers can't resist saying they were first; editors love it. In this case, Alexander and the Post were second.
In The Washingtonian's April 2010 issue, we published an extensive article based on a series of exclusive interviews with Wone. She spoke in detail—for the first time—about her husband, their romance, the night Joe Price called to say Robert had been stabbed, her meetings with the three men she would sue, and her healing process.
After reading Alexander's article, I sent him the following e-mail: "Keith—my editor points out that we published an extensive interview with Kathy Wone in the April 2010 issue. He wants me to ask for a correction. Any thoughts?"
Alexander is a solid journalist. I have been admiring his coverage of the DC Superior Court for years. I figured he would make things right.
Alexander e-mailed back: "Hmm, well it was the first time she spoke to the Post and the law firm folks said it was the first. And it was also the first time she spoke about the lawsuit. But I'll bounce it off my editor and see what he says."
Let me get this straight. If someone says something to the Post, then the Post can claim it's exclusive?
Alexander's article says "the first extensive interview since her husband was slain." It doesn't say first interview with the Post. A simple check with Google might have unearthed The Washingtonian interview.
Alexander's e-mail says his interview was the first time she has spoken "about the lawsuit." True and accurate! But his article says "first extensive interview since her husband was slain August 2, 2006."
On a pure journalistic note, Alexander neglected to inform readers of a key aspect of this case: The criminal investigation is still open. The three men in the Swann Street, Northwest, house that night—Joseph Price, Victor Zaborsky, and Dylan Ward—were acquitted of conspiracy in criminal court last year. No one has yet been charged with the murder of Robert Wone, and prosecutors could still pin the fatal stabbing on the three men or the intruder they claim did the deed.
The case "will remain open" prosecutor Glenn Kirschner said last June. "We can only hope that further evidence comes to light that will allow us to move forward in the homicide investigation."
If the Post can report news on that front, it would actually be first.
Subscribe to Washingtonian
Follow Washingtonian on Twitter
More>> Capital Comment Blog | News & Politics | Party Photos