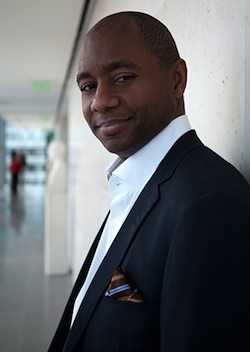 As the eldest son of jazz's first family, Branford Marsalis is accustomed to finding ways to distinguish himself from other musicians. When the saxophonist shared a bill with trumpeter Terrence Blanchard's band at the Kennedy Center earlier this year, Marsalis's subjective approach to harmony and meter set him apart from the more obvious groove of Blanchard's band. While there were some transcendent moments during his set, there were also stretches that seemed impenetrable, at least to this reviewer. But the notoriously outspoken Marsalis says that this doesn't bother him in the least, because the music requires a kind of listening with which practiced ears are often unfamiliar. In other words, it's designed for people, not experts.
"Instead of just digging it, you're counting. It's not math-based music; it's based on melody," says Marsalis. "The audiences don't get lost because they aren't thinking like you are."
The 51-year old Marsalis returns to the area on Saturday to lead his quartet at George Mason University's Center for the Arts. The collective improvisation that lies at the root of Marsalis's music can only be successful if there's a strong simpatico among the musicians on stage, and his usual group will perform this weekend. Bassist Eric Revis and pianist Joey Calderazzo have been with the group since the late '90s. Just 20 years old, drummer Justin Faulkner is by far the youngest member of the band, but already seems like a perfect fit.
Marsalis began exploring an experimental style early in his career, but was struggling with it until he received an important piece of advice from jazz legend Art Blakey, whose band, the Jazz Messengers, was a training ground for dozens of the genre's finest. The venerated drummer told Marsalis that in order to break away from clichés, he first had to understand how those conventions were established. Doors began to open once Marsalis began studying the music of the past.
"Tradition is a gateway to the modern. The more time I spent studying the traditional stuff, the more modern my thinking became," Marsalis explains.
Marsalis began by deconstructing the standard repertoire. Many of these songs were composed for Broadway, where breaks in the music were used to give space for some stage element. Those spaces are unnecessary in a modern jazz context, so Marsalis began eliminating them, thus abandoning the even phrases that are common to jazz standards. He was also inspired by late 19th century classical music and opera, where the melody determines the shape of the song. In Marsalis's music, the rhythm section doesn't rest on a pre-set framework, but is instead free to alter its support based on the soloist's improvisation. Marsalis believes that by avoiding a more mathematical way of playing, the audience is free to focus on the feeling behind the performance.
"Are we going to transport [the audience] to an emotional place, or are we going to give them numbers? If we give them numbers, then we're dead," says Marsalis.
The National Endowment for the Arts has collectively named Marsalis, his father and brothers as NEA Jazz Masters. The Marsalises are known for their clear—and sometimes controversial—opinions on the state of jazz. During our conversation, Marsalis lamented the way jazz is taught mainly with quantifiable and codified rules, with little emphasis on listening and true self expression. He also feels it's wrong for jazz writers and musicians to blame the audience or pop culture for jazz's lack of popularity. Instead, Marsalis suggests that the jazz community needs to take a hard look at itself.
"Jazz music used to be for people, you didn't have to be a really bright guy to get it," he says. "If you make something and it doesn't sell, you don't blame the buyers—your shop just closes."
The Branford Marsalis Quartet will perform at George Mason University's Center for the Arts this Saturday at 8 PM. Tickets ($24 to $48) are available through the Center's web site.