Gary Oldman stars in Tinker Tailor, Soldier, Spy. Photograph courtesy of Focus Features
AFI European Union Film Showcase
One of the AFI's most anticipated series each year is its fall collection of the best of European cinema, which often gives Washingtonians their earliest (and sometimes only) chance to catch the official selections of quite a few foreign nations in the Foreign Language Oscar race. This year's showcase has several high-profile titles among the 44 films on the schedule, including some that have been hugely well received at festivals and in their home countries already. Among the highlights:
—David Cronenberg's A Dangerous Method, the director's historical fiction about a love triangle involving Sigmund Freud (Viggo Mortensen), Carl Jung (Michael Fassbender), and a patient (Keira Knightley). The film has garnered significant buzz for its S&M themes.
— Le Havre, the latest from legendary Finnish director Aki Kaurismäki about a shoe-shiner and artist who helps a stowaway from West Africa hide from the local police.
— Tinker, Tailor, Soldier, Spy, from Swedish director Tomas Alfredson, an adaptation of the John le Carré spy novel starring Gary Oldman in the role of George Smiley (previously made famous by Alec Guinness in a 1979 miniseries version). This film has already won critical acclaim and been a box office hit in the UK.
— A Woman in the Fifth, which serves as the festival's opener and screens tonight along with a reception. It stars Ethan Hawke as an American who heads to Paris to try to patch things up with his ex-wife and daughter, only to fall victim to a series of unfortunate events that eventually leads him to meet a couple of women (one played by Kristen Scott Thomas) who aren't quite what they appear to be.
Opens tonight at the AFI and continues through November 22. See the festival guide for complete listings. Ticket packages and individual tickets are available online.
Filmed romances often begin with the flood of euphoria that accompanies new relationships, then present an obstacle, and finally show how love conquers all. The indie love story Like Crazy offers no such guarantees. Its young lovers, played by Anton Yelchin and Felicity Jones, hail from different countries—the US and the UK respectively—and meet while both are in college in Los Angeles. The sweetness of their early relationship hits a brick wall when immigration issues prevent them from seeing each other, and the film becomes an intimate and at times frustratingly realistic look at how their long-distance relationship develops over the next few years. While writer/director Drake Doremus telegraphs some of the awkwardness he wants to show a little too nakedly at times, he offers up characters and scenarios that for many will hit uncomfortably close to home.
View the trailer. Opens Friday at E Street and Bethesda Row.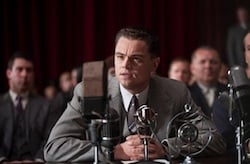 The leaves are falling from the trees, so it must be time for another Clint Eastwood prestige project; his directorial career has become nearly as clockwork consistent as Woody Allen's. Almost every year of the past decade has found the legend supplying us with yet another Oscar-seeking missile—and the years he skipped (2005 and 2007) were each followed by years in which he directed two films, just to pick up the slack. Following on the heels of the maudlin, disappointing Hereafter, Eastwood returns to real-world inspiration this year with a historical biopic. Of course, his track record with those isn't the greatest of late, as 2009's Invictus was as much of a misfire as it was well intentioned. But for his film on the life and career of FBI director and controversial figure J. Edgar Hoover (played here by Leonardo DiCaprio), Eastwood is working from a script by Dustin Lance Black, also the screenwriter for Gus Van Sant's Milk. Black's approach to biopics seems more pointed and insightful than the overly sentimentalized tack of Eastwood's more recent work, which gives me hope that this film might have a little more bite.
View the trailer. Wednesday at theaters across the area.
Italian director Franco Zeffirelli is best known for his lush adaptations of operas and Shakespearean plays, but he also directed one documentary. This extremely personal work is a response to the 1966 flooding of Florence, when the River Arno submerged parts of the city under as much as 22 feet of water. Many were killed, thousands were left homeless, and millions of historically significant books and thousands of works of art were damaged. The film, narrated by Richard Burton, contains what is now the only known footage of the flood.
Saturday at 3:30 PM at the National Gallery of Art. Free.
For more than 20 years the Washington Psychotronic Film Society has been the area's foremost purveyor of trashy, schlocky, and just plain weird cinema. It has screened films in locations ranging from bars to theaters, but was forced to take a brief hiatus this year when its arrangement with the Passenger came to an end and it needed to find a new screening location. As of this Monday, the society is back in action, now at McFadden's at 24th and Pennsylvania with a new Monday night screening date. This week was a viewing of a collection of Halloween shorts; next week the lineup returns to features with a showing of the 1986 girls-in-prison satire Reform School Girls. Tom DeSimone's feature treads the very fine line between sending up the well-worn exploitation subgenre and succumbing to its excesses, but it's become a minor cult classic due largely to the rare film appearance by confrontational '80s shock rocker Wendy O. Williams.
View the trailer. Monday at 8 PM at McFadden's. WPFS screenings are free, but a $2 donation is suggested.

Blu-ray Pick of the Week: The Twilight Zone, Seasons 1 through 5
Television shows with elements of science fiction, the supernatural, and the macabre may be a dime a dozen these days, but there's still nothing that can touch the visionary original run of The Twilight Zone. The program ran for five seasons from 1959 to 1964, each episode a neatly contained, pithy standalone story—just half an hour during all but the series' fourth season, which experimented with an hourlong format. The writers managed to fit a brief story into a fairly consistent template—the fantastical situation, an eventual surprise twist—without ever feeling repetitive. The standalone format allowed for endless variations, and the series as a whole is like that short-story anthology that you can always go back to and open to any page for a satisfying read.
Overseeing everything was Rod Serling—creator, executive producer, master of ceremonies, and frequent writer—who appeared at the start of each story to deliver his distinctive clenched-teeth introduction. Serling and his team attracted an impressive array of stars to their dark little teleplays. To think of of past, present, and future stars as famous and as diverse as Robert Redford, Buster Keaton, William Shatner, Ida Lupino, Burgess Meredith, Charles Bronson, Dennis Hopper, and Agnes Moorehead (just to scratch the surface) all appearing on the same series today is unfathomable. That a show that is now half a century old is still just as enjoyable today is a testament to the quality of the storytelling being just as impressive as its stars.
Special Features: This collection of all 156 episodes of the original run of the series (they're available as individual seasons, as well) contains commentary tracks for many of the episodes, along with promotional spots, footage of Emmy award ceremonies where the series picked up honors, audio and video interviews with actors who appeared in the series, lectures by Rod Serling, isolated audio scores (much of the show's music was done by the legendary Bernard Hermann), and even some associated radio dramas, redone by modern actors. In short, it's enough to keep you going down the rabbit hole of Twilight Zone ephemera for a long time.