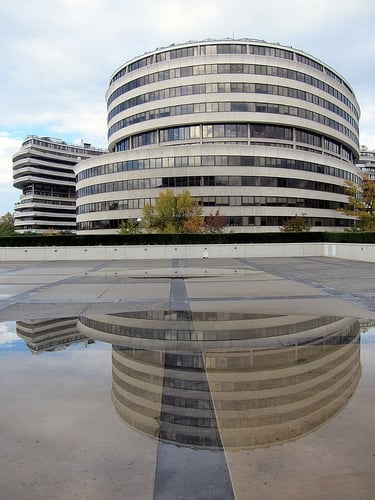 Can you put a price on history? Apparently in the case of the Watergate office building, the answer is yes. The building, one of the most famous in American political history, has new owners, who paid a reported $76 million for the property. A gradual renovation is planned as part of what they hope will be a revival of the overall complex, which sits on the Potomac River next to the Kennedy Center. They are mulling what to do with the office that was the headquarters of the Democratic National Committee, which notoriously got burglarized on May 28, 1972, by men working for President Richard Nixon's reelection, a scandal that eventually brought down his administration.
The building was bought by Penzance, a local private equity real estate investment company whose partners include Julia Springer Tolkan, Victor Tolkan, Tom Ikeler, and Joe Margolis. The deal included the office building plus the sub-ground-level retail plaza. Also in the complex are one other office building, owned by media mogul David Bradley; three apartment buildings, which are co-ops; and a hotel, which is under renovation by Euro Capital Properties, which paid $45 million for it in the spring of last year.
Watergate has been in the news lately for business rather than political reasons—not only the Penzance buy, but also hurdles hit by the hotel owners in trying to get neighborhood consent for the planned overhaul. "This week there's been very good forward progress," says Liz Sara, a former Watergate South board member who met with Euro Capital's Washington representative. The consent process is completed, she says. "They want to reduce the number of suites and make more single rooms. They'll also have fabulous restaurants, a cafe, and a health club and spa."
Sara says the reopening of the hotel "will bring a lot of life back to the area. It has been sorely missing since the hotel closed four years ago." Euro Capital told Watergate residents a spring or summer 2013 opening is tentatively planned.
What won't be solved right now is the recent demise of the Watergate Safeway, which also served residents of Foggy Bottom. That retail space belongs to Penzance, which is eager to find a new tenant, ideally a food business. "It's a huge disappointment to the neighborhood," says Sara of the Safeway closing. "My board is talking to Penzance, and they are very amendable to what the community wants."
The Penzance partners believe Watergate can return to the glory of when the buildings were completed 40 years ago as the first mixed-use property in Washington. Once upon a time, the late chef Jean-Louis Palladin oversaw the city's most acclaimed restaurant in the hotel, as well as a carry-out in the courtyard shops. George Ozturk of the successful salon George at the Four Seasons got his start at the Watergate Salon. Gucci, Yves Saint Laurent, and Vera Wang were among the boutiques—all now gone.
Liz Sara concedes that various infrastructure upgrades are needed, and a number are planned, but she argues with the perception that Watergate is past its prime. "I think it's already revived," she says. "Look at the demographics of who is moving in—young, professional people at the top of their fields. It's a vibrant, transformed community." She says the latest piece of business, the sale of the office building to Penzance, "contributes to people being excited about living here."