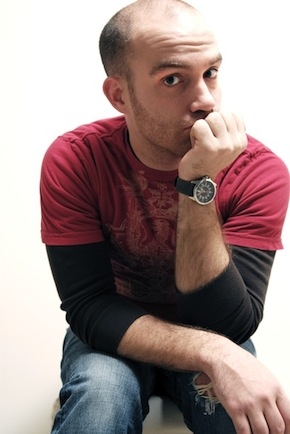 If you're a musician looking to hit it big, Washington probably isn't near the top of the list of cities to do it in. But for singer-songwriter Justin Trawick, it's the perfect place to make a living. "It's not a music city like Austin or New York, so there aren't a million musicians trying to make it here," the Leesburg native says. "In New York, it's hard to find a gig that you're not playing for free or for tips—you have to be a waiter or waitress on the side. In DC, you're not getting rich, but you can pay your bills."
Trawick's new album, You & I—a stripped-down collection of ten tracks recorded live in front of a small group—features Trawick with an acoustic guitar and some occasional help from friend Josh Himmelsbach on mandolin and piano.
His sparse instrumentation doesn't limit him to guy-with-guitar standards. "Brick by Brick," the most upbeat song on the album, sounds like Jason Mraz–lite, complete with Trawick's version of "white-boy rap." "Snow Angels" is bluegrassy, and "Back of My Mind" has a great verse from rapper Flex Matthews before Trawick rocks out near the end.
"I like to entertain for the ADD generation," he says. "You'll see me do a bluegrass song, then a waltz, then a rocking kind of song. . . . My biggest worry is that people will become bored."
Trawick showcases his live music chops Friday at You & I's release concert at Artisphere. We talked to him about the new record and what it's like to be a full-time singer-songwriter in Washington.

You recorded You & I in front of a tiny audience at a recording studio—why did you decide to do that instead of a standard record?
It was the best of both worlds. Inside a recording studio, there's good-quality sound, but I've always excelled at playing in front of an audience. It was an optimal situation.
Once the songs were written, was this an easy record to make?
The actual recording only took two hours. The recording time of a full-length, produced album could take, what, maybe 100 hours? So in that regard, it was the easiest record anybody could ever make. There was very little mixing, because it was almost always done in one take. But it's essentially a live record—compared with a studio record, there's a lot more that could go wrong. There were several songs that I did screw up in some fashion. There were some little things, and then there were far bigger things. Nobody will ever know, but it wasn't the way I was supposed to do it. But the way I played it on the album—that's now the song, and it's probably better that way. I'll do it like that from now on.
This is an acoustic record, and you do a lot of acoustic singer songwriter shows, but you also have a full band. For you, what's the difference? Do you prefer one to the other?
When I'm with the band, it's a lot more about rocking and putting on a good time and seeing people dancing. When I'm by myself or with a smaller group, it's much more about the emotional side of it—more about the lyrics than the rocking part. I think it looks kind of ridiculous when a person is up there with an acoustic guitar trying to rock out like he's with a band. If I'm with the band, then I'm just one piece of it. If I'm by myself, then I am the band; it starts and ends with me.
If you've seen singer-songwriters, you've probably seen people who, from the beginning to the end of the song, are hammering away at the guitar because they don't understand what the dynamic should be. I try to treat every string like it's a band member. I won't be hacking away strumming all the time, I'll just play a couple strings at a time.
In Story of a Boy, you say you were laid off from your job on 14th Street—what were you doing?
I worked for SoundExchange, which is similar to BMI [Broadcast Music, Inc.]. They collect royalties for bands on satellite and Internet radio. Four years ago, I was laid off. One of my records is called Starting Over, and it's about the feeling of starting a new chapter. I'd been doing music in tandem with a full-time job for four years after graduating college. I had always had the desire to be a full-time musician but didn't have the guts to quit a job where I had a steady source of income. It was kind of a blessing, but that first week after being laid off was depressing.
So what's your favorite place to play in the area?
For full-band shows, my favorite place is definitely Iota. I've played most of the clubs in DC—I've played 9:30 five times—but I'm not big enough to fill it. I'd rather play to a sold-out crowd [at a smaller venue] than to a couple hundred people in the 9:30 Club. For solo shows, it's the Birchmere.
How about the rest of the country?
I've been playing New York for a while now, done a few shows in Austin and at the Hotel Café in LA, but I haven't done much touring. My family works for the airlines, so I'm definitely playing all the time and traveling, but I usually fly. I haven't had that "jump in the car and go all over the place" experience. One day I will—I'd love to get enough exposure to warrant getting in that car and going city to city.
Justin Trawick is at Artisphere December 16 at 7:30 PM to perform songs from his new album, You & I . Tickets ($12) are available through Artisphere's Web site.