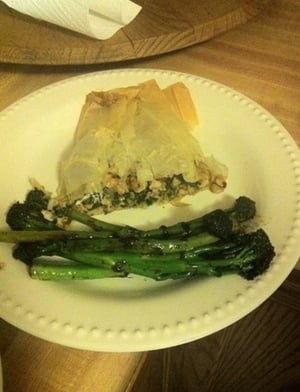 I have another confession to make this week: Last Saturday, I drank. Okay, and I had a few bites of a really fabulous chocolate dessert.
You see, my job is crazy from September to December 31, but by January the storm quiets, and I find myself entering contests to write blogs about losing weight. Then the next thing you know, it's back to nonstop phone calls and writing contracts. Finding the time to work out and stick to a strict diet becomes more of a chore than a resolution.
On Friday, I pulled together some willpower and stayed in. I took advantage of the nice weather and ran 3½ miles, and went for a walk around downtown Bethesda. I spent some time with my sister, purchased some health magazines, and bought myself a (prissy) present: a new running shirt from Lululemon. I felt proud and very satisfied as I returned home sober at 10 PM and went to bed. I needed the sleep for my training appointment in the morning.
I had been in contact with my previous trainer, Andrew Bloch. My initial text read: "Andrew, I need you to get me back into shape," which was followed by, "Well, actually my back fat and arms are out of control and really need you." He agreed with the arm comment, and we were back to business on Saturday at 10 AM.
Julie's Weight Tracker:
Starting: 159 pounds
Current: 155 pounds
Goal: 145 to 148 pounds
While I worked out and mostly complained, he drank coffee and commented on the shape of my arms. I was ready to roll afterward for a night at the DC club Eden, but then I started worrying that the night out could totally throw me off (think one too many drinks, drunk munchies at 2 AM, and the inevitable next-day hangover). My willpower kicked in again, and I decided to stay home and make dinner with my best friend, Kim, instead. Now, I'm not one to lie, so I did indulge in three—fine, four—glasses of wine. Kim and I prepared a healthy dinner from a recipe I had found in Clean Living magazine, and despite the wine consumption, the next day I felt great. I decided to go on a 7½-mile hike with a friend at Shenandoah Park.
But post-hike, I fell off the wagon. Hard.
It started when my buddy and I decided to get oysters after our hike. The bartender brought me a martini, and who doesn't like a drink after a long hike? Well, one drink turned into three, and by Monday night I was having a meal at BLT Steak! I know, I know—but I'm not perfect. This is a blog, people, not a romance novel. I had the tuna and some items from the raw bar, which are healthy choices, but I also had a few bites of dessert and a glass of Champagne. I had fallen off, and fast.
In my defense, that week I had skipped out on a few wine tastings and had given up a chance to dine out with chefs [Robert] Wiedmaier and [Brian] McBride.
At the end of the day, I'm very competitive, even with myself, and I know I can do this. I also enjoy working out, so as long as I watch what I eat and work out consistently, I think I'm on my way.
JULIE'S WORKOUTS OF THE WEEK
Thursday: 1.8-mile run, 40 minutes on elliptical.
Friday: 3½-mile run and 2-mile walk.
Saturday: One hour of sprints, lunges, jumping rope, situps, and squats.
Sunday: 7½-mile hike.
Tuesday: 2-mile run, 15 minutes on row machine, 10 minutes on elliptical, and 10 minutes on stair climber. Two sets of nine strengthening exercises.
Wednesday: 1-mile run, 15 minutes on row machine, 10 minutes on stair climber, and 20 minutes on elliptical.
Follow Julie's weight loss journey every Monday during the month of January. Follow her on Twitter at @juliealbert79.